Forgive me, citizens of Easily Entertained, Need-Flash-To-Appreciate Nation for this blasphemous proposal:
Let's root for another edition of Pistons versus Spurs in the NBA Finals!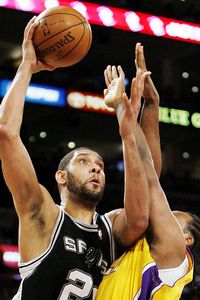 AP Photo/Mark Avery
Maybe fans should stop grumbling about Tim Duncan being boring, and start appreciating his incredible success.
(Trying to block out the sound of 260 million people collectively groaning.)
I'm hoping that suggestion doesn't make NBA commissioner David Stern lose his lunch. But if Stern could overcome his nausea at the thought of another clash of these underappreciated titans, even he would have to admit that Pistons-Spurs would be the best thing for the NBA.
Full disclosure: As a Detroiter, I would love to see the Pistons in the Finals for the sixth time in my lifetime. But this isn't about me. This is about the league's credibility.
As an NBA fan, there is nothing more irritating than when the league's credibility is challenged by cockamamy conspiracy theories. (See: New York Knicks and Patrick Ewing, and Michael Jordan's impromptu first retirement.)
The biggest NBA conspiracy theory going right now is that the league is trying to make a Boston-L.A. Finals happen, because it would mean insane television ratings and a return to the time when the dominance of those two franchises overshadowed everything else in sports.
This has undoubtedly been the NBA's best season since MJ's heyday. The Western Conference was the most competitive conference in NBA history, the Slam Dunk Contest returned to relevancy, trades rejuvenated the Lakers and Celtics, Chris Paul emerged as the league's next transcendent player, and the drastically improved TV ratings in the playoffs showed that sports fans were gobbling it all up.
If this were any other NBA season, the insinuation that the league was somehow working to orchestrate the return of the Lakers-Celtics rivalry would be considered a real reach -- but not when the Tim Donaghy betting scandal is still looming.
Many fans have long believed that the relationship NBA officials have with players and coaches influences how the games are called. But now those conspiracy theories have teeth, because Donaghy's lawyer, John Lauro, filed presentencing documents in federal court that supported what those conspiracy theorists have been screaming for years.
Also in the Lauro papers were charges that other referees besides Donaghy participated in gambling activity. Couple that with what was reported about Jordan's extensive gambling and Charles Barkley's initially "overlooking" that he owed the Wynn casino $400K, and Donaghy's issues all of a sudden look like they're a part of a problematic NBA subculture.
Certainly, you can look at the Donaghy situation and think of Matt Walsh, another guy who seems difficult to trust. The commissioner has said Donaghy's camp is making these wild accusations only so he can gain a more lenient sentence.
That could be true, but that still doesn't do anything to change the perception that the outcomes of NBA games are somehow tampered with. If there are any controversial calls that favor Boston or Los Angeles, or if there are games in which either of those teams makes a ton of trips to the foul line, the CTs (conspiracy theorists) will ask: What would prevent the NBA from urging the officials to call games a certain way to ensure a Finals involving teams from two of the biggest media markets in the country?
But if it's Pistons-Spurs, the NBA Finals will be conspiracy-free.
I anticipate the crybabies will complain that the Spurs and Pistons are boring to watch. But most real basketball and sports fans won't think that way -- just those casual NBA viewers who want it both ways. You know, the ones who deride the NBA for promoting individuals, but whine when Kobe, LeBron or some other one-named superstar isn't in the Finals. The ones who claim they love underdogs, but won't give the Pistons or Spurs a chance.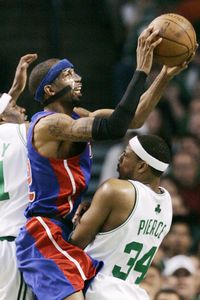 AP Photo/Charles Krupa
Rip Hamilton and the Pistons are one step closer to another NBA Finals after dumping the Celtics in Game 2.
If you're someone who grumbles that NBA players don't play defense, you should root for Pistons-Spurs (although Boston may play the best defense of the remaining playoff teams). If you complain you're sick of seeing NBA teams that don't play hard, root for Pistons-Spurs. If you love teams that win because of their commitment to team basketball, root for Pistons-Spurs. If you're sick of seeing basketball dominated by And-1 wannabes, root for Pistons-Spurs.
These are two teams loaded with unselfishness -- and they feature players who are among the NBA's best citizens.
When people call Tim Duncan milquetoast, it makes me want to break kneecaps. First, Duncan is a thoughtful quote -- as are most of the Spurs. Second, Duncan shouldn't be penalized because he'd rather frustrate his opponents with precise passing out of double-teams and unstoppable bank shots, rather than trying to make the Top 10 Plays on "SportsCenter."
Duncan is perhaps the best player of his generation. The Pistons, who are in their sixth straight Eastern Conference finals, are maybe the closest thing the Eastern Conference has had to a dynasty since Jordan's Bulls.
If it's Pistons-Spurs, it's our core sports values at work.
Besides, unlike the Lakers and Celtics, the Pistons and Spurs didn't get to the conference finals with the help of questionable blockbuster deals. Talk about your NBA conspiracy theories. The Lakers got Pau Gasol for 10 rubles and a John Tesh DVD. And Kevin McHale forked Kevin Garnett over to the franchise he just so happened to win three NBA titles with. Nothing suspicious about that, right?
The Pistons and the Spurs built their teams the old-school way -- through coaching, drafting and crafty pickups. The Pistons drafted Tayshaun Prince as well as key reserves Jason Maxiell and Rodney Stuckey. They signed Antonio McDyess and Chauncey Billups -- nobody wanted "Bad Knees" McDyess, and Billups had played for five NBA teams before the Pistons. And they traded for Rasheed Wallace and Rip Hamilton -- Wallace had a bad rep as a hothead but propelled them to the NBA championship in 2004 , and when they traded for Hamilton, people thought they were crazy because it meant giving up Jerry Stackhouse.
The Spurs drafted Duncan, as well as sleeper-picks Tony Parker and Manu Ginobili -- pretty good choices, no? And who would have guessed Michael Finley would win a championship before former teammates Dirk Nowitzki and Steve Nash? But that's what happens when you roll with the smartest organization in the NBA.
Pistons-Spurs -- that's what we all should be dying to see.
Jemele Hill can be reached at jemeleespn@gmail.com.