LOS ANGELES -- There is a lot hanging over Kobe Bryant's head. And that's not a reference to all those Celtics arms and elbows the Game 2 referees mysteriously missed in Boston.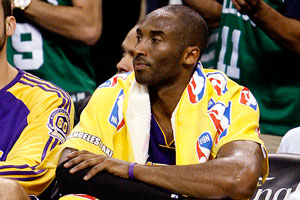 AP Photo/Winslow Townson
Kobe Bryant couldn't lead the Lakers to a win in Boston. Now the question is, will they be back?
Although he's pitted against three superstars who've never won a title -- Kevin Garnett, Paul Pierce and Ray Allen -- it's Kobe who has the most to lose in these 2008 NBA Finals. The Lakers have returned home down 2-0 and in serious danger of being completely washed out by the Celtics, the best road team in the NBA during the regular season (albeit a shakier team away from home in the playoffs). A sweep seems unlikely, but based on how the Lakers played in the first two games, it's not out of the realm of possibility.
A season is on the line Tuesday night in Game 3. But looking at the bigger picture, so is Kobe's legacy.
Should the Celtics finish off the Lakers, headline No. 1 will be: "BOSTON WINS!" But headline No. 2 will be: "KOBE LOSES."
"No question -- Kobe has the most pressure," said former Lakers great Jerry West, a mentor to Kobe.
Is that fair? Of course not. But not much in Kobe's brilliant but oft-criticized career has been.
Lamar Odom has been a no-show against the Celtics. Pau Gasol's interior presence has been especially Charmin-esque. The Lakers' bench, thought to be one of the team's significant strengths, has been a complete non-factor.
But regardless of all those issues, a Finals loss would be a significant setback to Kobe's legacy. It would be another instance in which Kobe didn't do what most assume Michael Jordan would have done. It would present another prime opportunity for the Jordan faithful to scream, "At least Jordan never lost in the Finals!"
This is so Kobe's career. It has been defined by breathtaking excellence -- winning the MVP award (finally), being the youngest player to score 20,000 points, playing in 10 All-Star games -- but whenever Kobe seems to be on the cusp of being accepted as the foremost challenger to Jordan's throne, something comes along to screw it up.
This time, it's the Celtics and their smothering defense. Before that, it was Shaq, whose larger presence, charming personality and nasty departure always will haunt Kobe and illustrate his disconnect with the public at large.
One of the worst things to happen to Kobe's legacy was Shaq's winning a title with the Heat in '06. No matter what, Kobe always will be blamed for Shaq's leaving L.A., even though, years later, it seems the primary culprit was owner Jerry Buss, who obviously wasn't that excited about dropping another $100 million on an aging center. Thanks to Shaq, people treat Kobe's three rings like they don't exist. If Kobe doesn't win a championship without Shaq, fairly or not, his brilliance will be diminished enormously.
The rape allegations in Colorado never will be far from the public's memory. Neither will the news conference in which Kobe denied committing rape but pleaded guilty to cheating on his wife. Next was his bizarre passiveness against the No. 2-seeded Suns in Game 7 of the first round of the 2006 playoffs, which prevented the Lakers from pulling off a stunning upset over a team many thought was headed to the Finals.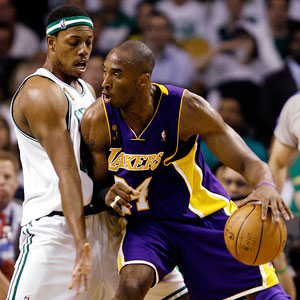 AP Photo/Winslow Townson
Paul Pierce doesn't have a ring, but Kobe's feeling more heat.
And even though the 2004 Lakers, L.A.'s last Finals team, had plenty of issues -- a finished Karl Malone, a shell-of-himself Gary Payton, a not-as-hungry Shaq -- that Finals loss still is considered to be Kobe's fault. He was criticized -- perhaps rightly so -- for trying to single-handedly win the series, and the Pistons were happy to use Kobe's ego against him.
"This is not about [Kobe's] validating himself as a player," West said. "He's already a great player, and he's carried this team all year long. You can still put him up there with the top three or four greatest players ever."
But Kobe has made it no secret he doesn't want to be in plural company. He wants to be considered numero uno -- the greatest ever.
This Lakers team appears to be at the beginning of its dominance, because of its relative youth. Many people have wondered whether this series would be playing out differently if the Lakers had injured budding-star center Andrew Bynum at their disposal. The Lakers are expected to have Bynum next season, which, on paper, means losing to the Celtics isn't complete Armageddon. But as tempted as you might be to put the Lakers in next year's Finals, remember that the Jazz and the Hornets are nipping at their heels. And although the Lakers soundly beat San Antonio, the Spurs still lurk as the every-other-year champion.
When you consider the arc of Kobe's career -- there, but not quite
there
-- you can't help but wonder whether some things aren't meant to be. Maybe this is as good as it gets for Kobe. Maybe he'll always be the superstar who
almost
did it. Considering his greatness, that's rather depressing. What makes it worse is that Pierce, an Inglewood, Calif., native, has newer teammates than Kobe, and he's found a way to put his team in position to win a NBA title -- with individual players who have a history of not delivering.
It might not be Kobe's time. Again.
Jemele Hill can be reached at jemeleespn@gmail.com.
2008 NBA FINALS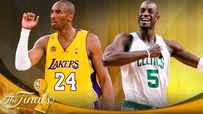 And then there were two -- the Lakers and Celtics. Who will win the NBA Finals? Let the games begin.
Finals schedule | Playoff bracket | Playoff home
Daily Dime
•
Celtics win 17th championship title
•
Did C's lose Regret Game?
•
A little help from Kobe's friends
•
Time for L.A. to go small
•
The Finals Can't Shake Donaghy Mess
•
Unlikely Game 4 comeback gives C's 3-1 lead
•
Rondo's ankle could change L.A.'s game plan
•
Kobe leads Lakers to Game 3 win
•
Lakers need to attack the paint
•
Lakers learn Powe's name in Game 2
•
Time for Gasol to step up
•
Lakers need better defense in Game 2
•
Pierce sparks Celtics in Game 1 victory
•
Expert predictions, clutch stats
•
Pierce loves playing Lakers
•
Celtics to meet L.A. in the Finals
Lakers vs. Celtics
•
Stein: Q&A after six-game "sweep"
•
MacMullan: Pierce's long road to greatness
•
Hollinger: From camp to champs
•
Stein: Boston's big three shine
•
Adande: Questions loom over Lakers' future
•
Hollinger: Celtics commit to defense
•
Scouts Inc.: Game 6 breakdown
•
Hollinger: Farmer steps up in Game 5
•
Sheridan: Late-game letdown for Celtics
•
Stein: Lakers ready to make history?
•
Adande: Greatness eluding Phil and Kobe
•
MacMullan: Doc adheres to dad's lessons
•
Jackson: Time for L.A.'s concession speech?
•
Stein: Game 4 not Kobe's finest hour
•
Adande: KG dominates Gasol again
•
Hollinger: Rivers makes all the right moves
•
Hill: Kobe's Laker legacy on the line
•
Hollinger: Vujacic lends helping hand in Game 3
•
Jackson: Jump shot Jesus has returned
•
Stein: Lakers need to earn sympathy
•
Adande: Lakers feel foul over whistle disparity
•
Jackson: Leading role suits Pierce
•
Adande: Kobe turns away from the pass late
•
Stein: Pierce's knee key to rest of series
•
Finals factor 1: Kobe Bryant
•
Finals factor 2: Celtics Defense
•
Finals factor 3: Paul Pierce
•
Finals factor 4: Home-court advantage
•
Finals factor 5: Battle of the benches
•
Hollinger: Lakers offense vs. Celtics defense
•
Broussard: Turning back the clock

•
Adande: How did Kobe get here?
•
Scouts Inc. breakdown: Lakers vs. Celtics
•
Coaching comparison: Red vs. Phil
•
Smith: Kobe's moving forward
•
Scoop: Fiendin' for a ring
•
Top 10 moments of Lakers-Celtics rivalry
•
ESPN Classic schedule: Relive the rivalry
TrueHoop
•
TrueHoop: Finals reflections
•
TrueHoop: Doc Rivers' redemption
•
TrueHoop: Lakers got Rondo'd
•
Tough night for Allen
•
Game 5 live blogging
•
Laker nation vs. NBA refs
•
Pierce and the evaporating knee story
•
Game 2 live blogging
•
Coaxing Kobe Bryant into hero mode
•
Game 1 live blogging
•
Today's game isn't so different
Simmons
•
Notes from the C's winning night
•
Boston's X factors
•
Game 4 running diary
•
Time for NBA Finals answers
•
The C's and city both look good
•
The Truth comes out in Game 1
•
NBA Finals forecast
•
Chat: NBA Finals preview
•
Simmons: You want a piece of Kobe, Boston?
ESPN The Magazine
•
Sporting Equivalency: NBA Finals meets hip hop
•
Broussard: Reporting from the NBA Finals
Fantasy
•
Join the fun of NBA Finals: Playcaller
Audio
•
Dish: NBA Finals recap
•
Wyc Grossbeck on C's championship
•
Ray Allen on how the Celtics evolved
•
Bob Ryan compares '86 C's to current one
•
Jon Barry credits Tom Thibodeau's team defense
•
Game 4 reactions
•
Rajon Rondo on Pierce, Game 2 plans
•
Bill Walton on Celtics-Lakers history
•
Dr. J on Finals, '80s hoops
ESPN Top Headlines