LOS ANGELES -- God really must have a sense of humor. On the day the news broke that Tim Donaghy told federal agents that referees helped alter the outcomes of a 2002 playoff series and that league officials instructed referees not to jeopardize ratings by fouling out star players or ejecting them, there was once-suspended referee Joey Crawford working Game 3 of the Lakers-Celtics NBA Finals.
And that typifies what's wrong with the NBA. This is why some people are willing to entertain Donaghy's wild accusations rather than accepting Stern's firm denials. A referee who was once suspended indefinitely because of a personal beef with Tim Duncan, who had to resign from the NBA because he pled guilty to falsely stating his income, is back in the league and officiating on the NBA's biggest stage.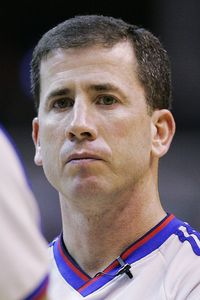 AP Photo/Haraz N. Ghanbari
Tim Donaghy has called the NBA's officiating into question, but many fans already had their doubts.
This could happen only in the NBA, where the league's credibility is being torpedoed by a wayward, desperate former referee who is willing to tell the feds anything to make sure he doesn't spend the next three decades in prison.
So here's my suggestion for NBA commissioner David Stern, who has again found out the hard way that the Donaghy scandal isn't going anywhere: Learn from what NFL commissioner Roger Goodell went through with Spygate, which exposed that cheating in the NFL is acceptable as long as it isn't advanced by technology.
Don't hide anything. Put the integrity of the league above the need to make money and attract viewers. Send an even stronger message that misconduct will not be tolerated. Revamp and retool NBA officiating until the public no longer carries the suspicion the NBA is a step below pro wrestling in terms of authenticity. Remove the very appearance of wrongdoing, even if it leads to some unfairness.
Already, Stern is making the same colossal mistake Goodell did. He underestimated the strength of the Donaghy scandal, just as Goodell misjudged the ripple effect of Spygate. Spygate went from being a league issue to a congressional cause because Goodell acted hastily, doling out a punishment to the Patriots before he even viewed the evidence.
Stern has wanted us to believe from the beginning that Donaghy was just a rogue official. Maybe that's true, but we won't know for sure until the commissioner discloses everything he has learned since Donaghy's gambling was made public a year ago.
So far, the NBA is behaving arrogantly. Why would the league stupidly decide to try to put Donaghy on the hook for $1 million in restitution, claiming his gambling jeopardized the league's reputation? It's not like the NBA needs the money. If this is an attempt to stick it to Donaghy, it backfired, because now the NBA is in a no-win situation. Donaghy doesn't need to present evidence to get people to believe him, because a large chunk of NBA fans already believe the league's officiating isn't on the up-and-up.
"Why would I be worried?" Stern said when he met with the media before Game 3.
Where to begin? Even though the NBA admitted its referees should've called Derek Fisher for a foul on Brent Barry at the end of Game 4 of this year's Lakers-Spurs series, the fact that referees didn't feel the need to make an obvious foul call is problematic.
There are far too many instances when dubious officiating isn't addressed.
Donaghy wasn't specific which 2002 playoff series was altered, saying only that it was a seven-game series. But the only seven-game series that year was Lakers-Kings, and no game in the playoffs aroused more accusations that the fix was in than Game 6, when the Lakers visited the foul line an astounding 27 times in the fourth quarter to force a Game 7. LA went on to win the NBA championship -- a memory that should effectively shut up any Lakers fans who are still upset about the officiating in Game 2 this year against the Celtics.
Those one-sided trends are seen too often, and all they do is fuel speculation. Don't think that Mark Cuban's mind isn't reeling right now. Miami was the tougher team in '06 when the Heat won the title, but in light of Donaghy's charges, how much different does that series look now?
Jerry Stackhouse was suspended for a pivotal Game 5 because of a tough foul on Shaq, who weighs as much as a small aircraft carrier. And in that Game 5, Dwyane Wade got calls that made Michael Jordan jealous. Wade went to the foul line 25 times. Dallas, as a team, went 24 times. You also can't help but wonder how much Cuban and Stern's terse relationship influenced that series.
"The only concern I have is that when a letter gets filed on behalf of a convicted felon," Stern said, "my concern is that the news media run with it as a major blockbuster series of allegations, when in fact, this guy is dancing as fast as he can to throw as much against the wall so his sentence won't be as hard."
It's true that Donaghy, who faces a maximum 25-year sentence, is hoping to barter information for reduced prison time, but that doesn't mean his accusations should be taken so lightly.
Of course, for all we know, Donaghy's claims could be baseless and motivated purely by vengeance against Stern. But if there is anything we've deduced from other sports scandals, it's that the dirtiest people often are the most believable and the only ones willing to tell the truth. That's why I believe Brian McNamee, former O.J. Mayo middleman Louis Johnson and former convict Lloyd Lake, who said he supplied Reggie Bush with thousands of dollars in cash when Bush was at USC. If you have a pristine reputation, you might say anything to keep it that way, including lying about what you have and haven't done.
Goodell chose to protect the brand instead of the league's integrity, and I fear Stern is doing the same. To Stern's credit, he's already met with congressional representatives, and he's warding off more vigilant interest by keeping them abreast of the investigation. But regardless of whether Donaghy is telling the truth, Stern should want to expose and deal with the inconsistent officiating that continually casts a cloud of suspicion on NBA games. He's forced fans to live with certain axioms -- certain calls won't be made at the end of close games, and certain gifted superstars get to visit the foul line more frequently because of their reputations -- that shouldn't be a part of any major sport. I'm not asking NBA officials to begin bogging the games down with fouls, but Stern has to do more to prevent the appearance of unfairness.
But like Goodell, Stern seems happy to live with the shady perceptions as long as playoff ratings are up and the league can pimp a renewed Lakers-Celtics rivalry. Anyone with a wager slip knew the Lakers would get significantly friendlier foul calls at home on Tuesday night. And sure enough, the Lakers enjoyed a 22-12 foul advantage at the half, and they finished the game with a 34-22 edge.
I'm not saying the Lakers didn't outplay the Celtics fairly in Game 3, but when the league's officiating becomes that predictable, how is it not a problem?
Jemele Hill can be reached at jemeleespn@gmail.com.
2008 NBA FINALS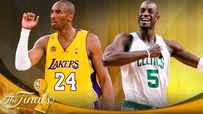 And then there were two -- the Lakers and Celtics. Who will win the NBA Finals? Let the games begin.
Finals schedule | Playoff bracket | Playoff home
Daily Dime
•
Celtics win 17th championship title
•
Did C's lose Regret Game?
•
A little help from Kobe's friends
•
Time for L.A. to go small
•
The Finals Can't Shake Donaghy Mess
•
Unlikely Game 4 comeback gives C's 3-1 lead
•
Rondo's ankle could change L.A.'s game plan
•
Kobe leads Lakers to Game 3 win
•
Lakers need to attack the paint
•
Lakers learn Powe's name in Game 2
•
Time for Gasol to step up
•
Lakers need better defense in Game 2
•
Pierce sparks Celtics in Game 1 victory
•
Expert predictions, clutch stats
•
Pierce loves playing Lakers
•
Celtics to meet L.A. in the Finals
Lakers vs. Celtics
•
Stein: Q&A after six-game "sweep"
•
MacMullan: Pierce's long road to greatness
•
Hollinger: From camp to champs
•
Stein: Boston's big three shine
•
Adande: Questions loom over Lakers' future
•
Hollinger: Celtics commit to defense
•
Scouts Inc.: Game 6 breakdown
•
Hollinger: Farmer steps up in Game 5
•
Sheridan: Late-game letdown for Celtics
•
Stein: Lakers ready to make history?
•
Adande: Greatness eluding Phil and Kobe
•
MacMullan: Doc adheres to dad's lessons
•
Jackson: Time for L.A.'s concession speech?
•
Stein: Game 4 not Kobe's finest hour
•
Adande: KG dominates Gasol again
•
Hollinger: Rivers makes all the right moves
•
Hill: Kobe's Laker legacy on the line
•
Hollinger: Vujacic lends helping hand in Game 3
•
Jackson: Jump shot Jesus has returned
•
Stein: Lakers need to earn sympathy
•
Adande: Lakers feel foul over whistle disparity
•
Jackson: Leading role suits Pierce
•
Adande: Kobe turns away from the pass late
•
Stein: Pierce's knee key to rest of series
•
Finals factor 1: Kobe Bryant
•
Finals factor 2: Celtics Defense
•
Finals factor 3: Paul Pierce
•
Finals factor 4: Home-court advantage
•
Finals factor 5: Battle of the benches
•
Hollinger: Lakers offense vs. Celtics defense
•
Broussard: Turning back the clock

•
Adande: How did Kobe get here?
•
Scouts Inc. breakdown: Lakers vs. Celtics
•
Coaching comparison: Red vs. Phil
•
Smith: Kobe's moving forward
•
Scoop: Fiendin' for a ring
•
Top 10 moments of Lakers-Celtics rivalry
•
ESPN Classic schedule: Relive the rivalry
TrueHoop
•
TrueHoop: Finals reflections
•
TrueHoop: Doc Rivers' redemption
•
TrueHoop: Lakers got Rondo'd
•
Tough night for Allen
•
Game 5 live blogging
•
Laker nation vs. NBA refs
•
Pierce and the evaporating knee story
•
Game 2 live blogging
•
Coaxing Kobe Bryant into hero mode
•
Game 1 live blogging
•
Today's game isn't so different
Simmons
•
Notes from the C's winning night
•
Boston's X factors
•
Game 4 running diary
•
Time for NBA Finals answers
•
The C's and city both look good
•
The Truth comes out in Game 1
•
NBA Finals forecast
•
Chat: NBA Finals preview
•
Simmons: You want a piece of Kobe, Boston?
ESPN The Magazine
•
Sporting Equivalency: NBA Finals meets hip hop
•
Broussard: Reporting from the NBA Finals
Fantasy
•
Join the fun of NBA Finals: Playcaller
Audio
•
Dish: NBA Finals recap
•
Wyc Grossbeck on C's championship
•
Ray Allen on how the Celtics evolved
•
Bob Ryan compares '86 C's to current one
•
Jon Barry credits Tom Thibodeau's team defense
•
Game 4 reactions
•
Rajon Rondo on Pierce, Game 2 plans
•
Bill Walton on Celtics-Lakers history
•
Dr. J on Finals, '80s hoops
ESPN Top Headlines