From an Economics 101 standpoint, I don't have a problem with Brandon Jennings' decision to play a season in Europe instead of going to college for one year before entering the NBA.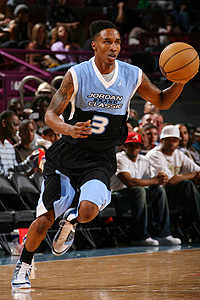 Ned Dishman/Getty Images
Brandon Jennings is breaking new ground, going to play a season in Europe instead of going to college.
Jennings, who signed with the University of Arizona but hasn't received the standardized test score necessary to play, has the right to use his basketball talent to pursue a living. Who can blame him for not wanting to be a pawn in the NBA and NCAA's hypocritical age-limit system, which takes advantage of kids and punishes them when they look to do what's best for themselves.
I'd encourage any young person to see the world, immerse himself or herself in a new culture and gain meaningful experiences abroad -- because that's what life is about.
Now comes the gigantic BUT.
The fuddy-duddy in me can't help but wonder if Jennings, an 18-year-old Los Angeles native, really knows what he's getting himself into.
If the NBA is the Ritz-Carlton, overseas hoops is the Quality Inn.
It's the opposite of the star-driven culture that's well-established in the United States. European coaches don't do coddling, and while they're fascinated with American players, they can also be cold toward them.
Chris Owens -- a former standout at the University of Texas who was a second-round pick in the 2002 NBA draft -- has played in Europe the past five years, and he has a few stories that would make Jennings think the NBA/NCAA hypocrisy tango isn't so bad.
FROM ESPN RADIO
Doug Gottlieb talked with Miles Simon -- the former Arizona star who also recruited Brandon Jennings and played overseas himself -- about Jennings and his decision. Click here to listen.
How about over Thanksgiving, when Owens and his aunt spent several hours in a Turkish jail cell because his aunt didn't have proper identification when stopped by authorities? Or what about on Turkish Labor Day, when he and his teammates were forced to hide out in an abandoned building in Istanbul because of enormous civil unrest -- which included shootings, tear gas and attacking police officers? Or what about when he played in Spain and his coach told him point-blank he didn't like Americans and refused to play Owens no matter what he did in practice?
Good times.
"It's not the NBA," said Owens, who was drafted by the Milwaukee Bucks in 2002, and then traded to Memphis. "I thought everything would be like the NBA -- real nice, smooth and easy. [Overseas] they expect you to play whether you're getting paid or not, they expect you to practice whether you're in a heated gym or not. It's grimy."
We're talking about, in most cases, subpar facilities, two-a-day practices and simple tasks like going to the grocery store being 1,000 times more difficult than any SAT question.
"I worked out in Cleveland a couple weeks ago and I was so amazed," said Owens, who has bounced around various NBA summer leagues. "Everything was right there -- the weight room, the shower. You would never get that in Europe. Never."
In Turkey, where the 29-year-old Owens played this past season, it sometimes took him 15 minutes to get to the practice facility. Other times, it's taken an hour and change. His team was required to eat together at the same time every day, and his coach often required the team to wear the same shirts when traveling.
And, that's not all.
"It's more pressure because you don't play as many games," Owens said. "You play once a week and do two-a-days every day. Everything is hinging on that one game. In basketball, a team could be on fire and you could lose, but that's not accepted. If you're one of two or three Americans out there, you have to get it done."
The upside is that Owens, who has played in five different countries, has been exposed to the arts and different cultures, and he has learned some cool languages. The downside is there are many nights when he's had only a new DVD as a companion.
Owens believes a recent high school graduate could handle life playing ball in a foreign country, and that the experience will benefit Jennings, who might have a different perspective on the NBA once he returns.
After all, big-time college sports are just as superstar-driven as the NBA -- much of the pampering is just done in the dark.
"You have to still work hard and you have to appreciate every little thing, like getting paid on time and being able to speak to somebody in English," Owens said. "It was hard at first [overseas] because my coach didn't speak English, so he couldn't relate something to me in crunch time. When I would come back [to the United States], I just wanted to go to Burger King and start talking to everybody. It made me a lot more humble."
Jennings would go to Europe with a little more hype than the average American player, but he's not exactly going to be living it up like an NBA king. "Cribs" ain't rolling to Budapest.
Let's hope Jennings lands that mega shoe deal most think he's a lock for. You'd like to think he wouldn't run into some of the money problems American players typically do overseas, but there are no guarantees.
That doesn't mean college would be a perfect fit for Jennings, or that his overseas experience will rival Chevy Chase's European vacation. But it's premature to paint Jennings as the Daniel Boone of NBA hopefuls. Going to Europe will not be an easy transition. There are many pitfalls that could prevent Jennings from being the hot commodity he is today.
You can blame the NBA or NCAA for that if you want, but by not taking care of business academically, Jennings put himself in a situation in which he has a limited high-risk, high-reward option.
Let's see what he does with it.
Jemele Hill can be reached at jemeleespn@gmail.com.