WNBA Reviewing Tuesday's Skirmish
Tuesday night's bench-clearing scuffle between the Los Angeles Sparks and Detroit Shock proved women can be just as boneheaded as men in the thick of intense athletic competition.
Progress?
Absolutely. The fight, which, by the way, isn't the WNBA's first, showed that squaring up isn't a man thing. It's a sports thing. It's an athlete thing. It's an I'm-so-ticked-off-that-Candace-Parker-just-drilled-me-in-the-chest-and-the-refs-didn't-notice thing.
In its way, this is a revelation for women's sports. I've long been sick of the halos and pristine white robes put on female athletes. During the Olympics, we're force-fed stories about how Susie Swimmer and her mom are BFFs. We're told Jane Ice Skater enjoys pottery, ocean views and Coldplay. The WNBA goes out of its way to showcase its players as community-minded citizens we can safely entrust to mold and shape our little girls.
That's how it is in comic books, but not in real life. In real life, athletes lose their tempers and use bad language. They're flawed. Female athletes aren't an exception.
Of course, I'm not knocking those female athletes who take being a role model seriously, but sometimes the image of female athletes is so sanitized, polished and packaged that it's nice to get a reminder that women don't always fit inside some annoyingly perfect little box.
In fact, counting the WNBA flap, this is the second time in the past week we've seen a significant, angry outburst by a woman.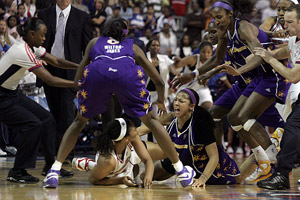 AP Photo/Jerry S. Mendoza
After the confrontation between Plenette Pierson and Candace Parker with 4.6 seconds left Tuesday, both benches cleared and three players, as well as Detroit assistant Rick Mahorn, were ejected.
Danica Patrick had a heated verbal confrontation with fellow driver Milka Duno during a practice session at the Honda Indy 200. Duno threw a towel at Patrick and essentially called her a gigantic drama queen -- which is what many of Patrick's peers think of her anyway.
If anything, we should greet the Patrick and WNBA incidents as our opportunity to show that gender should be a nonissue when it comes to boorish behavior.
Don't laugh at Patrick if you don't tolerate Tony Stewart's antics. You can't say the WNBA fight was harmless when the original Palace brawl gave the NBA lifelong image problems.
And don't overreact and accuse Shock assistant coach Rick Mahorn, the former Pistons Bad Boy, of purposely shoving Lisa Leslie to the ground. I think it's obvious he only wanted to prevent Leslie from escalating a situation that had nearly died down. If you want to criticize someone, go after DeLisha Milton-Jones, who hacked away at Mahorn's back as if she was carrying a saw.
If the Mahorn incident occurs between two men, it's a nonissue. No one accused Alonzo Mourning of assault when he used Jeff Van Gundy as a mop in that infamous Heat-Knicks brawl.
"I was trying to protect the whole game, the integrity of the game," Mahorn said in a post-scuffle statement. "The WNBA is very special to me because I have four daughters. I don't even raise my hand to them, and I would never push a woman. This game, I love this game too much."
It's interesting how differently we look at boorish behavior when gender is involved. The reaction to women fighting is usually a mixture of astonishment and fascination. Sure, some of it is because it plays into juvenile male fantasies. Most of the stories written about Duno and Patrick made sure to mention how attractive they are -- with more than few stories noting that Duno was "buxom" -- as if their throwdown were being aired later on Skinemax.
We treat girl fights like a novelty, when they shouldn't be seen as such. News flash to those still using sticks to create fire: Female athletes are just as competitive as men and when some are pushed to the edge, they'll exhibit the same lack of control.
Leslie said this to ESPN about Tuesday's melee: "This is not the way we want to represent ourselves and the WNBA." For most athletes, that's true. But it's not always a picture-perfect representation. It isn't for men. It shouldn't be for women, either.
Jemele Hill can be reached jemeleespn@gmail.com.