The goal wasn't to stick it to fans. The goal was to keep politicians and sports team owners from sticking it to fans.
Rick Ohanian, an architect and builder from Columbus, Ohio, honestly believed he was doing something good. There was talk of professional sports coming to Columbus, and while Ohanian was on board with having a professional team in town, he was not in favor of taxpayers' shouldering the financial burden for building a private facility.
So in 1987, he wrote a letter to The Columbus Dispatch proposing a bold, aggressive plan that would give everyone what they wanted. Politicos would have the money for a new pro sports facility. And fans would have a pro team. All for a price, of course.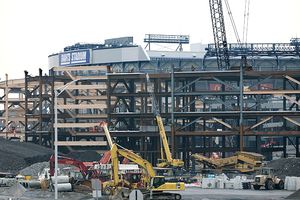 AP Photo/Mike Derer
The good news for Giants fans? They're getting a new stadium. The bad news? Many of them probably won't be able to afford the personal seat licenses.
Only thing is, Ohanian had no idea his letter to the editor eventually would dramatically alter the world of average sports fans. And not exactly in the way he intended.
"Once again the politicians want to tax us for a project that can be completed by private means, and they are botching it," Ohanian wrote to the Dispatch in '87. "The answer is the ticket bond."
Today, sports fans know the "ticket bond" as the personal seat license or PSL -- which might as well be the F-bomb to them. Teams in just about every pro sports league -- from the NFL to the National Rugby League -- have turned to the PSL as a way to generate even more revenue than they already do.
But, on principle, PSLs suck. There's something wrong with fans' being charged a fee for the right to buy season tickets. It's like charging human beings for the right to chew before they even taste the food.
Recently, the New York Giants jumped on the PSL bandwagon, announcing they will have personal seat licenses in the new billion-dollar stadium they will share with the New York Jets -- making the Giants the 14th NFL team to utilize PSLs. The one-time PSL fee will range from $1,000 to $20,000 per seat, depending on where the seat is located, and is expected to generate nearly $400 million in revenue. And that's a steal compared to what the Dallas Cowboys will charge for many seats in their new stadium -- the seats near Jerry Jones' luxury box have a PSL fee of $150,000.
POLL: TICKET PRICES
Are ticket prices out of control? Have you stopped going to games? What's the most you've paid for a ticket in the past year?
Let us know what you think
.
"It's a tough thing to tell some of these fans that are being priced out, but it's either [PSLs] or taxes," Ohanian said recently. "If they did my original invention, more people would be able to afford [PSLs]. Unfortunately, the costs have gone up so much, they're really using both methods. I don't know what to tell them."
It makes you wonder how close we are to living in a professional sports world that is no longer within reach of everyday people. Frankly, it looks like we're already living in that world.
USA Today ran a story on the front page of its sports section during the MLB All-Star break that detailed the ballooning prices for attending the All-Star Game. In just a year's time, between 2007 and 2008, the ticket prices for that event doubled.
The face value for Super Bowl tickets this year was between $700 and $900 -- which is hardly cheap -- but those prices sky-rocketed on the open market to a minimum of about $2,500. Some fans paid as much as $20,000 to see the Patriots and Giants' epic clash.
If those prices become the norm, what's to prevent sports leagues from charging and surcharging the heck out of sports fans for most things? What if the NFL decides to make the Super Bowl a pay-per-view event? What if you have to pay a yearly fee just to be able to buy alcohol at professional stadiums? At this rate, we ought to be thankful we can use the bathroom without having to use a credit card.
As it is, fans are being deprived of viewing experiences just because cable companies and sports networks can't play together in the sandbox. Everybody wants a cut. The disagreement between the Big Ten Network and the Comcast cable company meant Michigan State fans in Detroit had no way of seeing certain Spartans games during the 2007 season unless they went to a bar, had DirecTV or were at the game. The BTN and Comcast since have ironed out their differences, but the fans already have suffered.
What kind of sports world are we living in? The answer: an increasingly expensive one -- no matter whether we're at home or at the game. Twenty-three NFL teams increased their ticket prices in 2007, and the average cost for a family of four to attend a game rose to $367.31.
That's a car payment.
While it's fashionable to blame the owners and players for the rising costs, the truth is the prices are high because our lust for the professional sports experience has grown as significantly as the cost to go to a game.
Paul Ferguson is a transplanted Pittsburgh Steelers fan living in South Carolina. Last year, he read in a Pittsburgh newspaper that a Steelers fan had gone bankrupt and was auctioning off four personal seat licenses. Ferguson jumped at the chance to get them. He paid $199 for a roundtrip flight to Pittsburgh, then coughed up $17,500 for the four PSLs.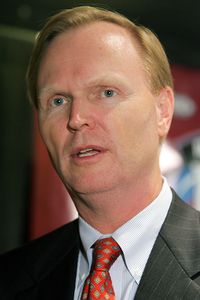 AP Photo/Mel Evans
John Mara is generally regarded very highly, but he's taken a hit from Giants fans over the PSLs.
"It gives somebody like me an opportunity to keep the tickets in the family," said Ferguson, a 46-year-old father of four. "I'm not wealthy. I was just willing to spend my money. … Every single person in Pittsburgh can go to a game every year. There's nobody in Pitt who can't get tickets for a game. They may have to pay, instead of $70, pay $100. But they can go. I like the idea that some of us can have those tickets and give them to people we care about, who may not be able to afford it. My mom's on Social Security. She can go to a game now. My aunt's on Social Security. She went to a playoff game with me last year, and she didn't have to pay three times face value."
You can call Ferguson crazy, but he's hardly the only fan out there willing to spend top-dollar for sports. The Giants have 21,000 season-ticket holders, but they have 130,000 people on their season-ticket waiting list. If the Giants decided tomorrow to raise the PSL price of every seat in the stadium to $20K, they still would have more than enough people willing to pay.
"When we open the building in 2010, a lot of seats are still priced at $85, $95," said Giants president John Mara, son of late Giants owner Wellington Mara. "That's still a lot of money, but that's reasonable compared to what a lot of teams charge. Hopefully that's something a lot of our fans can afford. We wanted to make it so the average ticket fan who has supported us for many, many years could stay in the building."
Mara said he wasn't comfortable with instituting PSLs, but the economy and escalating construction costs convinced him otherwise. Giants fans have let Mara hear about it, but he says there wasn't much he could do.
"It's an emotional issue," Mara said. "I've heard from fans who are unhappy about it, but I've heard from a number of them who are excited about it. A lot of issues you can balance, but our primary goal was to come up with the right amount of capital so that we could complete the construction."
Mara also blamed credit markets for not being what they were in the initial stages of the stadium project. Unfortunately, that's not the only thing that has changed.
Jemele Hill can be reached at jemeleespn@gmail.com.