In conversations with black friends and other black sports figures, it's become evident that a lot of African-Americans are taking a pretty personal interest in seeing the United States men's basketball team succeed.
I'm not suggesting Americans of other races aren't rooting for Team USA to bring home the gold -- something our hoops team has failed to do in the last three major international tournaments (2002 and 2006 world championships, and the 2004 Olympics). This team has a bevy of enormously popular players who represent every pocket of the country. That widespread appeal has made them immensely popular, and easily marketable.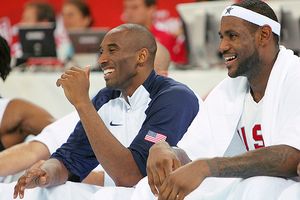 Streeter Lecka/Getty Images
Kobe, LeBron and company have cruised into the gold-medal game.
But considering how, until recently, Team USA has been vilified for being selfish, noncompetitive and fundamentally inept, it doesn't surprise me that African-Americans view the gold medal as a special vindication.
The previous failures of the national team brought a strong sense of embarrassment to both African-American fans and players. Basketball was stylized and grown by a number of black players who became heroes in the black community -- from Julius Erving to Michael Jordan to LeBron James. Of all the major professional sports, the NBA is the most influenced by black culture and it's the one pro league where blacks enjoy a significant leadership presence as coaches and general managers.
So it undoubtedly hurt to see the 2004 national team become so hated. The American team was handicapped because it was thrown together and unfamiliar with the international game. The losing created a majority of the animosity -- "basketball power" Puerto Rico drilled the U.S. by 19 points in Athens -- but the character of that team didn't exactly win people over. Carmelo Anthony and LeBron complained about playing time and the players' nightlife and luxury hotel accommodations suddenly became major story lines. It didn't matter that the U.S. hockey team was far more disrespectful when they destroyed their rooms in the Olympic athlete's village following elimination in the 1998 Olympic tournament in Nagano. Our basketball team became the enemy.
The situation put black basketball players in this country under attack. Their style of play somehow became inferior to the international game, a style lauded for its teamwork, commitment and skill. Foreigners became in vogue in the NBA, and black players were characterized as having too much 'tude and being too tattooed. The insinuation seemed to be that our players weren't smart enough to cope with the international game and the lack of U.S. success was used to denigrate urban basketball, its culture and its players.
Last summer, Andrew Bogut, whose Australian team was whupped by the Americans in Beijing on Wednesday, told a Sydney newspaper: "The public's image of NBA players is true. A lot of them get caught up in the hype and do video clips with rappers and all that crap. They want bling bling all over themselves and drive fast cars. But that's just the way the culture is in America -- if you've got it flaunt it and if you don't, you can't.
"I'm not into jewelry. I've got some earrings but they're not too expensive. There are guys who drop a hundred grand for a chain. The public's got it right -- a lot of NBA stars are arrogant and like to spend lots of money and have lots of girlfriends and all that."
Although you could argue Bogut was crucifying American culture in general, it was hard not to view his comments as an indictment of the NBA and black culture.
The NBA is still viewed by some as the "thug" league, so there was pressure on this U.S. team to show the world that the NBA is more than just a nonstop Lil' Wayne video, full of spoiled millionaires with an insatiable appetite for groupies and Bentleys. Team USA national director Jerry Colangelo and coach Mike Krzyzewski deserve a lot of credit for not only picking the best possible players and getting them to accept a multi-year commitment, but making them see the value of the Olympic ideal. Four years ago, we didn't see camera shots of LeBron cheering on Michael Phelps.
The Redeem Team's brilliance only has furthered the important momentum created by the Celtics' destruction of the Euro-Lakers in the NBA Finals. The Celtics, who had an all-black starting five, also did a lot to change some of the negative perceptions associated with black basketball players. By out-hustling and out-defending the Lakers and doing all the little things black ballers supposedly consider uncool, the Celtics proved international players aren't necessarily better investments than Americans.
Admittedly, we live in a SportsCenter-driven culture that encourages players to perfect 360-degree dunks before knowing how to set a good screen. But the Redeem Team -- what an appropriate nickname -- is not only dispelling notions about American basketball, but showing that black NBA superstars are just as patriotic, coachable, team-oriented, fundamentally sound, mannerable, hard-working, and disciplined as their foreign basketball brethren.
Jemele Hill can be reached at jemeleespn@gmail.com
Team USA: Redemption In Beijing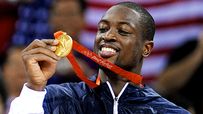 Team USA won the Olympic gold medal in men's basketball after years of frustration.
Roster | Schedule | TV | Scores | Standings
The Redeem Team

Sheridan: 1992 vs. 2008
They redeemed U.S. hoops and reclaimed Olympic gold. So, how does the '08 team stack up to the Dream Team?
Chris Sheridan
•
Sheridan: Dream scene
---

TrueHoop: What next?
Team USA was great in '08. But how will it remain on top of the world? We've got the plan (with a few new faces) moving forward.
TrueHoop
•
TrueHoop: Day of redemption
---

Jackson: Truly redeemed?
Yes, the U.S. men's basketball team recaptured the Olympic gold in Beijing. But did they really accomplish their mission? Depends how you look at it.
Scoop Jackson
---

Hollinger: International flair
Team USA got the gold, but the game of basketball was also a big winner. Here's a look at how the NBA's international stars fared in the Beijing Olympics.
John Hollinger
Medal Round
•
Sheridan: United statement
•
Forde: Coach K deserves praise
•
Hill: Rooting for redemption
•
Sheridan: USA gets revenge vs. Argentina
•
Sheridan: US-Argentina rivalry renewed
•
Sheridan: Dispelling two Team USA myths
•
Sheridan: One down, two to go
•
Sheridan: Quarterfinals roundup
•
Sheridan: A whole new ballgame
•
Sheridan: Previewing the quarterfinals
•
Sheridan: Australia won't be scared
Preliminary Round
•
Day 5: Greece earns date with Argentina
•
Sheridan: Kaman suits up for Germany
•
Sheridan: Unchallenged by Spain in 37-point win
•
Bucher: Unselfishness sets Team USA apart
•
Day 4: Aussies, China clinch medal-round berths
•
Watch: Coach K and the challenge of Team USA
•
Sheridan: Spain's strengths pose challenge
•
Mag: Rubio is Spain's teen phenom
•
Sheridan: Winning Grecian formula for Team USA
•
Broussard: Wade back in elite conversation
•
Day 3: Lithuania, Spain remain undefeated
•
Sheridan: Team USA's Greek strategy
•
Sheridan: Angola was easy, Greece won't be
•
Day 2: China almost upsets Spain; Croatia rolls
•
Forde: U.S.-China game had historic feel
•
Sheridan: Yi struggles against Team USA
•
Day 1 roundup: Argentina upset
•
Israeli, Iranian share embrace
TrueHoop
•
Chris Bosh on Olympic intensity
•
The Next Team USA
•
Suddenly, Team USA looks enormous
•
Spain's joke not funny
•
The other Redeem Team: Spain
•
Dream Team not the model
•
Yao Ming is no Kobe Bryant
•
Team USA's Chinese fans
•
Is Team USA muzzled or not?
Olympic Preview
•
Sheridan: 10 questions for opening round
•
Sheridan: Who will grab gold?
•
Sheridan: Argentina, Russia headline Group A
•
Sheridan: USA, Spain tops in Group B
•
Jackson: Something's missing on USA's roster
•
Kobe & Co. arrive to heroes' welcome in Beijing
•
Ford: Top int'l draft prospects at Olympics
•
Watch: Best internationals in action

ESPN Top Headlines