Some eight years ago, Venus Williams withdrew from a tournament in Indian Wells, Calif., before she was due to meet her sister, Serena, in a semifinal match, which drew raucous boos from the crowd.
More than a few people speculated it was match fixing. According to their father, Richard Williams, as he and Venus were walking to their seats for the championship match to watch Serena, some fans called Venus the n-word, and another fan threatened to skin him alive.
"It's the worst act of prejudice I've seen since they killed Martin Luther King," Richard Williams said at the time.
The issue of the Williams sisters' double burden of gender and race was once again a national discussion. Tournament organizers denied the charges, and others intensely debated the accuracy of Richard Williams' allegations. Martina Hingis called the accusations "total nonsense" and went as far as to say she didn't think there was any racism at all on the WTA Tour.
But did the Williams sisters back down? No. In fact, they have boycotted the Indian Wells tournament ever since.
Given that experience, you would think they would have shown the same backbone and determination this week in Dubai after a fellow tour member became a victim of discrimination.
By now you've probably heard about the controversy surrounding Israeli tennis player Shahar Peer, who was not allowed to play at the Barclays Dubai Tennis Championships.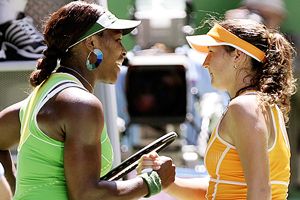 AP Photo/Rob Griffith
Serena Williams defeated Shahar Peer in the 2007 Australian Open.
A Jewish woman traveling on an Israeli passport, Peer was denied a visa in what appears to be a clear-cut case of unfair treatment. Even though WTA rules state a player can participate in any event as long as she has the required ranking, tournament director Salah Tahlak said he feared the presence of Peer, the 45th-ranked female tennis player in the world, would have "antagonized" fans.
It was a handy, but pitiful, excuse. Yes it's true that protesters demonstrated when Peer played at a tournament in New Zealand, waving anti-Israel signs and yelling disruptively. But if security was such an issue, why was Israeli Andy Ram given special permission to play in the Dubai men's event next week?
This was a rare opportunity to make a significant stand. If anyone should have accepted the challenge and taken up Peer's fight, it should have been the Williams sisters, whose immense success always has been intertwined with the underlying tension created by their race and gender.
It didn't matter that Peer said it would have been unfair to the players if the event were canceled. The two biggest icons in women's tennis should have boycotted anyway, instead of offering their colleague surface-level support and shallow rationalizations.
"I have to look at the bigger picture," Venus told reporters. "The big picture is that Shahar Peer didn't get a chance to play, but making an immediate decision we also have to look at sponsors, fans and everyone who has invested a lot in the tournament."
The Tennis Channel and the Wall Street Journal's European edition were the only ones who seemed to understand it was time to act, not talk. The Tennis Channel canceled its coverage of the event, and the newspaper pulled its advertising. Meanwhile, the Williams sisters chose money over principle and met Friday in a semifinal matchup, with Venus winning in a third-set tiebreaker.
"Sponsors are important to us," Venus said. "We wouldn't be here without sponsors and we can't let them down. Whatever we do, we need to do as a team -- players, sponsors, tour and whoever -- and not all break off in one direction. We are team players."
If playing for a lucrative purse is more important than taking a stand for fairness, Venus needs to re-evaluate her definition of a team player.
If this had been a racial issue, the Williams sisters would never have played in Dubai, and I couldn't imagine Venus' expressing such unabashed loyalty to her sponsors, or even caring what sponsors thought. I'm certain the WTA would have withdrawn and the media coverage worldwide would have been unrelenting.
Some of you probably think I'm being unfair by singling out the Williams sisters. There were 53 other female players in the tournament and any one of them could have boycotted on Peer's behalf.
It's not like the Williams sisters were the only ones who failed Peer. The WTA had some early indications Peer's participation could be denied. The tour should have threatened to boycott from the onset. Now that all this has transpired, it shouldn't sanction another event in Dubai.
But I expect more from Venus and Serena because they've experienced discrimination. I'm as disappointed in them as I was with Tiger Woods, who said Augusta National Golf Club had the right to set club rules however it saw fit, even if it meant excluding female members. Woods clearly forgot the club once used that same excuse to prohibit golfers of color from playing there.
When you're a leader of your sport, you bear a different responsibility, and the Williams sisters have assumed ownership of the torch once carried by Althea Gibson, Billie Jean King and Arthur Ashe.
If legacy and equality are important to Venus and Serena, they will give Dubai the Indian Wells treatment. Otherwise they'll be sanctioning treatment they would never accept for themselves.
Jemele Hill can be reached at jemeleespn@gmail.com