Whenever I call home and ask my mother how things are going in Detroit, nine times out of 10 she responds, "Things are getting worse and worse."
Then she gives me the rundown of the latest startling, depressing news. The last time I called, I heard about a few home invasions, a murder, and mortgage and charity scams targeting senior citizens.
If you live in Michigan these days, bad news is like the snow -- guaranteed to come. Every time Michigan residents look at a newspaper -- and home delivery of the Detroit Free Press has been cut back to three days a week -- or turn on the news on TV, they see something to remind them that they live in the most depressed, forgotten, underappreciated, ridiculed, unpopular state in the union.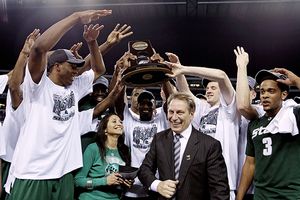 AP Photo/Michael Conroy
The Spartans making it to the Final Four in Detroit has given beleaguered Michigan residents something to cheer about.
But when Michigan State beat Louisville, the top overall seed in the NCAA tournament, in the Midwest Regional final Sunday, anyone with Michigan ties felt a sense of love, satisfaction and connection that hadn't been experienced in seemingly forever.
The No. 2-seeded Spartans were dancing, hollering and whooping it up. They were overjoyed not just because they had earned the school's fifth Final Four appearance in 11 years. They were following their dream of a national championship to Detroit.
Dreaming of Detroit? Oh, Elizabeth, I'm coming to join you.
"The opportunity to play in our state, especially with some of the struggles [the state of Michigan] has gone through this past year, I guess I felt a little bit like hopefully we can be, you know, the sun shining through some pretty cloudy areas," Michigan State coach Tom Izzo said.
"Cloudy" is probably a bit too gentle. The crumbling of the auto industry has bottomed out Michigan's economy. Michigan is one of seven states with a double-digit unemployment rate, and such significant job losses have contributed to a rise in crime. In 2008, Detroit and Flint both made the top-10 list of America's most dangerous cities. And Monday, President Barack Obama gave Michigan another roundhouse kick, blaming auto industry leaders for their own demise and warning GM and Chrysler they will have to go through severe restructuring if they want to receive any further government aid. Sorry to steal Jerry Tarkanian's bit, but the government was so mad at AIG, it smacked the auto companies.
I won't pretend hosting a Final Four (even one that includes a team whose campus is 1½ hours away) can cure Detroit's complex urban problems. But if ever there was a week when Detroiters could revel in a little bit of pride, it's this one.
Detroiters haven't been congratulated for anything in a long time -- unless, of course, you count when Time named former Detroit mayor Kwame Kilpatrick one of the three worst big-city mayors in America.
But it seems like a lot of people are happy for Michigan State and Detroit, even if they don't fully understand how important this is. Most people I know aren't Michigan State supporters, yet as soon as the Spartans beat Louisville, my cell phone practically turned into an active heart defibrillator. Text messages flew in from everywhere. I'm starting to think that during Final Four week, Detroit's official license plate slogan should be changed to, "The 4 is in the D!" because I must have received that text message about 263 times.
"We've always stated our team's a blue-collar team ever since I came here -- and there's no better blue-collar city than Detroit and all the things they go through," Izzo said.
In recent years, Detroit has successfully hosted huge sporting events -- Super Bowl XL, the 2005 Major League Baseball All-Star Game -- but never under this much duress and never with this much at stake.
According to the Detroit Metro Convention and Visitors Bureau, the Final Four could bring $30 million to $50 million into the city's starving economy. That's a drop in the bucket for a city reportedly facing a $300 million debt, but Detroit has to show the nation that, despite serious challenges, it's capable of putting on one helluva show.
I know some journalists inevitably will write the traditional "Detroit is a disaster zone" columns. And if any crime happens during the Final Four, the media conveniently will forget that crimes occur in the background of every major sporting event in this country -- not just in Detroit.
I just ask that people be fair to Detroit and understand what this means for the entire state. Sports won't bring new industries to Michigan or solve its enormous unemployment problem. But this week, no one in Michigan will be feeling blue. Just green.
Jemele Hill can be reached at jemeleespn@gmail.com