Commentary
Daly cool when it counted most
Confident, stylish leadership was the key to Chuck Daly's coaching success
Updated:
May 13, 2009, 2:07 PM ET
By
Jemele Hill
| Page 2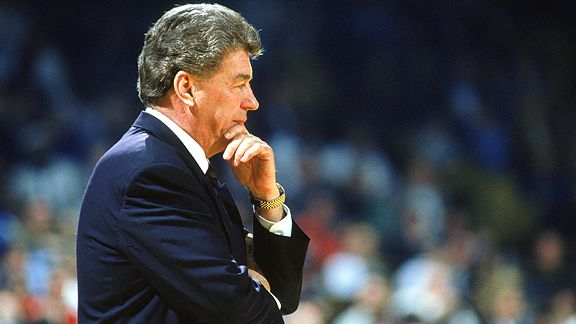 Jonathan Daniel/Getty ImagesCalm, cool, champion. "Daddy Rich" was all that as the coach of Detroit's Bad Boys.
Years later, they would refer to it as "the McDonald's meeting."
The Pistons were in a brutal stretch during the 1985-86 season, having dropped 13 of their previous 19 games. And Isiah Thomas, Detroit's franchise player, asked Chuck Daly to meet him at a McDonald's in suburban Detroit so they could set a few things straight.
Thomas knew Daly was on the verge of getting fired. He supported Daly, despite the Pistons' struggles, but the star point guard needed to know if Daly was as desperate to win as he was.
"Is this what you still want to do?" Thomas asked him.
Daly didn't flinch. As usual, he was cool.
"Let's just gut our way through it and figure out how to get it right," he said.
It was a turning point for the franchise, and for the relationship between coach and star player. Thomas went to owner Bill Davidson and asked him to stick with Daly a little longer. And Daly held up his end, guiding the Pistons to NBA championships in 1989 and 1990.
On Saturday, Daly lost his battle with pancreatic cancer. When I talked to Thomas in April, he said his former coach had remained as poised as he was that day in that McDonald's, and throughout his coaching tenure.
"[Daly showed] the same kind of optimism and fight he exuded in his coaching career," Thomas said.
Thomas, who recently became the coach at Florida International University, was able to visit Daly frequently in South Florida, knowing his former coach was facing a terminal illness. "He's living it just day-to-day," Thomas had said. "He hasn't been down or depressed. If anything, with all the people that have come in contact with him, everyone is amazed he is doing everything he can to uplift everyone else."
Likewise, the NBA community did its part to make sure Daly knew he was appreciated. Throughout the NBA playoffs, the coaches -- and many others around the league -- have worn a "CD" pin, symbolizing the NBA's dedication of the entire postseason to the Hall of Fame coach. And starting this year, the NBA will give the Chuck Daly Lifetime Achievement Award to a coach who has made "a special contribution to the sport."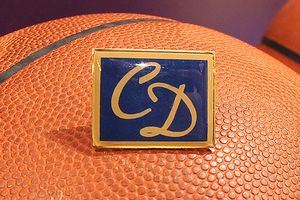 Andrew D. Bernstein/NBAE/Getty ImagesThe "CD" lapel pin is being worn by coaches throughout the playoffs.
Daly isn't just some coach with some award named after him -- at least not for me. I grew up with "Daddy Rich" (that's the nickname given to Daly by John Salley, one of his former players). Detroiters aren't the most accepting people, but Daly was our guy because even with his perfectly coiffed hair and thousand-dollar suits, he personified the city.
We're about working hard, but Detroiters also love looking good. You're not official unless you have some alligator shoes, so Daly got much respect.
"He was the coolest old dude," said Terry Foster, a Detroit News writer and popular radio host who covered the Pistons for six years. "All of Detroit is blue-collar, but we like people with style."
As for his coaching success, the question of perception came into play there as well. There always were whispers that Daly's coaching success was a product of timing, not ability, because Daly wasn't a tactician in the Larry Brown class.
But Daly had a gift for knowing how to lead and for an underrated coaching trait: knowing how to push a team and how to back off.
I asked Thomas, Rick Mahorn and Bill Laimbeer if the Pistons could have won those NBA championships without Daly. They all answered the same way: No.
"He let us grow. He let us make mistakes. He let us learn. He gave us the freedom to play," Thomas said. "Within that freedom you're going to make a lot of mistakes. Through the mistakes you make, you learn lessons from those. All of a sudden you became smart about the game and people."
Laimbeer agreed: "He knew how to get out of the way."
Mahorn focused on Daly's inspirational approach: "He just made us believe. You want to jump higher. Run a little longer. Shoot a little bit better. He motivated us to do those things as players."
Daly, like many of the best NBA coaches, practiced restraint and relied on intuition. He was the guiding hand, rather than the forceful one. It's what made him the perfect pick for the 1992 Dream Team that destroyed all its competitors en route to the Olympic gold medal. As many have noted, Daly didn't feel the need to take a single timeout during the Olympic tournament. In Daly's world, less was more.
"One game, [the Pistons] were getting clowned on a 10-2 run," Foster said. "Chuck called a timeout and talked to his assistants. When he came back to huddle, he didn't say a word. He just rolled his tongue around. He didn't need to say anything."
In Daly's first season with the Pistons in 1983-84, they were ranked No. 3 in scoring (averaging 117.1 points per game), but 18th in defense out of the NBA's 23 teams. Daly and the Pistons worked on transforming the team, preaching defense and relying on gritty players such as Joe Dumars, Dennis Rodman, Mahorn and Laimbeer. By the time the Pistons lost to the Lakers in the 1988 NBA Finals, they had slowed their game down and ranked third in fewest points allowed. From there, they continued to focus and refine their defensive effort, resulting in two NBA titles.
"He kept telling us that in order for us to get better we had to become a better defensive team," Thomas said. "We had to move toward better defensive personnel instead of the high-scoring offense we had. We made the transition from one of the best offensive teams to being arguably one of the best defensive teams to ever play the game."
Daly always looked like he was on his way to a GQ photo shoot. But there was substance beneath the expensive suits.
"He and Pat Riley were the two best-dressed coaches," Thomas said. "Even when I started coaching, that's who I wanted to emulate. How did it resonate in the huddle and the game? Whenever you're in a pressure situation, we would come to the bench and look at Chuck, everything was just real cool.
"It gave us a sense of confidence that probably we shouldn't have had. I look at the talent the Lakers had and the talent the Celtics had and now we see what Michael Jordan is, we shouldn't have been as confident as we were, but he gave that to us."
Jemele Hill can be reached at jemeleespn@gmail.com.
The Undefeated
Co-host of ESPN2's "Numbers Never Lie" and His and Hers podcast
Columnist for ESPN.com
Columnist for Orlando Sentinel (2005-06)
Writer for The Detroit Free Press (1999-2005)
The NBA On ESPN.com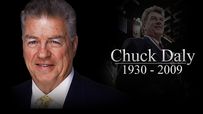 Chuck Daly brought two NBA titles to Detroit with a tough defensive style and won gold with the Dream Team. The Hall of Fame coach leaves behind an influential legacy. Story »