Commentary
Orlando is ready for prime time
Updated:
June 2, 2009, 1:30 PM ET
By
Jemele Hill
| Page 2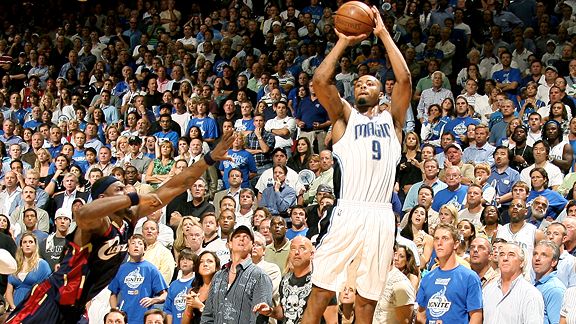 Nathaniel S. Butler/NBAE/Getty ImagesForget LeBron James, what "we're all witnesses" to is Orlando coming of age as a sports town.
Whenever I tell people I live in Orlando, Fla., they usually assume Mickey Mouse and Goofy are my neighbors and everyone here walks around eating funnel cakes without shoes.
That's everyone's impression of Orlando. It's a Mickey Mouse town -- literally. No soul or identity of its own. Just a bunch of country folks and Northeasterners and Midwesterners that never left because they got great suntans and great deals at the seven billion outlet malls here.
But now, Orlando has a chance to change perceptions. The Magic's surprise appearance in the NBA Finals is giving this city the rare opportunity to create a stronger sports identity.
This town doesn't get any respect as a credible sports city because it's a one-team town and most people are under the impression that any real sports town should have more than just one professional sport.
That's fair. I was sports spoiled before moving here four years ago, and I admit the most difficult adjustment was living in a city with one professional option. Also, seeing bugs the size of Cadillac Escalades.
But the Magic's playoff run exposed that there's a strong sports heartbeat here -- one that doesn't just palpitate for the Florida Gators, Miami Dolphins and Tampa Bay Bucs. After the Magic clinched their spot in the Finals, the fans made asses of themselves, flooding the streets and drunkenly climbing light posts in downtown Orlando.
Considering how irrelevant the Magic were when I got here, it was a welcome sight.
Just as the Magic have grown up in the playoffs, so has its fan base. Before, if you went to Magic games, it wasn't uncommon to see more fans wearing jerseys from the opposing team than the Magic players.
Give credit to Dwight Howard because he's helped change a lot of that. Now the hottest item in town might be a Superman cape.
There's no reason Orlando can't become a Green Bay or San Antonio, a city that attains sports legitimacy off the strength of its one professional team.
I'm not saying the Magic will ever have a legacy equal to the Packers, but if you think about what the franchise has accomplished after just 20 years of existence, sports legitimacy for this city is more than attainable.
The Magic almost achieved it 15 years ago. They last appeared in the Finals in 1995, and if Shaq had stayed, they would have been a fixture on the sports map. Howard is picking up where Shaq left off, only this time he could deliver the string of championships that the original Superman never did.
That's not such a crazy idea when you consider Howard's youth, and that he's a big man in a league that has very few. But Orlando's biggest issue is fighting the perception that since Shaq left, it's a small-time place that can't accomplish anything big -- including maintaining the interest of a star of Howard's caliber. Kobe Bryant's reputation is on the line in the NBA Finals, but so is Orlando's. I'm sure as the Finals progress, the national pundits and columnists will unfavorably compare Orlando to Los Angeles. I enjoy living here, but even I know International Drive and Rodeo Drive are as far apart as chainsaws and butter knives.
But as much as Shaq dogged the city when he left, he still has a home here and has expressed interest in one day owning the team. Tiger Woods lives here, too, and you've got to trust the judgment of someone who has won as much as Woods. This place grows on you. Stay here long enough and eventually you begin to think, "Hey, I'm really digging the fact that it's been 104 degrees and 2,000 percent humidity for 75 consecutive days."
Will Orlando ever have the sports cachet of Boston or New York? No. But it can be known for something other than being the hometown of a famous mouse.
Jemele Hill can be reached at jemeleespn@gmail.com
The Undefeated
Co-host of ESPN2's "Numbers Never Lie" and His and Hers podcast
Columnist for ESPN.com
Columnist for Orlando Sentinel (2005-06)
Writer for The Detroit Free Press (1999-2005)