Commentary
NCAA's double standard is exposed
Updated:
June 18, 2009, 11:45 AM ET
By
Jemele Hill
| Page 2
Sixteeen-year-old Bryce Harper, whom Sports Illustrated featured on its June 8 cover with the headline "Baseball's Chosen One," announced earlier this week that he is skipping his final two years of high school and enrolling at the College of Southern Nevada, in order to be eligible for the 2010 MLB draft.
I'm not always in favor of players' leaving school early -- particularly a 16-year-old choosing to leave high school two years early. But in this case I'm swallowing my reservations because Harper has helped expose more of the NCAA's fake posturing.
A 6-foot-3 catcher who hit .626 this season and is being advised by Scott Boras, Harper is hoping to earn his GED this fall, while attending and playing for CSN. Once he does that, it's CTC (Cut The Check) time.
So what has the NCAA got to do with a kid's making an individual professional choice?
Those were my thoughts exactly after reading NCAA vice president Wally Renfro's comments in USA Today following San Diego High School basketball star Jeremy Tyler's announcement he was skipping his senior season and playing overseas. Renfro had no problem voicing his concerns and castigating Sonny Vaccaro for giving Tyler the same advice he gave Brandon Jennings, who skipped college and spent this past year playing in Italy. "He helped create an environment in which the value of high school and college education has been diminished in the minds of many young basketball players," Renfro told the newspaper.
So where's the concern for Harper's education? Where's the condemnation of Boras, Harper's adviser?
There won't be any. I asked the NCAA to comment on Harper's decision, and an NCAA spokesperson responded that the NCAA doesn't "typically comment on specific situations."
[+] Enlarge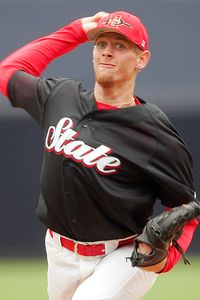 AP Photo/Lenny IgnelziStephen Strasburg left San Diego State after his junior year, and will soon be a very rich man.
(Tyler would respectfully disagree.)
The NCAA is a master at selective morality. But its hypocrisy, though shameful, makes perfect sense. After all, the NCAA became one of the most powerful governing bodies in sports because it protects its most prized financial assets -- college football and basketball players -- at all costs.
The NCAA will never pretend to be outraged by Harper, because there is no financial incentive to keep college baseball players under its thumb. But the NCAA has made billions off the backs of college football and basketball players -- and with the help of pro sports leagues, fans and the media, the NCAA has been able to create a one-sided minor league system.
"It's economic self-preservation," said Marc Isenberg, who authored the book "Money Players: A Guide to Success in Sports, Business & Life for Current and Future Pro Athletes." "If you have a $1 million recruiting budget, the relative economic worth of the player is much higher in those sports. You have to get a return on your investment."
That's why Boras' influence on both Harper and Stephen Strasburg, who was drafted No. 1 overall by the Washington Nationals last week, has never been questioned. They're baseball players, they're not as valuable to the NCAA.
Boras served as Strasburg's "adviser" before becoming his agent. That's in complete compliance with NCAA rules, which say it's OK for amateurs to have "advisers," but it isn't OK for them to hire an agent. These advisers are forbidden from negotiating directly with any professional teams. But imagine the stink the NCAA would raise if Boras or any other high-profile agent was openly "advising" a college football or basketball player of Strasburg's caliber. If Drew Rosenhaus publicly stated he was "advising" Tim Tebow, the NCAA would have a Fred Sanford-like heart attack and Rosenhaus would come under fire.
"It's going on in [college baseball], but it's such a demonization for football and basketball because the revenue that's created," Isenberg said.
The NCAA has made it clear that when it comes to football and basketball, it wants to be the ultimate authority, and it doesn't take kindly to outsiders influencing kids to make decisions that might be in their best interest, instead of the NCAA's.
The NCAA: Where Preserving The Almighty Dollar Happens.
Jemele Hill can be reached at jemeleespn@gmail.com
The Undefeated
Co-host of ESPN2's "Numbers Never Lie" and His and Hers podcast
Columnist for ESPN.com
Columnist for Orlando Sentinel (2005-06)
Writer for The Detroit Free Press (1999-2005)