Commentary
I wish the NBA would toughen up
Updated:
June 22, 2009, 5:44 PM ET
By
Jemele Hill
| Page 2
I wish the current NBA looked more like this NBA.
And this NBA.
"I WISH …"
Page 2 takes a weeklong look at the things we're dying to see in the sports world:
Monday: Jemele Hill
Tuesday: Tim Keown
Wednesday: Scoop Jackson
Thursday: Mary Buckheit
Friday: Patrick Hruby
Your wishes:
• A championship for every fan
• The Hulk, the XFL and the Bucs' QBs
I miss seeing players getting thrown under tables (Wes Unseld versus Bill Laimbeer). I miss seeing players putting other players in choke holds (Manute Bol versus Sedale Threatt). I miss left hooks (Xavier McDaniel versus Charles Oakley).
@Kazaam: I wish the NBA could be more like it used to be.
I love today's NBA, and I do appreciate today's players. The game has never been more athletic, with 6-foot-11 guys who can dribble as though they're 6-1 and LeBron James, who must have been a defensive end in a former life. Playoff ratings are up, and the Lakers and Celtics are strong.
But I hate a league that gives players flagrant fouls if they're too aggressive shaking hands before tipoff. I hate a league in which a player gets a technical foul if he gets into a verbal confrontation and calls his opponent something other than his government name. I hate a league in which players no longer have to think of creative curse words for officials.
It's a shame Dwight Howard received a one-game suspension for throwing an elbow during the Magic's first-round series with Philadelphia, when all Howard did was just create a little more air near Samuel Dalembert's ear. Predictably, the NBA acted as if Howard had hit Dalembert with a tire iron.
If this were the 1980s, NBA commissioner David Stern probably would have called Howard and chastised him for a weak elbow. Consider that in 1987, Robert Parish was suspended one game for triple-slapping Laimbeer in Game 5 of the Pistons-Celtics Eastern Conference finals. When Laimbeer and Larry Bird got into a fight in Game 4, they only received ejections.
[+] Enlarge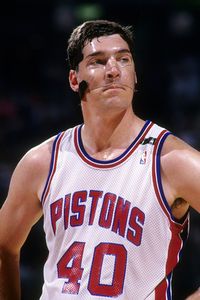 Focus on Sport/Getty ImagesBill Laimbeer is Page 2's poster boy for a wonderful, bygone NBA era.
There are a lot of people to blame for the new, wussy NBA, but mostly I blame Michael Jordan and Ron Artest.
If Jordan and Phil Jackson had not incessantly whined about the "Jordan Rules" -- which ushered in the superstar officiating system that put great defenses at a disadvantage -- maybe a player in the current era could execute a playoff foul without fear of a firing squad.
Of course, the Knicks and Heat teams of the 1990s didn't help. The hysteria from Artest and Stephen Jackson's brawl with Pistons fans at The Palace of Auburn Hills only encouraged the NBA to catapult its product further into softness.
Over time, we've seen handchecking and physical play eliminated, and now we're trapped in an era of love taps.
I'm not condoning fighting or lawlessness. I just wish the NBA had the attitude and edginess it used to have. It gave us real rivalries and genuine hatred instead of weak battle raps.
We saw Magic and Isiah's friendship disintegrate because the Pistons and Lakers continued to challenge each other for the NBA title. Today, the two best players in the NBA are having a bromance in a puppet commercial.
Players in previous decades had to earn their reputations at the offensive and defensive ends, but today marginal players have inflated reputations because the NBA is where coddling happens.
As dynamic as LeBron is when he's barreling toward the basket, just once I wish someone would channel his inner Charles Oakley and knock him to the floor.
As much as I was wowed by Dwyane Wade's performance in the 2006 NBA Finals, I wonder whether the outcome might have been different if a Dallas player had given Wade a "Night Train Lane Necktie" during one of his dazzling drives to the basket.
As good as the NBA is today, it was a better league when players were allowed to be physical. Jordan developed a midrange game, in part, because he was tired of getting hit like a running back on his way to the basket. Today, if a player can shoot beyond four feet from the basket, he's an offensive god.
During the '90s, NBA fans complained that the NBA didn't feature enough offense. The irony is that those same fans complain that nobody in the NBA plays defense. Sometimes, you get what you ask for.
Other wishes I want @Kazaam to grant:
• An Anna Kournikova-Sergei Fedorov makeup. These two were far more intriguing and interesting when they were together than apart. Kournikova's hottest years -- no pun intended -- were from 1998 to 2004, both on the court and off. The bulk of that time she was with Fedorov, who was never the same player post-Kournikova. When they first hooked up, there was the drama that Fedorov might have pulled an R. Kelly. This time around, it would be a sweet reunion of star-crossed lovers.
• A Fugees reunion. It's not exactly a sports wish, but if The Police can reunite, I can dream that one day Lauryn Hill and Wyclef will share the microphone again.
• That players' girlfriends, at the professional or college level, should never be interviewed during live broadcasts. I don't care whether a player is dating a woman who looks like Megan Fox, is a nuclear physicist by day, a police officer at night and can kick a 48-yard field goal. She's a girlfriend, which means she likely has an expiration date.
Jemele Hill can be reached at jemeleespn@gmail.com.
The Undefeated
Co-host of ESPN2's "Numbers Never Lie" and His and Hers podcast
Columnist for ESPN.com
Columnist for Orlando Sentinel (2005-06)
Writer for The Detroit Free Press (1999-2005)