Commentary
LeBron's action again lacks grace
Updated:
July 10, 2009, 3:52 PM ET
By
Jemele Hill
| Page 2
Somebody give LeBron James a shot of 5-hour humility. Since Cleveland's season ended against Orlando in the Eastern Conference finals, King James has acted less like LeBron and more like LeBaby.
In recent months, there have been nagging signs that for all James has accomplished, he still has some growing up to do. But this week, James outdid himself when he turned an innocent dunk at his basketball camp in Akron into a covert Navy SEALs operation.
On Monday night, a pair of videographers recorded Xavier's Jordan Crawford dunking on James during a pickup game. After James allegedly huddled with Nike executive Lynn Merritt, the tapes were confiscated.
Thou shalt not dunk on the King and live to YouTube about it. Predictably, Nike came to James' rescue and insisted the tapes were commandeered only because videotaping pickup games after hours is against policy. It has also been suggested that James, who recently underwent facial surgery and is probably not in game shape, would be more concerned about his conditioning level than the dunk.
They want us to believe this isn't about James' wounded pride, even though Ryan Miller -- one of the videographers who filmed the dunk -- told several media outlets he was informed earlier in the day by public-relations staffers that he could videotape the game. He also said the game was within the scheduled hours of the camp. Plus, the event's media policies don't mention anything about videotaping.
[+] Enlarge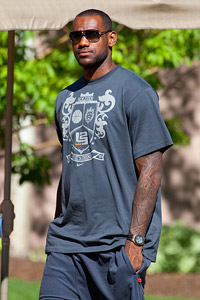 AP Photo/Nati HarnikLeBron James, always conscious of his image, attended the Allen & Co.'s media summit in Idaho in the wake of Dunkgate.
James' people have refused to comment on Dunkgate, but James' ego is doing plenty of talking. Apparently, in the "King's Guide to Being a Prima Donna," not only is shaking hands after a defeat unnecessary, but granting a college kid the moment of a lifetime is out of the question.
James is one of the more image-conscious athletes out there, and I guess he forgot the golden rule: The cover-up always is worse than the actual crime. Now a dunk that no one has seen is legendary, and a kid no one knew last week is becoming a household name.
"My Facebook is blowing up," Crawford told ESPN's "First Take" on Thursday.
Being dunked on isn't a big deal, so James and Nike's scrambling can be interpreted only as absolutely childish.
Some of the greatest players in basketball history have been dunked on. Hakeem Olajuwon is still tasting gym shoe after Kevin Johnson gave him that baseline facial in 1994. Scottie Pippen's humiliating jam on Patrick Ewing in Game 6 of the Knicks-Bulls playoff series that same year is infamous.
And it's not like James has never been posterized. If you recall, Courtney Lee made James swallow leather a couple of times in the Eastern finals. Now I wonder if the King will call NBA commissioner David Stern and try to get those tapes erased.
I realize those dunks happened in official NBA games and were by other professionals, but for James to appear this thin-skinned is eye-opening. One of the things people appreciate about LeBron is that he doesn't seem to take himself that seriously. James drew rave reviews for those Nike ads in which he channeled his inner Eddie Murphy and played an array of silly characters that parodied his superstar status.
But lately, it seems as if James doesn't realize "King" is just a nickname and not an official title. He exposed himself as a sore loser against Orlando in the Eastern finals when he refused to speak to the media and didn't shake hands with the Magic after the Cavaliers were eliminated.
That episode would have been forgivable if James had apologized for his poor sportsmanship. Instead, he showed no remorse. To paraphrase him, he wasn't about to be gracious to anyone who had just kicked his tail.
Although it isn't like James has been all that gracious in victory, either. When the Cavaliers were whipping teams throughout the regular season and in the playoffs, James and his teammates were often shown pop-locking and doing the air guitar once they had retired to the bench. Maybe Crawford's dunk was karma.
I suppose none of this petty behavior should be surprising, considering James has been worshipped since puberty. When people have been kissing your crown for that long, it's only a matter of time before you become drunk on your own hype.
It doesn't speak favorably of James that Crawford, the kid who dunked on him, has handled himself more maturely than the self-proclaimed king. He didn't gloat or stare at James after the dunk. Though if the situation were reversed, Crawford probably would have been treated to at least one muscle flex and a fist to the chest.
"It's really not a big deal to me, to be honest with you," Crawford said on "First Take." "I'm so excited I got invited to the camp and got to play on the same court as LeBron. … I look up to him as a basketball player."
James is perhaps the most talented player in the NBA and more than deserving of the accolades and praise he receives, but he needs to remember the most appreciated kings are those who routinely exercise graciousness.
Jemele Hill can be reached at jemeleespn@gmail.com
The Undefeated
Co-host of ESPN2's "Numbers Never Lie" and His and Hers podcast
Columnist for ESPN.com
Columnist for Orlando Sentinel (2005-06)
Writer for The Detroit Free Press (1999-2005)