Commentary
Thin line between funny and distasteful
Originally Published:
July 17, 2009
By
Jemele Hill
| Page 2
One of the funniest comedy skits I've ever seen is Dave Chappelle's "racial draft," in which the cutting-edge comedian makes brilliant use of racial stereotypes to point out the absurdity of those who become overzealous about racial identity.
Chappelle, Richard Pryor, Chris Rock, George Carlin and George Lopez all have taught us that, when it's done correctly and intelligently, racial humor can be extremely funny.
But that wasn't the case with Dallas Cowboys tight end Martellus Bennett, who has shown how racial comedy done the wrong way quickly turns into a complete disaster.
Bennett posted a video recently on his YouTube television show "Marty B TV" that he called the "Black Olympics," which featured Bennett and his brother, Michael, a rookie defensive end with the Seahawks, "competing" at eating fried chicken and watermelon and drinking Kool-Aid.
[+] Enlarge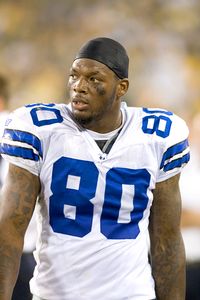 David Stluka/Getty ImagesMartellus Bennett is plenty outspoken for a backup tight end -- and he's certainly no Dave Chappelle when it comes to humor.
Had he been alive to see it, Martin Luther King Jr. would have slapped Bennett with a copy of his "I Have A Dream" speech.
After Bennett was fined $22,000 by the Cowboys for posting another video that was derogatory toward African-Americans and gays, you would think he would focus solely on football and stop trying to be the next Martin Lawrence.
"There's white comedians that do stuff like that all the time," Bennett said on Michael Irvin's radio show. "I think it's funny to attack stereotypes. It's funny how people just put people in a certain light and say that's what all the people do of a certain race or particular person, so it's fun to attack those stereotypes."
Nothing Bennett did in the video made me want to call the NAACP, but he wasn't attacking stereotypes as much as he was feeding them. Before posting his video, Bennett should have looked at the scene from the satirical film "I'm Gonna Git You Sucka" in which inner-city hoodlums compete in criminal-themed Olympics. Now that was funny. Bennett wasn't.
The bigger issue here is that Bennett is embarrassing himself and the Cowboys with these videos and showing he has little respect for his position as a member of arguably the most popular professional sports team in America. Bennett isn't mature enough to understand the only thing these videos are doing is making him look like a clown.
The racial comedy should be left to professionals. There have just been too many instances when people in the wrong position stupidly try to channel their inner Chappelle.
Recently, Republican National Committee chairman Michael Steele met with a group of bloggers, and when he was asked about the party's efforts to attract more minorities, someone blurted out, "I'll bring the collard greens." Steele quickly responded, "I got the fried chicken and potato salad."
Steele was trying too hard to blend in with a group of college students, and like Bennett, he didn't understand that he and a comedian hold a different microphone and reach a different audience.
Bennett's case also shows that unfiltered access to athletes through social networking can be both good and bad. The positive for fans and media is that they have an insider's view and more direct access to athletes. But the downside is that athletes don't always know how to edit themselves and sometimes aren't the best judge of what's appropriate.
And as we've seen, not having a personal firewall can cause serious problems. Former University of Texas lineman Buck Burnette was kicked off the Longhorns team for a racist Facebook status post about Barack Obama after the November election. And point guard phenom Brandon Jennings' NBA career is off to a rough start because Jennings trashed his teammates and dropped the N-word more than Gucci Mane during a live Web interview with rapper Joe Budden. Though there has been some debate about whether Jennings knew his conversation with Budden was being broadcast live, he has apologized for his off-color comments. Still, that probably wasn't the first impression Jennings wanted to make.
If I were making decisions for the Cowboys, I would force Bennett to end "Marty B TV" and fine him $50,000 for broadcasting "Black Olympics." I believe the only reason Bennett hasn't been subject to severe punishment is that he's black, and spewing unfunny stereotypes about his own race is wrongly regarded as harmless. If Bennett were white, he would have faced far more serious consequences, and by doing nothing, the Cowboys are encouraging not only a double standard, but also Bennett's bad comedy.
Jemele Hill can be reached at jemeleespn@gmail.com.
The Undefeated
Co-host of ESPN2's "Numbers Never Lie" and His and Hers podcast
Columnist for ESPN.com
Columnist for Orlando Sentinel (2005-06)
Writer for The Detroit Free Press (1999-2005)