Commentary
Tebow practices what he preaches
Updated:
July 27, 2009, 1:48 AM ET
By
Jemele Hill
| Page 2
So Tim Tebow is college football's Andy Stitzer.
But unlike Stitzer -- the lead character played by Steve Carell in "The 40 Year Old Virgin" -- Tebow isn't embarrassed he's a virgin, and he's planning to stay nookie-free until he's married.
For some reason, Tebow's chastity admission -- which came at SEC media day on Thursday when Clay Travis of AOL's FanHouse.com asked if he was a virgin -- has caused great debate in the sports world.
[+] Enlarge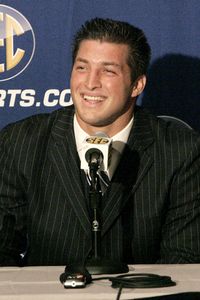 AP Photo/ Butch DillQuestioning Tim Tebow's virginity wasn't inappropriate, but he showed fortitude by not being afraid to answer.
Should we care that the most popular athlete in college football hasn't gotten his freak on?
Was it an appropriate question?
Should Tebow have even answered?
Yes.
Yes.
And, yes.
Asking Tebow about his virginity wasn't out of bounds, and his answer was more important than people realize.
Tebow has used his enormous platform to promote his Christian beliefs. He utters the words "Jesus Christ" almost as often as "spread offense." At media day, he spoke in detail about ministering to prisoners, and he's been praised considerably for doing missionary work overseas.
Tebow's faith preaches abstinence before marriage, and if Tebow is going to regularly endorse Christianity to millions of people, he should be prepared to respond to questions about his adherence to those beliefs.
Instead of engaging in a debate about an athlete's right to privacy, we need to be celebrating Tebow for exhibiting that much backbone under such heavy public scrutiny. I've heard a lot of athletes profess to be devout Christians for the cameras -- only to see them at the bar later picking up women.
Here we have arguably the most popular college athlete ever supporting abstinence, which, let's be honest, isn't considered conventional in today's society.
Isn't that the very definition of true leadership?
"I think you're stunned right now," Tebow joked with reporters after revealing his virginity. "You can't even ask a question. … I was ready for that question, but I don't think ya'll were."
Promiscuity is so deeply embedded in sports culture that most people think the 21-year-old Tebow would be crazy not to take full advantage. Considering his popularity and the breadth of his accomplishments, Tebow must spend a good bit of his day stiff-arming willing women as if they were SEC linebackers. Though after this recent announcement, Tebow's female fan base probably will triple in size.
To his credit, Tebow takes being a role model very seriously. He realizes that not only are other Christians watching him, but so are thousands of young people across the country.
So shouldn't we be happy Tebow is teaching them about restraint rather than "making it rain?"
Isn't it a good thing Tebow is showing them they can be themselves and they don't have to succumb to peer pressure?
Shouldn't we be relieved college's most visible athlete is taking a different course, especially in light of the circumstances following Steve McNair's tragic murder?
I'm no holy roller, but I'll take Tebow admitting he's a virgin over Wilt Chamberlain's boast that he bedded 20,000 women or Magic Johnson's claim he had sex with multiple women at a time, any day.
The fact Tebow answered a question about his virginity is a testament to his character. All he did was successfully put another bull's-eye on his back. I can't imagine what a defensive end might say to Tebow after a sack or the ridicule he'll incur nationally.
Whether Tebow stays a virgin isn't the issue. The lesson here is true belief sometimes requires you to separate from the pack, and only a chosen few are strong enough to handle it.
"Although there has been a backlash, oh well," Tebow said at media day. "I'll deal with it if I have to. It's not a big deal to me because of the kids and the people that have been encouraged by the stories that we have had to tell and the life I've tried to live."
Jemele Hill can be reached at jemeleespn@gmail.com
The Undefeated
Co-host of ESPN2's "Numbers Never Lie" and His and Hers podcast
Columnist for ESPN.com
Columnist for Orlando Sentinel (2005-06)
Writer for The Detroit Free Press (1999-2005)