Commentary
Floyd Mayweather Jr. needs to grow up
Originally Published:
September 18, 2009
By
Jemele Hill
| Page 2
Don't you just hate when a halfway-discussable subject is introduced by someone who just doesn't get it?
I'm talking about Floyd "Money" Mayweather Jr., who lobbed a racially charged grenade earlier this week when he told reporters covering his 144-pound bout with Juan Manuel Marquez in Las Vegas on Saturday night that if he were white, he'd be "the biggest athlete in America."
"If you're rich, you're a rich n-----," Mayweather said. "If you're poor, you're a poor n-----. If you're smart, you're a smart n-----. At the end of the day, they still look at me as a n-----."
Mayweather went on a real tirade. He accused the media of covering up Oscar De La Hoya's misdeeds -- namely De La Hoya's two children out of wedlock, and the lawsuit he settled with an 18-year-old who accused him of rape. Mayweather said he'd be more beloved if he were from a different country, and, having not embarrassed himself enough, he called famed trainer and HBO boxing analyst Emanuel Steward an "Uncle Tom."
Gee, what's not to love about Money May?
If Mayweather was attempting to drum up additional publicity for his fight against Marquez, it worked. And if he was trying to expose himself as clueless -- mission accomplished.
Let's get this out of the way first: The reason Mayweather isn't more popular has nothing to do with race. It has everything to do with the fact that he comes off like a jerk -- one who just so happens to be headlining a sport struggling to maintain its relevancy.
Confidence is one thing, but Mayweather has created an image that's about as embraceable as a flaming pitchfork. He's a loudmouth who often behaves like Fisticuffs, the fictitious rapper portrayed by comedian Dave Chappelle on his TV show.
Mayweather willingly plays the villainous buffoon, and then he has the nerve to be angry that people can't warm up to such a cartoonish persona.
When HBO gave Mayweather a reality show, he had the opportunity to put more separation between the hype and the real man. There were times when he did that, showing himself as a caring father and a charitable giver. But Mayweather spent most of the time flashing $100 bills and needlessly pimping a lavish lifestyle he appears to be struggling to maintain. A day before Mayweather's explosive racial commentary, the news broke that Mayweather is being sued by a Las Vegas bank for an unpaid loan on his half-million-dollar Maybach.
[+] Enlarge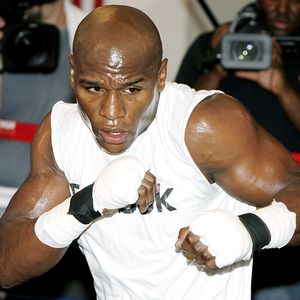 AP Photo/Isaac BrekkenMayweather was hoping for more hype for his latest fight -- so he's tried to stir some up himself.
"We got the big-boy mansion. We got Lambos. We got Rolls-Royces," Mayweather bragged to HBO cameras while jetting around on roller skates in his 22,000-square-foot home. "We got a lot of stuff. But guess what the difference is between me and everybody else? My s--- is paid for."
JP Morgan Chase might disagree.
Some believe Mayweather is just following Muhammad Ali's blueprint, using arrogance as a tool for self-promotion. Ali was boastful, but he was also respected and likable. White America begrudgingly accepted Ali because he backed up his beliefs with tremendous sacrifices.
There is nothing Ali-like about Mayweather's antics. He's Nat X with bling. Insulting Steward was a low blow, considering that for the last 40 years Steward has done more to reshape and positively influence the lives of young black men than Mayweather ever could.
Mayweather's perceived lack of popularity isn't a black thing, it's an idiot thing. There is no doubt Mayweather has extraordinary ability, but in real life most of us don't care for people who constantly play the disrespect card and remind us every 10 seconds how many zeroes are in their bank accounts. In real life, we can't stand it when people lack humility and grace.
Now, there is definitely truth to Mayweather's complaint that rich, opinionated black athletes face racially motivated disdain from some fans and some members of the media. Barry Bonds didn't become a pariah because he was linked to steroids, but because he was unapologetic about shunning the mostly white baseball media throughout much of his career. If a black quarterback were as ungracious and petulant as Jay Cutler, I seriously doubt analysts and announcers would be so enthralled with his "potential."
If boxing had a legitimate white superstar, the sport would be galvanized in a way we haven't seen since it appeared for free on network television. But that's a debate for another day, and it's unrelated to Mayweather's insecurities.
Instead of using racism as a crutch, Mayweather needs to be honest about who he is and what he does. He is totally overshadowed by the monstrous NFL, up against the growing popularity of mixed martial arts, and his boxing style doesn't give fans the violent knockouts they crave. And coming off the unbelievable commercial success of his fight with De La Hoya, his bout with Marquez is a huge letdown. The buzz for the fight is limited, which is why Mayweather's only recourse is to pound his chest and behave like a baby.
If Mayweather ever wants to be loved like a "big boy," maybe he should try acting like one.
Jemele Hill can be reached at jemeleespn@gmail.com
The Undefeated
Co-host of ESPN2's "Numbers Never Lie" and His and Hers podcast
Columnist for ESPN.com
Columnist for Orlando Sentinel (2005-06)
Writer for The Detroit Free Press (1999-2005)