Commentary
There's a new toy in the sports world
Originally Published:
March 10, 2010
By
Jemele Hill
| Page 2
Athletes often set the temperature on the cool meter for the rest of us mere mortals.
We absorb the trends they set, even if they don't quite fit our lifestyle or bank account. Allen Iverson started wearing a shooting sleeve back in 2000 and the next thing you know everyone from accountants to semipro YMCA ballers owned one. When pro athletes started going on MTV's "Cribs" and showing off their limitless Cristal in the fridge or "Scarface" posters on the wall, half of the homes in the U.S. went and copped the same things … though instead of Cristal, it was Cook's, since most of us really can't afford to drop a car payment on champagne. And I'm sure in another couple of weeks the number of people with bleached blond hair with the word "defense" carved into their skulls in Japanese letters will triple.
Assuming you've watched a live sporting event in the past decade, you've probably noticed that whenever television cameras show athletes entering an arena or stadium they're wearing headphones that are big enough to interfere with a NASA satellite.
Athletes love headphones, and lately they all seem to be flocking toward the same model -- Monster Cable's "Beats by Dr. Dre" headphones.
The Beats by Dre seem to be replacing the Maybach as the must-have item for pro athletes. There are no exact numbers on how many athletes own a pair of these state-of-the-art satellite-killers -- which Monster designed with legendary producer Dr. Dre -- but let's just say all the cool people in sports seem to have a pair.
[+] Enlarge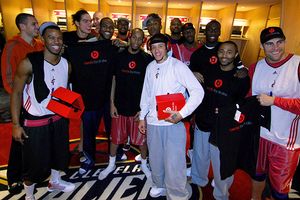 Monster CableThe Cavs were all smiles when Monster gave them the NBA's latest must-have toy.
Monster gave custom-made headphones to every member of the Cleveland Cavaliers, including LeBron James, who also teamed up with Kobe Bryant to purchase custom-made Beats by Dre for every member of the East and West NBA All-Star teams. James also gave his U.S. Olympic teammates the headphones for the trip to Beijing. Considering that the Beats by Dre studio headphones retail at $349.95, let's hope LeBron and Kobe qualified for discounts.
"I had high expectations," said Kevin Lee, the Vice President of Brand and Business Development for Monster, which also made custom Beats by Dre for Chad Ochocinco and Nate Robinson. "We surpassed my expectations. We released the Beats by Dre in 2008, and it took a good 12 months for it to hit the masses."
Lee wouldn't divulge how many units have been sold, but there isn't any question that the entertainment and sports world's endorsement of the Beats by Dre have had an impact on pop culture.
"First thing you notice is the design," Lee said. "Most headphones just don't look cool, and it has a futuristic wide-band design. They give you full studio sound, because Dre is very particular about sound. It really does matter for athletes. That's why LeBron and Kobe rock our headphones."
Monster also offers the in-ear version of the Beats by Dre headphones, which cost $179.95, but the over-ear studio headphones are by far the most popular among athletes.
"Athletes have always used music for some type of inspiration," said Green Bay Packers running back Ryan Grant, who owns a pair of Beats by Dre. "We travel and do things that are active when we listen to music. We want the best product."
Athletes are understandably picky about headphones, considering the amount of time they spend away from home. A NBA schedule is 82 games, baseball is 162, and while the NFL has only 16 games it feels like a 24-hour job. A $20 pair of headphones just isn't going to cut it, and the two words any frequent traveler loves to hear are these: noise cancellation.
"Headphones are super important," said Atlanta Hawks forward Al Horford, who bought a pair of blue and white custom-made Beats by Dre with the phrase "El Jefe" (The Boss) inscribed on them for himself and his teammates after he made the NBA All-Star team. "We do so much traveling that you have to have good headphones. It's a good investment."
Let's be honest: The Beats by Dre might look cool, but the biggest selling point of these headphones is the way they make music sound. Lee explained in technical terms why the sound quality is so superb -- something about digital amplifiers and new driver technology -- but I'll put it in layman's terms: A train horn could be blaring right next to you and you wouldn't hear anything. The Beats by Dre also seduce you into engaging in random off-key singing because you forget you're not in a recording studio, but in the middle seat of a cross-country flight. And the thought of returning to your normal iPod headphones leaves you depressed.
In other words, they're worth the money.
"I know it sounds childish," Horford said, "but it's just the cool thing to have."
Jemele Hill can be reached at jemeleespn@gmail.com