Commentary
Craig Sager is cultural phenomenon
Originally Published:
May 24, 2010
By
Jemele Hill
| Page 2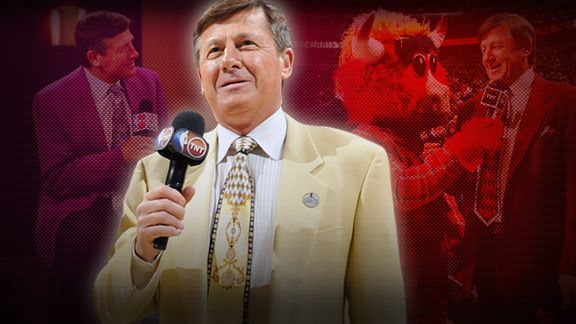 ESPN.com Illustration
LOS ANGELES -- It's not normally considered a good thing if a major television personality wears attire that's compared to the clothing worn by the men who supervise women engaged in the world's oldest profession, but it's somehow made TNT sideline reporter Craig Sager a cultural phenomenon.
For years, the affable Sager has performed his sideline duties wearing suits that look as though they were stolen from the set of the 1973 cult movie "The Mack." He's worn suits that represent every color in the crayon box. He's worn velour and glow-in-the-dark shoes. He's also got shoes that represent every animal, from alligator to ostrich. Sager is probably the only man on the planet who makes Don Cherry look understated.
"I got a pair of stingray shoes," Sager bragged before Game 2 of the Western Conference finals between Phoenix and Los Angeles. "It's my tribute to Steve Irwin."
Despite being 61 years old, Sager has no plans of slowing down, not with the suits or his television work.
"I have the greatest job in the world," said Sager, who is married and has five children. "I never missed a day of work in my life. I always thought about that Wally Pipp syndrome."
Pipp, a first baseman for the Yankees, is remembered for being benched for Lou Gehrig, who went on to play 2,130 consecutive games.
There's no official record for how many consecutive games Sager has graced our television screens with his eccentric clothing, but it's a tradition that dates back to his days as a cub reporter in Sarasota, Fla., in the early 1970s. Today, Sager estimates he has 118 suits, which is enough to take him through the NBA's regular season and the playoffs. He doesn't like to wear the same suit twice in a season. And in case you were wondering if Sager is ever embarrassed by the clothes he wears, there is absolutely no shame in Sager's suit game.
"I'm comfortable with whatever I wear," Sager said. "I just have fun with it."
His attire has become such a calling card that players throughout the NBA look forward to seeing if Sager can top himself. And rarely does he disappoint.
"For him, it's hard to outdo that every game," Grant Hill said. "But it just gets worse and worse."
In fact, Sager was interviewing Kevin Garnett last season wearing one of his normal head-scratching getups and Garnett grabbed Sager's blazer and said, "I don't care if this is Versace, you take this suit home and you burn it.."
"There have been one or two times on an off day when I'm interviewing Shaq, I may show up in a pink suit because it eggs him on," Sager said. "Same with Garnett."
Only once was Sager forced to change clothes because he was too much of a distraction. At the NBA All-Star Game in Washington, D.C., in 2001, Sager wore a Versace suit that he described as looking similar to the metallic cardboard people put in their car windshields to block the sun. Unfortunately for Sager, the camera and arena lights were reflecting off his clothing.
Sager spends a lot of time and money on his attire. It's an expensive habit, and the clothes come from a variety of sources: Neiman Marcus, Mr. Albert's in Cleveland, and his exclusive destination for shoes, Friedman's in Atlanta. He mixes and matches colors, depending on the season, the city, the weather and his mood.
"Sometimes, I'll be thinking brightness and, and I'll go buy something," Sager said.
But don't let the expensive threads fool you, Sager was an athlete in his younger days. He was a walk-on in football and basketball at Northwestern. Sager got injured playing football, but still wanted to stay close to the team. So his coach at the time, Alex Agase, made Sager a deal. He'd take him on the road if he agreed to be the mascot, Willie the Wildcat.
"He took me on the road, and we beat Ohio State at Ohio State," Sager said, "and I was Willie the Wildcat ever since."
As it turned out, the three years he spent as Willie weren't the last time he'd amuse people by wearing something ridiculous.
In the playoffs, NBA players raise their game, and Sager does the same with his clothes. Although it's unlikely, Sager said if the Suns-Lakers series reaches a Game 7, he's got a suit that is certain to become a top trending topic on Twitter.
"For Game 7, I have a great suit that's handmade, it's like a turquoise that's the color of Bahamian water," Sager said. "I had the buttons made in Portland. It's really nice."
Jemele Hill can be reached at jemeleespn@gmail.com