Commentary
Oprah Winfrey's top 10 sports guests
Originally Published:
May 25, 2011
By
Jemele Hill
| Page 2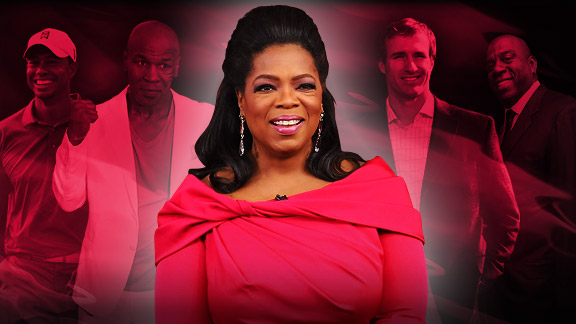 ESPN.com Illustration
For 25 years, we've seen some of everything on "The Oprah Winfrey Show." People suffering from multiple personality disorders. Folks who can't control their children. Tom Cruise treating Oprah's couch like Rick James treated Eddie Murphy's.
Now, it's time to say goodbye to Oprah.
But as we celebrate her utter Oprah-ness, let's not forget how much Oprah has impacted the sports world -- and I'm not talking about how the NBA decided to juggle its playoff schedule to accommodate her grand exit.
Appearing on "Oprah" means something special in the sports world, too. So in honor of one of the greatest television shows in history coming to a close, Page 2 has compiled a list of Oprah's 10 most memorable sports shows.
1. Michael Jordan and Charles Barkley
MJ and Oprah took over Chicago at roughly the same time, and although he has been a celebrated sports figure for three decades, we've still seen only glimpses of his true personality.
One of the great mysteries is how the usually reserved Jordan maintains a close friendship with the outspoken Charles Barkley. And in this Oprah appearance in October 2005, we finally understood why Barkley and Jordan are close despite being total opposites.
In one of her most entertaining sports shows ever, Oprah brought out Barkley as a surprise guest. The barbs between Barkley and Jordan were nonstop.
Oprah asked them, "Who's wiser?"
Jordan: "Well, I know when to eat and when not to eat."
Barkley, though, didn't hesitate to tell the truth about Jordan, either.
"I think the difference is, he might be wiser, but I'm willing to take more chances," Barkley said. "I'll challenge people if I think they're wrong. I don't ever worry about controversy and what other people think of me. I'm always trying to get to the next place."
2. Mike Tyson and Evander Holyfield
In October 2009, Tyson and Holyfield met on Oprah's stage for the first time since Tyson bit off a piece of Holyfield's ear in their controversial 1997 fight.
The two shook hands, and Tyson not only apologized to Holyfield but candidly admitted, "This is a beautiful guy. Me and this guy both come from basically the sewage, and we watched each other grow to become established and esteemed fighters, you know what I mean? I just want you to know it's just been a pleasure passing through life being acquainted with you."
The Holyfield-Tyson reunion came four days after Tyson sat down with Oprah for an emotional, one-on-one interview, which also was one of Oprah's most memorable sports shows. The viewer response was so strong that Tyson returned a few days later with Holyfield.
3. Greg Louganis
Four years after Magic Johnson leveled the sports world by announcing he was HIV positive, this four-time Olympic gold medalist came forward to speak publicly for the first time about being HIV positive and his struggle to hide his homosexuality from the mainstream.
"It's an incredible burden," Louganis told Oprah in 1995. "If I was out in public, I had to edit myself. I was feeling like a fake, and I was also feeling like, 'How could anybody accept me if they knew me?'"
4. Tiger Woods
A year after being named Sports Illustrated's Sportsman of the Year and after having just won his first Masters, the 26-year-old Woods appeared on Oprah with his father, Earl, in 1997.
Oprah called Tiger, "America's son," but Tiger had a far more interesting description of himself, one that would stick in the pop culture lexicon.
It was on this show that Tiger first referred to himself as a "cablinasian," a nickname he gave himself to describe his Thai, African-American and white heritage.
Oprah reportedly tried repeatedly to land Tiger as a guest to discuss his tumultuous past two years, but after Wednesday, it will no longer matter.
5. Magic Johnson
Johnson appeared on Oprah 15 years after he announced he was HIV positive. The show did a thorough examination of Johnson's life, focusing on how he was able to maintain such good health despite living with a virus that most people assumed would eventually kill him.
Johnson, who appeared with his wife, Cookie, also denied the rumors he had been cured of HIV and spoke at length about what inspired him to become one of the country's leading HIV/AIDS activists.
"We're still doing our thing," Johnson said on the 2006 show. "You know, you've still got to live. Life goes on. That's what everybody doesn't understand. You're going to still live a normal life [with HIV]."
6. Laveranues Coles
It was a stunning and heartbreaking admission to say the least when Coles disclosed on Oprah in October 2005 that he had been sexually abused as a child.
Appearing with his mother, Sirretta, Coles revealed that his stepfather sexually abused him at gunpoint as a youngster.
Coles' stepfather eventually was sentenced to nine years in prison after pleading guilty, but served only 3½ years. Coles also said the traumatic experience left him with a number of scars.
"It makes it very hard for me to trust women," he told Oprah. "I think it has a lot to do with why I'm probably not married today because the way I felt about myself ... not knowing how a woman would take having a man that this has happened to."
7. LeBron James
In 2005, LeBron James was a big deal, but he became an even bigger deal when he appeared on Oprah with his mother, Gloria, and longtime girlfriend, Savannah Brinson.
It was a smooth performance by King James, who announced he had recently gone to Sam's Club and bought $120,000 worth of supplies for Hurricane Katrina survivors.
But as generous as that act was, it wasn't the best part of the interview. That came when the never-shy Oprah asked LeBron what he does about the "girls standin' outside the game with their panties on their heads."
"I seen 'em, but my mom taught me right from wrong," James answered.
Well played, LeBron.
8. Drew Brees
Brees' accomplishments notwithstanding, the reason this 2010 interview makes the list is because it shows that as terrific as Oprah is, there are limits to what she knows about athletes.
Oprah knew plenty about Brees' on-the-field accomplishments, including his leading the New Orleans Saints to a Super Bowl victory over the Indianapolis Colts. But what she didn't know is that Brees has a birthmark on his cheek. And no matter how hard you scrub it, it's not coming off.
So as soon as Brees sat down for the interview, the exuberant Oprah reached over and vigorously rubbed her thumb across Brees' cheek. "All right, who just kissed you? There's a big ol' kiss right there," she said, as Brees looked mortified.
Sorry Oprah, if Frank Drebin gave you the wrong idea when he did the same thing to Mikhail Gorbachev.
9. The 2008 Olympians
Oprah played host to 176 Olympians at Chicago's Millenium Park as a special welcome-back from Beijing, but only a select few medalists actually shared the stage with Oprah, including Michael Phelps, Kobe Bryant and the men's basketball team.
Oprah directed a good bit of her attention toward Phelps, who was the story of the Summer Games for winning eight gold medals.
Oprah tried her best to be nosy, asking Phelps about who he was dating, but Phelps stayed a step ahead, saying the only person he was eager to see was his bulldog, Herman.
10. Mike Vick
I don't know what was more impressive -- Vick regaining his NFL stardom after serving a prison sentence for dogfighting or saying no to an interview with Oprah.
Although Vick technically wasn't a guest, his snub of Oprah became a memorable sports moment. A lot of people wondered whether this was a good or bad move for Vick, especially since Oprah is a passionate dog lover.
I'd say it was Vick's best juke yet.
Honorable mentions: Nike co-founder and chairman Phil Knight (April 2011); Where's Daddy, in which Oprah and editors of Sports Illustrated examined the magazine's controversial piece on the illegitimate children by professional athletes (May 1998); Marion Jones' first interview following prison (October 2008); Lance Armstrong (February 2005); The Rutgers women's basketball team's response to radio talk show host Dom Imus (April 2007); and Caron Butler (September 2005), who discussed his difficult upbringing in Racine, Wis.
Jemele Hill can be reached at jemeleespn@gmail.com