There are lots of reasons for the Orlando Magic's surprising hold on first place in the NBA's Southeast Division:
(A) I predicted them to finish first in the Southeast.
(B) Dwight Howard, the leading All-Star vote-getter in the Eastern Conference, has been unbelievably dominant, averaging 23.0 points and 15.1 rebounds per game.
(C) Stan Van Gundy is who we thought he was: a good coach who got ousted from the Miami Heat because Pat Riley wanted to show he could win an NBA title without Magic Johnson.
(D) New addition Rashard Lewis has played like he's worth his $118 million contract.
(E) Strategically placed proton packs nullified the Curse of Shaq.
But here's another reason for the Magic resurgence that deserves serious consideration: Hedo Turkoglu, Turkey's first NBA player, is the team's MVP.
Check the numbers if you're in disbelief. Turkoglu, a crafty, sharp-shooting swingman, is averaging a career-best 18.3 points per game and enjoying relevancy he hasn't had since he served as an X-factor on those Sacramento Kings teams that kept bumping into the Los Angeles Lakers.
No disrespect to Howard, who is the team's best player, its superstar and franchise. But the 6-foot-10 Turkoglu is the Magic's most versatile player. "Turk" is third on the team in scoring, is second in assists and rebounds, and is shooting 36 percent from 3-point range.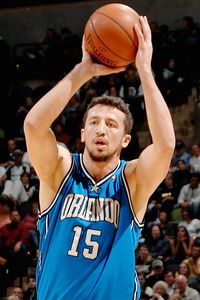 D. Clarke Evans/Getty Images
Turkoglu is scoring a career-high 18.3 points per game and is second on the Magic in rebounds and assists.
"People always know me as a good shooter," Turkoglu said. "I just don't want to be seen as a good shooter. I want to be seen as a complete guy."
Even though the Magic currently find themselves in a bit of a slide -- a season-high three-game losing streak heading into Friday's game at Charlotte (ESPN, 8 p.m. ET) -- it's hard not to be impressed with the way Orlando has played through 23 games.
The Magic's 16-4 start tied the best start in franchise history and caused some to wonder if this Orlando team is as good as the Shaquille O'Neal-led squad that appeared in the 1995 NBA Finals. Sure, it seems frighteningly premature, but you wouldn't be crazy for considering this the best team Orlando has fielded since Shaq left for Los Angeles in '96. Since then, the Magic have suffered through a number of failed experiments that stunted the franchise. The Tracy McGrady-Grant Hill show never materialized because of Hill's numerous ankle problems. Steve Francis was largely a bust. Former first-round draft pick Fran Vazquez, whom the Magic selected 11th overall in 2005, never showed up to begin any type of era. Billy Donovan, the state's golden boy, showed up -- but for just one day before deciding he would rather remain with the Florida Gators. The city has been hailed as a great place for sports figures to live, just not play.
It's early, but this team is helping Orlando separate itself from being a frowned-upon destination. These players also represent the best chance Orlando has had to win its first playoff series since Shaq left.
"We're not saying we're just going to make the playoffs," Turkoglu said. "We want to make the Finals. Right now, everybody's expectations is so high. We have a goal, and we're going to fight for that. We're going to take every game seriously and get as many wins as we can."
That last statement might smack of the obvious, but the Magic and Turk both have struggled to earn high marks in consistency. Last season, the Magic got off to a strong start (14-6 through 20 games), but they faded and finished a disappointing 40-42. They barely lasted long enough in the playoffs to get the wrinkles out of their jerseys, getting swept by the Detroit Pistons in the first round.
"We kind of really didn't have much real experience when we got there," Turkoglu said. "We had guys who hadn't been there before. They didn't know what was going on. I think being swept by Detroit brought everyone together. The commitment we made this year started from last year. Everybody had a better summer, better preparation mentally. We can see that now. We have a new coach and new guys, and we've put it all together."
Fairly or not, Turk previously was branded as a soft player, a typical tag on a European player. He also was known as someone who would be great one month but bad the next. He seems to have shed both labels this season.
"Having a good summer with the (Turkey) national team helped me out," said Turk, who is in his eighth season in the NBA. "In the fourth quarter, my teammates look for me, and they're making me make those shots. I want to get better every year, help the team as much as I can. There is no limit to what I can do for this team. I think I'm doing OK. That's the thing about me: I'm not satisfied yet. I want to keep it up for 82 games. I don't want 20 games unbelievably good, 20 games where I'm down."
There seems to be less fear this season of a Magic collapse or Turkoglu morphing back into old stereotypes. With Lewis' and Howard's presence giving Turkoglu boundless opportunities to showcase his game, his effectiveness should be stable.
"We are all committed," he said. "We set our goals really high this year, and hopefully, we're on the way right now."
Page 2 columnist Jemele Hill can be reached at jemeleespn@gmail.com.
NBA Access: Charlotte
ESPN presented a unique behind-the-scenes look at a day in the life of an NBA franchise as the Charlotte Bobcats faced the Orlando Magic at Bobcats Arena on Friday Dec. 14.
TrueHoop
•
Greetings from sunny Charlotte
•
Lessons from Shootaround
•
The elephant in the room
•
Matt Carroll's Christmas list
•
Trash talk watch
•
A conversation with Bob Johnson
•
Up close to an NBA trade
•
Henry's happy halftime thoughts
•
Things you learn sitting courtside
Podcasts
•
NBA Dish: Chad Ford with Rod Higgins
•
ESPN Radio: Mike & Mike with Sam Vincent
•
Mike Tirico with Hall of Famer Hubie Brown
Story
•
Magic beat Bobcats 103-87
•
Bobcats acquire Nazr Mohammed
•
Details of ESPN's day-long event coverage
Photo Gallery
•
NBA Access: Charlotte photo gallery
Columns
•
Thorpe scouting report: Magic-Bobcats
•
Thorpe scouting report: Dwight Howard
•
Hill: Turkoglu raising game to new heights
Chat Transcripts
•
Bobcats forward: Gerald Wallace, Noon
•
Bobcats forward: Walter Herrmann
•
Walter Herrmann interview in Spansh

•
Bruno Altieri: Bobcats' Walter Herrmann
•
Carlos Morales: Magic guard Carlos Arroyo
•
Altieri: Para no moverse del sillón
•
Basquetbol por ESPNdeportes.com
•
Latinos en la NBA
ESPN Top Headlines