Editor's Note: Page 2's annual Super Bowl party report is now complete, featuring our ratings for all the hot parties in Tampa.
TAMPA, Fla. -- We hope our party report gives you hope that the nation's struggling economy can rebound.
We went into Super Bowl XLIII with low expectations. We fully expected the Tampa party scene to reflect the nation's economic crisis. Maybe groupies would have to carpool. Instead of renting an Escalade limo, perhaps players would opt for a chauffeur-driven Prius. Instead of parties sponsored by Ciroc and Absolut, it would be Colt 45 and Bartles & Jaymes.
As it was, Playboy -- Page 2's party king the past two Super Bowls -- and Sports Illustrated decided not to have their usual Super Bowl soirees because of the economic downturn. Other parties were reportedly scaling back. Who knew Playboy bunnies weren't recession-proof?
"This is my eighth Super Bowl, and I knew things would be slower," said Kimberly Krouse, a partner in Toast, the event-planning company that did the first Maxim party seven years ago. "We were going to do a party for Bruce Springsteen, but he didn't want to do it because it would look bad in people's eyes. These parties are a half-million to $2 million. That's a lot of money to spend on a lavish event."
So, which party ruled the subdued scene in Tampa? Well, we've been critical of ESPN the Magazine's Super Bowl party in previous years, but this year the affair easily earns the crown of Page 2's 2009 Super Bowl party king. Although we couldn't attend every party at the Super Bowl, we certainly heard and read enough about them to know that ESPN was unmatched. The network had more celebrities and athletes, decadence, grandeur and accessibility, than any other party. It was a true VIP experience. Our final ranking for 2009:
ESPN the Magazine's NEXT Super Bowl party

EA Sports Madden Bowl.

Moves Magazine party.
Here's a party-by-party breakdown of everything we saw this week:
Leigh Steinberg's 23rd Annual Super Bowl Party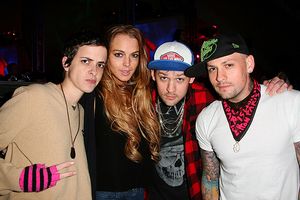 Alexander Tamargo/Getty Images
Samantha Ronson, Lindsay Lohan, Benji and Joel Madden were on hand for ESPN The Magazine's NEXT party.
Why that title?
The traditional party is hosted by the famous superagent, whose life was loosely chronicled in "Jerry Maguire."
Where and when: Lowry Park Zoo in Tampa, Saturday.
Performer: Steinberg, of course, was the host.
Celebrities we saw: Bruce Smith, comedian Joe Torry, Warren Moon, Franco Harris, Clifton Davis, Big Tigger and Marv Levy.
Celebrities who were confirmed, but we didn't spot: There were about 1,200 guests, many of whom were influential businessmen who run in Steinberg's circle.
Overheard: Steinberg conducted an auction, and one baller plopped down $70,000 for a vintage Jaguar.
Food factor: Excellent chicken marsala, provided by Carrabba's Italian Grill.
Best party clothes: Lots of men in elegant, expertly tailored suits.
Worst party clothes: One woman came in a black catsuit, which at any other Super Bowl party would be entirely appropriate. Not so much in this case.
Signs of the economic crunch: The swag bag given to guests seemed a little lighter this year.
Was this party worth a stimulus package? As usual, Steinberg's relaxed, dialed-down affair was a nice counterbalance to the typical party craziness. If you wanted scantily clad women and loud music, this was not the place to be. If you wanted to make a business deal, this was the spot.
Icons Of The Good Life Party, featuring Diddy, Deion Sanders and Winky Wright
Why that title? It was a three-day party in which Diddy, Prime Time and Wright took turns hosting and showcasing celebrities at the same venue. If either Diddy, Wright or Sanders is willing to write me a blank check, I can get a head start on his idea of the "good life."
Where and when: The Venue Club in St. Petersburg on Thursday, Friday and Saturday.
Performer: Diddy served as host.
Celebrities we saw: Asante Samuel, WWE wrestler Maven Huffman, Dwight Freeney, Ryan Howard, Matt Garza, Myron Rolle and Miss Africa USA Nyasha Zimucha (at the private, pre-party dinner at the Dupont Registry down the street).
Celebrities who were confirmed, but we didn't spot: The DJ kept repeating that Diddy was "in the building," but we never saw him. Word is he came in with Justin Timberlake, whom we never saw, either. We also never laid eyes on Paris Hilton, Cole Hamels or Usher.
Overheard: That Adrian Peterson could not get his guest into the party because it was such a tough ticket.
Food factor: The only way you were getting food in the club's sushi restaurant is if you were willing to spend a car payment on a bottle of liquor.
Best party clothes: An older gentleman wore a blazer whose theme was the Kama Sutra. I can't go into any more detail.
Worst party clothes: One male partygoer wore a cranberry suit and derby hat. He must have thought they were filming a sequel to "The Mack."
Signs of the economic crunch: Tickets ranged from $100-$1,350, and that doesn't go as far as you might think. Despite such outlandish prices, there was an open bar from only 8-10 p.m. (What good are free drinks when no one is there?) Seems as if the "good life" needs to be redefined a bit.
Awkward moment of the night: There was a lot of silicone at this party, if you know what I mean.
Was this party worth a stimulus package? The party promised an "opulent night of glamour and extravagance," but nothing other than Diddy's private room -- which reportedly had white sofas, lilies, beads and endless liquor -- lived up to that proclamation. There's nothing wrong with charging exorbitant prices to enter a high-end party, but this wasn't worth the price of admission. There were plenty of celebrities and athletes, but the dance floor was dominated by a much older crowd because they were the only ones who could afford entrance. It was shoulder-to-shoulder, but crowds don't always create good energy, and this one lacked sizzle. The Moves Magazine party, held at the same venue a few nights earlier, trumped the Diddy experience. Fewer people, but freer drinks.
ESPN the Magazine's NEXT Super Bowl Party
Why that title? It's named after the magazine's NEXT campaign, which focuses on athletes destined to become huge stars.
Where and when: On Friday night, ESPN rolled out a custom-made 22,000-square-foot party tent, which was a tent on steroids. Inside there were three separate bars, a NASCAR garage, a sneaker display, a virtual golf driving range and huge projector screens that played historic sports highlights. Guests could also mingle under the stars at the Patron Social Club, which was connected to the tent, or stay inside and play video games on one of the numerous flat-screen televisions in the bar areas. There also was an arcade. Shockingly, no ponies or circus animals. Otherwise, this party had everything.
Performer: Wyclef Jean; guest DJs Samantha Ronson and ESPN NFL analyst Marcellus Wiley; and Lil Wayne, who served as ESPN's red-carpet reporter.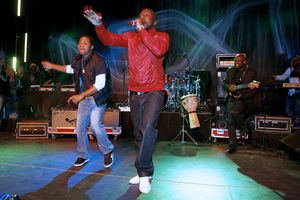 Jemele Hill/ESPN.com
Wyclef Jean's performance made a hot party really sizzle.
Celebrities we saw:
This is a loooong list. You couldn't go three steps without bumping into a celebrity or an athlete, since almost 200 of them attended, including Alyssa Milano, Lindsay Lohan, Kevin James, Chris Tucker, Ty Law, Matt Cassel, Jason Witten, John Lynch, Eddie George, Reggie Theus, Jason Campbell, Jerry Rice, Tony Dorsett, Rosevelt Colvin, Lance Moore, Pierre Thomas, MC Hammer, DJ Spinderella, DeAngelo Williams, Donovan McNabb, Shannon Sharpe, Darren McFadden, Brandon Jacobs, Chad Johnson and, of course, just about all of ESPN's television personalities.
Celebrities who were confirmed, but we didn't spot: This was the toughest ticket to get Friday night. Trust us, everyone who was anyone was there.
Overheard: There was enormous praise (from many men) for the women-to-men ratio. ESPN took a page from Playboy and brought in 300 of Florida's finest models, and through Friday there were more women at ESPN's Super Bowl party than at any of the other ones we attended. As Hugh Hefner often has said, a party is only as good as its women, and if that's the barometer, ESPN did very well. One celebrity guest remarked, "I just met the finest woman I've ever seen. That girl just changed my life."
Food factor: Lots of finger food: quesadillas, chicken skewers, etc. ESPN also added an elaborate candy display, where guests could munch on everything from gummy bears to Reese's peanut butter cups. Not sure that mixes well with Patron -- which sponsored the drinks -- but many guests chose to live dangerously.
Best party clothes: The imported women stole the show. Also, Detroit Lions fullback Jerome Felton, whose charm-school education we documented a few months ago, was impressively dressed in a snazzy blazer and elegant designer T-shirt. His etiquette coach would be pleased to know he did not wear sweat socks.
Worst party clothes: A couple of guys made the poor decision to wear matching collared shirts. It was bad enough that it looked like a kaleidoscope spit up on them, but matching outfits with friends at an exclusive VIP event is never a good idea.
Signs of the economic crunch: None that we could see. It was everything a Super Bowl party should be: decadent, lavish and visually stunning.
Awkward moment of the night: What should we make of the fact that Lohan left the party without girlfriend/guest DJ Ronson? Hmmm …
Was this party worth a stimulus package? ESPN is easily this year's Super Bowl party king. Maxim had its party the same night, and ESPN soundly won that battle. Several celebs either skipped or ditched Maxim to come to ESPN. Wyclef Jean put on an amazing, unforgettable performance, sending an already-dynamite party to a frenzied level. Although there were repeated attempts to get Lil Wayne to take the stage, he did just fine as a red-carpet reporter and impressed several athletes with his sports knowledge. This was a flawless party.
Maxim Magazine Super Bowl party
Why that title? It's named after one of the premier men's magazines.
Where and when: The Ritz Ybor, on Friday night.
Performers: DJ AM and DJ Vice.
Celebrities we saw: Brian Baumgartner, Brittany Snow, Antonio Pierce, Justin Tuck, Barry Sanders, Terrell Davis and Ryan Howard.
Celebrities who were confirmed, but we didn't spot: Diddy and Fergie didn't show, and we never saw Dane Cook, Dennis Miller or Joey Fatone. Terrell Owens, Cuba Gooding, Tony Gonzalez and Wes Welker were fashionably late.
Overheard: Lots of complaining about how slowly the party started. Word is it got cranking by night's end.
Food factor: Never spotted any.
Best party clothes: It was kind of hard not to notice the bevy of half-naked women who wanted inside. Let's just say the traffic in Ybor City slowed considerably.
Worst party clothes: Thankfully, no one showed up looking like Nicole Ritchie circa the Maxim Super Bowl party in 2004, when Ritchie wore a sky-blue beanie and a yellow dress that looked as if it would have made perfect curtains.
Signs of the economic crunch: Maxim appeared to be on the scale-back plan. The guest list was cut in half from last year's party to around 1,000 people.
Awkward moment of the night: A cameraman on the red carpet asked to use the bathroom inside, but he was turned away by security despite having the appropriate wrist band to enter. Who cares if it was 30 degrees and someone's bladder was at stake? … We also heard that when Terrell Owens entered the party some time after midnight, the crowd gave him a standing ovation. Wonder if T.O. knew Witten was over at the ESPN party?
Was this party worth a stimulus package? Maxim is a legendary party thrower, but this year it was more hype than delivery. It didn't help that organizers reduced the guest list or that the buzz was the party was canceled. Their financial conservatism is understandable, but it had a significant impact. It was mediocre.
Dwight Freeney's Super Billiards Tournament party
Why that title? Freeney is the Colts' defensive end, and instead of the traditional dance club, he opted to center the fun around billiards.
Where and when: GameWorks, Ybor City, on Friday night.
Performer: Comedian Chris Spencer.
Celebrities we saw: Marcus Stroud, Devin Hester, Gary Owen, Clinton Portis, Marshall Faulk, Charles Oakley and Brandon Marshall.
Celebrities who were confirmed, but we didn't spot: Michael Jordan, Joba Chamberlain, Jacoby Jones and Claudia Jordan.
Overheard: When comedian Gary Owen asked a guy at the bar how he was doing, he responded: "Blessed."
Food factor: They had a free buffet all night, which went over well with guests. Folks also raved about the chicken skewers.
Best party clothes: Spencer proclaimed ESPN analyst and part-time DJ Marcellus Wiley the best-dressed person at the party. Wiley wore a smoke-gray suit with a coral shirt, which proves he knows a lot more than just football.
Worst party clothes: Some woman didn't get the memo that GameWorks wasn't a dance club. Also, we're starting to think Ed Hardy must have an endorsement deal with the NFL, because almost every player had on an Ed Hardy T-shirt with jeans and a platinum chain. It was like "Attack of the Clones."
Signs of the economic crunch: Hardly anyone bid on the items at the silent auction.
Awkward moment of the night: One male guest gyrated a little too hard to Beyonce's "Get Me Bodied." Also, some of the female dancers had Freeney's jersey number painted on their bodies, but as the night wore on the paint began to wear off and their "parts" were revealed.
Was this party worth a stimulus package? Give this one an 8. Freeney must have used part of his $30 million signing bonus on the party, because everything was free and upscale. He also gave out nice gift bags -- which did not include Ed Hardy T-shirts -- to all of his guests.
EA Sports Madden Bowl
Why that title? Because NFL stars were testing their skills at the world's most popular football video game throughout the venue.
Where and when: The Honey Pot, Ybor City, on Thursday night.
Performer: Hosted by "NFL Live" host Trey Wingo.
Celebrities we saw: Terrell Owens, Donovan McNabb, Darren McFadden, Antonio Pierce, Justin Tuck, Ray Lewis, Chad Johnson, Brandon Jacobs, Myron Rolle, Tony Gonzalez, Shannon Sharpe, Eric Dickerson and Mark Sanchez.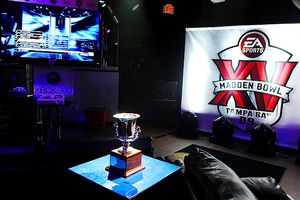 Gustavo Caballero/Getty Images
If you like video games and NFL players, the Madden Bowl was the party for you.
Celebrities who were confirmed, but we didn't spot:
If you weren't there, you were officially lame. It was the place to be Thursday night.
Food factor: Trays of meatballs, pork quesadillas and egg rolls.
Overheard: Lots of complaints about the lack of women and the overwhelmed bartenders.
Best party clothes: Part of this party's appeal was the relaxed atmosphere. Jeans and T-shirts were perfectly acceptable.
Worst party clothes: Chad Johnson stole Run DMC's vintage Gazelle glasses from their "King of Rock" days. Ocho Cinco looked like Urkel.
Signs of the economic crunch: The ultimate party faux pas was committed: Several of the upstairs bars could not keep up with the consumption demands and ran out of certain liquors. When that happens, you can't help feeling like it's an amateur affair. While it was a large crowd, it was hardly unmanageable.
Awkward moment of the night: It will be hard for any party to top what went down in the upstairs VIP section, where McNabb and T.O. were holding court. If there were ever any doubt that the former Eagles teammates have a frosty relationship, it was confirmed Thursday. McNabb and T.O. battled for coolest person in the VIP, with McNabb emerging as the winner. T.O. earned high marks for dancing with four pretty women at once, but McNabb owned the party because he was truly the people's champion. He started his version of a conga line and whether he knew you or not, he forced you to loosen up. Also, both gentlemen ignored one another expertly, and judging by their body language, not even Dr. Phil could reconcile these two.
Was this party worth a stimulus package? And two private jets. The VIP section was shoulder-to-shoulder, and if there were a party MVP, McNabb would be the winner. Runner-up goes to Tony Gonzalez, who displayed some very impressive dance moves. Just like last year, this party started slowly, but ended strong. The McNabb-T.O. duel made this worth a 9.
Gentleman Jack/Yardbarker.com/GQ Super Bowl party
Why that title? The liquor maker, Web site and magazine shared the sponsorship responsibilities.
Where and when: Hyde Park Cafe, Tampa, on Thursday night.
Performer: Hosted by Terrell Owens.
Celebrities we saw: Other than T.O., hardly anyone. A few of the Tampa Bay Buccaneers cheerleaders showed up, and that was about all.
Celebrities who were confirmed, but we didn't spot: It was billed as a private event that would feature a lot of celebrities. Given how much of a dud this party was, the vagueness should have been a red flag.
Food factor: A lot of the finger food was ruined by the rain. Memo to party organizers: Check the weather report before deciding on an open-roof venue.
Overheard: Plenty of drooling when the Buccaneers cheerleaders said they were leaving T.O.'s gig to pick up a few Atlanta Falcons cheerleaders at the airport. It would not surprise me if they were followed.
Signs of the economic crunch: Whether you liked Gentleman Jack or not, you were forced to drink it. For at least an hour, bartenders informed partygoers they couldn't give them drinks not named Gentleman Jack, which was just one reason out of many that this event was lacking.
Awkward moment of the night: Let's just say that T.O. apparently reads my columns.
Was this party worth a stimulus package? This party should be forced into Chapter 11. It was only supposed to be a two-hour event -- a pregame before the serious partying began -- and no one really showed up until there were 30 minutes left. T.O. did his best to meet and greet most of his guests, but there was little he could do to salvage this one. The pouring rain dampened everything. There was very little energy in the room, and an hour into it there were fewer than 10 women there. This party doesn't even deserve a rating.
Moves Magazine party, hosted by Reggie Bush and Ray Lewis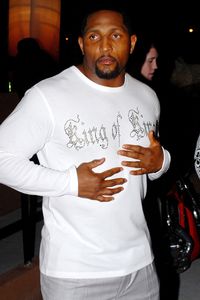 Tim Boyles/Getty Images
Ray Lewis led a large contingent of NFL players at the Moves party.
Why that title?
Moves Magazine is a high-end publication for professional athletes. It has a circulation of 25,000, which might seem small, but not when you're dealing with an extremely exclusive (read: rich) clientele.
Where and when: The Venue Club, St. Petersburg, on Wednesday night.
Performer: No performers, just a DJ. Ray Lewis and Reggie Bush were the hosts. And yes, Bush came with Kim Kardashian.
Celebrities we saw: Evander Holyfield, Dwight Freeney, Maurice Jones-Drew, Lamar Woodley, Donovan McNabb, Nick Mangold, Alex Smith, Warren Moon, DeAngelo Williams, Michael Strahan, Shannon Sharpe, Antonio Pierce, Dennis Dixon, Brandon Jacobs, Tony Gonzalez, Devin Hester, Matt Forte, welterweight champ Andre Berto, Jonathan Ogden.
Celebrities who were confirmed, but we didn't spot: Just about everyone showed up. It was crawling with athletes.
Food factor: There was a restaurant within the club and plenty of sushi circulating among the guests.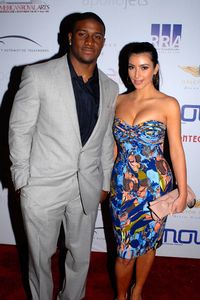 Tim Boyles/Getty Images
Kim Kardashian showed up to aid beau Reggie Bush as he co-hosted the Moves magazine party.
Overheard:
Plenty of comments about Kardashian's posterior.
Best party clothes: There was something refreshing about Nick Mangold's messy trucker look. At least he didn't show up with an "Affliction" T-shirt and a sports coat like every other man at the party. Kardashian, of course, was stunning.
Worst party clothes: Body paint might sound like a good idea, but it's not for everyone. A few of the women using body paint didn't understand it can't combat gravity. Use your imagination on that one. … Also, who was the shirtless, suede-vest-wearing guy in Lewis and Bush's VIP area? I thought that look died with Jodeci. … Best line of the night came from one of Jones-Drew's associates, who spotted a young lady in a miniskirt so tight it was bound to give her a blood clot: "That girl has on the Apollonia dress."
Signs of the economic crunch: We pulled up to the valet and were told there was no actual valet. You had to park the car yourself and pay for a spot. Of course, it could be that we arrived in a Toyota Corolla.
Awkward moment of the night: A partygoer referred to ESPN's Michael Smith as "Michael A. Smith." … A female "fan" came up to Donovan McNabb, asked him who he was and if he was famous. McNabb: "My name is Action Jackson." Wanna get away?
Was this party worth a stimulus package? And a private jet. It was a solid 8. The athletes, including the hosts, were extremely accessible. Even if you weren't a VIP, it was pretty easy to talk yourself into the host's VIP area, which anyone at the party could view since it was glass-enclosed. And if the heat index inside was too overwhelming, you had the option of socializing in the upstairs or downstairs patios. There were plenty of bars, so no one waited long for a drink. It aced the basics, and a little more.
Jemele Hill can be reached at jemeleespn@gmail.com.