Commentary
Catching up with: Jenn Sterger
Originally Published:
November 17, 2009
By
Lynn Hoppes
| Page 2
Jenn Sterger and a couple of friends decided to dress up in short shorts and cowboy hats to root on Florida State University's football team against the University of Miami on Sept. 5, 2005. The television cameras panned over the crowd and focused in on Sterger and her friends, affectionally dubbed the "FSU Cowgirls." ABC sportscaster Brent Musburger said on air, "I think 1,500 red-blooded American men just decided to go to FSU next semester." Sterger parlayed that experience into a modeling career, a television career, a website column and even a job working for the New York Jets. With her 26th birthday coming up in a few weeks and a feature in December's Cosmo magazine, Page 2 decided to catch up with the former FSU Cowgirl.
Jenn, you're a hard girl to track down. Busy much?
[+] Enlarge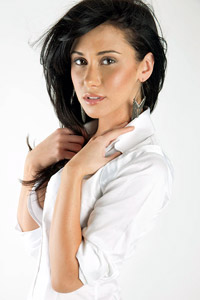 Jenn Sterger Jenn Sterger was able to parlay a brief appearance in the stands at FSU into a career.
"Ha! That's the truth. I'm always working on something new. I haven't even had time this year to get back involved with fantasy football or baseball, so I miss ragging on my friends after the games [but they are happy someone else besides me will win the league this year]. When I wasn't working on writing my recent Cosmo article for the December issue, I've been taking acting classes and traveling/working on a few other projects. And I'm always blogging. But that's more of a cathartic thing than work. So catching me on an off day is really hard."
You obviously never expected all this to happen with just going to a football game in 2005, right?
"Definitely not, but life has a mysterious way of working sometimes. Until that day, I was a regular college student, just killing time before the start of our game that night against Miami. I was a senior and was planning on taking my LSATs and attending law school [well, Lord and the LSATs willing, of course] when I graduated from Florida State at the end of that year. Then, during the game I ended up in a couple different brief 'fade in from commercial' crowd shots that changed everything for me."
How did you decide to turn that fateful day into a career?
"I didn't really 'decide' to turn it into a career. Things just sort of evolved that way. After the first few days of people e-mailing me links to countless online message boards and blogs about my brief television appearance during the game, I started getting really frustrated. I kept reading these strangers posting false and ill-informed assumptions about my character and the kind of person I was. So, I decided that I was going to show these people the real me. I began posting on Warchant.com and a few other sports message boards. This was funny at first because no one believed it was really me, or that I was actually firing comments right back at them. ... Once people saw that I was real and actually had educated opinions on things, sports included ... well, those 15 seconds of television time started to morph into this grass-roots creation that I guess I am today. Shortly after that, Maxim and Playboy came calling. And while modeling was a great gig for a full-time college student, it wasn't until I started writing for Sports Illustrated that I really felt like I found my niche. I had finally found something I was really passionate about and it was also a great way to get my real voice out there (or as much as you can when you're working under an editor). Looking back now, it's still very surreal how quickly things happened."
Who are your role models?
"I absolutely love Bill Simmons. He's living every man's dream ... and, well, mine too. I love how his writing gives the seemingly typical sports article this funny, comedic voice that is entertaining as well as insightful. I'm also a huge Tina Fey fan. I love her quick wit and sense of humor, not to mention her work on films like 'Mean Girls.' I think she writes scenarios that we can all relate to, without dumbing them down into just another teen movie. I can't wait for her book to come out!"
What do you like doing most: appearing on television, modeling or doing something else?
"It's funny, but I think out of all aspects of my career, modeling is the thing I enjoy the least. I am a huge foodie and love to cook, so trying to fit into teeny tiny outfits and look sexy isn't exactly at the top of my list of favorite things to do. Those things just obviously don't go well together. Ask anyone who has met me in person; I'm actually far more goofy and awkward than anything else. Especially in my standard 'sweatpants, T-shirt and baseball cap' I wear most of the time. As for my favorites, I really enjoy the experiences from working on film and television. I feel like people got a better glimpse into my personality and comedic timing. But of all my accomplishments over the past few years, my writing is still my pride and joy. Whether it's an article for print or just a simple heartfelt blog online, writing has become to me now what band was for me in high school: an outlet for what I'm experiencing in my life. I love putting a spin on everyday scenarios as I see them, or telling stories. Some people tell me my storytelling abilities rival that of Barney Stinson's from 'How I Met Your Mother.' They're LEGEN ... wait for it ... DARY! Plus, I have no problem sharing my personal triumphs, tribulations and downright embarrassments with the rest of the world. I figure everyone else is going through it, too, so might as well just put it out there so they know they're not the only ones still figuring out life. Lord knows my daily life has enough crazy things happening that keep me posting regularly!"
You're from Miami but went to FSU. Still a fan of the Seminoles?
"Born in Miami, raised in Tampa, school[ed] in Tallahassee, I've got Florida in my blood! I stopped in Gainesville once too, but only to get gas. That's about all of Hogtown I could handle. [I kid, I kid.] Of course I still love my 'Noles, I just don't have as much time to get down to Tallahassee for games like I used to. I still bleed garnet and gold, through and through, even with the hardships my program has been experiencing lately. People often ask if I have opinions [about] whether Bobby Bowden should stay or retire. As a fan like everyone else, I can only say that I'm extremely grateful for everything that man has done to build our program. Hell, he has practically built a religion out of it. He is Florida State football. But at the same time I have also witnessed the deterioration of a program that was once an annual national contender. So as both a fan and an objective third-party observer, I think the answer is pretty obvious: that the time for change is upon us."
You're revealing in December's Cosmo that you had your breast implants removed. Why did you do that?
[+] Enlarge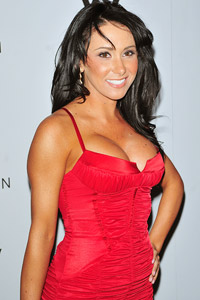 Brian Killian/Getty ImagesJenn Sterger knows her 15 minutes of fame are far from over.
"It wasn't a health decision; it was more of a personal one. For years, a lot of my critics have attributed any success that I've had to a great plastic surgeon, and I never once really argued with them. But there are plenty of surgically enhanced women out there that have tried to make a career in my industry, and most have fallen off the map rather quickly. My implants got my foot in the door, but I truly don't believe that they are the reason I am still around. And to be honest, in the months prior to my surgery I couldn't help but start to feel like the elephant in the room. I knew what everyone was thinking, and I simply got tired of being typecast in life and my work. They started costing me more work than they were actually getting me, so I knew that they had kind of run their course."
You've posed nude for some Web sites. Do you regret that?
"My last name backwards spells REGRETS. ... How sad is that? But, in all honesty, I have none. They weren't so much Web sites that I posed for, my pictures just seemed to end up on message boards and Web sites! I was 21 years old when I 'posed' for those men's magazines. Actually, for Playboy, I was only in one photo in that month's 'party schools' article. In the grand scheme of things, I feel like my pictures back then were extremely tame in comparison to some of the other actresses' images you can find on the Internet these days. I will be the first to admit that I did what I had to do at the time to extend my '15 minutes' and push it into 'overtime.' I didn't have any kind of professional guidance or any managers helping me make decisions and look at the long-term aspect of things. I was just a kid, still feeling my way through college life. I made the right decisions for me, at that time in my life, and have since learned from them. Besides, I don't plan on running for political office anytime soon."
What does your family think about all of this?
"My family has been super supportive through all of this. My mom tends to just watch my career from the sidelines, much more the cheerleader in all my endeavors. Dad, on the other hand, has been a little more involved. He's even taken on certain bloggers to defend me, and since [has] made friends with their authors. Even my grandmother tries to stay up on all my adventures and despite my choices to pose in certain publications she has been surprisingly supportive. She even keeps the rest of the family up to date with her annual Christmas letter. She says, 'As long as I'm not doing those "pornographic" films ... she's happy.' I assure her that's nothing to worry about, and tell her the films even have sound now!"
So I assume every FSU Cowgirl is asking you for advice on how to be famous?
"As far as I'm concerned, I was the first and the original. My girlfriends and I did something pretty remarkable when you look at it in hindsight from a business perspective. But back then, we were doing it just for the love of the game and love of a school. And we certainly weren't getting paid for it. Since I left Florida State, I don't really have any involvement with the new cowgirls. In fact, I tried to attend a game recently and one of the girls pitched such a fit that I would be there that I just decided the drama wasn't worth it. My advice is: If you don't want to be compared to someone, don't imitate it. Originate it."
What does the future hold for you?
"I'm not quite sure what my future holds. Feeling my way around such a cutthroat industry isn't always a pleasant experience, but those successes certainly make the payoff a lot sweeter. I plan on pursuing all the opportunities in front of me to the fullest and just enjoying all the blessings that come my way. I look forward to working on more writing projects, and hopefully, people will look forward to reading them.
Lynn Hoppes is senior director for Page 2 and commentary for ESPN.com. You can reach him at lynn.hoppes@espn3.com