Commentary
Behind the scenes with Mariah Carey
Originally Published:
December 17, 2009
By
Lynn Hoppes
| Page 2
NEW YORK -- She was scheduled to show up at 8:30 p.m.
But she's a celebrity, so we expected to wait a little bit.
On a recent Tuesday evening on the Lower West Side of Manhattan, Carey was scheduled to record a music video to accompany ESPN's NBA Christmas Day coverage. The video features "All I Want for Christmas is You," her smash single that sold nearly 2 million copies and was downloaded a record 1 million times.
[+] Enlarge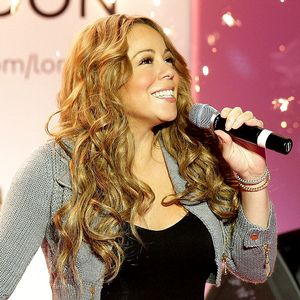 Gareth Cattermole/Getty ImagesIf you watch the NBA on Christmas Day, you'll get a bonus: Mariah Carey.
The crew, on the third floor of a warehouse, were setting up the colorful trees with NBA ornaments. They were getting all the camera angles ready. They were practicing opening and closing a holiday gift box that Carey would be stepping out of. They were decorating the set in holiday colors.
8:30 p.m. -- "We hear she's around the corner, walking up the street," someone from Carey's pre-production team said.
9 p.m. -- "She's just about here. She won't have to walk up these steps, will she?" another person from Carey's pre-production team said.
9:30 p.m. -- Carey's clothes for the shoot arrived. We wondered, is she going to be like Lindsay Lohan and show up 10 hours late for a photo shoot?
10 p.m. -- "She'll be right there," someone from Carey's pre-production team said.
At 10:14 p.m., two bodyguards and two managers walked in. They surveyed the situation, and requested that the video cameras be turned off.
Then Carey walked in.
Followed by three public relations people, a hair stylist and makeup artist, and a few other hangers-on.
Oh, and husband Nick Cannon.
"It's festive," Carey said as she walked in dressed to the hilt, in a black dress, wearing 4-inch heels, with perfect hair, a massive wedding ring on her left hand and a butterfly diamond ring on her right. She admitted being tired from a long day of promotional spots. Then she headed to the dressing room to get her makeup done before doing some interviews.
GET MARIAH'S MUSIC
Interested in picking up some of Mariah
Carey's music? Here are links for her
new album, and her Christmas album.
"Access Hollywood," NBA.com and ESPN.com all had time to talk with her before the shooting of the video. Each was scheduled for two minutes. Yes, two minutes. But Carey does what she wants, and she allowed the interviews to go on as long as necessary.
"Access Hollywood" talked with Carey about her performance as a social worker in "Precious," a new movie adaption of the 1996 novel "Push" by Sapphire.
"It was an amazing movie and I was very fortunate to take part," Carey said. "I had to really dress down for the part and let go of my inhibitions. It was exciting."
NBA.com asked Carey about her thoughts on basketball. Carey, who sang her song "Hero" to honor Michael Jordan at the 2003 NBA All-Star Game, isn't a huge sports fan.
"I'm not that big into the NBA but I know my family is," she said. "I know my nephew will be watching the games on Christmas Day and he'll be forced to watch me!"
Since Carey isn't a big sports fan, ESPN.com decided, what the heck -- let's talk about Christmas.
"I remember as a little girl not having much money," said Carey, who was born on Long Island, the youngest child of Patricia Carey, a former opera singer. "Mom would wrap an orange in tissue paper and say it was from Clarence, the cat."
Carey's parents divorced when she was 3, and that's when Carey started singing. That led, as a teenager, to working as a demo singer, and eventually to a job as a backup singer for Brenda K. Starr. In 1988, Carey met Columbia Records executive Tommy Mottola at a party, and nearly 200 million album sales later, the rest is history.
For Carey, the song "All I Want for Christmas is You" has special meaning because Christmas is her favorite holiday.
[+] Enlarge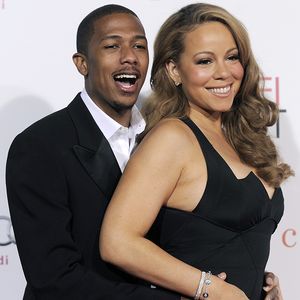 AP Photo/Chris PizzelloCarey and Nick Cannon are now a power couple in the entertainment industry.
"I wrote the song so long ago and I'm so proud that it's still popular," said Carey of the song she wrote with Walter Afanasieff and released in 1994. "I never thought it would be like this. I'm so glad people like it."
That's why Carey wanted to do the video. She loves the holidays, and it will help spark interest as she embarks on an eight-week, 19-city "Angels Advocate" tour starting on Dec. 31 at Madison Square Garden.
But before then, she and her husband are heading to Aspen, Colo., for Christmas.
"I want to make the holidays fun and exciting," said Carey, who has been married to Cannon for nearly two years. "I'm not into materialistic things anymore. I just want to be with friends and family."
Carey has already bought Cannon -- an actor, rapper and television personality -- a gift.
"I'm not telling you what it is," she said. "But it's something close to my heart."
Cannon didn't realize Carey had done some shopping.
"She got me one already? Wow! What is it? I know I need to get her something nice," Cannon said. "Holidays are special to us because we're always out there grinding. We can get together at the holidays and reflect. She has the most thoughtful heart of anyone I know."
So in the end, it didn't really matter to anyone that the shoot -- videotaping Carey walking out of a box singing her song, trying to jokingly place a basketball on top of a tree, and generally just getting into the holiday spirit -- ended at 2 a.m.
It was worth it.
Lynn Hoppes is Senior Director for Page 2 and Commentary for ESPN.com. He can be reached at lynn.hoppes@espn3.com.