Commentary
Behind the scenes at ESPYS
Originally Published:
July 15, 2010
By
Lynn Hoppes
| Page 2
LOS ANGELES -- Tuesday afternoon.
That's when Seth Meyers finally became comfortable as host of the 2010 ESPYS.
Meyers, who had agreed a year ago to host Wednesday's awards show on ESPN, was surrounded by a small team of writers from "Saturday Night Live" and his other buddies from the show: Andy Samberg, Will Forte and Jason Sudeikis. It was like he was back in New York at a table read.
"That's when I finally started to feel relaxed," said Meyers, the head writer for SNL. "It was like having my family here with me."
Throw in Tracy Morgan and Will Ferrell, and it probably did seem like a family reunion.
THE 2010 ESPYS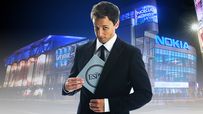 More from the ESPYS:
• ESPYS Notebook
• ESPY Photo Gallery
• ESPY Chat Wrap
• Martin: Offbeat ESPYS history quiz
Your source for everything ESPYS:
• 2010 ESPYS home page
"You never know what you're going to get with those two," Meyers said. "But it worked out great."
Meyers was an easy choice as host because he already knew how to work a live format. Last year, actor Samuel L. Jackson struggled some because he wasn't the best at ad-libbing. But Meyers knows how to deliver a joke and knows how to bring up plot points later in the telecast to get another laugh.
No subject seemed off-limits, even though you'd expect that. In the monologue, Meyers joked about Tiger Woods, the BP oil spill and even LeBron James' "The Decision" special. In fact, comedians Steve Carell and Paul Rudd did a great parody of the LeBron show.
The ESPYS, like most awards shows, ran a little too long, taking a while to get started because truthfully, the athletes were busy gabbing and not getting to their seats in time. The sun was blazing on the pre-show red carpet and a lot of talent raced by to get out of the hot sun and not ruin their hair. And many of the talent spent more time in the athletes' lounge -- which had free food and drink -- than in the seats. But, overall, the show was highly entertaining.
Page 2 was given exclusive access behind the scenes and came away with these observations:
1. Tracy Morgan, who had taped a segment auditioning as Nelson Mandela for "Invictus" to air on show night, killed it. Although not a huge sports fan, he delivered many laughs. He had a lot of quick lines that you'd need to watch again to get the laughs. "I was on. You hear that joke about Christian Bale? I had the audience cracking up," Morgan told Samuel L. Jackson. "I went back to old-school humor [joking about jheri curl]. That's how you do it." Morgan was sporting a Shazam T-shirt right before he went on stage. He was a little nervous because he didn't remember his lines. He hoped the teleprompter would working. And it did. He then spent time in the athletes' lounge talking business with actor Luke Wilson, discussing particulars of a movie they are working on.
2. Brett Favre appeared a little out of place at the ceremonies, even though he won the "Best Play" award. That's not really his fault. The 40-year-old football player looked like the chaperone at a high school dance. He spent a lot of time just trying to figure out who else was in the athletes' lounge. People would walk up to him and say, "I loved how you played football." In the past tense, instead of the present. He never did commit to saying whether he was returning this fall. Several funny moments involving Favre: Actress January Jones, with platinum blonde hair, wanted a picture taken with Favre, who was sporting gray hair. They had to take a few shots. "I think my hair looks almost white in that photo. It might be the lighting," Favre said. "Then again, it just might be the gray hair is turning white." And another was when Sudeikis, who is seeing Jones, talked about Favre returning to host "Saturday Night Live." Favre's response: "Maybe you guys could take a road trip and say, 'Live from Mississippi, it's Saturday Night.'"
3. Will Ferrell, who is naturally a quiet person despite the public persona, showed up about 40 minutes into the show wearing a vintage California Angels T-shirt and shorts and went straight to his dressing room. He then changed into his tuxedo and came on stage as Jeff Vuvuzela, the inventor of the noisemaker that became the talk of the World Cup. The original idea was to use house sound reverberation to make the sound of the vuvuzela, but at rehearsal Ferrell said he could imitate the sound much better. So he did. And the audience seemed to like it. Ferrell went back to his dressing room and changed and left, even before the end of the show. He did spend a few minutes chatting with Jon Hamm of "Mad Men" about their current projects.
4. Singer Janelle Monae, who might be 5 feet tall with her bouffant hair, was really happy for the opportunity to be the musical guest of the show. "I had a great time. I was so happy they worked me into the script with Will Ferrell too," said Monae, about the bit involving the vuvuzela. "It was a lot of fun." Monae, who sings a cross between pop and soul, is hoping to gain the same success as last year's singer, B.o.B., who now has a successful CD and is on a nationwide tour. Funny note on her dressing room door an hour before the show began: "Don't knock because the talent is resting." No, she wasn't. She was chatting with her band.
5. Tim Tebow, who came with his brother, Bob, spent most of the time during the show in the athletes' lounge. The Jacksonville, Fla., native did a lot of conversing with actress Ashley Greene, also a Jacksonville native. Tebow was sporting a powder-blue suit that looked almost like the same outfit he wore last year. On the red carpet, Tebow didn't get the same treatment from the media as he did as college football's best player. But he's OK with that. Even with Meyers making a joke about his relationship with Jesus. He just wants to concentrate on making it as a quarterback in the NFL. And it's not the weather that will bother the guy born and raised in Florida. "It's the altitude that gave me trouble in the beginning," he said. "That first day of camp, I was dying!"
Other news and notes:
1. Surprised not to see Kobe Bryant or LeBron James. People were expecting at least a cameo appearance or something on the big screen.
2. Landon Donovan and actress Bianca Kajlich, who separated last summer, are back together. The 5-foot-8 Donovan, who is normally a very serious guy, did say something funny: "Wow, there are a lot of tall women around here."
3. Surprising a lot of people, the show did make a few jokes about LeBron James' one-hour special called "The Decision." It appears that ESPN brass got a first-hand look at the monologue and approved it before airing.
4. Actor Mark Wahlberg was a little antisocial. Not sure what was going on. He stayed to himself -- literally by himself -- upstairs in the athletes' lounge looking at his phone. And he mouthed a bad word and broke the vuvuzela while on stage after the Ferrell segment. Most of that wasn't planned.
5. The segment involving Forte and Sudeikis acting as old-time ESPN sports anchors Pete Twinkle and Greg Stink didn't really work with the audience. The delivery was good, but most of the audience didn't remember the time of yesteryear at ESPN with such simplistic scripts and generic backgrounds.
But the real star of the show was Meyers, who I wouldn't be surprised to see asked to host again next year. ESPN management was raving about his performance, from the planning of the show to the delivery.
"When you're preparing for the show, you never know how it's going to be received by the audience," said Meyers, who appeared gracious for the opportunity. "But I had a great time and the audience seemed to also. It really was a lot of fun."
Lynn Hoppes is Senior Director of Page 2 and Commentary for ESPN.com.