By Patrick Hruby
Special to Page 2
Shock and awe, followed by lots of whining. Such was the nation's reaction to Janet Jackson's exposed breast during last year's Super Bowl halftime show -- what, you thought I meant the war in Iraq? -- an incident so surprising, so culturally devastating it will forever live in infamy. Or at least until Nicolette Sheridan decides to drop another towel.
And now? Get ready to be stunned again.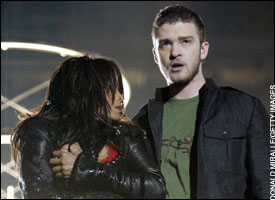 The horror! The horror! Justin stares dumbfounded at seeing Janet's bag of jelly.
As it turns out, Jackson's wardrobe malfunction is just the beginning, the nipple-shaped tip on an iceberg of scandal. After months of tireless investigative reporting -- which is to say, we made it up -- Page 2 has uncovered the awful truth: the Super Bowl halftime show has always been home to the offensive, the repulsive, the obscene. And that's without mentioning Up With People!
Previously, the NFL and the networks -- and possibly the Freemasons -- managed to cover things up. No longer. Justin Timberlake tore the patch from Jackson's leather bustier. Page 2 is tearing the lid off the Super Bowl's secret history of shame.
Herein, the halftime outrages you didn't see ... until now.
THE SIXTIES

Super Bowl I, 1967
Halftime theme: None. The game was the thing. Also, Up With People! had yet to be incorporated.
What you saw: The University of Arizona and Michigan marching bands, tootin' their little hearts out.
What you didn't: Stoned, glassy-eyed band members holding midfield "peace-in," then raiding stadium concession stands for popcorn and Fritos. Remember, we're talking about the '60s.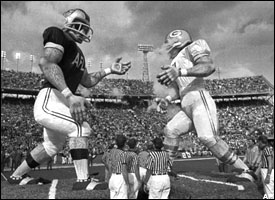 Ahh, back when things were sweet and innocent.
Super Bowl II, 1968
Halftime theme: None, as the NFL continued to believe the game could stand on its own. How quaint and delightful!
What you saw: A pregame extravaganza featuring an Air Force flyover and giant AFL and NFL figures.
What you didn't: Presaging the Athens Olympics opening ceremony, giant figures were anatomically correct; Air Force jets mistakenly spraying stadium with Agent Orange, an incident the CIA still refuses to acknowledge.
Super Bowl III, 1969
Halftime theme: "America, Thanks" ... in advance, for one day putting up with the NFL's Draconian policies regarding local broadcast blackouts and DirecTV.
What you saw: Bob Hope leading a pregame tribute to the Apollo astronauts.
What you didn't: Hope tribute filmed on the same Hollywood sound stage as the Apollo lunar "landings." Like anyone's gonna bring a golf club to the moon.
THE SEVENTIES

Super Bowl IV, 1970
Halftime theme: "Mardi Gras"
What you saw: Pregame "battle of the horns" between Al Hirt and Doc Seversen; halftime performance by Carol Channing.
What you didn't: "Horn" battle didn't refer to musical instruments; Channing suffering double-wardrobe malfunction after promise of free beads.
Super Bowl VII, 1973
Halftime theme: "Happiness Is" ... NFL owners figuring out they could make a lot more money by blackmailing municipalities into paying for stadium construction, then cashing in with luxury boxes and personal seat licenses.
What you saw: The crew of Apollo 17, reciting a pregame Pledge of Allegiance.
What you didn't: Moon hoax nearly revealed when Commander Eugene Cernan tells sideline reporter, "Actually, the toughest part of the whole mission was wearing all that makeup. And the stage lights. Those things will roast you!"
Super Bowl VIII, 1974
Halftime theme: "A Musical America"
What you saw: The University of Texas marching band.
What you didn't: Booing from bored, unhappy fans who mistakenly thought the halftime theme was "Amusing America."
Super Bowl X, 1976
Halftime theme: "200 Years and Just a Baby: A Tribute to America's Bicentennial"
What you saw: Up With People's! first appearance.
What you didn't: Dancers portraying Thomas Jefferson and Sally Hemings getting freaky during "Our Founding Fathers" segment.
Super Bowl XI, 1977
Halftime theme: "It's a Small World"
What you saw: Spectators waved colored placards on cue, the first crowd participation bit in Super Bowl halftime history.
What you didn't: Color of placards matched Howard Cosell's right nipple.
Super Bowl XII, 1978
Halftime theme: "From Paris to the Paris of America"
What you saw: Pregame routines from the Dallas Cowboys and Denver Broncos cheerleaders; halftime entertainment from Tyler Apache Belles, Pete Fountain and Al Hirt.
What you didn't: A grainy-green homemade sex tape that looked like a Desert Storm outtake. Oops. We're thinking of Paris Hilton.
Super Bowl XIII, 1979
Halftime theme: "Super Bowl XIII Carnival: A Salute to the Caribbean"
What you saw: Ken Hamilton and assorted Caribbean bands.
What you didn't: The smoky haze hanging above the assorted Caribbean bands.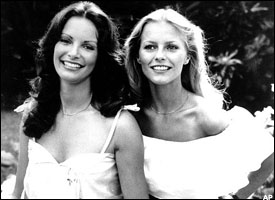 The perfect excuse to run a photo of Jaclyn Smith and Cheryl Ladd.
THE EIGHTIES
Halftime theme: "A Salute to the Big Band Era"
What you saw: Cheryl Ladd's national anthem, good 'ol Up With People!
What you didn't: Anyone caring, since the short-lived swing dance revival wouldn't take place for another 19 years.
Super Bowl XVII, 1983
Halftime theme: A "KaleidoSUPERscope" of color and sound.
Whatever that means.
What you saw: The unparalleled showmanship of the Los Angeles Super Dril Team.
What you didn't: Besides the Himalaya-shaming mountains of Colombian nose candy that fueled a concept like "KaleidoSUPERscope"? Probably nothing.
Super Bowl XX, 1986
Halftime theme: "Beat of the Future"
What you saw: Up With People!
What you didn't: During halftime dance routine, overwhelmed Up With People! androids achieved momentary self-awareness, shedding single tears before bursting into flames.
Super Bowl XXI, 1987
Halftime theme: "Salute to Hollywood's 100th Anniversary"
What you saw: Southern California-area high school drill teams and dancers.
What you didn't: Simultaneous "Sub-Salute to the Casting Couch," depicting what happens when former high school dancers and drillers try to break into show business.
Super Bowl XXIII, 1989
Halftime theme: "Be Bop Bamboozled" ... by forking over $80 for authentic replica jerseys the NFL ends up redesigning every few years.
What you saw: Billy Joel perform the National Anthem; a halftime extravaganza featuring South Florida-area dancers and 3-D effects.
What you didn't: The alcoholic steam wafting from Joel's mouth; Joel totaling his limo in the stadium parking lot; "South Florida-area dancers" recruited from Miami strip clubs, with "3-D effects" made of silicone.
THE NINETIES

Super Bowl XXIV, 1990
Halftime theme: "Salute to New Orleans" ... a city that shares the NFL's love of beer revenue.
What you saw: Musicians Pete Fountain, Dough Kershaw and Irma Thomas; a tribute to the 40th anniversary of the comic strip "Peanuts."
What you didn't: Snoopy the beagle, who doesn't wear pants and might have offended the FCC.
Super Bowl XXV, 1991
Halftime theme: "A Small World Salute to 25 Years of the Super Bowl" ... in essence, the NFL saluting a mirror.
What you saw: New Kids on the Block, or as the cool kids called them, "N.K.O.T.B."
What you didn't: The smoldering, barely-sublimated sexuality of Joey McIntyre's come-hither stare, deemed too hot for network audiences. Times were simpler.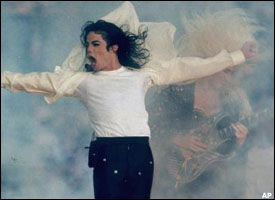 Yes, Janet wasn't the first Jackson sibling to get our halftime attention.
Super Bowl XXVII, 1993
Halftime theme: "Heal the World" ... with cortisone shots and enough Vicodin to leave an elephant feeling gauzy (NFL players only, of course).
What you saw: Michael Jackson performing with 3,500 local children; a pregame coin toss from O.J. Simpson. And no, we're not making this up.
What you didn't: Game officials wiping blood from the ceremonial quarter; Jackson inviting all 3,500 children back to Neverland for a "Jesus Juice" sleepover.
Super Bowl XXVIII, 1994
Halftime theme: "Rockin' Country Sunday"
What you saw: Tanya Tucker, Travis Tritt, the Judds; a pregame show of "Georgia Music Makers" that included adolescent hip-hoppers Kriss Kross.
What you didn't: Tritt's backless leather chaps; Kriss Kross' wardrobe malfunction, which occurred when the duo mistakenly wore their denim overalls forward instead of backward.
Super Bowl XXIX, 1995
Halftime theme: "Indiana Jones and the Temple of the Forbidden Eye"
What you saw: Tony Bennett, Patti LaBelle, Arturo Sandoval, the Miami Sound Machine and a finale including audience participation with light sticks.
What you didn't: "Audience participation with light sticks" conducted by future Abu Ghraib interrogators. Ouch.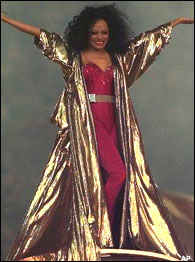 At least Diana kept her dress on.
Super Bowl XXX, 1996
Halftime theme: "Take Me Higher -- A Celebration of 30 Years of the Super Bowl" ... which means about 10 watchable games.
What you saw: Diana Ross, surrounded by pyrotechnics, special effects and a stadium card stunt. Finale saw Ross taken from the stadium in a helicopter.
What you didn't: Helicopter touched down at the Betty Ford Clinic.
Super Bowl XXXI, 1997
Halftime theme: "Blues Brothers Bash"
What you saw: Fat Dan Akroyd, fatter John Goodman and slightly less obese Jim Belushi trampling on the memory of Jim's brother John; James Brown and ZZ Top.
What you didn't: At least a dozen half-naked babes somehow emerging from the three-person backseat of ZZ Top's ghostly Eliminator; the creative impetus for "Blues Brothers 2000," starring Jim but sans John. Really, isn't "According to Jim" punishment enough?
2000 AND BEYOND

Super Bowl XXXIV, 2000
Halftime theme: "A Tapestry of Nations" ... who only care about the other football. So the hell with 'em, and let's have a party!
What you saw: Phil Collins, Christina Aguilera, Enrique Iglesias, Toni Braxton and an 80-person choir.
What you didn't: Collins, who was deemed irrelevant -- and slightly offensive -- to viewers under the age of 40.
Super Bowl XXXV, 2001
Halftime theme: None. The NFL already has your money. Like they need to supply a theme.
What you saw: Aerosmith, Britney Spears and *NSYNC.
What you didn't: *NSYNC'er Justin Timberlake ripping a chest patch from the jacket of bandmate JC Chasez. Fortunately, Chasez was wearing a Wonderbra.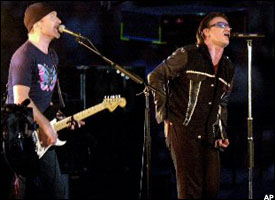 Bono smartly stayed away from singing "Discotheque."
Super Bowl XXXVI, 2002
Halftime theme: None. Themes are so 2000.
What you saw: Irish rockers U2.
What you didn't: NFL security snipers, ready to drop Bono like a burning coal if the band launched into "Discotheque."
Super Bowl XXXVIII, 2004
Halftime theme: None. Produced by MTV, an organization known for subtle, restrained branding.
What you saw: Nelly, Kid Rock, Janet Jackson, whatever Sean Combs is calling himself these days.
What you didn't: Nothing. Show went off without a hitch.
Patrick Hruby is a sportswriter for the Washington Times.