Single page view
By Patrick Hruby
Page 2
His enduring image is iconic: eyes shut, elbows bent, head bowed beneath the splayed legs of a soaring Tracy McGrady. Think 7 feet and 6 inches of feeble intentions, a picture of defiance that rivals the unknown protester who stood in front of a tank column at Tiananmen Square – that is, if said tanks had subsequently run the guy over.
Sniff. I miss Shawn Bradley already.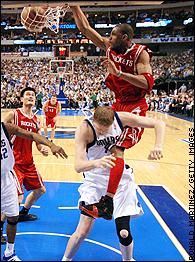 The worst part of being dunked on: getting a face full of T-Mac shorts.
Beset by knee and hip injuries, Bradley reportedly told the Dallas Mavericks last week that he intends to retire, ending one of the most lampooned careers in recent NBA history. A former No. 2 overall draft pick whose size (mostly) and skills (not so much) were supposed to revolutionize basketball, Bradley never averaged more than 14.6 points in a season, instead becoming a carnival attraction whose primary claim to fame was getting dunked on – hard, repeatedly – by a who's who of the NBA.
McGrady with the one-handed hammer. Jason Richardson with a memorable tip dunk. Shaquille O'Neal with too many to count. Facials and derision dogged Bradley in equal measure, so much so that when space aliens stole his talent in the movie "Space Jam," snarky filmgoers joked they couldn't tell the difference.
This is unfair. Also, "Space Jam" stunk, almost as badly as that Billy Crystal-Gheorghe Muresan flick.
But I digress.
Point is, Bradley had ability. Unique ability, in fact. He was the league's ultimate foil, a world-class dunk enabler, a player whose awkward block attempts made everyone else's thunderous jams look good. Posteriz-ers need posteriz-ees. No one played the latter role like Bradley.
To put things another way: Have you ever seen someone in a dunk contest jump over the ball rack? Imagine one with arms. And only slightly less mobile.
Darius Miles once said his best professional slam came against Bradley. He had more than one to choose from. Dozens of pros – including Keon Clark and Cuttino Mobley, all 6-foot-4 of him – probably concur.
As such, Bradley was no bust. To the contrary, he was arguably the most entertaining No. 2 selection of the last 15 years. And also better than Sam Bowie. Less glutton for punishment than abuse artiste, Bradley should be appreciated accordingly, like a rare and precious cubic zirconia.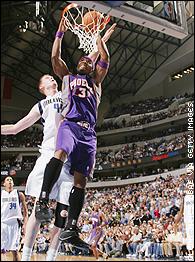 Quentin Richardson says, "Outta my way, Bradley!"
O'Neal's recurrent love taps? Bradley's throwaway sketches.
Richardson's tip jam, described by teammate Troy Murphy as "just sitting on Bradley's head"? Big Shawn's "Les Demoiselles d'Avignon."
McGrady's rim-quaking, mouthpiece-shaking, face full o' shorts throwdown during this year's playoffs? Bradley's Sistine Chapel, saving the best for last.
Upon entering America, Oscar Wilde once said he had nothing to declare except his genius; upon entering Toronto, Bradley would have been justified in proclaiming the same thing. After all, getting kicked by Mobley as he hung from the rim is no easy thing. Uh-uh. It takes a special sort of aptitude. Especially when you're so tall you have to sit sideways on the team bus.
Again, consider McGrady's dunk. A stronger player would have knocked T-Mac to the floor. A more athletic player might have stuffed him outright. Erick Dampier would have gotten out of the way altogether, better to save his strength for signing the back of his paycheck. Only Bradley had the perfect blend of height, clumsiness and genuine shot-blocking moxie – his 2,119 career blocks rank No. 10 all-time – to make McGrady's jam look fully awe-inspiring.