By Patrick Hruby
Page 2
ARLINGTON, Va. -- The line stretches back from a locked gate, past the Washington Redskins store and the World Hats Embroidery kiosk. There are office managers and members of the Coast Guard, clad in Yankees caps and University of Miami jerseys. Here in the nation's capital -- well, make that a suburban shopping mall -- a group of constituents stands united. Only they aren't casting ballots, picketing the White House or ambling onto a tour bus.
Nope. They're simply waiting to buy a video game.
Not just any video game. Madden NFL '06.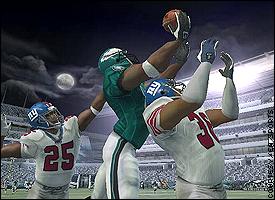 T.O. threatening to hold out? Not in Madden.
"Everybody plays Madden," says Will Tucker, 19, an Arlington resident. "Everybody who knows football, talks football, loves football. Madden is the Bible."
When the Founding Fathers gave us the right to peaceful assembly, they probably didn't have this in mind. Then again, Jefferson and Co. probably didn't envision dudes in Stormtrooper armor camping out for "Star Wars," either. The price of freedom is what freedom brings -- in this case, about three dozen guys (and they're almost all guys) camped around an Electronics Boutique, counting down the seconds till midnight, itching to snag the latest installment of a game that will deluge the nation's retailers in about eight hours.
But never mind that. It's Madden. It's football. Why wait?
"It's all about having it first," says Vic Turner, 33, who lives in District Heights, Md. "I called in sick for tomorrow. Don't go saying it too loud. I work really close to here."
Melvin Ludacka stands by the gate. He has milled around for more than an hour, jonesed for Madden for what seems like forever (in reality: the six months since he tired of last year's game). If everything goes according to plan, Ludacka will head home, grab a controller and spend the rest of the day on the virtual gridiron, occasionally pausing to use the bathroom.
Needless to say, he won't be in the office today. Or for the rest of the week.
"I took leave for the whole week to play Madden," says Ludacka, 26, who serves in the Coast Guard and works in an adjacent building. "My wife is at home in bed right now. She said, 'You're childish.' I said, 'Expect the same next year.'
"After this, I'll go to 7-11, get a Double Gulp of Mountain Dew. That's all I need."
Madden Hits the Streets
ESPN.com's Darren Rovell was in Manhattan for the release of Madden '06. Fans couldn't wait to get their hands on the game -- and get down to business.
Hundreds of midnight release parties. Thousands of games sold. Countless calls to the office, embellished by fake, wheezing coughs. For the Madden faithful -- possibly you; probably someone you know -- today is more than the start of a new virtual season. It's an unofficial national holiday, akin to the Super Bowl and vastly superior to, say, Arbor Day.
Plant a tree? Please. Will a tree let you set stadium hot dog prices in franchise mode?
"I'll probably stay up for three days," Tucker says. "This is better than Christmas."
No kidding. Christmas lasts only a single day.
*****
He's getting too old for this. That's what he tells himself. Every year, George Tennant Jr. ponders giving up Madden; every year, he finds himself back in line, pre-order slip in hand. The game has that effect on people. So does crack cocaine.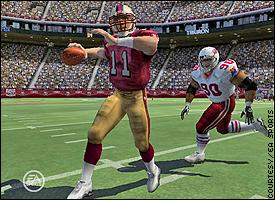 Hey, just like real life: Alex Smith is running away from onrushing defenders.
Just when I thought I was out, they pull me back in.
"Sometimes I see older guys in line and I feel like I should be doing something else," Tennant admits. "But I can think of a lot worse habits to have. In my line of work, I see people with real addiction problems. So I think I'm OK."
In 12-step lingo, this is called rationalization.
A 36-year-old criminal defense attorney from Houston, Tennant played Madden on the Commodore 128. He played in college for pizza money. He's still playing. Hobby, habit, same difference. His work calendar reads as follows.
AUG. 9 AND 10 -- MADDEN HOLIDAY. NO COURT APPEARANCES.
"I clear my docket," Tennant says. "If you plan ahead, it's really easy to do. I'll just say there's a conflict; and under Texas rules, you don't have to say what it is."
Tennant laughs.
"It's genuinely in the best interest of my clients," he adds, "because if I'm in court, I'll be distracted."
And at home? Put it this way: Tennant has a wife and three children, ages 7, 5 and 2. The 7-year-old loves playing Madden with Dad. Everyone else in the house hates the game.
Actually, hate might be an understatement.
"The ad that EA [Sports] has with the Madden widows?
That's my wife," Tennant says. "When Madden comes out, I lock myself in the [game] room for about three days."
Tennant's behavior is hardly unusual. Twisted, perhaps, in a Fortress of Solitude sort of way. But commonplace, nonetheless.
Consider the numbers. Last year, the NFL's Kickoff Weekend drew approximately 1.1 million fans. By comparison, retailers sold 2.1 million copies of Madden in August, more than half of those during the game's first week on the market, according to the NPD Group.
Small wonder, then, that hundreds of Electronics Boutique and Blockbuster Game Rush stores remained open late last night, many holding Madden release parties with food and music.
"Every year, Madden is one of our most important titles," says Joe Carey, Electronics Boutique district manager for Northern Virginia. "It warrants the midnight opening. People want to wait in line. And they're probably not going to work tomorrow."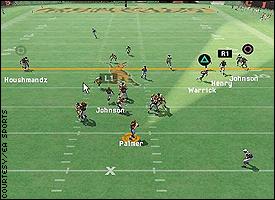 In the new Madden, young QBs like Carson Palmer won't have the same field vision as a savvy vet.
Tell that to Jordan Edelstein. A marketing manager at EA Sports, the company that produces Madden, Edelstein once sold children's snack food for General Mills. He says his current job is more of the same -- only now, the kids in question have families and mortgages.
Last year, EA Sports ran ads poking fun at "Madden Widows" and calling for a "National Madden Vacation Day." For Madden '06, the company rolled out an online sick day excuse generator that was only half-joking.
At age 33, Edelstein can relate. When he interviewed with EA Sports, his résumé included a bullet point reading, led Rutgers to back-to-back national championships in NCAA Football.
"If you're buying Madden in the first two minutes of the day, you're either taking the day off or pulling an all-nighter," he says. "People are entertained by our ads. They don't think it's freakish."
Of course not. Freakish would involve risking one's life -- or maybe going to another country -- to get Madden as early as possible. Dan Onysechuk did both.
Four years ago, Onysechuk and two friends drove from Toronto to Buffalo for a midnight Madden sale. Anticipating heavy rain, they brought along a PS2 game console. Just in case.
"The storm was huge, so we ended up staying in a hotel," recalls Onysechuk, 22, a Toronto resident. "Really seedy, didn't smell nice, dimly lit. Like something you would expect from a horror movie. We stayed there for two days, playing Madden. It's sad.
"People were wondering where we were."
Onysechuk and his buddies have made the same trip -- sans fleabag hotel -- three years running. Drive an hour and a half. Stop at Buffalo's famed Anchor Bar for some wings. Pick up Madden. Drive back.
They planned to go last night, too, which makes perfect sense considering that Madden releases later in Canada.
"Actually, it comes out the same day," Onysechuk says. "We just don't want to wait the extra eight hours."
Oops. Perhaps unsurprisingly, trekking to Buffalo is only the second craziest thing Onysechuk has done for Madden. The first? While working for a maintenance company in 2002, Onysechuck approached his supervisor, red-eyed and ashen.
Sir, my grandmother has passed away. Sniff.
Nearly two weeks of bereavement leave ensued. Onysechuk played Madden the whole time.
"In retrospect, maybe that wasn't the best thing to do," he says with a laugh. "Especially since my grandmother is still alive."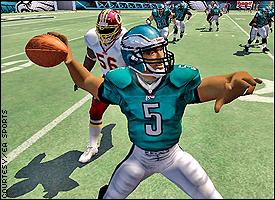 Just curious: Is there "a dry heave" factor in Madden '06?
James Zuch used to call in sick, too. Lately, though, the 32-year-old sales representative from Sanborn, N.Y., wonders whether his Madden addiction is a bit much.
Zuch runs a side business in photography and Web design. It eats up his free time. At the office, coworkers tease him: Oh, you have the Madden sickness, huh?
"I asked for the day off this year," he says. "They say, 'It's the busy season; is this important?' I'm like, 'Yeah, Madden's coming out.' I'm starting to feel a little weird."
This year, Zuch swears, he plans to leave work only a few hours early. With good reason.
"I have a fiancé now," he says with a laugh. "After Madden comes out, I might lose that."
*****
The call came on a Saturday afternoon. Sandy Sandoval was sitting on his couch, watching the first day of the NFL Draft. During a commercial break, EA Sports ran a teaser for its next-generation Madden game, a digital Donovan McNabb tossing a touchdown to Terrell Owens.
Twenty minutes passed. Ring! Sandoval answered his phone. On the line? Jacksonville quarterback Byron Leftwich.
Sandy, I got to get that.
Byron, calm down. The game doesn't come out for months.
No, I have to get that right now.
"I couldn't believe it," recalls Sandoval, EA Sports' director of athlete relations. "He kept going on about it. Then I ran into Byron at the ESPYs. It wasn't even, 'Hey, how are you?' It's just, 'Where's my Madden?'"
One might assume that after a long professional season, NFL players would turn elsewhere for their digital amusement -- shooting space aliens, perhaps, or maybe the Nazi undead. Uh-uh. Turns out Leftwich and company are as hooked on Madden as everyone else. And when it comes to scoring the game, they have one great advantage over the average fan.
They can get on Sandoval's list.
"Michael Vick called me over the weekend," Sandoval said last week. "He's on the list. I sent him the game. He called me back and thanked me. Then he asked for three more copies."
For Madden aficionados, the only thing better than getting the game at midnight is getting it days in advance. And the best way to secure an early copy is through Sandoval. Every year, he gets about 100 units of the game, weeks before the official release date.
Soon after, his cell phone starts ringing. Chad Johnson. Carson Palmer. Ray Lewis. Ben Roethlisberger. As many as 20 calls a day.
Santa Claus endures less pestering.
"You have to be careful," Sandoval says. "It's like opening a can of worms. If you send one copy to a team, you'll get everyone calling you."
Sandoval isn't exaggerating. Last year, he gave a preview copy of Madden to Oakland's Jerry Porter, touching off a locker room bidding war. One teammate offered Porter $1,500 for the game.
When Page 2 approached Clinton Portis at the Washington Redskins' training camp last week to talk Madden, the running back had a single, burning question. Do you have Sandy's number?
(For the record: We passed it on. Good luck, CP).
"Man, they won't put me on the cover," Portis lamented. "I'm about to stop dealing with EA. Next year, I need to be on the cover."
Portis smirked.
"This year, an early copy would do just fine."
With demand outstripping supply, Sandoval prioritizes. First on his list is Philadelphia's Michael Lewis, reigning champion of the Madden Bowl, an all-NFL player video game tournament hosted by EA Sports during Super Bowl week. Next comes this year's coverboy, Donovan McNabb, followed by athletes who have worked with the company.
Then there are the coaches. Think Marvin Lewis, Jim Haslett (whom Sandoval dubs "his main man"). Bill Cowher's daughter plays Madden. So does Andy Reid's son.
True story: About a month ago, Reid and Sandoval were chatting on the phone.
Sandoval: "Andy, you owe me. You look nice and slim in this year's Madden."
Reid: "Sandy, I gotta get a copy. I want my wife to see how I looked in my heyday."
With that, Sandoval cracks up. At age 49, he's grateful -- if a bit amazed -- to push a product that mostly sells itself. Eight years ago, he worked for Easton Sports, peddling hockey shafts and baseball gloves in locker rooms around the country; today, the pros come to him.
Case in point: A few years back, one of Sandoval's coworkers had a neighbor who played college football. The kid wanted an office tour. Sandoval obliged, gave him some free games, sat him down in his office. On the back wall were autographed photos of Michael Jordan, Wayne Gretzky, Muhammad Ali.
"Sandy, I want to get on your wall," the kid said.
"Well, you've got to be a pretty big hitter to get up there," Sandoval replied.
More recently, the two met again -- this time at the Pro Bowl. The kid's name? Tom Brady.
"He says, 'Let's take a picture right now, so I can get on your wall,'" Sandoval said. "I was a little embarrassed."
Comes with the territory. When Sony released the PS2 in the fall of 2000, Sandoval took a call from Kevin Spacey. Thinking it was a prank, he hung up on the actor. Not once. Not twice. Three times.
Today, Sandoval knows better. Andy Roddick, Snoop Dogg, the guys from "Entourage" and the Anaheim Angels are among those who have contacted EA Sports, asking -- read: begging -- for an advance copy of Madden.
"The Angels PR director wanted one for their clubhouse," says Wendy Spander, a senior PR manager at EA Sports. "They're jonesing. And these guys are in a pennant race. We don't even answer our phones right now."
No one, it seems, is immune.
"Donovan McNabb told us his teammates are hitting him up for copies," Spander added. "Just because he's on the cover. It's like they think he keeps a stash in his car."
*****
Like Spander, Will Kinsler doesn't answer his phone. Not when Madden is about to drop.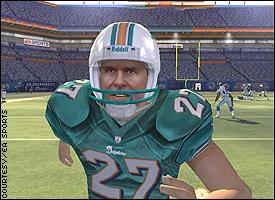 Maybe the Dolphins should try Jeb Bush at RB.
The Web master of a popular Madden Web site, maddennation.com, Kinsler receives preview copies of the game. Last year, he posted movies and impressions on his site. Readers wanted more. Kinsler had a listed number.
In came the calls, one after the next.
What are the Redskins rated?
Can you get me a copy?
You live in Maryland. So do I. Can I come over to your house and play?
"I had to unplug the phone," says Kinsler, 23, a resident of Glen Burnie, Md. "Our site has close to 30,000 members. Some of them are pretty straightforward about what it is they want to do."
Kinsler has a wife and two daughters. He used to sell mortgages, work in a luggage store. Not anymore. The Madden site is his full-time job. Don't laugh: He and partner Fred Villaruel also work on strategy guides for the game and broadcast a weekly Internet radio show that draws 1,500 listeners a pop.
Are they making a fortune? No. Is Kinsler getting by? Yes.
Does Villaruel, 26, plan to open a gaming center in his hometown of Valparaiso, Ind.? You bet.
"If someone had told me that I'd be making a living off this, I wouldn't have believed them," Kinsler says. "But it's become a source of income, as opposed to something where I'm ignoring my family. My kids love the game. They don't fully understand what is going on. But they know it's good."
So good, in fact, that when rapper B-Real of Cypress Hill heard that Kinsler's site was putting together a Madden-themed mixtape, he offered to contribute a track. Gratis. Such is the fervor surrounding the game, a fervor that inspired Kinsler to start an online petition asking Congress to make Madden's release day a national holiday.
The petition's Web site, maddenholiday.com, boasts 753 signatures. Among the accompanying comments:
"Madden is more than a game. It's a way of life."
"I've called in sick for 13 years now :("
"I need this, my boss may be getting suspicious."
"American children have great hand-eye coordination thanks to Madden."
"We can just replace Mothers' Day with Madden Day."
"My fantasy football buddies think Madden is cute, tell me to go play on my Nintendo," Tennant says. "But I'm gonna have the last laugh. When we're 50 and everybody is playing EA football, I'll be the one stomping them." "In my generation, everybody wanted to play guitar after 'Purple Rain' came out. Well, there's gonna be some movie that does the same for Madden. It will be a 'Rudy' for nerds."
Dare to dream. In the meantime, a national Madden Day might not be as far-fetched as it seems -- certainly no more ludicrous than Prince as a motorcycle-straddling tough guy. After all, Congress already takes August off. And greeting card companies will get behind anything.
(National Boss' Day? Are you kidding?)
Better yet, politicians seem to be coming around. On Monday, Florida Gov. Jeb Bush paid a visit to EA Tiburon, the Orlando-based studio that produces Madden. Gamemakers surprised Bush with a special in-game video that pitted his digital likeness against that of his presidential brother.
Say this for the man who could become our next commander-in-chief: He knows a good photo op -- and a popular cause -- when he sees one.
"I don't think a national holiday will ever happen," Villaruel says with a sigh. "But if there's one thing that connects everyone, it's Madden."
Sure seems like it. After appearing at Tiburon, Bush was given a commemorative football -- and two copies of the game.
If the governor calls in sick today, you'll know why.
Patrick Hruby is a Page 2 columnist.