Single page view
By Patrick Hruby
Page 2
It just ain't fair.
Roger Federer makes tennis look easy. Too easy.
During the U.S. Open quarterfinals on Thursday night, opponent David Nalbandian -- a man who has a winning career record against Federer -- was so flummoxed after dropping the first two sets that he decapitated his racket with a mighty sideline smash.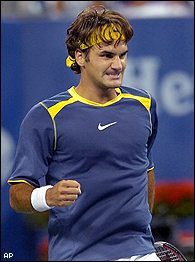 AP
Federer is cruising to another Grand Slam title.
Federer won the next set 6-0. Right idea, wrong result.
Like we said, it just ain't fair.
Of course, Nalbandian's frustration is hardly unique. So far in the tournament -- and really, for most of the season -- the top-seeded Federer has yet to be challenged, let alone threatened.
His opponent in Saturday's semifinals? Lleyton Hewitt, who has dropped eight consecutive matches to Federer, the last five without winning a set.
Oy.
In the interest of actual competition, something needs to be done. Something drastic. Something, anything, to level the playing field.
The Detroit Pistons had the Jordan Rules. College basketball once outlawed the dunk, the better to slow Lew Alcindor. Augusta National attempted to "Tiger-proof" its golf course (lotta good that did).
With all that in mind, Page 2 offers the following suggestions to make Federer struggle. Or at least break a hearty sweat…
No-Fault Serves
The plan: Limit Federer to a single service attempt. Actually, we suggested as much in a previous Page 2 article on the dumbest rules in sports.
Why it will work: Pretty tough to put it out wide or down the "T" at 120-plus mph when you have no margin for error.
Potential complications: Still wouldn't be fair. Since when does Federer need a margin for error?
Give Him Wood
The plan: Force Federer to play with an old-school wooden racket.
Why it will work: Sans a standard graphite/composite boom stick, the Swiss star will get blown off the court. And that's in the junior draw.
Potential complications: Ongoing United States-Canada lumber trade war means wood could prove pricey; the Sierra Club might get worked up; Tennis Hall of Fame may not have an extra wooden racket to spare. Also, we'd feel pretty bad if Federer got a splinter in his palm. Good luck getting one of those out.
Hand Him a Beer
The plan: Turn the nation's top tennis tournament into glorified company softball game by having Federer play with a beer in one hand and a racket in the other.
Why it will work: By the fifth set, Federer should be pretty bombed. Besides, Heineken is a longtime Open sponsor. Synergy, baby!
Potential complications: Federer hits a one-handed backhand, which means he could probably still swing while nursing a longneck; Heineken-branded beer cozies tough to find; matches involving Federer unlikely to go five sets.
Dirty Up the Court
The plan: Cover the Arthur Ashe Stadium court with thick, gooey mud.
Why it will work: Of Federer's three losses this season, two came on clay. Do the math.
Potential complications: Rafael Nadal, who beat Federer in the French Open semifinals, is already out of the tournament; more importantly, will the imported dirt be blue?
Go to Commercials
The plan: Have Federer star in national advertising campaigns for American Express and Lexus.