By Patrick Hruby
Page 2
From the Department of Bad News You Knew Was Coming -- more evidence the feds mismanaged Katrina relief? Get out! Paris Hilton has another sex tape? You don't say! -- we bring you the following update.
Big-time college football remains an academic Bermuda Triangle.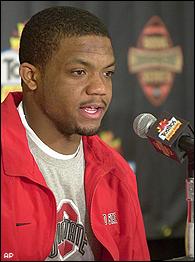 AP
Maurice Clarett wasn't exactly a model student at Ohio State.
According to a report released this week, 33 of this year's 56 bowl-bound Division I football teams fall short of the NCAA's minimum scholastic standards, while almost half graduate less than 50 percent of their players.
"The key," says report author Richard Lapchick, a University of Central Florida professor, "is admitting students who are qualified to be in that school."
Lapchick has a point: powerhouse programs such as Southern Cal ought to recruit athletes who at least can absorb a passable ed-u-ma-cation, lest they end up sans degree and out of luck. Or potentially hanging on with the Steubenville Stampede, like Maurice Clarett.
Still, lost amid the annual graduation rate hand-wringing -- expect more during March Madness -- is an equally disturbing trend, one that deserves as much scrutiny as the inability of NFL-bound lunkheads to pass gimmie sociology courses.
Namely, the appalling lack of football prowess among our nation's top academic institutions.
Harvard football? Home for the Holiday Bowl. Ditto for Duke. Stanford couldn't manage a winning record, despite having UC-Davis on its schedule (the Cardinal lost ). Cal Tech doesn't even have a team.
U.S. News and World Report's Top 25 National Universities
1) Harvard: 7-3, I-AA
2) Princeton: 7-3, I-AA
3) Yale: 4-6, I-AA
4) University of Pennsylvania: 5-5, I-AA
5) Duke: 1-10, I-A
6) Stanford: 5-6, I-A
7) California Institute of Technology: No team
7) MIT: 3-6, D-III
9) Columbia: 2-8, I-AA
9) Dartmouth: 2-8, I-AA
11) Washington University in St. Louis: 6-4, D-III
12) Northwestern University: 7-4, I-A, Sun Bowl
13) Cornell: 6-4, I-AA
13) Johns Hopkins: 8-3, D-III
15) Brown: 9-1, I-AA
15) University of Chicago: 5-4, D-III
17) Rice: 1-10, I-A
18) Notre Dame: 9-2, I-A, Fiesta Bowl
18) Vanderbilt: 5-6, I-A
20) Emory: No team
20) Cal Berkeley: 7-4, I-A, Las Vegas Bowl
22) Carnegie Mellon: 5-5, D-III
23) Georgetown: 4-7, I-AA
23) UVa: 6-5, I-A, Music City Bowl
25) UCLA: 9-2, I-A, Sun Bowl

Sources: U.S. News and World Report, America's Best Colleges 2006; ESPN.com; university Web sites
In fact, of U.S. News and World Report's top 25 national universities, only five have football teams slated to play in bowl games -- and that's in a made-for-TV bowl universe so glutted, so promiscuous, it makes the come-one, come-all NHL playoffs look more discriminating than Yale's notoriously picky admissions office.
Oh, and speaking of Walter Camp's alma mater: Yale won't be playing in the postseason, either. No Rose Bowl. No Fiesta Bowl. No Meineke Car Care Bowl, whatever that is.
Frankly, this is akin to Mexico being left out of the Tequila Shot World Cup. And also a national disgrace.
Look, if football factories like Ohio State are going to be tisk-tisked for scholastic shortcomings, then it's only fair that academic mills such as the University of Chicago be taken to task for gridiron futility. Particularly when their aggregate performance is less summa cum laude than suckimus maximus.
Again, consider the U.S. News' Top 25. Taken together, they boast a combined record of 123-116, good for a mediocre winning percentage of .515. Eleven schools finished at or below 500. Duke and Rice each won a single game. MIT posted a 3-6 record, dropping its final two games to Salve Regina University and Endicott College by a combined score of 85-26.
Endicott. Salve Regina. Not exactly the Texas Longhorns. If MIT had an analogous scholastic year -- for example, by dumping its schools of Engineering and Science for Cosmetology and Intelligent Design -- the university would be pilloried by the academic community, and deservedly so.
Why should athletic brilliance be any different?
As Joe Paterno once put it, losing a game is heartbreaking. But losing one's sense of excellence is tragic. Bad enough that most of our elite schools are football roadkill. Worse still, they don't seem to care. Individual players are spilling their guts, even at Duke. Yet outside of Notre Dame -- which spilled more than guts in giving Charlie Weis a generous contract extension -- institutions such as Carnegie Mellon can hardly say the same.
Like Cal Tech, Emory doesn't bother to field a squad. Of the U.S. News' Top 25, five schools compete at the Division III level -- somewhere between Pop Warner and Florida high school football -- and nine more field I-AA teams, the college football equivalent of slapping a Mercedes-Benz hood ornament on a Toyota Camry.
Meanwhile, the Ivy League doesn't offer athletic scholarships; adding insult to injury, the league prohibits its schools from even participating in the I-AA postseason tournament. No wonder Dean Cain is their best-known football alum.
Red pen: F for effort.
Of course, the Georgetowns of the world will argue that they just can't keep up with the BCS Joneses. That big-time college sports are vile, corrupt, anathema to the academic mission and generally not worth the potential embarrassment. All of this is true. But also a cop-out.
Penn's graduate school produced Michael Milken. Scooter Libby went to Yale. Frankly, the Ivies are selling themselves short. College football's academic nonpowers could be better. Should be better. All it takes is money and will. And money.
Regarding cash: Harvard's endowment is reportedly worth $25.9 billion. That's more than enough to hire Pete Carroll, build a shiny new weight room and outbid the SEC for top high school talent. Heck, that's more than enough to purchase the New England Patriots outright, then enroll Tom Brady and company in sham continuing education courses to ensure their intercollegiate eligibility (after buying out the NCAA and its compliance department, of course).
Besides, what else is the school going to do with that much loot? Spend it all on lifesaving medical research?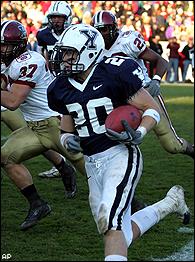 AP
Harvard vs. Yale should be a huge game between national powers, don't you think?
As for will, Dartmouth and company simply need to see big-time football as a point of competitive pride, as opposed to the work of Beelzebub. Southern Cal is ranked No. 1 in football and No. 30 in U.S. News' academic rankings. Harvard is ranked No. 1 by U.S. News and, well, probably below USA Today's top 10 high school football squads. For a school that helped invent the game, that has to sting. Just a bit.
To put things another way: Princeton played a major role in building the atomic bomb. The Tigers can't put a team in the Fort Worth Bowl?
Someday, perhaps, academia's best and brightest will once again harbor greater athletic aspirations than occasionally producing a Marcellus Wiley or that guy who plays quarterback for the St. Louis Rams. In the meantime, however, they need a kick in the rear. Which brings us back to Lapchick's report. Under new NCAA rules, teams whose players regularly fall short of minimum academic requirements can lose scholarships, suffer recruiting restrictions and be barred from postseason play.
Great idea. Why not levy similar scholastic sanctions on football backwaters like Vanderbilt? Picture a system that works as follows:
• Losing season? Eliminate five chemistry scholarships.
• Refusal to play at the D-I level? Drop the school's students from Rhodes Scholar consideration.
• Failure to field a team that can finish above .500 in the SEC at least once every five years? Hand down an SMU-style death penalty, and shutter the university's law school. Culpae poenae par esto.
Faced with the prospect of academic Armageddon and/or losing ground to the University of Phoenix, the nation's top schools would have little choice but to shape up. The only real hurdle? Some ivory tower types are bound to object -- to note that big-time sports and big-time scholarship have nothing in common, that linking one to the other is preposterous, that evaluating and punishing educational institutions on the basis of football aptitude makes as much sense as judging de facto minor league teams for what they do in the classroom.
Sigh. Logic is so … academic. We're talking football -- hit'em in the mouth, 3 yards and a cloud of dust. Imagine a world in which Duke can hang with Florida State. Where the Harvard-Yale game means something to people who don't have butlers. Forget Miami-BC; bring on Miami-MIT.
If nothing else, wouldn't it be nice to have a team whose players can actually decipher the BCS computer rankings?
Patrick Hruby is a columnist for Page 2.