By Patrick Hruby
Page 2
NEW YORK -- !@$!@$! Andy Roddick is about to work blue. Facing Croatian giant Ivo Karlovic last year in Madrid, he pounces on a short return ball, ripping a forehand that careens toward the sideline before grazing the outside corner of the service box.
The ball looks in, just barely. The ball is in, just barely -- at least according to the computer-animated television replay.
"Out!" screams the line judge.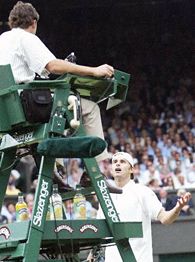 Dave Caulcin/AP Photo
Aren't you going to miss players like Andy Roddick ranting at the chair umpires?
The crowd stirs. Down come the derisive whistles. Roddick walks to the net, hands on hips, incredulous. He wipes his brow. Chair umpire Lars Graf swallows hard, tongue circling around the inside of his cheek.
He knows what's coming. Batten down the hatches.
"You saw the ball hit the fat [expletive] part of the line, Lars," Roddick says, pointing at the court, then the chair, waving his arms like a man trying to land F-18s on the deck of the USS Nimitz. "What do you do? Just call one damn line! It takes all I have left not to just get inside of you right now!"
Roddick pauses.
"Seriously, that ball's not even close, Lars."
For me, it's very close.
"God!" Roddick screams. "You're just terrible!"
Roddick turns away. Play resumes. During the ensuing changeover, so does the stream of abuse.
"You're [expletive] useless, man!
"For someone who's been on tour for 86 years, you don't have an answer for much, do you?
"Maybe we shouldn't rent umpires when we get to Spain. Maybe we should have people who are professionals. What do you think?"
On it goes. It's a tirade worthy of John McEnroe, gratuitous and puerile, exactly the sort of player-umpire exchange that tennis' new instant-replay challenge system is rendering passé.
And that, in turn, is a [expletive] shame.
Four days into the U.S. Open, we've seen Andre Agassi soak up the love, Ashe Stadium soak in the rain and Martina Hingis soak through a mustard-colored, electrical tape-wrapped fashion cataclysm of an outfit. The only absent element? A Roddick-like rant. An uncivil, uncouth, unprintable round of good ol' fashioned umpire baiting. An outrageous outburst of pure, infantile id.
Five for Fighting
In the annals of official-baiting, John McEnroe stands alone. To wit: after a shaky call during a Davis Cup match against Boris Becker, he turned to an African-American linesman and blurted, "I didn't know there were any black Germans!"



Here are five more of SuperBrat's greatest verbal volleys:



1) "You CANNOT be serious!"
-- Wimbledon, first round, 1981. Fun fact: McEnroe led the entire match and won in straight sets.



2) "You guys are the pits of the world!"
-- Ditto.



3) "Over 1,000 officials to choose from, and I get a moron like you!"
-- Queen's Club, final, 1984. Fun fact: when McEnroe's opponent looked amused, Mac blasted him, too.



4) "Answer the question, jerk!"
-- Stockholm, 1984. Fun fact: the chair umpire refused to speak to McEnroe, who smashed a tray of drinks and was later suspended from tour play for 21 days.



5) "You're not just hurting me. You're hurting your entire country."
-- Davis Cup, USA vs. Argentina, 1992. Fun fact: the chair umpire was American, like McEnroe.



Sources: New York Times Magazine, Bud Collins
Just five short years ago, Roddick dropped an f-bomb on an ump, followed by a delightfully rhetorical "Are you an absolute moron?"; today, the pits of the world are nowhere to be found.
I blame instant replay.
Making its Grand Slam debut at this year's Open, the replay challenge system works as follows: 10 cameras track the ball, feeding a computer that calculates flight paths. When players challenge a line call, a virtual recreation of the ball's trajectory and landing point is shown on the stadium Jumbotron.
In or out. One or the other. According to the International Tennis Federation, the system is accurate to within three millimeters, about the width of the fuzz on the ball. There's no ambiguity. No debate. The whole process takes less than 10 seconds.
"Personally, for me, I think [replay] is a good thing," Roddick says. "Because I spend less time whining about calls."
Say it ain't so. Roddick cannot be serious.
Can he?
"I love [replay] as a player," American pro Justin Gimelstob says. "There's more of a peacefulness. You know that if you challenge and you're wrong, you look like an idiot. And there's no need to argue, because there's a definitive answer."
How tidy. How pat. How very, very boring. No need to argue? Where's the fun in that? Peacefulness is for Tibetan monks. Tennis is a street fight, mano a mano, boxing without the uppercuts. Ugly emotional flare-ups are part of the game. Looking like an idiot is part of the show.
But don't take my word for it. Ask an authority.
"[Not having arguments] takes away a lot of the excitement," says Jimmy Connors, the retired great who is now coaching Roddick. "What that can do to bring the crowd into a match. What it can do for a guy's results. Getting into confrontations with the chair umpire lent a lot to the way I played, the way McEnroe played.
"If I had replay when I was playing, those never would have happened. And what those did was bring notoriety to us, gave people more to talk about than just the way we played the game. To me, that was a big part of it."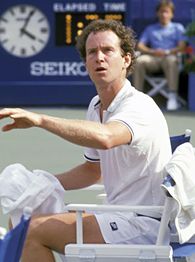 Ron Galella/WireImage
John McEnroe -- the MVP when it comes to temper tantrums.
Was it ever. Along with McEnroe, Connors helped fuel the Great Tennis Boom of the mid-'70s and early '80s, one showy blowup at a time. Tennis became theater, both compelling and appalling, impossible to ignore. Glacier-cool Bjorn Borg prompted admiration, even awe; magma-hot Jimbo and Mac moved the public's needle, the way enfants terrible always do. McEnroe's legendary All England Club hissy fits didn't just make him the most notorious player in tennis. They made him the most notorious athlete in sports. The difference was worth millions.
To put things another way: Jeff Tarango exploding at chair umpire Bruno Rebuth before walking out of Wimbledon in 1995? Bad form. Tsk-tsk. But Tarango's wife subsequently slapping Rebuth? That's entertainment!
"[Confrontations] are good theater," ATP chairman Etienne de Villiers concedes. "And purists would argue that if you lose that human error [on line calls], you lose that water-cooler conversation about, 'Can you believe that call?'
"I'm all for seeing more emotion on the court. So it's an issue. But at the end of the day, I think what replay adds is more valuable than what it takes away."
Maybe so. De Villiers correctly points out that the challenge system has been embraced so far -- even by the likes of Roger Federer, who initially opposed it. Fans dig replays because they add an element of game-show suspense; players dig replays because they prevent matches from turning on a single bad call. The latter, however, may not be a good thing. Not when it comes to umpire arguments.
Life isn't perfect, let alone fair. Outside of lame Adam Sandler vanity projects, life has no replay button. Should tennis be any different? Chair confrontations provide more than a window into player passion. They offer a look at player mettle. How do players respond to adversity? How do they emotionally regroup? Can they pull themselves together?
In a 2004 U.S. Open loss to Jennifer Capriati, Serena Williams came undone after a shaky third-set overrule from chair umpire Mariana Alves. Five years earlier, Hingis memorably imploded against Steffi Graf in the French Open final, blowing a 6-4, 2-0 lead after the ump refused to overturn a line call. The Swiss star's prolonged tantrum -- marching to Graf's baseline, refusing to leave her chair, serving Graf's two match points underhanded -- remains legendary.
Likewise, Roddick's 2001 U.S. Open outburst almost certainly cost him a quarterfinal victory against Lleyton Hewitt, who went on to win the tournament. Two years later, an older, grittier Roddick bounced back from a similar tirade during a semifinal match against David Nalbandian, ultimately capturing the Open title. His mental growth? Easy to measure.
"That was a big part of matches, getting a bad call or getting a good call and the other guy getting a bad call," American pro Mardy Fish says. "Guys like Hewitt, [Rafael] Nadal and Federer, who are great mentally, they have definitely benefited over someone's who's a little bit weaker [in terms of] getting over a bad call. Hewitt, per se, getting a bad call and just brushing it off, whereas someone else -- probably myself -- would be a little pissed. That part [of the game] is gone."
As is the art of picking a fight. Like basketball coaches drawing technical fouls on purpose -- the better to fire up their players or perhaps change the tempo of an out-of-hand game -- old-school ranters used judicious umpire baiting to maximum effect. In an excellent McEnroe profile, author Julian Rubinstein talks to Mel Purcell, a friend of McEnroe's and his third-round opponent at the 1984 French Open.
When Purcell took a 4-2 first-set lead, McEnroe went postal. He screamed. He sat. He demanded that the court's scuffed-up clay surface be re-smoothed. Right now. Unbelievably, it was. By the time the two players returned from the locker room, Purcell's momentum was lost. McEnroe breezed to an easy victory.
Coincidence? Uh-uh. Go back. Watch the tape. See McEnroe stalk the baseline, a lion in a cage, pacing and fuming. Making his opponents squirm. Making them wait.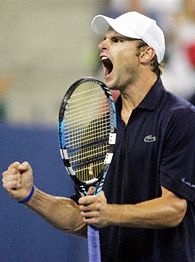 Ed Betz/AP Photo
This kind of emotion is what tennis fans want to see!
"Connors and McEnroe, they were constantly trying to win that psychological war," says Luke Jensen, the 1993 French Open doubles champ and a loquacious tennis commentator. "For athletes, especially in hand-eye sports like baseball and tennis, so much of it is rhythm. We have to stay in contact with the ball. As soon as that's broken up, our timing is off."
But isn't that bad sportsmanship?
"It sure is!" Jensen says, laughing. "But your tennis life is on the line at the majors. You're playing for millions of dollars. I'm not saying to go cut out the other guy's strings. But if you can rattle a mentally unstable player, you gotta do it. I did it! What do you think Dennis Rodman did all those years?"
Regrettably, the replay challenge system offers little of the above. Players are allowed just two failed challenges per set -- successful challenges don't count toward the total -- and eight to 10 seconds is hardly enough time to psych out an opponent, let alone work up a healthy, offensive froth.
Forget clever gamesmanship. A phenomenon that once recalled pro wresting at its loopy, absorbing best -- sans the folding chairs to the back of the noggin -- now resembles pro football at its sterile worst. Calm. Detached. Largely automated.
"There's no arguing with a machine," Jensen says. "It is what it is."
Back to Roddick. After unsuccessfully challenging a call during a second-round victory over Kristian Pless, the prickly former U.S. Open champ didn't go blue. He didn't even raise his voice. He simply moved his hand in front of his face, back and forth, as if wiping off a bathroom mirror. Reset, move on. A telling gesture, and nothing like Roddick's gloriously punky reaction to an earlier Pless passing shot, a shoulder-high rocket that nearly took Roddick's head off.
"You looked like a jackass with that!" he snapped.
Looking on from the seats above, Connors flashed a knowing smirk. It was the sort of barb he might have directed at a pesky chair umpire, once upon a time.
"It's up to us now," Roddick says of instant replay. "I think it takes some heat off the umpires a little bit. Maybe takes human error out of it. If you have used both your challenges and you were wrong and a call comes, it's kind of your fault, isn't it?"
Blaming yourself? Taking the heat off the umpires? For tennis tirade lovers, that can only mean one thing: !@$!@$!
Patrick Hruby is a columnist for Page 2. Sound off to Page 2 here.

Patrick
Hruby

INSTANT FAILURE