Here's the thing about making football video games: the hardest part isn't getting QB spy plays to work properly, or programming play-by-play announcers to talk without long … robotic … pauses, or even ensuring that the Washington Redskins' virtual socks are rendered in just the right shade of red. Er, burgundy.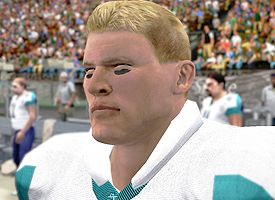 Courtesy 2K Sports
Brian Bosworth and his trademark hair are in "All-Pro Football 2K8." But you'll have to create your own Bo Jackson if you want to recreate their historic meeting at the goal line.
Nope, the hardest part is the
hair.
In particular, replicating the epochal, inimitable Day-Glo mullet belonging to former Seattle Seahawks linebacker Brian Bosworth, a 'do lovingly digitized in 2K Sports' upcoming title "All-Pro Football 2K8."
"Hair is probably the toughest thing to model in video games, just getting it to move right," says Anthony Chau, a spokesman for 2K Sports. "And the Boz had this awesome hair that was specific just to him. We tried to do it as close as possible."
Chau laughs.
"But like I said, it's tough."
When it comes to hair-depicting angst, the game creators at 2K Sports have no one to blame but themselves. And possibly Dan Marino, circa 1984. After all, "All-Pro 2K8" is built around an eclectic roster of former professional players, ranging from Hall of Famers (Walter Payton, Dick Butkus, Marino) to standout performers (Christian Okoye, Randall Cunningham, Fridge Perry) to the, well, flatly uncategorizable (Ickey Woods, Andre Ware, the Boz).
The game's premise? Pit some of pro football's most memorable characters against each other, and give joypad jockeys full control. The challenge facing 2K Sports? Get those same personalities on board with a project they've never heard of, involving a form of entertainment many of them have never experienced.
The Fun League
No NFL license means no league restrictions. Herein, five things in "All-Pro Football 2K8" you won't find in "Madden":
1. Wacky Stadiums
2K Sports took a look at Raymond James Stadium's gloriously goofy pirate ship and decided it could do better. Like, peyote-trippin'-in-the-desert better. "All-Pro's" fictional stadiums include a dome where the retractable roof doubles as the wings of a giant, animatronic phoenix; an Americana-themed park where a replica Mount Rushmore towers over one of the end zones; and an outdoor facility made to look like an aircraft carrier, complete with fighter jets that launch missiles when you score. Touchdown accomplished?
2. Dirty Play
No blood, no dismemberment -- this isn't "Mortal Kombat" -- and nothing too over-the-top. Just the nasty-but-authentic stuff the NFL would rather pretend doesn't exist. Think late hits (with penalties), horse-collar tackles and aggressive defensive back chucks at the line of scrimmage (in our short time with the game, we saw one poor CPU wide receiver get thrown to the turf). The virtual Deacon Jones even deploys his patented head slap … and it's perfectly legal. Concussions for all!
3. Dance Dance Revolution
Just before 2K Sports shipped "NFL 2K5," the league had one of its on-field officials examine every touchdown celebration in the game -- and everything he didn't like, 2K had to remove. Guess what? All of those ditties are back in "All-Pro," along with user-selectable sack dances. Of course, this only makes the game's lack of Mark Gastineau all the more disturbing.
4. Make Your Own Legends
OK, OK, "Madden" has this too. But only "All-Pro" lets you take your created players online. Besides, the game's unique ability system and crazy-quilt roster of available former pros (Gale Sayers and Andre Ware in the same game?) practically demands that you add a few of your favorite old-school faces. Bo Jackson? Chuck Cecil? Ryan Leaf? The possibilities are endless. (Well, maybe not for Leaf, since "Throw Pass To Other Team" is not among the special abilities.)
5. The Real Killers Are Hiding In Section 117
One of the game's premade team nicknames is Assassins, and the team's theme stadium features a giant statue of a dude with a knife. Also, you can put O.J. Simpson on any team you choose. Just sayin'.
-- Patrick Hruby
Oh, and don't forget to make them look good.
"Mike Ditka was really hard," says Dave Zdyrko, one of the game's producers. "People remember him as a coach, they know him as a television personality, but he looked really different when he was young. He had the same squinty look, but didn't have a moustache. And he had a kind of flattop.
"We gave him a single-bar face mask. He looks a little like a meaner, tougher Corey Feldman."
Or consider Jerry Rice, one of the athletes on the game's cover. Long before the greatest receiver in NFL history rocked tragically unhip balding cornrows during a late-career stint in Oakland, he sported a Kid 'n Play-style high-top fade.
So which 'do to do?
"We had to go with a cleanly shaved head," Zdyrko says, chuckling. "The 'Dancing With The Stars' Jerry. He's still fresh in people's minds."
As it turns out, weighing the merits of (a) old Rice, (b) young Rice and (c) none of the above, was one of the lowest bars 2K Sports had to vault while creating "All-Pro 2K8." The highest? Deciding to make an old-school football game in the first place.
The company formerly produced "NFL 2K," a league-licensed game with a loyal fan following. In late 2004, however, rival game maker EA Sports -- the company behind the popular "Madden" franchise -- signed exclusive contracts with both the NFL and the NFL Players Association, then secured the rights to NCAA and Arena League football.
The cumulative effect was that of a well-timed safety blitz. And with nothing to slap on the side of its virtual helmets, 2K Sports had little choice but to put its pigskin offering into toe-tagged cold storage.
"The [EA deal] was like a dagger to the heart," says Chau, who was demonstrating a 2K baseball game to journalists in New York City when news of the NFL deal came over his PDA. "We had a conference call that afternoon, and you could just feel the pain and depression."
From pain came a long-term plan: upgrade the game engine, recapture the fan base, resurrect 2K football. But how to do it without the NFL's imprimatur, given that the dustbin of video game history was cluttered with generic gridiron bombs such as "Mike Ditka's Power Football"?
2K Sports considered a story-driven game focusing on the seamy side of the sport, a la "Playmakers." (Midway later used a similar concept for "Blitz: The League," which emphasized dirty hits and let gamers pump their virtual players full of virtual steroids.) A "Friday Night Lights"-style high school game was discussed. 2K Sports even pondered throwback football, complete with leather helmets.
During planning meetings, however, one idea kept popping up: wouldn't it be freaking cool to have Joe Montana and Barry Sanders in the same backfield?
Football legends. The concept was set. Next came brainstorming a list of desired players. Some selections were easy: John Elway, Emmitt Smith, Anthony Munoz, Too Tall Jones. Others were less obvious: Leon Lett, Jeff Hostetler, Al Del Greco. A few, like Bo Jackson and Cunningham, were not only memorable athletes, but also memorable video game athletes.
(In fact, Chau says, it's no coincidence that a good chunk of the "All-Pro 2K8" final roster consists of players who once starred in the Nintendo classic "Tecmo Bowl." Gamer nostalgia is a powerful selling point.)
One name raised eyebrows: O.J. Simpson. Typically, sports game producers don't wrangle with ethical quandaries; if a troubled athlete such as Pacman Jones is on an NFL roster, he goes in the game. No questions asked, except for those concerning speed and agility ratings.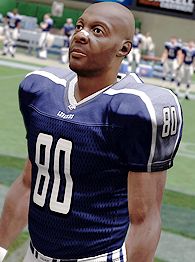 Courtesy 2K Sports
Jerry Rice has rocked the flattop and cornrows, but 2K Sports portrays him with his "Dancing with the Stars" era shaved dome.
Simpson, Chau admits, was different.
"We're already taking shots for it," he says. "And there was a moral conflict for us. It's like the argument people have with Pete Rose. Should he be in the Hall of Fame? We're not the Hall. There's no doubt O.J. was a great running back. What it came down to is that we wanted him in for what he accomplished on the field."
Of the 300-some players 2K Sports targeted, 241 ended up in the game. Among the ones who got away, Jackson wanted too much money. Lawrence Taylor already had a deal with another publisher. Then-Pennsylvania gubernatorial candidate Lynn Swann declined -- no joke -- on the recommendation of his political advisors.
By contrast, Chuck Bednarik said yes. But only after the game maker cleared a few things up for the man who nearly ended Frank Gifford's career.
"We were on the phone, and I actually had to explain that he would not physically be in the television set," recalls Sandra Tabata, who works at IMG World, the agency 2K Sports used to locate former players. "The younger guys are familiar with it, but some of the older guys, they didn't even know what video game technology was."
IMG World account director Marc Reeves concurs.
"The guys who are in their 60s and 70s were under the impression that the game was going to represent what they can do today," Reeves says. "They thought they would have to go run the 40-[yard dash] for us."
For the record, no senior citizens were harmed and/or forced to run wind sprints during production of "All-Pro 2K8." Instead, much of the heavy lifting fell to Reeves and Tabata, who tracked down retired players through industry contacts and, believe it or not, liberal use of Google.
Earl Campbell, they discovered, owns a meat company in Texas, selling sausages and barbecue. ("Really good barbecue," Reeves insists). Yancey Thigpen -- yep, that Yancey Thigpen -- remains active on the football memorabilia circuit.
When Tabata called Larry Csonka's agent, she was informed that the former Miami Dolphins running back was busy fly-fishing in a remote corner of Alaska and couldn't be reached.
Not by coincidence, Csonka didn't make it in the game.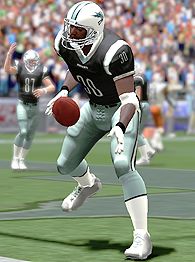 Courtesy 2K Sports
While the NFL continues to crack down on touchdown celebrations, "All-Pro Football 2K8" pays homage to the "Ickey Shuffle."
"Or take Thurman Thomas," Tabata says. "You'd think he'd be easy to find. But you know how we tracked him down? Through the NFL mothers association! A friend of mine is friends with his mom."
Selling players on the project was substantially easier. For Archie Manning, it was a point of pride to be in a video game, just like his sons; for Rice and Montana, it was an opportunity to continue a friendly, long-running off-field rivalry (when each heard the other was involved, he insisted he be included).
For his part, Sanders liked the idea of being measured against past greats such as Payton and Campbell. And Ditka was happy that the rights fees paid to each player -- between four and six figures, according to 2K Sports -- would be an unexpected windfall for some of the older former players who earned relatively little during their pro football careers.
As for Hall of Fame defensive end Gino Marchetti? He agreed to be in the game because his PlayStation-generation grandkids said it would be, well, cool.
"You have to remember, most of these guys aren't getting called up every day," Reeves says. "It's a pretty exciting thing to be remembered. Ickey Woods was so excited, he offered to fly in and have his measurements taken."
Beyond getting the likes of Joe Theismann to appear authentic -- like Ditka, he has a one-bar face mask in the game -- 2K Sports wanted its digital players to move and perform like the real thing. Moreover, the company wanted players to feel more unique than in past games, where the primary differences between Brett Favre and, say, Michael Vick were foot speed and skin tone.
For the programmers working on "All-Pro 2K8," this meant watching countless hours of reference video: highlight DVDs, televised NFL Films specials, old VHS game tapes. It meant spending even more time in a motion capture studio, where stunt men and Arena League players mimicked Payton's scissor kick, Lester Hayes' line-of-scrimmage Spiderman crouch, Johnny Unitas' throwing motion, even the Ickey Shuffle.
It also meant dumping the time-honored football game tradition of rating players on a 1-100 scale in skill categories such as speed, strength and throwing accuracy -- a tradition so ingrained that current NFL players actively lobby game makers to boost their numbers.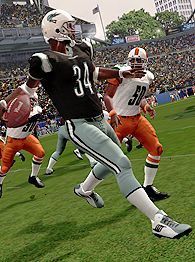 Courtesy 2K Sports
You've got to admit that few gridiron moves are cooler than Walter Payton's scissor kick.
"We have legendary players," Chau says. "They're
all
good. If you had to rate John Elway versus Steve Young, what would you rate them? A 97 versus a 93? What does that four-point difference really mean?"
In lieu of numbers, 2K Sports decided to give each player a limited number of special abilities, ones that reflect their game-day personas. For instance, once-feared headhunter Jack Tatum has "Footsteps," which increases the likelihood of opposing receivers' dropping passes or showing special "Gator Arms" animations when the virtual Tatum is nearby. Similarly, Young has something called "Tough As Nails," which means his skills receive a slight boost every time he takes a hard hit.
(Note: 2K Sports does not recommend that gamers controlling Young intentionally take sacks as part of their overall strategy, in part because "All-Pro 2K8" also features real-time player injuries. And yes, we asked.)
"Take Jerry Rice versus James Lofton," Chau says. "Jerry doesn't have great speed. But he has what we call 'Breakaway Burst' -- when he catches the ball, he runs faster. When we told Jerry he wasn't the fastest guy in the game, but one of the fastest guys with the ball, he was very pleased."
The new abilities system, Chau adds, is something of an experiment. And so is the game itself. Truth be told, no one at 2K Sports really knows whether a football video game market weaned on licensed games -- a market that sets online message boards aflame when Michigan's virtual helmet decals are slightly off -- is ready to embrace "All-Pro 2K8," no matter how well the game captures Bernie Kosar's awkward delivery.
The hope? The game sells well enough to merit a sequel, one that includes Jackson, Swann and all the other guys 2K Sports couldn't sign this time around. Even if that means another round of Googling the likes of Jan Stenerud, of explaining that people play games from outside their television sets, of rendering those tricky, flowing mid-1980s hairdos.
"You know, we put all that work into the hair," Chau says with a sigh. "And 80 percent of the time in the game, the [players] have their helmets on."
Patrick Hruby is a columnist for Page 2. Sound off to Patrick here.