When New England Patriots quarterback Tom Brady appeared to be wearing a walking boot on his right foot while visiting supermodel girlfriend Gisele Bundchen in New York City on Monday, sports media went into a state of high alert. Was Brady injured? Was he attempting to hide something? Would he play in the Super Bowl? Was TMZ.com now the leading source for up-to-the-minute NFL injury updates?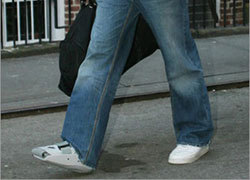 INF Photos
Perhaps the most famous walking cast in sports history.
Here are some of the other questions raised by the video -- and answers Patriots fans might not want to hear:
Hey, paparazzi photos show Brady strolling out of a Manhattan restaurant later that evening, sans walking cast. Isn't this all much ado about nothing?
To a non-discerning observer, perhaps.
What does that mean?
It means that Page 2 has carefully reviewed the original TMZ.com footage, frame by frame, looking for clues about both Brady's condition and the outcome of the upcoming Super Bowl. After repeated viewings, we have determined that the clip may be as important to football as the Zapruder film is to the Kennedy assassination.
Assuming a relatively minor event like the Kennedy assassination can be compared to anything involving the National Football League.
Wow, you spent that much time on TMZ.com?
No, we spent the day watching ESPN.
So what did you learn?
Besides Bundchen, Brady appears to have three people in his entourage.
And?
And MRI machines often require multiple operators and/or technicians.
Why would Brady need an MRI for a minor ankle sprain?
Who said anything about ankle sprains? Brady is wearing large, dark sunglasses on what looks like an overcast day. Acute sensitivity to light is a common symptom of post-concussion syndrome.
Wait, so Brady has a concussion?
We're not saying that.
What are you saying?
We're saying Brady might have a concussion. Or maybe photophobia.
What's that?
Fear of light. And paparazzi.
I thought he had a tweaked ankle?
Yes. Unless it's a prosthetic foot. The footage is pretty grainy.
Why is Brady carrying flowers?
Better question: Why isn't Brady carrying a playbook? The last quarterback to spend his playoff bye weekend cavorting with his famous girlfriend may as well have purchased a timeshare in Cabo. This is an ominous sign for the Patriots, and if Brady and Bundchen announce plans to perform a country-western duet, expect the worst.
Worse than John Daly's album?
No.
C'mon, the flowers were for Bundchen, right?
Perhaps. If that were the case, however, wouldn't she have carried them while Brady held her bags?
So the flowers were for … Brady?
Flowers are a traditional symbol of sympathy and often given to medical patients, a category of individuals that includes recent foot amputees.
Why is Brady traveling with a large rodent?
Actually, that appears to be a small dog. Brady obviously is sending a coded signal to fans and gamblers alike: bet the underdog -- or, in this case, the dog under Bundchen's arm, a clear representational stand-in for the Giants, who were early two-touchdown 'dogs to the Patriots.
Whoa. Any good news for Patriots fans regarding the dog?
Yes. Smaller dogs make excellent ratters, the importance of which cannot be underestimated in New York City, particularly given recent news reports that bubonic plague is making a comeback.
If Brady ends up incapacitated and/or missing time during the Super Bowl, the Black Death won't be responsible.
Brady's male companion has an awful lot of luggage. What's inside?
Clothes. Or possibly hair-restoration products.
What?
According to an in-depth investigative report conducted by the New York Post, Brady may be losing his hair.
What does that have to do with the Super Bowl? Matt Hasselbeck is as bald as Dick Vitale, and he's a pretty good quarterback.
Hockey goalie Jose Theodore once flunked an Olympic doping screen after testing positive for Propecia. And everyone knows the National Football League has the toughest drug-testing program in professional sports.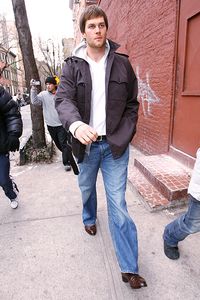 Brian Prahl/Splash News Online
A day later, sans cast -- how does Brady look to you there?
Brady never answers the paparazzi's questions. He doesn't even seem to hear them. Should Patriots fans be concerned?
Absolutely. Hearing loss can be a sign or symptom of skull fracture, arteriosclerosis, hypothyroidism, diabetes mellitus, chronic myeloid leukemia, neuroborreliosis and Meniere's disease, which sounds both bad and exotic, like something one might contract while serving in the French Foreign Legion.
Alternately, it's possible that Brady hears the paparazzi but is unable to respond, which could indicate a crushed larynx, motor neuron disease or general annoyance.
Why is Brady wearing a hoodie? Isn't that Bill Belichick's calling card?
The most likely explanation is Stockholm Syndrome, a psychological condition in which abducted hostages show signs of loyalty to their abductors.
Any other possibilities?
Brady could be preparing to write a 35,000-word manifesto detailing the disastrous consequences of the Industrial Revolution for the human race and mankind's urgent need for a revolution against technology, a process that could interfere with his game week preparation.
Are we missing anything else?
Yes. This entire episode may very well be a ruse, designed to give the Giants a false sense of confidence. Zoomed-in images of Brady's "walking cast" bear a remarkable resemblance to the foot of AISMO, a humanoid robot created by Honda, the Japanese automaker. Given Bill Belichick's documented penchant for subterfuge, it is entirely possible that the "Brady" in the footage is actually an AISMO robot, meant to distract the New York press corps while the actual Brady studies and absorbs Belichick's game plan in an undisclosed location -- possibly a film room at the Patriots' practice complex; probably a nuclear-hardened underground bunker.
AISMO, it should be noted, has the ability to climb stairs. This theory also would explain Brady being mute, as well as the hoodie.
That's ridiculous.
As ridiculous as taping microphones to defensive players' shoulder pads to pick up opposing line calls?
What happens if it turns out that Brady really is injured and can't play in the Super Bowl?
This is the great unknown. In an ideal world, Page 2 would have the opportunity to analyze footage of Brady's backup, Matt Cassell, walking from his car to his front door, or perhaps hailing a taxicab.
Unfortunately, TMZ.com only has video of Mary-Kate Olsen going to Starbucks. And like the rest of the sports media, Page 2 does not trade in idle speculation.
PAGE 2 ON THE SUPER BOWL
Don't miss any of Page 2's hard-hitting Super Bowl coverage as we gird for an epic clash between the Giants and Patriots.
Bill Simmons
•
Postgame: Free fallin' out into nothing
•
Super Bowl XLII preview and pick
•
Awards from the conference championships
Tuesday Morning Quarterback
•
TMQ: Super ending to a tumultuous season
•
Easterbrook: Spygate returns to headlines
•
TMQ: Conditional immortality
•
TMQ: All-Unwanted All-Pros
Notes, jokes and potpourri
•
Super Bowl commercials bingo cards
•
Flem File at the Super Bowl
•
Friday, Feb. 1: News you can't live without
•
Thursday, Jan. 31: News you can't live without
•
Wednesday, Jan. 30: News you can't live without
•
Tuesday, Jan. 29: News you can't live without
•
Monday, Jan. 28: News you can't live without
•
Celebrities make their picks
•
Poll: Tom Brady celebrity photo ops
Insight and wisdom
•
Hill: Super Bowl party report
•
Page 2: Pop culture roundtable
•
Gallo: Boston's five stages of grief
•
Neel: Bittersweet game for Hoover's people
•
Hruby: Page 2 Week in review quiz
•
Uni Watch: Where's all the blue in Big Blue?
•
Milz: What does Gisele's dad think of Tom?
•
Hruby: Super Bowl is hazardous to your health
•
Hill: Moss was right to quit on Raiders
•
Hill: Teflon Tom Brady
•
Page 2: Suggested questions for media day
•
Jackson: Perks for perfect Patriots
•
Hruby: Analyzing the Brady tape
•
Best teams not to win a championship
•
Fleming: Footnoting greatness
•
Gallo: The first 24 hours of hype
•
Page 2 obtains Boston's contract with the devil
•
Snibbe: Championship Sunday by the numbers
•
Garfamudis: Patriots aren't perfect
•
The curse of Mo Lewis
Inside the brain
•
Inside Jared Lorenzen's brain
•
Inside Matt Cassel's brain
•
Inside Tiki Barber's brain
All things Super Bowl
•
Complete ESPN.com coverage
•
From 2007: The Ultimate Super Rankings
E-Ticket
•
Klosterman: All too perfect
•
Neel: Almost immortal
ESPN Top Headlines