News item: Indiana University likely will suspend, then fire men's basketball coach Kelvin Sampson following investigations that revealed Sampson and his assistants made more than 100 impermissible recruiting telephone calls, which occurred while Sampson was on NCAA probation for making 577 improper recruiting telephone calls while coaching Oklahoma.
At least 677 phone calls? That's not looking for a recruiting edge. That's pathological. Compulsive. Comically desperate. As comically desperate as Mike from "Swingers."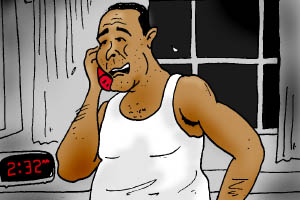 Kurt Snibbe illustration
"It's not you. It's me."
SCENE:
A dark room. A door opens. We see the silhouette of Indiana University men's basketball coach KELVIN SAMPSON, a school-themed pajama top slung over his shoulder. SAMPSON enters the room, turns on a desk light and drops his pajama top on the back of a chair. It's his home office. A Successories poster featuring a bald eagle and the motto "Integrity" hangs from the wall.
SAMPSON is wearing a white, ribbed tank top, his forehead glistening with sweat. He appears nervous. A clock on SAMPSON's desk reads 2:32 a.m. SAMPSON looks at the clock, then glances at a BlackBerry clipped to his red- and white-striped pajama pants. He turns to exit the room, then wheels around and picks up his desk phone. He dials the number of high school basketball star and Indiana recruit DEVIN EBANKS.
ANSWERING MACHINE: Hi, this is Devin. Leave a message.
SAMPSON: Hi, uh, Devin, this is Kelvin. I met you at the, um, at the Five-Star camp this summer. I just called to say that I had a great time … and you should call me tomorrow, or in two days, or whatever. Just make sure you call one of my assistant coaches and put it on three-way, because I'm technically not allowed to make recruiting calls. Anyway, my number is 812-555-4679 --
(The ANSWERING MACHINE beeps. Sampson takes a deep breath. He turns toward his desk to hang up his phone, then stops. He dials again.)
ANSWERING MACHINE: Hi, this is Devin. Leave a message.
SAMPSON: Hi, Devin, this is Kelvin again. I just called 'cause it sounded like your machine might have cut me off when I -- before I finished leaving my number. Which isn't actually my number, in fact, but one for my assistants. Like I said, have them put the call on three-way, and if anyone from the clearinghouse asks, you didn't hear that from me. Anyway, uh, and, you know, and also, sorry to call so late, but it's a school night, so I knew I'd get your machine and not your parents, who might wonder if it's against NCAA rules for me to be calling you for the 237th time this month. Or is it 239? Anyhow, uh, I have a letter of intent right here, and my number's 8, 1 --
(The ANSWERING MACHINE beeps. Sampson rubs the back of his neck, pacing back and forth. He dials again.)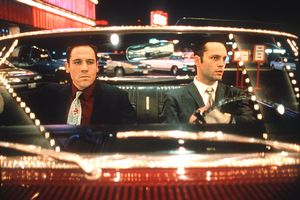 AP Photo/Miramax
Maybe a roadie to Vegas with Mikey and Trent would take Kelvin Sampson's mind off his troubles.
ANSWERING MACHINE:
Hi, this is Devin. Leave a message.
SAMPSON: 812-555-4679. That's it. I just want to leave my number. Not my number, of course. That would be a violation. (Nervous laugh.) I didn't want you to think I was weird or desperate or … look, I'm only on probation, and we should just hang out and see where it goes, 'cause you're tall and you have a nice jump shot and I could see us in the Final Four and … you know, no expectations. OK? Thanks a lot. Bye bye. Call me. My office. Call my office!
(SAMPSON hangs up. He is drenched in sweat. He shakes his head. He walks away from the desk and out of the frame -- then runs back to the desk. He picks up the phone and dials again.)
ANSWERING MACHINE: Hi, this is Devin. Leave a message.
SAMPSON: I've coached in Butte, Pullman and Norman, OK? Now I'm coaching Indiana! That should help explain why I'm acting so weird. I just wanted you to know that. It's not you. It's me. Why do you think I wore all those blue shirts? It was a cry for help! I'm … I'm sorry … (pause, hand on forehead, voice softening) … this is Kelvin.
(SAMPSON hangs up. He takes a deep breath, then dials again. His breathing becomes shallow and clipped; he runs a hand through his hair.)
ANSWERING MACHINE: Hi, this is Devin. Leave a message.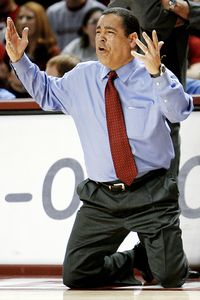 AP Photo/Ty Russell
The NCAA brought Kelvin Sampson to his knees, but is he the first casualty in a series of crackdowns?
SAMPSON:
Hi, Devin, this is Kelvin. Could you just call me when you get in? Don't call my assistants. Call me. I'm gonna be up for a while, and I'd just rather speak to you in person about all the wonderful opportunities for a young man such as yourself at Indiana University instead of trying to fit it all into a message that compliance investigators could easily replay … Did you know we have one of the top-ranked Slavic language departments in the entire --
(The ANSWERING MACHINE beeps.)
SAMPSON: [Expletive]!
(SAMPSON calls back. He is pacing back and forth, almost unhinged.)
ANSWERING MACHINE: Hi, this is Devin. Leave a message.
SAMPSON: Uh, Devin? Kelvin. It's uh, uh, it's just, uh, this just isn't working out. I think you're great, but maybe we should just take some time off from each other, at least until your campus visit. It's not you. It's me. It's what I'm going through. Investigators could be listening right now. OK? It's me. It's, uh … have you ever tried to sell high school basketball stars on Montana's scenic beaut --
(A VOICE picks up the phone.)
VOICE: Kelvin?
SAMPSON: (Cheerful) Devin? Great! Did you just walk in or were you listening all along?
VOICE: This is Chris Hansen from "Dateline NBC." I'm sitting in your living room right now. Why don't you come out here so we can have a chat?
SAMPSON: Wow. I guess someone was listening.
Patrick Hruby is a columnist for Page 2. Sound off to Patrick here.