And to think: All it took was two World Series titles.
When the Boston Red Sox had Bill Buckner throw out the ceremonial first pitch at Fenway Park Tuesday, it was more than a nostalgic nod. It was an act of sporting absolution, a way for fans to finally forgive the former first baseman for his epochal flubbed grounder in the 1986 World Series.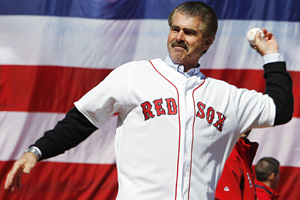 Brian Snyder-Pool/Getty Images
Welcome back, Bill! Red Sox fans meant to say Calvin Schiraldi is they guy they really blame.
It's also the sort of thing the sports world needs more of.
Bartman. Scott Norwood. Chris Webber. Pariahs all, goats forever, and for what? One tarnished moment? One painfully human mistake? Is it really worth it? Sports fans never forget. But all of us ought to forgive -- if not for the sake of Buckner & Co., then for the health of our own blackened, hate-curdled hearts.
Besides, only losers and Chicago Cubs fans hold on to stuff forever.
With that in mind, Page 2 presents some of the most unforgiven scapegoats in sports and beyond, and what everyone can do to move forward. Or at least find someone else to blame.
Scott Norwood, kicker, Buffalo Bills
Crime: Super Bowl XXV. Wide right.
Punishment: Forever remembered as the bizarro Adam Vinatieri; kick footage always played during televised sports goat montages; indirectly inspired debut film (and subsequent career) of annoying indie actor Vincent Gallo.
Suggested penance: Strap self into Ludovico Technique chair and watch 48 consecutive hours of Gallo's "Buffalo 66" and "The Brown Bunny."
Reconciliation gesture: Honor Norwood before a Bills home game, along with the entire Buffalo defensive unit from Super Bowl XXV, which allowed the New York Giants to set a time of possession record that in no way altered the outcome of the contest.
Mitch Williams, closer, Philadelphia Phillies
Crime: Gave up walk-off, championship-losing home run to Toronto's Joe Carter in Game 6 of the 1993 World Series.
Punishment: Prior to Carter homer, suffered indignity of teammate Curt Schilling wearing a towel over his head while watching Williams from the dugout; following Carter homer, was traded to Houston.
Suggested penance: Dunk tank! Allow Philadelphia sports fans to throw snowballs, D-cells.
Reconciliation gesture: Appear with Mike Schmidt, Von Hayes, Donovan McNabb in his NFL draft day suit and Santa Claus to throw out Phillies' first-day pitch; realize the booing is nothing personal.
Chris Webber, forward/center, Michigan
Crime: Phantom timeout call -- actually, make that: (a) call for timeout that no one notices; (b) traveling violation that refs don't call; (c) call for timeout that does not exist -- results in technical foul that seals Michigan's loss to North Carolina in 1993 NCAA title game.
Punishment: Eternally branded as a big-game, big-moment choker. Which is actually somewhat accurate.
Suggested penance: Courtside seats, mandatory attendance at Crisler Arena until Michigan finishes higher than ninth in the Big Ten.
Reconciliation gesture: Ask for forgiveness by prostrating self before God, man and Oprah's studio audience; have Mitch Albom write tear-jerking biography, "The Fab Five People You Meet On Tuesdays In Heaven."
Ralph Nader, presidential candidate, Green Party
Crime: Vote-peeling third-party candidate blamed by political left for Al Gore's loss in 2000 presidential election.
Punishment: Subsequent political marginalization. Er, make that additional political marginalization. Though he has the anti-corporate, IMF-protesting chaos puppeteer vote locked up.
Suggested penance: Listen to tapes of his own speeches, without the benefit of Starbucks or Red Bull.
Reconciliation gesture: Publish apologetic opus on the irony of the Green Party candidate costing Mr. Inconvenient Truth an election; reduce global CO2 emissions by shutting up, already.
Earnest Byner, running back, Cleveland Browns
Crime: Last-minute goal-line fumble in 1987 AFC Championship Game cost Browns a chance to tie contest, advance to Super Bowl.
Punishment: Permanently linked with playoff performance of Marty Schottenheimer. Nobody said life was fair.
Suggested penance: Perform David Blaine "magic" trick -- i.e., extended underwater submersion, living in plastic box without food, etc. -- while holding a football.
Reconciliation gesture: Hope that Schottenheimer returns to coaching -- the sooner, the better.
Barry Bonds, outfielder, Pittsburgh Pirates
Crime: MVP unable to throw out Sid Freakin' Bream in Game 7 of the 1992 NLCS; ignored Andy Van Slyke's pleas to move closer before the play.
Punishment: Unpopular in Pittsburgh long before the rest of the country followed suit.
Suggested penance: Work with NASA to produce scientific report explaining the exact physical forces -- down to the quantum level -- that can cause an outfield throw to be slightly offline toward first base.
Reconciliation gesture: Work with NASA to create working time machine; take Greg Anderson and Victor Conte back to 1992 and design performance-enhancing regime for throwing arm.
Eugene Robinson, safety, Atlanta Falcons
Crime: Arrested on charge of soliciting an undercover police officer posing as a prostitute the night before Super Bowl XXIII (literal crime); started in game and was burned deep twice during Atlanta's 34-19 loss to Denver (figurative crime).
Punishment: Lasting annoyance on the part of Atlanta sports fans -- which is about the most they can muster.
Suggested penance: Offer every Falcons fan $40 -- to be used only on Falcons souvenirs, of course!
Reconciliation gesture: Keep quiet and let this Michael Vick thing continue to play out.
Jessica Simpson, girlfriend, Dallas Cowboys
Crime: Torpedoing team's 2007 playoff run.
Punishment: Yet to be determined, although making another movie with Dane Cook is a possibility.
Suggested penance: Must test strength of relationship with Tony Romo by agreeing not to use Proactive acne solution for six months.
Reconciliation gesture: Agreeing to never sing national anthem before a Cowboys game.
Nick Anderson, forward, Orlando Magic
Crime: Missed four consecutive free throws in closing seconds of Game 1 of 1995 NBA Finals.
Punishment: Rockets tie game, sweep series, Shaq leaves, Anderson's free-throw shooting plummets to 40 percent, team suffers through Grant Hill "era" and a year of Steve Francis.
Suggested penance: Watch the 2006-07 New York Knicks highlight video, starring Francis and Stephon Marbury.
Reconciliation gesture: Enter halftime fan free-throw shooting contest, win prize by actually making free throws, donate to charity. Or just remind fans that franchise never would have drafted Dwight Howard if not for those missed free throws.
Terrell Owens, wide receiver, Philadelphia Eagles, San Francisco 49ers and (almost) Baltimore Ravens
Crime: Feuded with coaches and teammates and ultimately left on bad terms.
Punishment: Lustily booed by spurned fans, a small price to pay when you've got "25 million reasons to live."
Suggested penance: Perform 1,000 sit-ups before assembled media in his driveway, put a sock in Drew Rosenhaus' mouth and please don't release any more books.
Reconciliation gesture: Stand on the midfield star at Texas Stadium while Donovan McNabb, Jeff Garcia and Ray Lewis deliver bone-rattling hits during a pregame ceremony.
Ryan Leaf, quarterback, San Diego Chargers
Crime: Leaf recorded a 48.8 passer rating in two seasons with team and was involved in countless clashes with teammates, fans and media.

Punishment: Vilified in the community and booed heartily during games -- including when his own United Way PSA was shown via JumboTron at Qualcomm Stadium. Once was serenaded with mocking rendition of Little River Band's "Lonesome Loser" by a fan at training camp.

Suggested penance: A personal note of apology to the approximately 2.9 million residents of San Diego County.

Reconciliation gesture: Perform rousing karaoke duet of "Lonesome Loser" with Bobby Beathard during halftime of a home game against the Raiders.
Yoko Ono
Crime: Broke up the Beatles, man!
Punishment: "Two Virgins," "Life With the Lions," "Wedding Album" … plenty of punishment here, only it seems to be inflicted on the rest of us.
Suggested penance: Hold Disco Demolition Night II with above albums.
Reconciliation gesture: Find a way to break up Maroon 5 or Coldplay, and all will be forgiven.
Thomas Neumann and David Schoenfield contributed to this story.