KEY BISCAYNE, Fla. -- My reproductive organs remain intact. Mostly by accident.
I'm standing on a sun-kissed clay court in southern Florida, hands wrapped around the handle of an oversized tennis racket, squinting through the bars of a catcher's mask. Take away my volleyball knee pads, and the fact that I'm holding my racket upside down, and the half-dozen tennis balls I've popped over a chain-link fence and onto an adjacent practice court -- where Russian tennis star Anna Chakvetadze and her hitting partner seem decidedly unamused -- and I almost look like I know what I'm doing.
That is, until my chest protector starts to itch.
Across the net, John Isner tugs on his low-slung ball cap, stifling a smirk. A 22-year-old former NCAA star currently ranked No. 81 in the world, Isner is known for his height -- at 6-foot-9, he's the second-tallest player on the ATP Tour -- and his concussive, 140-mph-plus serve, which whistles from the sky in the manner of a falling rocket. He's here to show me the goods; I'm here to stab at the ball like an intoxicated chimpanzee and hopefully avoid injury in the process. Hence the knee pads and the chest protector and the catcher's mask. Hence, too, my muttering frustration at forgetting to pack a cup -- or better still, one of those giant red foam-rubber karate codpieces, the kind you wear on the outside of your pants. (FYI: Good luck buying one of those at the Ritz-Carlton tennis center pro shop).
A cameraman squats behind me, focused and professional. The same can't be said for Isner's agent, or his hitting partner, or my wife, all of whom are watching from the sideline, trying very hard not to giggle. Isner is demonstrating his serve into the body, which works exactly as it sounds: I've already taken one ball to the face mask and another to my left thigh, now home to a yellow-purple ball mark.
For the first time in my writing life, I feel a genuine kinship with paper. Specifically, a shooting range target silhouette.
Isner tosses the ball. I bend my knees, shift my weight to the balls of my feet, make sure the racket face is positioned squarely in front of my groin. I hear a pop, see Isner's lanky right arm swing down like a guillotine blade. The ball hits the ground in an eye blink -- thud! -- then rises toward me, appearing to accelerate while doubling in size. (Technically impossible, yes -- but so is David Copperfield's illusionary oeuvre.) Before my brain registers the second sound, I'm acutely aware of a third: the thwack! of the ball striking my racket strings, right in the synthetic cat gut sweet spot, without which I now would be in considerable physical anguish and possibly reading up on adoption law.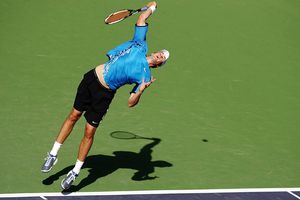 Harry How/Getty Images
At 6-foot-9, John Isner presents an imposing figure. Oh, and he serves really hard.
Holy [expletive].
Isner laughs. The camera guy laughs. Everyone laughs. I want to laugh, too, only my arms don't seem to work and I can't remember how to use my lungs. Time stops and starts again. A few seconds later, I see Isner smile. I follow suit. And why not?
After all, it's the cleanest return I've hit all morning.
To serve and protect
I wasn't looking for trouble. Honest. When I first mentioned returning Isner's serve to my editor, we talked locations, logistics and tracking down one of those old-school Bjorn Borg headbands. We did not discuss body armor, and if the term insurance waiver ever came up, it was only in jest.
Then I spoke with Jim Young.
A former junior tennis player and writer for the Greensboro (N.C.) News-Record, Young had the brilliant idea to face Isner's serve before I did -- last spring, back when Isner was leading the University of Georgia to an NCAA team title.
Young's advice?
"Have John tell you which serves are coming," he said. "It won't help you return the ball. But it will reduce your chance of injury."
Wait. Hold up. Chance of what?
"I was in survival mode," Young explained. "I'd like to think I was sitting there in my stance, going, 'OK, it looks like he's opening up.' But no. I was just hoping to get my racket up. Otherwise I'd need reconstructive surgery."

It's rare for the eye to be broken open from a tennis ball. The ball is big enough that a lot of the energy gets absorbed by the surrounding bone and tissue.
--Dr. Paul Vinger
He paused.
"Wear a cup," he added. "And a face mask."
I figured Young was joking. Until I Googled "tennis ball" and "injury." Up came a medical abstract:
A 68-year-old man was treated for subtotal occlusion of his right common femoral artery, two months after being struck in the leg with a tennis ball.
Ouch. But clearly a freak accident. Or so I thought.
Dr. Paul Vinger, an associate clinical professor of ophthalmology at Tufts University School of Medicine, told me that tennis is the leading cause of eye injuries among working-age women -- and that he personally had seen hundreds of tennis-related cases involving cataracts and bleeding eyes, detached retinas and dislocated lenses.
"It's not all that rare to lose at least partial vision from being hit with a ball," Vinger said.
Um, any good news?
"It's rare for the eye to be broken open from a tennis ball," he added. "The ball is big enough that a lot of the energy gets absorbed by the surrounding bone and tissue."
Fingering the area around my eye socket -- more Faberge egg than granite countertop -- I mentioned the speed of Isner's serve. Vinger asked if I had ever played professional tennis.
Nope.
"I would definitely wear eye protection, then."
That wasn't the worst of it. During a grass-court tournament last summer, Marc Gicquel of France -- note: an actual real-life professional player with real-life professional skills and reflexes -- was hit in the groin by a 129-mph serve from Germany's Benjamin Becker.
Though Gicquel received treatment and went on to win the match, he retired from his next contest, complaining of lethargy, nausea and sleeplessness. All of which I found mildly disconcerting, especially after talking to ATP trainer Clay Sniteman.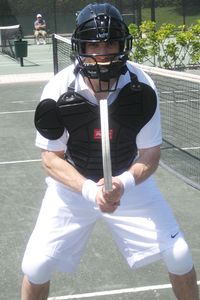 Patrick Hruby
Patrick, you're facing the wrong way.
"We have one or two instances of that a year," he told me. "First thing that happens, there's a test: You have to make sure the testes haven't ascended. After that, there's trauma and swelling. If you get hit hard enough, you'll be in severe pain for a while."
How severe?
"You will be most likely retiring from the match," Sniteman said. "You're not going to be walking, let's just face it."
Help wanted
Hoping to both walk and avoid total embarrassment, I assessed my predicament. Did I expect to rip a cross-court return winner off Isner, a guy who took a set off Roger Federer at last year's U.S. Open? No way. Isner's serve might be the best in the sport, whereas my tennis experience consisted of a no-credit course during my senior year of college, taken because: (a) It was held outside; (b) The class consisted of 13 girls … and me.
Still, as a reasonably fit adult, I figured I could get my racket on the ball, block it back over the net and forestall a future appearance on "America's Funniest Home Videos." All I needed was a little help, a plan of some sort, a better idea of what to expect.
Translation: I needed a way to cheat.
"Try yelling John's name when he's about to hit the ball," offered Somdev Devvarman. "Distract him, maybe."
A University of Virginia senior and the reigning college singles champion, Devvarman beat Isner in last year's NCAA final. The two became friends and even played doubles at an ATP tournament in Washington, D.C., last summer.

First thing that happens, there's a test: You have to make sure the testes haven't ascended. After that, there's trauma and swelling. If you get hit hard enough, you'll be in severe pain for a while.
--ATP trainer Clay Sniteman
So, I asked, what's the best way to break Isner's serve?
"I never broke his serve," said Devvarman, who captured the NCAA title in a pair of tiebreaks. "I didn't even get to deuce. He dropped 24, 25 aces on me."
Devvarman sighed.
"The motion on his serve is so good, so hard to read. You have absolutely no idea where he's going on any serve. You're always trying to guess."
For a moment, I felt optimistic. Guessing, I could do. Guessing, I could own. Heck, two-thirds of a sportswriter's job involves blatant guesswork. (The other third? Complimentary pregame buffets).
Besides, I'd only have to guess right once, correct?
"Even when I guessed right, I was still getting beat," Devvarman laughed. "With his height and wingspan, the trajectory is just so weird. You never see a ball coming from that height. You expect it to be normal, but the thing just takes off when it hits the ground."
I asked if Isner had any tells. Uh-uh. I asked if standing 10 feet behind the baseline would help. Probably not. I told Devvarman that I hadn't picked up a racket in two years, and that I needed something, anything.
"Well, you could try hitting him before he serves," he said.
You mean hit a ball at Isner before he serves?
"No. Hit him."
Getting served
First come the white wristbands. Next, a matching headband. I wanted to wear a cable-knit sweater vest, too, but Brooks Brothers was sold out. (Go figure -- was Borg in the store before me?)
Nevertheless, I look like a country club jackass. I'm hoping Isner takes pity on me. Or at least snickers too hard to fully extend his arms. I'm standing on the baseline, sweating profusely, trying to remember the advice I've been given: Shorten your backswing. Step in on the kick serve. Step back on the flat serve. Problem is, I'm fixated on a single thought: Man, I wonder if he can dunk a basketball without jumping.
Distracted, I ask Isner to begin with a half-speed serve, just so I can warm up.
Whoosh.
The ball comes in a finger snap, appearing to pick up spin, speed and bite after it bounces. I lunge and miss, badly. I feel like a marionette being manipulated by a puppeteer with Parkinson's. And this is half-speed!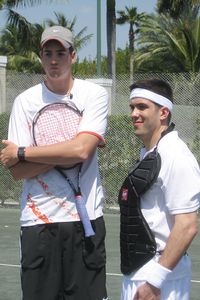 Patrick Hruby
Maybe Patrick would have returned better without the headband.
It's a sign of things to come.
Isner goes through his repertoire: down the middle, out wide, flat serve, kick serve. He even tells me what to expect. No matter. I can hardly get my racket frame on the ball. Anything resembling a legitimate tennis stroke is purely coincidental.
That said, the experience is oddly illuminating -- a dozen clumsy stabs in, I start to understand what makes Isner and ball-blasting peers like Andy Roddick so good, and why watching tennis on television (or from the upper deck at Arthur Ashe Stadium) does pro-level serving scant justice:
• Speed Kills. The most surprising thing about a 140-mph serve is that you can actually see and track the ball. The second most surprising thing is that if you take the time to think about where the ball is going, you'll never catch up to it. Unless Isner hammers the ball right into your hitting zone, you can't afford to react. You have to anticipate and move early -- much like a soccer goalie in a penalty shootout.
• Location, Location, Location. Isner isn't just hitting serves past you. He's hitting them away from you. When he puts one out wide in the corner of the service box, he can pull you into the doubles alley or off the court altogether; when he puts the next one down the middle, it looks twice as fast.
• Spin Cycle. According to tennis physics expert Howard Brody, the spin on a tennis ball hardly decreases during flight, and can actually increase when the ball hits the ground. The result? Get your strings on Isner's serve, and it feels like striking a paperweight. Nastier still is Isner's kick serve, which thanks to heavy topspin moves slower but bounces higher than a normal serve. Coming from an average-sized player, a kick serve forces the returner to step in and take the ball early, or else attempt to hit the ball at shoulder height; coming from Isner, the ball bounces over your racket and/or head entirely. Take it from me: It's an awkward, baffling and humiliating sensation, akin to swinging and missing at a piñata.
• Mind Games. Put everything together -- speed, spins, location -- and top servers operate much like baseball pitchers. They fool returners, keep them off-balance, use one serve to set up the next, the way Johan Santana will follow a 90-mph fastball with an 80-mph changeup. To wit: Isner's down-the-middle heat left me even more unprepared for the bounce on his kick serve -- I couldn't have stopped the ball with a butterfly net -- while his into-the-body shots made me wonder if police riot shields are available on eBay.
When Isner finally loops a gentle bunny ball into the service box, I'm so spooked I barely manage to chip it back, flinching all the while.
"I've really worked hard with my coaches with developing my body serve, which I think I need to use more," he later tells me. "Because if I'm hitting a 140-mph serve right into your body, you're not going to be able to do much with it."
Story of my morning. After missing my final ball, I meet Isner at the net. You were pretty bad, he says. Which is putting it kindly. Truth be told, I'm beyond terrible -- utterly emasculated comes to mind -- but also strangely elated. Giddy, even. Perhaps it's because I didn't perform much worse than most of Isner's professional opponents. Or maybe it's because I feel about 10 degrees cooler after flipping off my catcher's mask. Walking off the court, testicles still descended, I even consider an encore. With one minor tweak.
Next time, I'm definitely wearing a cup.