Commentary
Jose Canseco: Guardian of Truth?
Updated:
May 15, 2009, 4:39 PM ET
By
Patrick Hruby
| Page 2
When Dodgers slugger Manny Ramirez was suspended for 50 games last week for using a banned performance-enhancing drug, one man did not join the resulting cacophony of shock and outrage.
Jose Canseco. Mr. "Juiced." The self-styled Godfather of baseball's steroids era.
Weeks before the suspension, Canseco said he was 90 percent sure that Ramirez juiced. No proof. Just a hunch. A ridiculed hunch that proved correct. While Canseco's subsequent I-told-you-so press conference was -- ahem -- sparsely attended, his 'roid prescience begs the question: Just how accurate has Canseco been when it comes to seemingly outlandish claims?
Upon blowing the whistle on steroid use in 2005, Canseco was dubbed the "NonCredible Hulk." An "attention-starved 'roidhead." "Highly toxic as a reliable source." Is that the case? Or is there more credibility than many would like to admit lurking beneath Canseco's eye-popping sartorial decisions?
To resolve the matter, Page 2 re-examined a series of equally eye-popping statements made in Canseco's two books, "Juiced" and "Vindicated." Do they hold water? Read on …
[+] Enlarge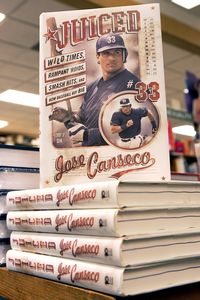 Justin Sullivan/Getty ImagesHow much veracity do Canseco's claims have? Let's take a look.
1. Most superstars are on the juice
Canseco says:
"The challenge is not to find a top player who has used steroids. The challenge is to find a top player who
hasn't
." -- "Juiced," 2005
Subsequent evidence: Alex Rodriguez, Rafael Palmeiro, Jason Giambi, Andy Pettitte, Manny Ramirez, the other 103 players who tested positive in 2003 and a whole bunch of other big names who allegedly juiced (Barry Bonds, Roger Clemens, Gary Sheffield, Mark McGwire, Miguel Tejada).
Verdict: Triple that rolls to the outfield wall. There's a chance that Bonds, Clemens and McGwire didn't take performance-enhancing drugs. There's also a chance that the planet will suffer a cataclysmic meteor strike by the time you finish this sentence.
2. Clemens: Family man
Canseco says:
"Roger Clemens is one of the very few baseball players I know who never cheated on his wife." -- "Juiced," 2005
Subsequent evidence: Country music singer Mindy McCready claims she had a decade-long affair with Clemens; Paulette Dean Daly, ex-wife of golfer John Daly, doesn't deny having a romantic relationship with Clemens; a Manhattan bartender and a Detroit stripper also have been linked to the Rocket.
Verdict: Strikeout on a breaking ball in the dirt. Canseco clearly doesn't read the New York Daily News.
3. A-Rod will fall from grace
Canseco says:
"Alex Rodriguez is not the saint he's perceived to be. Eventually the media will find something nasty to write about him." -- "Juiced," 2005
Subsequent evidence: A steady stream of tabloid stories about strippers and underground poker clubs with headlines such as A-FRAUD; Selena Roberts' new book.
Verdict: Home run. Though predicting the media eventually will find something nasty to write about anyone not named Tom Hanks is like predicting a sunrise.
4. Enhanced Ordonez
Canseco says:
"I injected Magglio Ordonez with steroids and human growth hormone." -- "Vindicated," 2008
Subsequent evidence: Nothing beyond Canseco's claim. Also, Canseco denied reports that he attempted to extort money from Ordonez to leave the Tigers slugger out of the book.
Verdict: Walk. Ordonez shrugged off Canseco's allegations, but never actually denied using 'roids.
5. Jose's philosophy of beauty
Canseco says: "A beautiful woman is a poem." -- "Vindicated," 2008
Subsequent evidence: According to Edgar Allen Poe, the death of a beautiful woman is "unquestionably the most poetical topic in the world."
Verdict: Bloop single. We're not about to cross metaphoric swords with the man who wrote "The Raven" … even though we're certain Canseco has never heard of the guy.
6. Chemical power surge in Texas
Canseco says:
"I sat down with Rafael Palmeiro, Juan Gonzalez and Ivan Rodriguez, and educated them about steroids. Soon I was injecting all three of them … " -- "Juiced," 2005
Subsequent evidence: Palmeiro wagged a defiant finger at Congress, then flunked a drug test; Canadian authorities linked Gonzalez's trainer to an unmarked bag containing steroids; asked if his name is on the list of 104 players that tested positive for taking steroids in 2003, Rodriguez said "only God knows."
Verdict: Stand-up double. Palmeiro got caught, Rodriguez was evasive and if the steroids era has taught us anything, it's that where there's trainer smoke, there's usually fire.
7. Hooking up A-Rod
Canseco says:
"I introduced Alex Rodriguez to a known supplier of steroids." -- "Vindicated," 2008
Subsequent evidence: Rodriguez denied meeting "Max," the Canadian dealer/trainer in question; on the other hand, A-Rod also denied using steroids in the first place.
Verdict: Triple. Even if Canseco is wrong about Rodriguez's supplier, he was right about the juice -- making him the first person to correctly finger one of baseball's biggest stars.
[+] Enlarge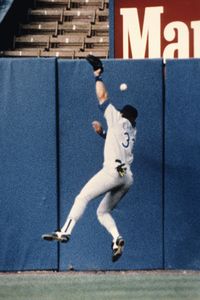 Ron Kuntz Collection/Getty ImagesIt got much more embarrassing than this for Canseco in the fifth
season of "The Surreal Life."
8. Home run off the dome
Canseco says:
" … I lost track of the ball for an instant, and it hit me right in the head and bounced over [the wall] for a home run. That had to be the most embarrassing moment of my career …" -- "Juiced," 2005
Subsequent evidence: At the time, perhaps it was, but Canseco later stripped down to leopard-print bikini underwear while appearing on "The Surreal Life."
Verdict: Pop-up to the catcher. Ball-off-the-noggin now the second most embarrassing moment of Canseco's career.
9. Jose on sabermetrics
Canseco says:
"There are a lot of guys who have never played the game -- never even been around the game -- and still try to use mathematics to figure it out. That's a joke." -- "Juiced," 2005
Subsequent evidence: "Moneyball," Theo Epstein, VORP, Bill James, defensive metrics … numbers nerds and Ivy League quants now rule the sport. Nobody who has benefited from stat crunching (hello, 2008 Tampa Bay Rays!) is laughing.
Verdict: Left off active roster. Canseco too busy in clubhouse stall to notice sport changing all around him.
10. Juiced Giambino
Canseco says:
"I used to be the poster boy for steroids in baseball, but today I'd have to say the new poster boy is Jason Giambi." -- "Juiced," 2005
Subsequent evidence: Giambi previously admitted to the BALCO grand jury that he used steroids and human growth hormone. He later fessed up and apologized in USA Today.
Verdict: Home run … off a grooved pitch. Canseco dead on about something we pretty much knew already.
11. Mighty Miguelito
Canseco says:
"I started giving Miguel Tejada advice about steroids … " -- "Juiced," 2005
Subsequent evidence: The Mitchell report claims Tejada purchased steroids from Kirk Radomski through former teammate Adam Piatt. Tejada also pleaded guilty to charges of lying to Congress about his knowledge of steroid use in baseball.
Verdict: Double. If Canseco's talking steroids, Tejada seems like the sort of person who would listen.
12. Big Mac: Artificial beef
Canseco says:
"After batting practice or right before a game, Mark McGwire and I would duck into a stall in the men's room, load up our syringes, and inject ourselves." -- "Juiced," 2005
Subsequent evidence: During Congressional steroid hearings, Incredible Shrinking McGwire declined to discuss possibly juiced past on advice of legal counsel.
Verdict: Triple off the wall. No smoking syringe as of yet, but does anyone really doubt that McGwire was using more than just andro?
13. Possibly the fastest human ever
Canseco says:
"In Tampa … I ran the 40-yard dash in 3.9 seconds." -- "Juiced," 2005
Subsequent evidence: We looked it up. Bo Jackson reportedly ran a 4.12 40-yard dash at the 1986 NFL draft combine, and former Redskins cornerback Darrell Green clocked an unofficial training camp time of 4.09.
Verdict: Twisting, full-body strikeout resulting in a torn oblique. Canseco wasn't slow -- he stole 40 bases in 1988 -- but he wasn't Usain Bolt, either.
14. Did Clemens juice?
Canseco says:
"On other occasions, casual as you please, Roger [Clemens] might say, "I think I need a B-12 shot right about now … I figured he was going off to juice up." -- "Vindicated," 2008
Subsequent evidence: The Mitchell report indicated that Clemens took performance-enhancing drugs, an allegation he continues to vehemently deny despite claims of former trainer; federal government currently investigating Clemens for lying to Congress about possible steroid use; thanks to Palmeiro, B-12 has become a steroid punch line.
Verdict: Full count, waiting for the pitch. Time will tell if Canseco's hunches about Clemens are as accurate as his hunches about Ramirez.
[+] Enlarge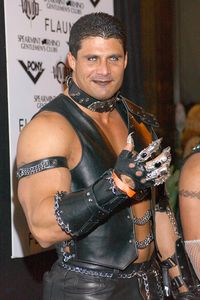 Arun Nevader/WireImageThe truth is scarier than fiction. Canseco is incredibly credible when it comes to steroid accusations.
15. No habla Ingles
Canseco says:
"Sammy Sosa … I can't say for a fact he took steroids … but he gained 30 pounds just like that … you could see the bloating in his face and neck. It seemed so obvious. It was a joke." -- "Juiced," 2005
Subsequent evidence: None, save Sosa's sudden and curious inability to speak English during the congressional steroid hearings and his refusal to take a drug test when prompted by sportswriter Rick Reilly.
Verdict: Sacrifice fly. Sosa has never flunked a test, been caught with drugs or linked to a sketchy trainer; on the other hand, his physique became increasingly and curiously Stay Puft Marshmallow Man-esque over the course of his playing career.
16. Ummm … toe licking
Canseco says:
"To impress a girl and make sure she comes back, [give her]
special treatment
… that can mean anything, from a little massage or a foot rub to licking the toes you're massaging." -- "Juiced," 2005
Subsequent evidence: Canseco is twice divorced; a Google search on how to impress a girl brings up "make her laugh," "be clean" and "take her to the Oscars, and win." It does not bring up "lick her toes."
Verdict: Strike three! We hate to rain on anyone's fetish parade, but seriously -- toe licking?
17. Testosterone outage
Canseco says:
"If you don't lay off the stuff from time to time, your body can lose its ability to produce its own testosterone." -- "Vindicated," 2008
Subsequent evidence: Last November, Canseco pled guilty to attempting to bring a women's fertility drug into the United States from Mexico, telling the judge he was looking for a substance that would restore his depleted testosterone levels.
Verdict: Back … back … gone! Like editors always say: Write what you know.
18. Martial artist, nunchakus master
Canseco says:
"I am a registered black belt in karate and tae kwon do, and I'm also into Muay Thai kickboxing. I'm an expert with nunchakus, too." -- "Vindicated," 2008
Subsequent evidence: Canseco was knocked out in a boxing match with former NFL kick returner Vai Sikahema; fought to draw in celebrity bout against Danny Bonaduce; supposedly twirled 'chucks in a Hollywood demo reel that inexplicably has yet to appear on YouTube.
Verdict: 0-2 count. Canseco could redeem himself in upcoming Japanese MMA bout against a 7-foot-2 Korean. No, we're not making that up.
19. 2015: A Steroid Odyssey
Canseco says:
"By the time my eight-year-old daughter, Josie, has graduated from high school, a majority of all professional athletes will be taking steroids. And believe it or not, that's good news." -- "Juiced," 2005
Subsequent evidence: Baseball power numbers have dipped. The steroids era is over! Just look at natural, clean sluggers like Alex Rodriguez and Manny Ramir … oops.
Verdict: In the on-deck circle. Canseco is on to something, but his time frame puts us deep into Limbaugh's first term. Besides, by 2015 steroids likely will be replaced by gene doping.
20. Too much information
Canseco says:
"Using growth hormone can make your penis bigger and make you more easily aroused …
growth hormone worked for me.
-- "Juiced," 2005
Subsequent evidence: We're not about to look for it.
Verdict: Game called on account of nausea.
Final Line: 8-for-14, 3 HRs, 3Ks, BB, SF, 4 ABs yet to be completed. On steroids matters, Canseco is batting closer to 1.000; on other stuff -- such as 40-yard dash times and underpublicized HGH side effects -- he's just as likely to let a fly ball plunk him in the head.
Patrick Hruby is a columnist for Page 2.