Commentary
When brilliance is exposed as ineptitude
Originally Published:
July 22, 2009
By
Patrick Hruby
| Page 2
Michael Jordan was cut from his high school basketball team. Henry Ford's first car company went bust. Marilyn Monroe was dropped by a studio for being unattractive. Winston Churchill flunked sixth grade. If the long history of accomplishment teaches us anything -- beyond the ease of Googling said history -- it's that failure often comes before success.
But what about success preceding failure?
Year after year and season after season, accomplished individuals in sports and the world beyond are hailed as geniuses, singular talents whose acumen transcends circumstance. Bill Belichick is a defensive mastermind. No one gets more from his players than Phil Jackson. Joe Torre can win anywhere. Just as often, however, the genius tag is misplaced. Premature. Flat-out wrong. (See Willingham, Ty). As such, what's needed is a De-Genius designation, a term applicable to those whose initial burst of brilliance proved illusory.
Jon Gruden? De-Genius since 2003.
Lauryn Hill? De-Genius since "The Miseducation of Lauryn Hill."
Norv Turner? Uh-uh. Never really qualified as a genius in the first place.
Keep in mind: A De-Genius is not a simple failure. De-Geniuses are people who triumphed so spectacularly they seemed truly special -- then flopped so miserably that their entire modus operandi came into question.
With that in mind, Page 2 presents our Real Men of De-Genius:
1. Brian Billick
[+] Enlarge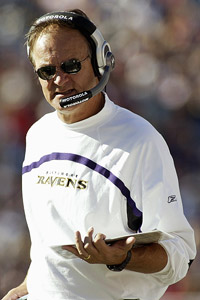 Rick Stewart/Getty Images"Trust me, Baltimore. I know quarterbacks."
Mistaken identity: Passing game mastermind.
Genius credentials: Offensive coordinator for 1998 Minnesota Vikings team that finished with 41 touchdown passes and scored a then-record 556 points (since surpassed by New England).
Genius moment: In 1998 Thanksgiving Day victory over Dallas, Vikings rookie Randy Moss caught three passes for 163 yards and three touchdowns -- one of them a sweet, perfectly executed, 51-yard flea-flicker.
Genius reconsidered: As Baltimore's head coach, presided over nine seasons of offensive torpor -- the Ravens were a top-10 scoring outfit exactly once, never finished higher than No. 14 in yardage, were best known for punishing defense and failed to score an offensive touchdown for five straight games in a season in which they won the Super Bowl. No wonder Terrell Owens didn't want to play in Charm City.
De-Genius moment: In his first Ravens season, Billick dismissed concerns about free-agent pickup Scott Mitchell by stating, "Trust me, Baltimore, I know quarterbacks." He went on to know Tony Banks, Elvis Grbac, Chris Redman, Trent Dilfer, Kyle Boller, Stoney Case, Kordell Stewart, Jeff Blake and Anthony Wright, whoever that is.
The real genius: Moss, who makes pretty much anyone not associated with the Oakland Raiders look brilliant.
2. Charlie Weis
Mistaken identity: Latter-day Knute Rockne.
Genius credentials: Self-anointed. After serving as offensive coordinator for a New England Patriots team that won three Super Bowls, Weis took over for de-geniused Ty Willingham at Notre Dame and told his players, "Every game, you will have a decided schematic advantage."
Genius moment: In his first season, Weis skippered Notre Dame to a 9-2 regular-season record, a berth in the Fiesta Bowl and a close loss to top-ranked USC, all of which earned him 2005 national coach of the year honors.
Genius reconsidered: Two years later -- and with two top-10 recruiting classes to Weis' name -- Notre Dame posted a worst-ever 3-9 record, finishing near the bottom of Division I in almost every significant offensive metric. So much for schematic advantages.
De-Genius moment(s): A 2007 loss to Navy, which ended Notre Dame's 43-game winning streak against the overmatched Midshipmen, a bullying run dating back to the Roger Staubach era; every time in the past few NFL seasons the Patriots put up a bunch of points with offensive coordinator/copyboy Josh McDaniels calling plays.
The real genius(es): Notre Dame quarterback Brady Quinn, New England quarterback Tom Brady and Patriots coach Bill Belichick.
3. Leo Mazzone
Mistaken identity: Curveball whisperer.
Genius credentials: Pitching coach for Atlanta Braves staff that led the National League in ERA in 12 of 14 seasons. Mentored six Cy Young winners and 10 All-Stars.
Genius moment: The book "The Baseball Economist" calculated that pitchers who played at least one season under Mazzone saw their ERA drop by an average of 0.64, then rise by an average of 0.78 upon going elsewhere.
Genius reconsidered: As Baltimore pitching coach from 2005 to 2007, oversaw cannon-fodder staff that twice finished second-to-last in the majors in team ERA.
De-Genius moment: Orioles pitchers led the league in walks (696) in 2007, perhaps taking Mazzone's work-the-outside-corner philosophy too literally.
The real genius(es): Atlanta's ace troika of John Smoltz, Tom Glavine and Greg Maddux; a Braves organization that is not run by a domineering owner in dysfunctional fashion.
4. Billy Gillispie
DE-GENIUS … to RE-GENIUS!
Today's De-Geniuses are only one flash of brilliance from reclaiming their lost luster. Consider:
Bill Belichick
The brains behind Bill Parcells' New York Giants flopped in Cleveland before rebounding in New England. Mediocrity of former assistants Charlie Weis, Eric Mangini and Romeo Crennel only buttresses his reputation.
David Caruso
In a bad move to rival Julianna Margulies' turning down a $27 million deal to remain on "ER," Caruso left "NYPD Blue" early in its second season to make movies. Movies like "Jade." Thank goodness for "CSI: Miami," where Caruso's true genius -- spouting intense one-liners while donning sunglasses -- is not mocked, but celebrated.
Phil Jackson
Ballyhooed coach began to seem like glorified coattail-rider of Michael Jordan/Scottie Pippen and Shaquille O'Neal/Kobe Bryant after mediocre, Shaq-less Los Angeles Lakers went nowhere in playoffs. Last season's title -- and bright-yellow "X" hat -- say otherwise.
-- Patrick Hruby
Mistaken identity: College hoops' Winston Wolf.
Genius credentials: Established reputation as turnaround artist by coaching UTEP to an 18-win improvement in 2003-04 and Texas A&M to a 14-win jump in 2004-05; two seasons later, Gillispie took the Aggies to a top-10 regular-season ranking and a one-point loss to Memphis in the Sweet 16.
Genius moment: Prowled sideline for UTEP's victory over the Harlem Globetrotters -- not the confetti 'n' shorts-tugging showmen Trotters, the competitive squad -- the Globies' first loss in 289 games.
Genius reconsidered: Hired to coach Kentucky -- in essence, being elected president of college basketball -- in 2007, Gillispie lost his first game, at home, to Gardner-Webb. By 16 points. A first-round NCAA loss followed, and in his second year, Gillispie oversaw a home defeat to VMI and a berth in the NIT … which the Wildcats didn't even win.
De-Genius moment: After Kentucky fired Gillispie, it was revealed that the coach had never actually signed his formal contract with the school. Oops.
The real genius: Texas basketball coach Rick Barnes, who's smart enough to realize there's more sanity and less hassle coaching at a school and in a state where fans treat college football with the same do-or-die impatience Kentucky fans reserve for hoops.
5. M. Night Shyamalan
Mistaken identity: Steven Spielberg redux.
Genius credentials: Wrote and directed 1999's "The Sixth Sense," a moody, Hitchcockian film that cost $40 million, grossed more than $650 million, received six Oscar nominations and launched more "I see dead people" jokes than Helen of Troy launched ships.
Genius moment: When you realize Bruce Willis is actually a ghost.
Genius reconsidered: Shyamalan's next five films? "Unbreakable," "Signs," "The Village" -- a moment, please, while we find the strength to not laugh-cry over our keyboard -- "Lady in the Water" and "The Happening." Only the New York Knicks have a longer streak of uninterrupted irrelevance.
De-Genius moment(s): Every second of "The Village"; a Time magazine review of "The Happening" asking "Is Shyamalan a sham?" before arguing that each of his movies is worse than the previous one.
The real genius: The computer coders who added the "learn" function to spell check.
6. Marvin Lewis
Mistaken identity: Shutdown coach.
Genius credentials: Defensive coordinator for Ravens unit that allowed the fewest points (165) and rushing yards (970) in a 16-game NFL season, earned Trent Dilfer a Super Bowl ring and obscured Billick's de-genius status for years.
Genius moment: Baltimore's kneel-before-Zod defensive beatdown of New York in Super Bowl XXXV, in which the Ravens forced the Giants into 11 punts and three interceptions in their 16 possessions.
Genius reconsidered: As Cincinnati head coach, Lewis has been the Bizzaro Billick, el jefe of an oft-prolific offensive squad that, well, really needs to be prolific, given that the defense: (a) has never finished in the top 15 in yards or fewest points allowed and (b) has finished in the bottom 10 of both categories three times.
Genius reconsidered (II): Also note Cincy's repeated brushes with the law, which are well-documented as matters of both public record and late-night monologue fodder.
De-Genius moment: The receiver formerly known as Chad Johnson reportedly punched Lewis in the face during a playoff loss to Pittsburgh … thereby showing more fight than the Bengals' defense.
The real genius: Baltimore linebacker Ray Lewis, who similarly enhanced former Baltimore assistant/San Francisco head coach Mike Nolan's reputation.
7. Bernard Madoff
[+] Enlarge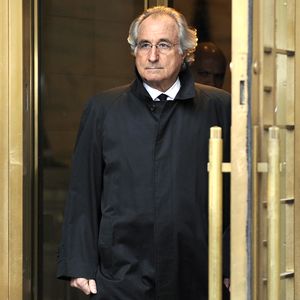 Timothy A. Clary/Getty ImagesBernie Madoff's life isn't all bad these days.
He hasn't been to a Mets game all season.
Mistaken identity: Warren Buffett lite.
Genius credentials: Starts as penny stock trader, helps develop technology that becomes the NASDAQ, becomes multibillionaire Wall Street financier who somehow manages to provide investors with sizable paper returns, even in recessions.
Genius moment: Whenever Madoff realized he isn't the only person in the world motivated by greed and laziness.
Genius reconsidered: Madoff convicted this year of running a Ponzi scheme with client losses of nearly $65 billion, the largest investor fraud ever committed by a single person.
De-Genius moment: When Madoff told his two sons in December 2008 that his business was "one big lie." FBI agents arrested Madoff the next day.
The real genius: Independent financial fraud investigator Harry Markopolos, who in 1999 informed the SEC that Madoff was running a Ponzi scheme. Way to pull a Chief Wiggum, federal investigators!
8. Cam Cameron
Mistaken identity: Point-producing locker room leader.
Genius credentials: Offensive coordinator for a 2006 San Diego Chargers squad that led the NFL in scoring and ranked No. 4 in yardage. Credited with developing Pro Bowl passers Drew Brees and Philip Rivers.
Genius moment: Called a "Bumarooski" trick play to score a red zone touchdown against Denver.
Genius reconsidered: In sole season as Miami Dolphins head coach, led club to 1-15 debacle marked by rumors of player mutiny. Also, Rivers and Brees have performed admirably without Cameron.
De-Genius moment: Dolphins offense failed to produce a touchdown for three straight games; an overtime victory over Baltimore prevented Cameron from becoming first NFL coach to finish 0-16. Why not play for history?
The real genius: In retrospect, Chargers running back/NFL MVP LaDainian Tomlinson. Oh, and all the guys blocking for him.
9. Michael Cimino
Mistaken identity: Celluloid auteur. Or at least better than Uwe Boll.
Genius credentials: With only two writing credits and one so-so film to his name, directed 1978's "The Deer Hunter," a gripping Vietnam War-inspired drama that won five Academy Awards, including best picture and best director.
Genius moment: The film's Russian roulette prison camp scene -- not exactly accurate in terms of North Vietnamese torture techniques, but cinematically riveting.
Genius reconsidered: Cimino's next film, "Heaven's Gate" -- a would-be epic about an 1890s rumble between land barons and European immigrants in Wyoming -- was overlong, over budget and roundly panned as one of the biggest turkeys in Hollywood history, a film so ruinous it effectively ended Ciminio's career, bankrupted the studio (United Artists) behind it and changed the entire way movies are made.
De-Genius moment: According to a UA studio executive, Cimino asked during the intermission of the "Heaven's Gate" premiere why no one was drinking champagne -- to which someone replied, "because they hate the movie, Michael." Ouch.
The real genius(es): "The Deer Hunter's" Robert De Niro (nominated for best actor), Christopher Walken (Oscar for best supporting actor) and Meryl Streep (nominated for best supporting actress), all of whom have enjoyed long and distinguished acting careers not involving immigrant wars in Wyoming.
10. Steve Spurrier
TOO CLOSE TO CALL
De-Genius? Or still brilliant? You be the judge:
Quentin Tarantino
Hasn't directed anything half as good as "Pulp Fiction." Hasn't made anything totally awful, either. Upcoming Nazi-splattering flick could tilt the balance.
Billy Beane
For years, "Moneyball" hero did an admirable job with the cash-strapped Oakland A's -- but now that everyone is using sabermetrics, Beane's "[expletive] doesn't seem to work" in the regular season, either.
Bobby Jindal
Republican answer to Obama flopped hard in first prime-time address -- Is America really ready for its first dweeb president? -- but has the biography, smarts and time to be a factor in 2012.
Axl Rose
Finally, actually, really and truly managed to release "Chinese Democracy" last year -- and the album wasn't a complete joke. On the other hand, another "Appetite for Destruction" is probably too much to ask.
-- Patrick Hruby
Mistaken identity: Wheel reinventor.
Genius credentials: Ol' Ball Coach's pass-happy, Fun 'n' Gun offense produced six SEC titles, six SEC Coach of the Year awards and one national championship at Florida -- all of which led to a five-year, $25 million deal with the Washington Redskins in 2002.
Genius moment(s): Coaching quarterback Danny Wuerffel to a Heisman Trophy; tweaking rival Tennessee by stating, "You can't spell Citrus without 'UT'"; Spurrier's first preseason game with the Redskins, a 38-7, run-up-the-score victory over San Francisco in Osaka, Japan.
Genius reconsidered: Proclaiming "Sunshine follows the Gators," Spurrier stocked the Redskins with former Florida stars, none of whom made an impact; wide-open passing attack produced just 18.6 points per game and nearly made oft-sacked quarterback Patrick Ramsey worthy of an Amnesty International letter-writing campaign; befuddled to the bitter end, Spurrier resigned after two seasons and a 12-20 record.
De-Genius moment: Six weeks after Osaka, the Skins lost to the Niners 20-10. Hello -- and ultimately, goodbye -- to the no-gimmick parity of professional football.
Genius moment (II): In first season as South Carolina coach, earns SEC Coach of the Year award after team upsets Tennessee and Florida and finishes 7-5.
Genius reconsidered (II): In four seasons at South Carolina, Spurrier has compiled a 28-22 record and lost more games in the SEC (17) than he did in 12 seasons at Florida. Also, the Independence, Liberty and Outback bowls aren't exactly the Citrus.
The real genius: Florida's limitless bounty of high school football talent, which has worked out pretty nicely for current Gators coach Urban Meyer.
11. Dana Carvey
Mistaken identity: Comedy titan.
Genius credentials: As "Saturday Night Live" cast member, gave world the Church Lady, the Grumpy Old Man, Garth from "Wayne's World" and devastating impressions of George H.W. Bush and Ross Perot.
Genius moment: "Choppin' Broccoli," probably the best one-minute spoof of a 1980s power ballad ever.
Genius reconsidered: Carvey left "SNL" in 1993 to pursue -- what else? -- a movie career. He starred in 1994's "Clean Slate," an amnesia comedy that's actually a lot like "Memento," only neither humorous nor good. A decade-plus of occasional bit parts and 2002's D-grade "Master of Disguise" followed.
De-Genius moment: Offered David Letterman's late-night slot on NBC, Carvey turned the network down. Really.
The real genius: "Wayne's World" partner Mike Myers. Despite "The Love Guru."
12. Dave Wannstedt
[+] Enlarge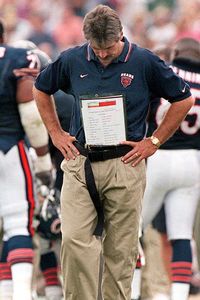 Vincent Laforet/AFP/Getty ImagesDave Wannstedt had the Ditka 'stache but not the Ditka results.
Mistaken identity: Ditka II.
Genius credentials: Defensive coordinator for the mid-to-late '80s Miami Hurricanes and the 1992 Super Bowl champion Dallas Cowboys. Also sported a tremendous, Mike Ditka-like mustache.
Genius moment: Managed Dallas defense that allowed the fewest total yards and fewest rushing yards despite not sending a single player to the Pro Bowl; successfully managed Charles Haley, which is arguably more impressive. (Google "Charles Haley" and "Boys Will Be Boys" to understand why.)
Genius reconsidered: Replacing Ditka as Chicago head coach, Wannstedt posted a 41-57 record over six seasons, made the playoffs only once and was fired after back-to-back 4-12 campaigns. Also, he was a big Erik Kramer backer.
De-Genius moment: Three seasons after being named NFC Coach of the Year, Wannstedt skippered the Bears to an 0-7 start that included a home loss to the Ditka-coached New Orleans Saints. Oh, the humanity!
Genius moment (II): Named Dolphins head coach after Jimmy Johnson's sudden retirement in 2000 and guided Miami to consecutive 11-5 seasons.
Genius reconsidered (II): Both 11-5 seasons ended with playoff flameouts, first to Oakland (27-0), then Baltimore (20-3).
De-Genius moment (II): Gave running back Lamar Smith a whopping 40 carries in a wild-card overtime win against Indianapolis; worn-out Smith carried four times for 8 yards and a fumble in the Dolphins' subsequent loss to the Raiders.
The real genius: The Pittsburgh Steelers, who in 1992 hired similarly mustachioed Bill Cowher instead of Wannstedt.
13. Cuba Gooding Jr.
Mistaken identity: Serious thespian.
Genius credentials: Collected Academy Award for effervescent portrayal of a pro football receiver in "Jerry Maguire."
Genius moment: "SHOW ME THE MONNNN" -- you know what? We're as sick of it as you are.
Genius reconsidered: "Snow Dogs." "Norbit." "Boat Trip." "Daddy Day Camp." Take your pick. Actually, don't -- you'd probably be violating some portion of the Geneva Conventions treaties.
De-Genius moment: Would like the world to know that he is, in fact, wearing Michael Jordan's underwear.
The real genius: Gooding's agent. For managing to stay gainfully employed.
14. Mike Shanahan
Mistaken identity: A guy whose principles for success on and off the field could be just the thing to meet your third-quarter corporate sales targets.
Genius credentials: Coached Broncos to consecutive Super Bowl victories; became fantasy football enigma by turning string of nobodies into 1,000-yard rushers/championing running back-by-committee; called a "brilliant mind" in Broncos media guide bio, which may or may not have been written by Shanahan himself.
Genius moment(s): Finding running back Terrell Davis in the sixth round of the NFL draft; instructing aging quarterback John Elway to hand the football to Davis as often as possible.
Genius reconsidered: Broncos went 1-4 in the postseason without Elway; Shanahan directly responsible for the Jake Plummer experience; Broncos' defense perennially lousy despite D-coordinator musical chairs.
Genius reconsidered (II): In gushing Broncos media guide, wore sport coat over a turtleneck shirt. No. No. A thousand times no.
De-Genius moment: With Denver 7-4 in 2006, benched Plummer for rookie Jay Cutler. Team finished 9-7 and out of the playoffs, then fell to 7-9 the next season. (Adding fantasy insult to injury, the Broncos failed to produce a 1,000-yard rusher. Gack!)
The real genius(es): Elway, Davis and former Broncos offensive line coach Alex Gibbs, guru of the cut blockin', knee-destroyin', zone runnin' scheme that helped turn guys such as Olandis Gary and Mike Anderson into feature backs.
15. Alan Greenspan
Mistaken identity: Oracle at Delphi.
Genius credentials: As chairman of Federal Reserve from 1987 to 2006, presided over 1990s economic expansion -- as well as dot-com bubble and post-9/11 recoveries -- via cheap money and laissez-faire regulation.
Genius moment(s): Gnomic utterances before Congress were enough to cause significant stock market fluctuations; Greenspan given the nickname "maestro," which seems more appropriate for an NBA point guard than an aged government bureaucrat who looks like a character from a Harry Potter tale.
Genius reconsidered: The current economic meltdown, which stems in part from widespread overborrowing and an out-of-control shadow betting market of lightly regulated financial instruments.
De-Genius moment: Appearing before Congress in 2008, Greenspan conceded that he was "partially" wrong to oppose market regulation and that he had "found a flaw" in free markets -- two admissions that probably had old friend Ayn Rand rolling in her grave.
The real genius: As if we have any idea. If Page 2 were that economically brilliant, Warren Buffett would be picking up our dry cleaning.
Patrick Hruby is a columnist for Page 2.