Commentary
Dysfunction junction: Report card time
Originally Published:
October 26, 2009
By
Patrick Hruby
| Page 2
"I mean, from a comical standpoint, you have to appreciate it."
-- Former Washington Redskins player Tre' Johnson, on team owner Daniel Snyder's management style
On-field ineptitude. Off-field chaos. Vendors hawking beer in stadium bathrooms. Johnson is right -- you really do have to appreciate the Washington Redskins. Along with the Oakland Raiders, the Detroit Lions and the NFL's other dysfunctional franchises. Because in addition to sturm, drang and JaMarcus Russell making Aaron Brooks look like an F-117A stealth fighter dropping a laser-guided bomb down a Baghdad ventilation shaft, pro football's worst teams offer pure, unadulterated entertainment. The same rubbernecking joy and giddy schadenfreude that makes reality TV so compellingly awful … and awfully compelling.
In other words: We come not to bury the likes of the St. Louis Rams, but to praise make fun of them.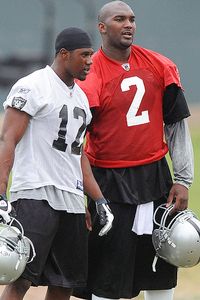 Kirby Lee/Image of Sport/US PresswireIt's Oakland lethal combo of the future: JaMarcus Russell and Darrius Heyward-Bey! By lethal, we mean lethally awful.
What separates losing clubs from dysfunctional ones? Time. Depth. Firing offensive coordinators in the preseason. Above all, chronic systemic sucktitude -- granted, not a real word, but useful in this context -- in which face-plants and foul-ups are not surprising but rather expected. At 0-6, the Tennessee Titans are simply lousy -- a well-run, exceedingly normal franchise having a bad season; by contrast, the 2-4 Redskins are downright maladjusted, in part because they recently hired a retired senior-citizen bingo crier to call their offensive plays. Much like the Raiders once tabbed a retired bed-and-breakfast operator to run their offense (which, fresh-baked muffins aside, finished the season ranked last). In fact, it's time to ask the following question: The Kansas City Chiefs may be bad, and the Buffalo Bills may be worse, but which of the league's broken organizations is the most hopelessly impaired?
Herein, a Page 2 report card:
Ownership/Front Office
Redskins: The good news? According to Forbes, the Redskins are the second-most-valuable franchise in football and lead the league in operating income, mostly because owner Dan Snyder knows how to milk every available revenue source (parking, merchandise, suing little old ladies and schizophrenics). The bad news? Snyder spends money as shrewdly as Hammer, paying above-market value for underperforming talent ($30 million for Adam Archuleta, $10 million signing bonus for Brandon Lloyd). Worse still, he practices a hands-on-yet-totally-unaccountable management style best described as "toxic" -- undercutting coaches (save Joe Gibbs), playing favorites with players (Jeff George, Clinton Portis), installing yes-man Vinny Cerrato to run (ahem) football operations. Recently, Washington cornerback Carlos Rogers told the media that the team's problems "start with ownership." When was the last time you heard an active player publicly bash the guy signing his sizeable checks? Grade: F
Rams: In flux, as the club awaits new ownership that will no longer potentially include Rush Limbaugh -- less a public relations boon for St. Louis than for the conservative bloviator (and former ESPN analyst), who now gets to play the martyrdom card. "This is not about me," Limbaugh said on his radio show. "This is about the future of the United States of America and what kind of country we're going to have." Um, no. It's about television rights fees and rich people's playthings. But thanks for conflating yourself with something that matters. Grade: Incomplete
[+] Enlarge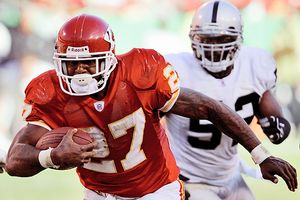 AP Photo/Dick WhippleHere's Larry Johnson scoring a touchdown. Of course, the picture is from last season.
Chiefs: Well-regarded former New England Patriots personnel guru Scott Pioli is in his first season as Kansas City's general manager. As such, he's still in the yellow-tape stage of cleaning up the mess left by previous honcho Carl Peterson, who hired Herm Edwards and traded Pro Bowler Jared Allen to give running back Larry Johnson (2.7 yards per carry, 0 touchdowns this season) a five-year, $43.2 million contract extension in 2007, money not-so-well spent. Grade: Incomplete
Lions: Former professional sports team management living/breathing Mendoza line Matt Millen is finally -- mercifully -- gone. The club-owning Ford family that hired and retained Millen long past the point of sanity is not. Win some, lose some. Mostly the latter. Grade: C-minus
Bills: Over the summer, owner Ralph Wilson was inducted into the Pro Football Hall of Fame; during a desultory 6-3 home loss to Cleveland, Wilson canceled his own halftime Hall of Fame ring reception ceremony. Which shows that Wilson continues to have something approaching football awareness, coach Dick Jauron's ongoing employment aside. Grade: B-minus
Browns: Owner Randy Lerner seems determined to harvest the most bitter fruit of the Bill Belichick coaching tree -- first Romeo Crennel, now Eric Mangini. Charlie Weis followed by Mayan Apocalypse in 2012? Grade: D-minus
Raiders: Crypt keeper/managing partner Al Davis has forgotten more football than John Madden will ever remember -- a fact that makes Davis' current mismanagement of the once-proud Raiders into stumblebum status all the more perplexing. Is Davis' draft-day obsession with straight-line speed pathological … or merely childlike? Did former coach Lane Kiffin really deserve the overhead projector treatment? Is Davis still smarting over the AFL-NFL merger? The answers are blowing in the autumn wind. Grade: A (1963-2002), F (2003-present)
Coaching
[+] Enlarge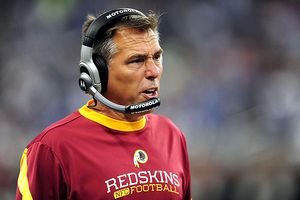 Andrew Weber/US PresswireJim Zorn, the pride of Washington. (Hey, he's still popular in Seattle.)
Redskins: According to team management, Jim Zorn will remain Washington's coach through the conclusion of the season. This qualifies as news! Stripped of his play-calling duties, prone to timeout mismanagement, as befuddled-looking on the sidelines as former Redskins flameout Steve Spurrier, the affable-yet-hapless Zorn appears more and more like what he is: a former quarterbacks coach who was hired to be an offensive coordinator, only to land the head job when no one else wanted it. During his introductory news conference, Zorn mistakenly referred to the Redskins' colors as "maroon and black"; in literary criticism, this is called a harbinger. Grade: F
Rams: Despite an 0-7 record, first-year coach Steve Spagnuolo enjoys a generous 25 percent approval rating in an ESPN.com survey -- which means that one-fourth of Rams fans don't actually watch the team play football. Grade: D-minus
Chiefs: On one hand, Todd Haley received a Gatorade shower following his first victory as Kansas City coach; on the other, Haley's initial win came against the Redskins. Grade: Incomplete
Lions: Upon taking over a Detroit team that finished 0-16 last season, coach Jim Schwartz instituted a system of assigned player parking. Little known fact: Gen. George S. Patton did the same thing prior to the Battle of the Bulge. Grade: D-plus
Bills: A serious question: If someone replaced Jauron (24-31 during four seasons in Buffalo) with a wax statue holding an Xbox controller, then had a ball boy press the ASK MADDEN button to make in-game decisions, would anyone notice? Grade: C-minus
Browns: Mangini fined a player $1,701 for not paying a hotel for a $3 bottle of water. Alas, Mangini is a football coach, and not a concierge. Not yet, at least. Grade: D-minus
Raiders: Tom Cable will not be indicted for allegedly assaulting a former assistant coach. This qualifies as news! It also means that Oakland won't have to endure the absence of a head coach who was a loser at Idaho (11-35) and is 6-13 since taking over for Kiffin. Lucky Raiders. Grade: F-plus
Talent
Redskins: Before the final seconds of a home loss to the Chiefs had ticked off the clock, defensive tackle/megabucks free-agent addition Albert Haynesworth left the field … the better to deliver an impassioned locker room speech demanding greater player accountability. Such is Washington's schizophrenic nature. Big names such as Haynesworth, running back Clinton Portis and receiver Santana Moss lead Redskins players and fans alike to believe that the club is a Super Bowl contender, even though basic areas of football competence (offensive line, pass rush, receivers over 6 feet tall who can catch) remain subpar-to-UFL-worthy year after year, thanks to lousy drafting and outright neglect. Look past the splashy offseason moves and inflated self-regard, and Washington has the worst sort of roster: aging, overpriced and shallow. Grade: C-minus
[+] Enlarge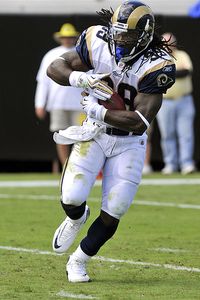 Fernando Medina/US PresswireIf you think Steven Jackson feels bad, how do you think his fantasy owners feel?
Rams: Running back Steven Jackson (635 rushing yards, 4.4 yards per carry) is on pace to have the best non-touchdown-scoring season in the history of professional football. Grade: F for fantasy owners
Chiefs: Defensive end Jared Allen (7.5 sacks) and tight end Tony Gonzalez (304 receiving yards, three touchdowns) are having terrific years. Too bad the players the Chiefs received/drafted in return for dealing them -- Branden Albert, Jamaal Charles, Brad Cottam, a second-rounder in 2010 -- are slightly less productive (note: euphemistic language). In addition, Kansas City linebacker Mike Vrabel has one touchdown catch this season, approximately one more touchdown than any running back on Kansas City's roster. Grade: F-plus
Lions: Another serious question: If you didn't watch the NFL draft, and didn't play fantasy football, and Matthew Stafford and Calvin Johnson didn't exist, would you be able to name a single player on Detroit's roster? Grade: D
Bills: Former starting quarterback J.P. Losman isn't even the best passer in the UFL; star receiver Terrell Owens made a bigger impact on his abysmally rated summer reality series than he has in a Buffalo uniform. Neither factoid speaks to a Jim Kelly-era level of physical ability. Grade: C-
Browns: Signal-caller Derek Anderson completes a whopping two passes in a game … thereby forcing former Quarterback of the Future Brady Quinn to put his four-bedroom house on the market. No wonder Mangini wanted to keep his starting quarterback choice secret. Grade: D-plus
Raiders: Hard to say. On one hand, speedy first-round pick Darrius Heyward-Bey has just four receptions in seven games; on the other, Oakland stuck it to Bay Area rival San Francisco by drafting Heyward-Bey over Michael Crabtree. On one hand, running back Darren McFadden showed promise as a rookie; on the other, he's always injured. On one hand, JaMarcus Russell can throw a football 50-plus yards off one knee; on the other, he's likely to be holding a slice of pizza in his other hand while doing it. Sum it up like this: The Raiders are quite possibly the planet's only pigskin organization that could make Randy Moss look like a has-been. Grade: D
Performance
Redskins: Opened the season with an NFL-record six consecutive games against winless opponents. Went 2-4 over that span. Oy. Grade: D-minus
Rams: Winless in their past 17 games. Haven't enjoyed a winning season since 2003. Averaging an anemic nine points per game. On pace to be the lowest-scoring team since the AFL-NFL merger. Translation? Kurt Warner and Marshall Faulk aren't walking through that door. Grade: F-minus
Chiefs: Have lost 32 of their past 39 games -- and as previously mentioned, one of their infrequent wins came against the Redskins. Kansas City's offense ranks 30th in yards gained; the club's defense is 29th in yards allowed. On the plus side, the Chiefs won an offseason grievance that enabled them to avoid paying Johnson his previously guaranteed 2009 base salary -- at least the club's lawyers are puttin' points on the board! Grade: D-minus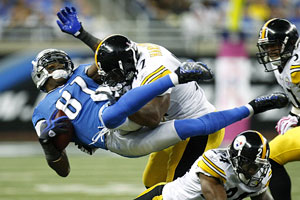 Gregory Shamus/Getty ImagesPoor Calvin Johnson. That's all.
Lions: Plucky bunch has more than doubled its victory total from last season. Grade: A-plus
Bills: Three straight 7-9 seasons make the Bills less epochally awful than soul-numbingly mediocre. Current 3-4 mark looks like more of the same. Grade: C
Browns: Last in yards allowed, second-to-last in yards gained and not even No. 1 in punting. So much for consistency in all three phases of the game. Grade: F
Raiders: After the Raiders scored 16 points over a three-game span -- the third-worst stretch in franchise history -- Cable told reporters "That's not who we are." Au contraire! Since Cable assumed command of Oakland midway through last season, the Raiders have scored less than 10 points eight times, something that happened to the Raiders six times in the entire decade of the 1970s. No wonder New York Giants linebacker Antonio Pierce likened playing against Oakland to playing in an intrasquad scrimmage. Also, six consecutive seasons of 11 or more losses seems like an intentional middle finger to the NFL's socialistic draft and revenue-sharing mechanisms. Does Davis hate the House that Rozelle Built that much? Grade: F-minus
Fans
Redskins: Long optimistic, increasingly fed-up fans have yet to wear traditional brown sacks o' shame over heads during home games, but only because team security won't allow grocery bags into FedEx Field. Grade: Incomplete
Rams: Team has sold out all three of its home games this season. Is St. Louis that dull on Sunday afternoons? Grade: F
Chiefs: Tickets for late-season games against Buffalo and Cleveland are selling for $13 to $17 apiece -- far below face value, yet somehow farther from an actual bargain. Grade: C
Lions: Club sold out its home opener against hot-ticket BrettFavreBrettFavre-led Minnesota Vikings only after receiving a 24-hour extension; meanwhile, club didn't request an extension while failing to sell out second game versus the Redskins. Smart fans! Grade: A
[+] Enlarge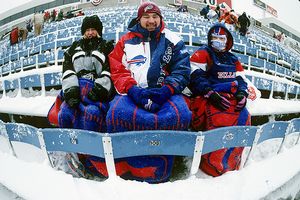 Al Messerschmidt/Getty ImagesNo playoff appearances since 1999? At least Bills fans have games in December to look forward to.
Bills: Unemployed 18-year-old fan Ryan Abshagen raised $1,402 in just over a week to rent an electronic billboard in Orchard Park, N.Y., reading "It's Time to Clean House, RALPH" and demanding that Bills owner Wilson dump Jauron, chief scout Tom Modrak, VP of pro personnel John Guy and mascot Billy Buffalo. One of those names is made up. Grade: A-plus
Browns: After former Browns receiver Braylon Edwards caught five passes for 64 yards and one touchdown in his New York Jets debut, Browns backers deluged him with angry Twitter messages -- which is a lot like yelling at your ex-husband for holding a door open for his new girlfriend. Grade: C-plus
Raiders: Darth Raider et al make every home game Halloween; team rewards spooky fan dress-up with performance equivalent of Charlie Brown's bag of rocks. Grade: C-minus
X Factors
Redskins: Never mind the club's foolhardy, Nixon-esque feud with The Washington Post. Forget beloved ex-players -- such as John Riggins -- who openly bash the organization. Ignore the aforementioned beer-selling in stadium bathrooms (yuck). Instead, consider this: Washington is the only NFL team that counts Tom Cruise as an unofficial mascot. Grade: F
Rams: A stately football pleasure dome upon its 1995 opening, the Edward Jones Dome is now … obsolete as a top-tier cash-extraction device, despite $30 million in offseason renovations. ¿Como? A team official recently told the Los Angeles Times, "Five years from now, we might be back in L.A." Meanwhile, California Gov. Arnold Schwarzenegger just signed a bill exempting a proposed Los Angeles football stadium from state environmental regulations. In other words: To make a few additional dollars via a new stadium, the Rams are going to stick it to either: (A) Missouri taxpayers; (B) the planet Earth. Huzzah! Grade: D-plus
Chiefs: Founder and former owner Lamar Hunt instrumental in NFL-AFL merger, ensuring only three additional losses this season. Grade: B
Lions: Despite the awesome intangible unifying power of sports, team's sole victory in previous 22 games failed to save the city of Detroit. Grade: D
Bills: The next interesting thing about the ho-hum Bills -- a team that managed to make T.O. dull -- will be the first. Grade: Incomplete
[+] Enlarge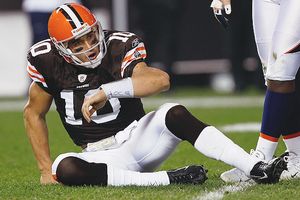 Scott Boehm/Getty ImagesPerhaps one day Brady Quinn will get to play for a team with a logo on its helmet.
Browns: Rookie running back James Davis was supposedly injured in practice after Mangini reportedly made him go without pads against padded defensive players; metaphors aside, should Cleveland literally be the NFL's Guantanamo Bay? Also, when Rolling Stone takes time off from running Lady Gaga cover stories to publish a piece on your franchise, you're doing something wrong (or very, very right, depending on your perspective). Grade: F
Raiders: Tony Dungy advised Michael Vick -- Michael Vick! -- to avoid them. He was wise to do so. Grade: F-minus
Quotable
Redskins: "My comfort level is somewhere between 1 and 10. It's not at 10." -- Zorn, on losing his play-calling duties to bingo-calling consultant Sherman Lewis. Grade: A-plus
Rams: Someone would first have to deem the Rams worth discussing. Grade: Incomplete
Chiefs: "My father played for the coach from 'rememeber [sic] the titans.' Our coach played golf. My father played for the redskins beiefley [sic]. Our coach. Nuthn [sic]." -- Running back Johnson, after being held to 49 yards rushing in a 37-7 loss to San Diego. Grade: F for spelling, B for humor value
Lions: "We still got a chance to get into the playoffs. Who's to say you can't run nine or 10 games off in a row?" -- Linebacker Julian Peterson, on purchasing Bear Stearns shares the team's 1-5 start. Grade: B-plus
Bills: "If I had another chance 100 times, I would probably do the same thing." -- Kick returner Leodis McKelvin, on his decision to return a kickoff from 2 yards deep in his end zone, a play during which he fumbled to set up a game-winning drive for the New England Patriots. Grade: A-minus
Browns: "I want to smack Eric Mangini so hard he poops himself. The Browns are the new Lions. It's horrific." -- WWE wrestler The Miz, who is (probably) a Cleveland fan. Grade: A
Raiders: "Right now we're kind of the laughingstock of the NFL." -- Defensive end Greg Ellis, not under the influence of Sodium Pentothal. Grade: B
Overall Grade
Redskins: Wealthy kid with every advantage -- brains, pedigree, expensive "tutors" to write term papers for him -- who flunks out of school through sheer, unyielding arrogance. Yet remains rich. So who really cares about failing? Grade: F-minus
Rams: Special-needs student who mistakenly wandered into Calculus II. Grade: D
Chiefs: Currently delivering pizzas in beat-up sedan that sports old, cracked, faded bumper sticker reading AFC HIGH HONORS STUDENT. Grade: D-plus
Lions: So crummy for so long, parents are ecstatic when pupil brings home passing marks in shop class. Grade: D-minus
Bills: Just good enough to slide by, year after year, despite reading at third-grade level. Grade: C-minus
Browns: Stuck in detention without the benefit of Judd Nelson. Grade: D-minus
Raiders: Former NASA moon rocket engineer who now brings a slide rule to HTML programming class. In essence, Redskins West. Unless the Skins are Raiders East. Grade: F-minus
NFL WEEK 7 COVERAGE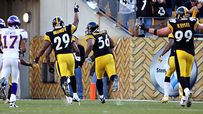 COMMENTARY/BLOGS
MNF: Eagles 27, Redskins 17