Commentary
These banners really should be banned
Originally Published:
March 1, 2010
By
Patrick Hruby
| Page 2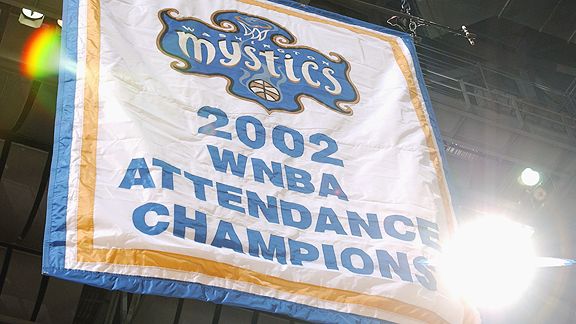 Mitchell Layton/NBAE/Getty Images
There it hangs, unspooling from the dark, metal rafters of the Verizon Center in downtown Washington, D.C., as inspiring as ratty undergarments pinned to a long-forgotten laundry line. The banner is trimmed in orange and blue. It sports the wavy, telephone psychic-inspired logo of the Washington Mystics. In large block letters, it reads: "2002 WNBA ATTENDANCE CHAMPIONS." For good measure, there's another that reads "2003 WNBA ATTENDANCE CHAMPIONS."
The Lincoln Memorial it ain't.
[+] Enlarge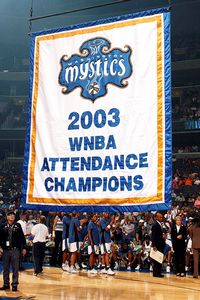 Mitchell Layton/NBAE/Getty Images
A Michael Jordan statue outside Chicago's United Center. The New York Yankees' Monument Park. The sports world is rife with totems celebrating athletic excellence, such as the 17 Boston Celtics championship standards displayed at Boston's TD Garden. Then there's the other stuff, such as the "Colorado Rockies 1995 Wild Card Champions" mural that used to adorn the Coors Field outfield wall and the "OAKLAND RAIDERS WORLD CHAMPIONS" flag that still flies at Oakland-Alameda County Coliseum. Never mind that: (A) the Raiders last won a Super Bowl 26 years ago; (B) the team was based in Los Angeles at the time. There are also the Mystics' attendance gonfalons, which we submit as the most ridiculous celebratory items displayed in any North American sports venue -- nay, the lamest sports banners on the planet.
Well, probably.
Maybe.
Unless there's something lamer.
Here's where you come in: Page 2 is looking for the lamest banners in sports, and we want your nominees. The ground rules? No homemade banners. No fan stuff. The flags have to be sanctioned by a team or organization in some fashion. They have to be official, something raised for posterity, something put up out of pride -- no matter how ill-advised. As for what qualifies as lame? It's a lot like the Supreme Court's classic definition of obscenity. You know it when you see it.
(Speaking of which: We're offering a cash bounty the minor indignity of public recognition on Page 2 for anyone who can provide images of the aforementioned Raiders and Rockies banners, as well as the Miami Heat's retired No. 23 in honor of non-Heat player Michael Jordan. FYI.)
Ready to play? Upload your photos here. We'll choose and rate the winners -- note: term used loosely -- in a subsequent article.
In the meantime, check out the following lame banners, which we offer as an imagination-whetting public service:
---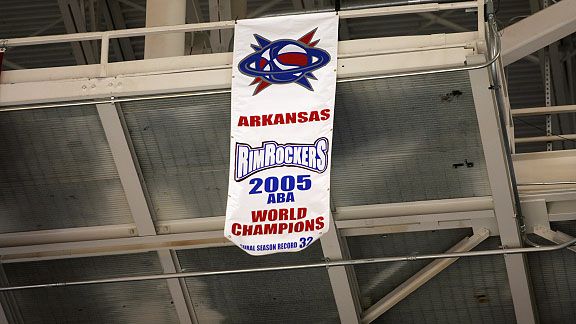 Nelson Chenault/NBAE/Getty Images
Team: The Arkansas RimRockers
Location: Alltel Arena, North Little Rock, Ark.
Honors: Evidently, a 2005 minor league basketball title
Lameness quotient: Astronomical. The RimRockers may be kings of the world, but it's a circumscribed world that does not include: (A) the NBA; (B) FIBA or the Olympics; (C) the original, professional-grade ABA of Dr. J, Larry Brown and Terry Pluto; (D) proper punctuation and/or a working space bar.
Fun fact(s): The world-champion RimRockers unveiled the banner before their inaugural D-League game, which they promptly lost; the franchise folded after two seasons in the D-League.
---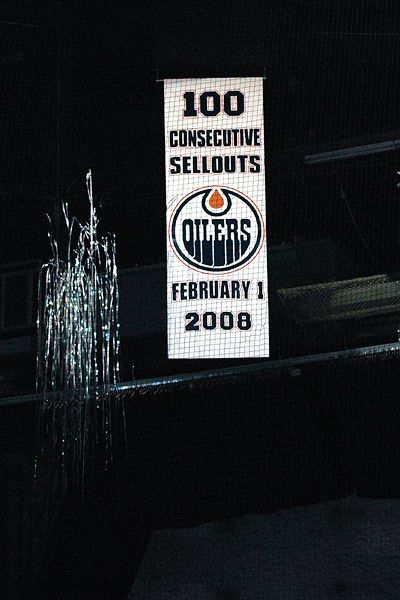 Andy Devlin/NHLI/Getty Images
Team: Edmonton Oilers
Location: Rexall Place, Edmonton, Alberta
Honors: The team's 100th consecutive sellout, which took place in a game against the Dallas Stars in 2008
Lameness quotient: Also astronomical. The former franchise of Wayne Gretzky and Mark Messier and multiple Stanley Cups is now King Kong-ing its chest over … filling seats? Say it ain't so!
Fun fact(s): The NHL consecutive sellout record is 487, set by the Colorado Avalanche from 1995 to 2006. If the Oilers break the mark, perhaps they can hold a victory parade.
---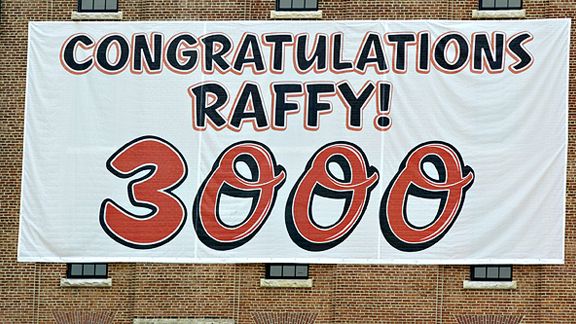 Rob Leiter/Getty Images
Team: Baltimore Orioles
Location: Oriole Park at Camden Yards, Baltimore (although technically, it's actually the B&O Warehouse across the street)
Honors: Rafael Palmeiro's 3,000th career hit
Lameness quotient: Retroactively high. Much like this Sports Illustrated cover.
Fun fact(s): After the unveiling, Baltimore lost its subsequent game to the Chicago White Sox; the banner wasn't called to testify before the House Committee on Oversight and Government Reform.
---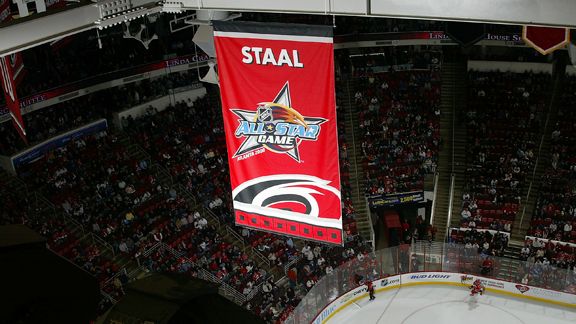 Gregg Forwerck/NHLI/Getty Images
Team: Carolina Hurricanes
Location: RBC Center, Raleigh, N.C.
Honors: Eric Staal making the NHL All-Star Game
Lameness quotient: High. Really? A banner for making an All-Star team? Does the immortal Rick DiPietro deserve a flag, too?
Fun fact(s): Staal was named MVP of the 2008 All-Star Game. More banners!
---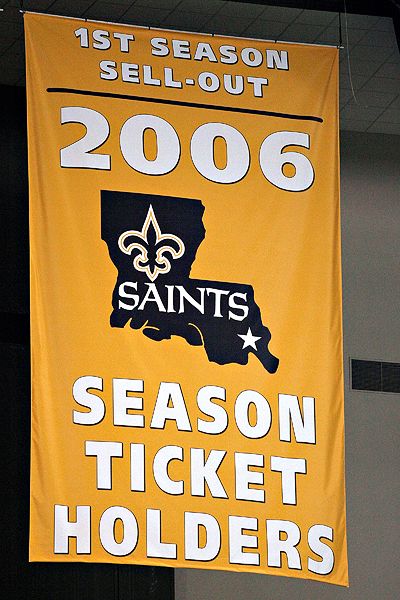 Andy Devlin/NHLI/Getty Images
Team: New Orleans Saints
Location: Superdome, New Orleans
Honors: The first time in franchise history that a season-ticket holder owned every available Superdome seat
Lameness quotient: Moderate. On one hand, the Saints became a symbol of civic pride and renewal after Hurricane Katrina; on the other hand, raising a banner for selling tickets to football games is like a car dealership hoisting an enormous, sun-blocking flag reading "EXCEEDED 2009 SALES QUOTAS."
Fun fact(s): The Saints now have better banners to raise. And, apparently, not a moment too soon.
---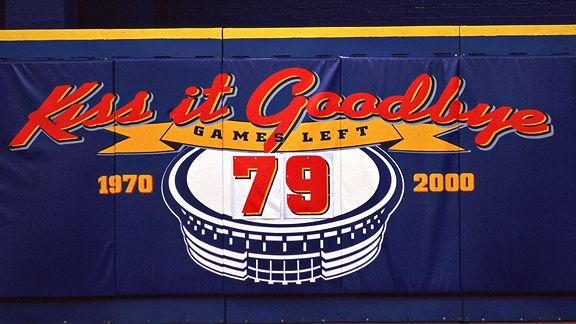 Getty Images
Team: Pittsburgh Pirates
Location: Three Rivers Stadium, Pittsburgh
Honors: The final season of the Pirates playing at Three Rivers Stadium
Lameness quotient: Moderate. The Pirates won championships at Three Rivers, but did anyone actually lament the passing of a soulless, obsolete, concrete cookie-cutter monstrosity housing notoriously patchy artificial turf?
Fun fact(s): (1) Banner in question surprisingly did not refer to home team's athletic relevance, which already was eight years gone; (2) literally kissing Three Rivers goodbye likely would result in the acquisition of a communicable disease.
---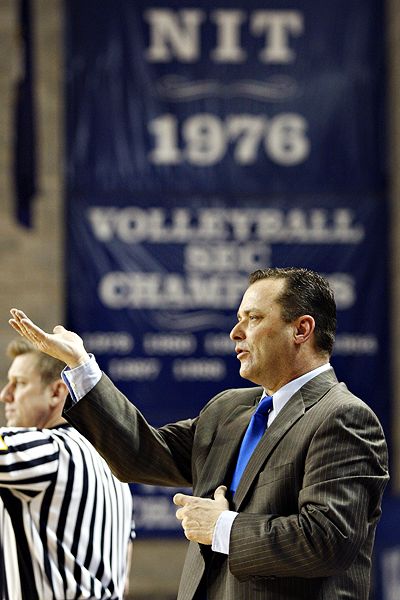 Andy Devlin/NHLI/Getty Images
Team: Kentucky Wildcats
Location: Memorial Coliseum, Lexington, Ky.
Honors: The men's basketball team winning the 1976 NIT
Lameness quotient: Moderate. The Wildcats had the good sense not to hang said banner in Rupp Arena, where the men's basketball team usually plays its home games. Nevertheless, the winningest program in NCAA hoops history shouldn't need to display a 1976 NIT banner anywhere, any more than Magic Johnson needs a trophy case for participating in MTV's Rock 'N' Jock basketball games.
Fun fact(s): Kentucky was playing a 2009 NIT game in Memorial Coliseum because of a Rupp Arena scheduling conflict with a high school basketball tournament. In other words: Kentucky's athletic department does not leave open dates in anticipation of the NIT. (Which is probably why the man in the foreground is no longer coaching the Wildcats.)
---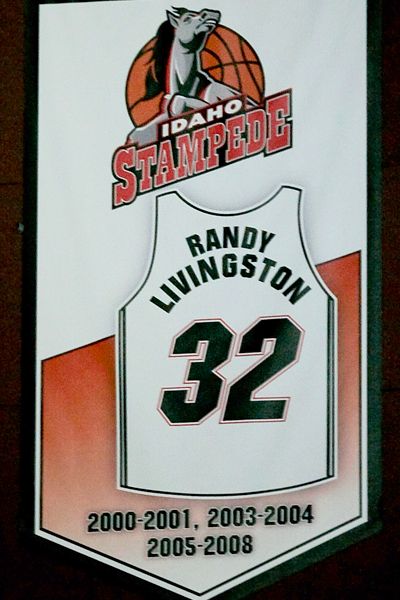 Andy Devlin/NHLI/Getty Images
Team: Idaho Stampede
Location: Qwest Arena, Boise, Idaho
Honors: Randy Livingston, who played for the Stampede for five years, won the 2006-07 D-League MVP award, holds the single-game D-League assists record (22) and helped lead the team to the 2008 D-League title.
Lameness quotient: Very high. Which is the greater honor: a retired D-League jersey or a 10-day NBA contract? (Note: If you have to answer, you don't understand the question.)
Fun fact(s): Although Livingston is now retired, the D-League's Erie BayHawks still selected him in a recent expansion draft. How could they resist?
---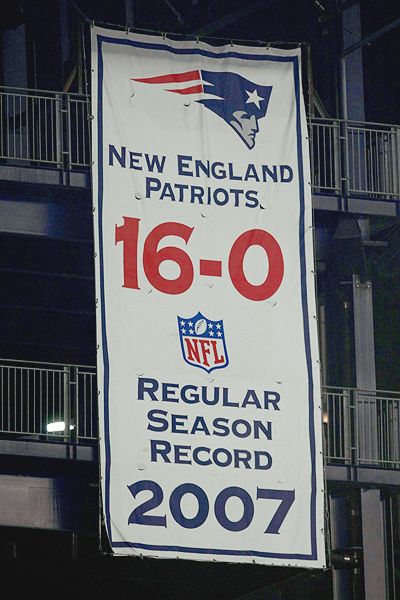 Andy Devlin/NHLI/Getty Images
Team: New England Patriots
Location: Gillette Stadium, Foxborough, Mass.
Honors: New England's undefeated 2007 regular season
Lameness quotient: Off the charts. See Tyree, David.
Fun fact(s): Somewhere, Mercury Morris just giggled.
---
• Click here to join Page 2's Bogus Banners group and upload your lame banner photos.
Patrick Hruby is a freelance writer and ESPN.com contributor. Contact him at PatrickHruby.net.