Commentary
Covering the Nationals on behalf of fans
Originally Published:
March 2, 2010
By
Patrick Hruby
| Page 2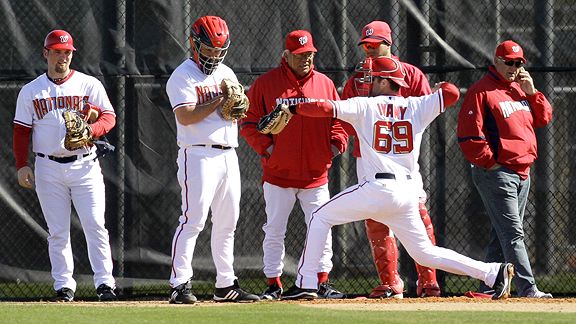 AP Photo/Rob CarrReaders paid for a former newspaper beat writer to cover Nationals spring training camp in Viera, Fla.
Multimillions for a franchise. Thousands for season tickets. Seven dollars and seventy-five cents -- ¡Dios mio! -- for a 12-ounce cup of lukewarm beer. For business tycoons and workaday schlubs alike, the sports world can be prohibitively expensive. Fortunately, there's one athletic indulgence almost anyone can afford.
Your own private sports writer.
Ever wanted to have a say in the makeup of your morning sports report? Or just have someone personally ask Washington Nationals pitcher and New Jersey native Jason Bergmann what he thinks of "Jersey Shore"? Then meet Mark Zuckerman. A 33-year-old baseball writer from suburban D.C., Zuckerman is covering the Nationals during spring training in Viera, Fla. -- coverage made possible by reader donations to his team blog.
As in more than $10,000 in reader donations, collected in less than a month, $20-60 at a time.
"I did not in a million years expect this to happen," Zuckerman says. "At least not this fast."
Actually, Zuckerman never expected any of this to happen. Not the blog. Not becoming one of the world's first sports journalists to work via IPO. Certainly not being in Viera for a full week, writing about Stephen Strasburg and Livan Hernandez, without wearing shorts once. "It's chilly," he says over the phone, laughing. "Thirties in the morning. Not that I have the right to complain." For the past five years, Zuckerman was a professional reporter, covering the Nationals for The Washington Times. That is, until the cash-strapped newspaper unceremoniously eliminated its sports section at the end of last year, informing staffers via a last-minute staff meeting on Dec. 30 that was less "Up in the Air" than it was "Office Space."
"They never did officially say 'We are cutting the sports section,'" Zuckerman says. "It was, 'Come get your packets and you'll find out if you've been retained.' Of course, it's sports, so none of us were [in the office] to get them."
Adding insult to injury?
"It turned out that if they waited until after Jan. 1, they'd have to pay full 2010 vacation time."
Out of work, Zuckerman pondered his options. On one hand, the recession-hit, already-bleeding journalism job market was moribund; on the other hand, he had valuable experience and baseball contacts, and wasn't exactly eager to find a desk job penning press releases. Moreover, Zuckerman sensed a void in Nationals coverage: The team's beat writer at The Washington Post was stepping down, while local television stations had burned through their travel budgets during a series of mid-Atlantic "Snowmageddon" blizzards (putting up producers and anchors in downtown hotels isn't cheap), and weren't planning to staff spring training.
On Feb. 1, Zuckerman launched his blog. Relying solely on word of mouth -- advertising costs money -- he went from 446 to 900 readers in three days. Encouraged, Zuckerman realized he also was in a bind: To cover the Nationals properly, he couldn't sit on his couch. He had to go to Florida, see the team in person, do his job the same way he always had.
The problem? Travel costs money, too.
"I didn't want to just be a guy with a blog who is riffing and relying on other media outlets to cover the team for me," Zuckerman says. "I figured I would drive down and stay for a few days on my own dime."
C. Trent Rosecrans gave Zuckerman other ideas. A former Reds beat reporter for the now-defunct Cincinnati Post, Rosecrans was funding his own local sports Web site, CNATI.com, and his trip to spring training through reader donations, soliciting roughly $5,500 in a month and a half.
Rosecrans sent Zuckerman an encouraging note. Zuckerman did the math: With the Times, his spring training budget was typically about $7,500; by driving his own car to Florida, booking an inexpensive hotel and eating cheaply, he figured he could cover the team for $5,000.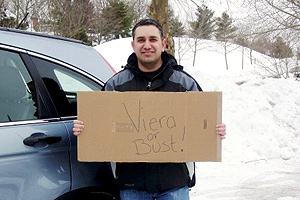 Courtesy of Mark ZuckermanMark Zuckerman has covered the Nationals since they moved to Washington, and readers clearly value his background, experience and contacts.
On Feb. 8, Zuckerman put a notice on his site, asking for reader donations. Fretting followed; spring training started in 11 days, hardly enough time to raise the needed cash.
Twenty-nine hours later, Zuckerman had surpassed his target. Among the first contributors was Brian Oliver, who runs the blog Nats Farm Authority.
"There was a need to maintain Mark's presence with the team, a need for institutional knowledge of where they have been and if they are making the same mistakes again," says Oliver, who donated $60. "I've been blogging about the Nats for five years, and the stuff beat guys do cannot be replicated by bloggers. The relationships he has established within baseball are incredibly difficult for a blogger to do. It's easy to analyze and parse stuff when someone else has done the legwork."
Zuckerman's largest donation was $500. The average was a little less than $40. Money came from season-ticket holders. From friends and family. It even came -- and this is where things get strange -- from people who had no connection to the Nationals or Zuckerman but simply liked what he was doing, appreciated his perseverance in the face of brutal economic headwinds.
(In a nutshell: Like the record industry and journalism as a whole, sports journalism is struggling with an increasingly broken business model. Internet advertisers pay cents where print advertisers once paid dollars; younger readers get their news online; online readers are not accustomed to paying for information, i.e., subscription fees. The topic is too complex to explain further, but suffice it to say that reporters like Zuckerman -- who need salaries and dental and 401(k)s -- are getting squeezed).
"Washington is on the verge of being the first city in America without a full-time independent reporter covering the team," says Steven Biel, who writes the Fire Jim Bowden blog and donated $50 to Zuckerman. "MLB.com and MASN [Mid-Atlantic Sports Network, which broadcasts Nationals games] are owned by the team and [the league]. The papers have cut and cut and cut their reporting. … I think freelancers like [Zuckerman] are the wave of the future. It's the near-death of local coverage."
Zuckerman doesn't want to be a charity case, the sportswriting equivalent of a panhandler. While his blog is free to read, donors get additional perks, including audio of manager Jim Riggleman's daily interview sessions and the opportunity to submit questions to players like Bergmann.
(For the record: Bergmann watched the whole season of "Jersey Shore," and even played high school football with Mike "The Situation" Sorrentino. Now you know).
"The bonuses of contributing are stellar," says John White, 29, a bartender from New Carrolton, Md., who donated $20 to Zuckerman. "I look forward to getting e-mails with [Riggleman's press conferences]. Mark fills a void, and he's been doing so for years."
Like his patrons, Zuckerman is getting something extra: a rekindled passion for his work. While driving to Florida, he blogged from a roadside rest stop about the Nationals signing Ron Villone. During his first day at spring training, he broke news that probable starting pitcher Ross Detwiler would miss 10 weeks following surgery on a torn hip flexor. Without the space restrictions of a newspaper, Zuckerman can write what he wants when he wants to write it; with greater reader interaction, he can tailor his information for the people who value it most.
One day Zuckerman noticed his readers were curious about the Nationals' catchers: How would the team juggle the injured Jesus Flores, veteran import Pudge Rodriguez and top prospect Derek Norris? Previously, Zuckerman might have consulted with his editor, then written something later that week; with his newfound freedom, he had a reported story posted within hours.
"It's been refreshing to ask readers what stories they're interested in, to deal with them directly and do it on my own," Zuckerman says. "In a way, they're my editors and bosses. I've had more fun the last three weeks doing this than anything I've done in my professional career."
How long can the fun last? Zuckerman isn't sure. Though he plans to plow any spring training surplus into regular-season coverage, he estimates a full season on the Nationals beat -- including travel -- will cost around $30,000. And that's without salary, which Zuckerman will need to start drawing once his severance money runs out. (Mortgages and grocery bills don't pay themselves).
For now, however, Zuckerman continues to report and write, relying -- like public broadcasting -- on readers like you. He might be doomed. He might be the future. If you're a Nats fan, he might be the biggest bargain in sports.
Well, unless the club decides to cut beer prices.
"[The Nationals] are a struggling team, and we don't get a lot of national coverage, but we want quality people covering the Nats for us," says Carolyn Deck, 56, a Nationals fan from Fairfax, Va., who donated $100 to Zuckerman. "That's exactly what Mark gives us. I feel like I've gotten every penny's worth, and I will continue to donate."
Patrick Hruby is a freelance writer and ESPN.com contributor. Contact him at PatrickHruby.net.