Commentary
Page 2: The lamest sports banners ever
Originally Published:
March 19, 2010
By
Patrick Hruby
| Page 2
The people have spoken. And in doing so, they've taught us a valuable lesson.
When it comes to Lame Sports Banners, there's plenty of dubiousness to go around.
Page 2 recently challenged readers to find and submit the lamest sports banners they could find. Like the Baltimore Orioles' CONGRATULATIONS RAFFY! 3,000 flag. Or the Idaho Stampede's retiring Randy Livingston's jersey. Or the Washington Mystics' 2002 and 2003 WNBA attendance champion banners, which we submitted were the rock-bottom, end-of-the-line lamest flags on the planet, and quite possibly the universe.
How shortsighted of us.
After sorting through your photos and suggestions, we've discovered that sports banner lameness is truly in the eye of the beholder. Make that many, many beholders, from Indianapolis to New York to Anaheim, Calif., to Durham, N.C. While rating banners is fun, it's ultimately akin to sitting through a double-billing of "Alien vs. Predator" and "Aliens vs. Predator - Requiem."
No matter who wins, we lose.
Anyway, on to our top 10:
---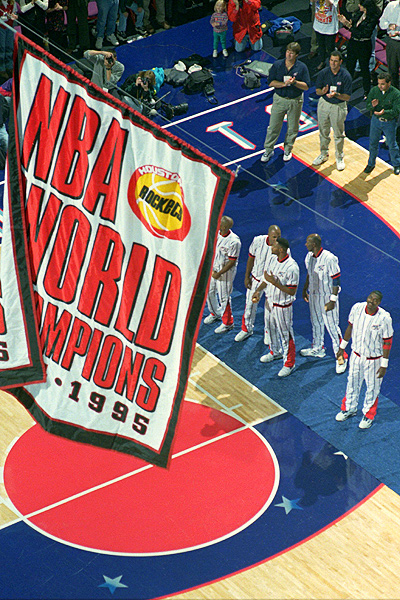 AP Photo/David J. Phillip
10. Houston Rockets
Location: formerly The Summit; currently Toyota Center
Honors: 1995 NBA championship*
Lameness quotient: Moderate. A win is a win is a win. Well, unless it comes during Michael Jordan's curveball-chasing, No. 45-wearing Champius Interruptus period, in which case, hey, good job watching John Starks beat beating the Force Basketball-era New York Knicks.
Fun fact(s): San Antonio's strike-shortened 1999 title deserves similar discounting. The Spurs' hapless opponent in the Finals? Go New York, go New York, go!
---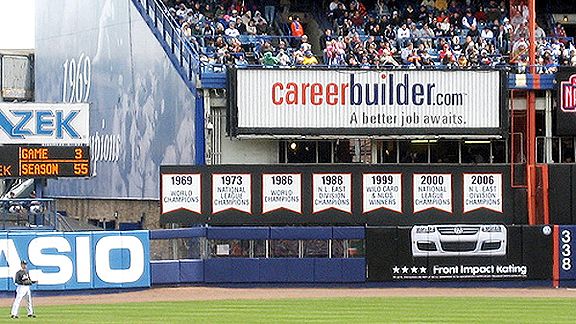 ESPN.com User dobyns
9. New York Mets
Location: formerly Shea Stadium; currently Citi Field
Honors: 1999 wild-card status/NLDS victory
Lameness quotient: Very high. Largely because the banner shares space with two World Series pennants, which is like placing a sixer of wine coolers in the same cellar as a 1787 Chateau Lafite.
Fun fact(s): We wanted to use the infamous "Colorado Rockies 1995 Wild Card Champions" mural that used to adorn the Coors Field outfield wall, but couldn't find photographic evidence. Well played, Rockies!
---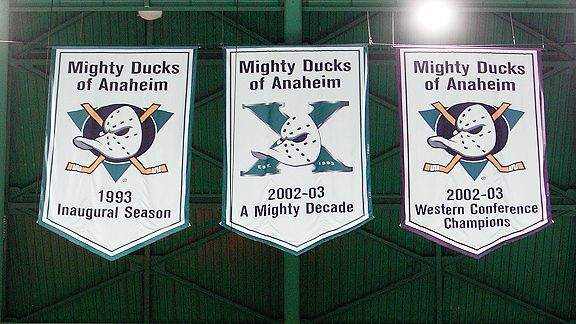 Jim McIsaac/Getty Images
8. Anaheim (formerly "Mighty") Ducks
Location: The Pond (now the Honda Center)
Honors: Simply existing -- despite a coldly indifferent universe, a Darwinian sports marketplace, an Estevez-tainted nickname and the second law of thermodynamics, none of which seems to impact the ever-expanding Ponzi scheme NHL.
Lameness quotient: High. Never mind the cartoon goalie mask. Asia, 38 Special, and Hall and Oates all have been making (and we use the term liberally) music for roughly 30 years, in turn begging the question: Is a single decade of mediocrity worth getting excited over?
Fun fact(s): Ducks actually have been far mightier during decade No. 2, winning a Stanley Cup in 2007; to Anaheim's credit, reader Charles Eldrige reports that the team has removed the "Mighty Decade" banner, which now resides at the Newport Beach Sports Museum. Et tu, Newport Beach Sports Museum?
---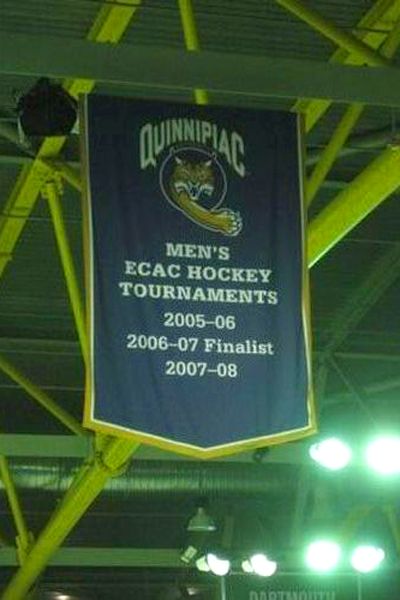 ESPN.com user vandet2
7. Quinnipiac men's hockey
Location: TD Banknorth Sports Center (Hamden, Conn.)
Honors: Three straight seasons of reaching the ECAC hockey tournament.
Lameness quotient: Awe-inspiring, given that every ECAC team makes the tournament every season. Still, nice work advancing to the 2006-07 finals, which is kinda sorta almost but not really like winning ... and no, the Bobcats did not play host to the tournament in any of those years.
Fun fact(s): As reader vandet2 puts it, Quinnipiac is "going to need a new banner soon" -- that is, unless it opts for one reading A MIGHTY DECADE.
---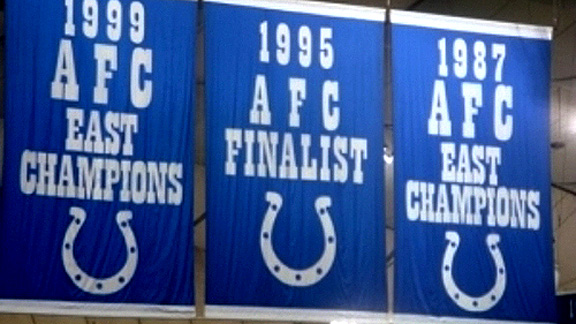 ESPN.com user dobyns
6. Indianapolis Colts
Location: formerly RCA Dome; currently Lucas Oil Stadium
Honors: Reaching the 1995 AFC title game, which is almost like winning the Super Bowl, except for losing two games early.
Lameness quotient: Astronomical. The Colts have a storied history -- Johnny U., Raymond Berry, Lenny Moore, Midnight Bob Irsay's moving vans -- and recently won an actual NFL championship behind future Hall of Famer Peyton Manning. As such, the franchise doesn't need to commemorate dubious, puffed-up nonaccomplishments. Leave that to Quinnipiac.
Fun fact(s): Indianapolis reached the '95 AFC title game by defeating a 9-7 San Diego squad and a Marty Schottenheimer-coached Kansas City club in the playoffs, two mighty feats akin to correctly setting the clock on your microwave oven.
---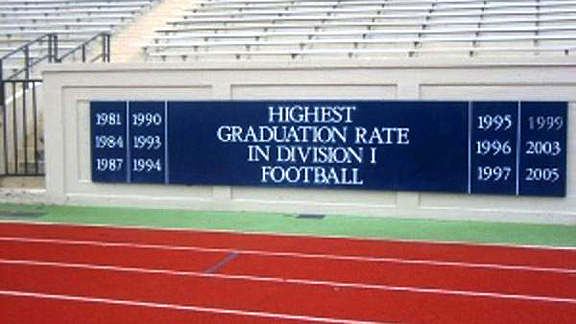 ESPN.com user Ryan Clancy
5. Duke football
Location: Wallace Wade Stadium (Durham, N.C.)
Honors: The highest graduation rate in Division I football -- because you can't trust those no-practice, all-study Div. I-AA nerds to not mess up the curve.
Lameness quotient: Moderate. On one hand, celebrating graduation rates in a football stadium is like celebrating donations to UNICEF in an aircraft carrier bomb bay; on the other hand, what else is Duke football going to celebrate? (Well, besides the fact that Pete Gaudet never coached the team?)
Fun fact(s): Banner implicitly suggests that six-peat-foiling Class of '98 has some 'splaining to do. What, were the Blue Devils too busy going to a bowl game to study? See us after class!
---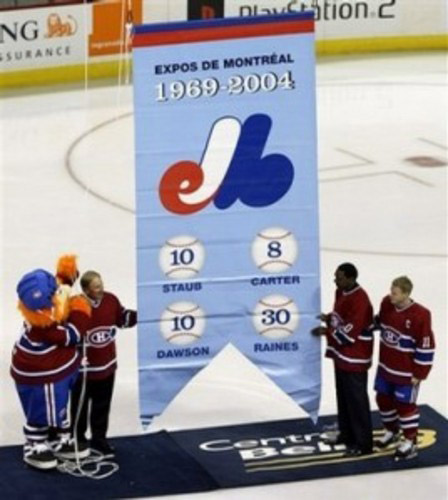 ESPN.com user showt1me1914
4. Montreal Expos/Canadiens
Location: Bell Centre
Honors: The Expos; retired numbers of Montreal greats Andre Dawson, Gary Carter, Tim Raines and Rusty Staub.
Lameness quotient: Both pathetic and tragic. Because the Expos are no more -- say hello to your Washington Nationals! -- Les Misérables' banner hangs in the home of Montreal's hockey team, a baby blue vampire bat.
Fun fact(s): Expos'
former 1994 BEST TEAM IN BASEBALL banner honoring strike-shortened '94 regular-season success likewise qualifies for lameness relief funds; Montreal Canadiens not only inherited the Expos' retired number banner, but also lovable team mascot Youppi! Lose some, win some.
---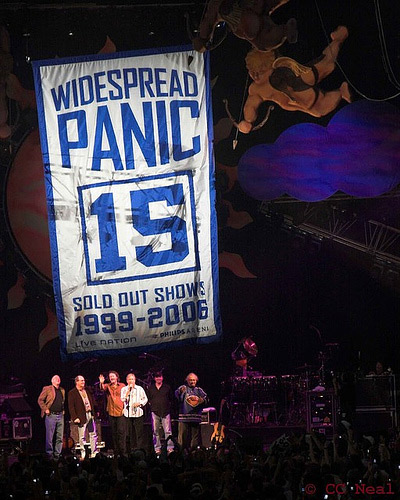 ESPN.com user maddockjm
3. Atlanta Hawks/Thrashers
Location: Philips Arena
Honors: Widespread Panic's 15 sellouts
Lameness quotient: A veritable Kraken of released dubiousness. What, no SPUD WEBB 1986 SLAM DUNK KING flag? No EASTERN CONFERENCE SEVEN-GAME FIRST-ROUND SERIES 2008 banner? No KENNY ROGERS, HONORARY THRASHERS CAPTAIN cloth? Also: Widespread Panic?
Fun fact(s): A real sports town -- for instance, Philadelphia -- would never defile its sacred athletic arenas with kerfuffle celebrating something like
Bruce Springsteen sellouts
... oops.
---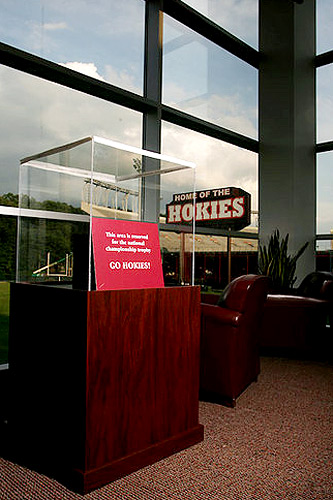 ESPN.com user JackJamone
2. Virginia Tech football
Location: Hokies' Hall of Legends
Honors: A fictional national title
Lameness quotient: Synapse-frying. Though the Hokies' empty trophy case/placard isn't technically a banner, we had to include it anyway. After all, if your college roommate posted a sign on his pillow reading THIS AREA IS RESERVED FOR MEGAN FOX, OR MAYBE OLIVIA WILDE, would you laugh ... or recommend a psychiatric evaluation?
Fun fact(s): Without a playoff system, all of college football's national championships are fictional. Smooth move, Virginia Tech: The joke's on the rest of us!
---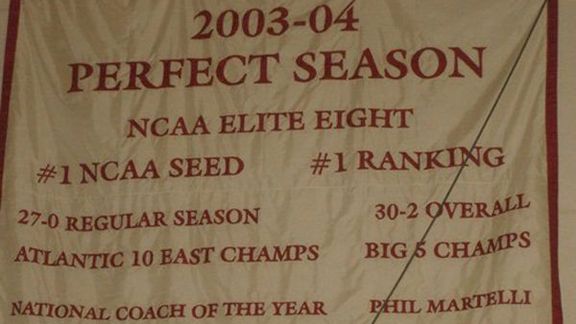 ESPN.com user JackJamone
1. Saint Joseph's men's basketball
Location: Hagan Arena (Philadelphia)
Honors: A "perfect" 30-2 season
Lameness quotient: Gaze upon it, ye Widespread Panic banners, ye wild-card commemorations, ye graduation rate celebrations. And despair. It's one thing to proudly puff up an accomplishment that nobody else remembers or deems special -- UNLV went undefeated in the 1990-91 regular season; does anyone care? -- but quite another to contradict yourself while doing so.
Fun fact(s): Everybody knows that only one team ought to brag about a perfect season.
Patrick Hruby is a freelance writer and ESPN.com contributor. Contact him at PatrickHruby.net.