Commentary
Did Tecmo Bowl ever go out of style?
Originally Published:
March 19, 2010
By
Patrick Hruby
| Page 2
With the upcoming release of "Tecmo Bowl Throwback" -- a downloadable, HD-enabled remake of the 1991 Super Nintendo Entertainment System classic "Tecmo Super Bowl" -- game maker SouthEnd Interactive is attempting to pull the video football equivalent of the Wildcat formation, introducing an old trick (the single-wing formation) to a new generation of players. Of course, there's another audience "Throwback" needs to impress: the community/cult of players who grew up on Wayne Haddix's picks and Bo Jackson's general godhood, still play original and hacked versions of the old game online (some with college rosters!) and mostly have been disappointed by sporadic previous efforts to revive the Tecmo franchise, including 1996's Playstation version (unloved, unlamented) and 2008's DS-compatible "Tecmo Bowl: Kickoff."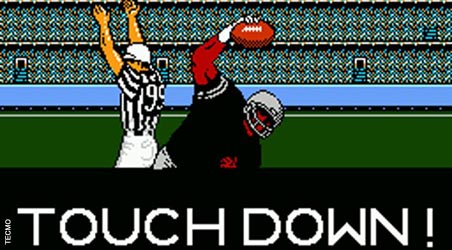 TecmoFor some gamers, "Tecmo Super Bowl" has remained relevant all these years.
Page 2 chatted with "Rob Woodson" -- real-life name: Matt Knobbe -- a technology consultant from Lincoln, Neb., and the webmaster of a leading site devoted to all things Tecmo Bowl:
What's the reaction to this game so far in the Tecmo community?
Basically, tempered excitement. Tecmo has mostly disappointed since 1997, though "Kickoff" was a fairly decent handheld game. I personally think that this is make or break. The game should be successful because it's a major console release and it's basically the old game. They really have a shot depending on the new 3-D play and network. Best case scenario is they go gunning for an NFL license in 2012.
What's the most promising aspect of this remake?
The thing that makes me most optimistic is "Super Mario Bros" for the Wii. Basically they took "SMB" NES/SNES and spruced it up. It looks like Tecmo is going to do this, not spend a ton on development, and come out with a reasonably priced game.
What are three things the community would love to see?
The ability to make leagues with friends/non-cheese for online play. The ability to share rosters. And the new interface being as good or somehow better than the original.
Editor's note: "Throwback" reportedly will include head-to-head online play, but no leagues.
Have the remake developers been in touch with the community?
If they have, it's been secretly. While I'm sure Tecmo might appreciate the attention that modifying their old game does for free marketing, they officially do not condone it.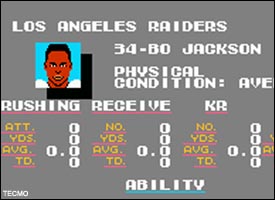 Thousands of friendships were saved when using Tecmo Bo Jackson was declared off-limits.
What is the community worried about when it comes to the remake? What are the three biggest things that could screw it up?
"Tecmo: Kickoff" revealed some wrong things you could do with the game -- the downside to it being so customizable is that your team would get better the more you played. Given that the entire selling point of Tecmo versus Madden is that it's more of a casual sort of play, what fun is to play every once and a while against someone who plays 40 hours a week and has a stacked team?
Editor's note: "Throwback" will feature non-editable player ratings, all based on the 1991 SNES game's rosters. Player and team names will not be official -- EA Sports holds an exclusive NFL license -- but can be edited by users.
Regarding Tecmo hacks, what are the three coolest things the community has accomplished?
The SNES original version has 30 teams. [People have hacked] a 32-team game. There's playbook editing -- I don't know if the [remake] will have the Wildcat, but we do. [We also have] defensive formations -- this was available in "Tecmo Super Bowl III" but hacked into the original.
Most people play the NES version though the SNES original version. It's practically the same thing. Most of the hacks involved actually make the game more like the "TSB III" version while retaining the original game play.
What are some cool things people have learned by hacking the SNES game?
The quickness and passing accuracy attributes are not actually used. This means that John Elway with his 25 Pass Control is something awful. Also, did you ever wonder why Gil Fenerty and Dwight Stone are awesome at returning kickoffs whereas Bo Jackson and Barry Sanders aren't? It's because the kick returner's speed is actually that of the right tackle. You'll find that the RT for New Orleans and Pittsburgh are 44 maximum speed [rating]. Thus, the best tactic is to put in your highest HP [hitting power rating] player and popcorn any players you have to when running. The best kick returner in the game? Ironhead Heyward!
What do you mean by "popcorning?"
Online Tecmo has it's own lingo. Besides "popcorn" for bowling over a player, the nose tackle dive is known as "lurching" and a "JJ" (short for jumping jackass) is when a receiver jumps to grab a ball.
Editor's note: "Lurching" famously makes undistinguished real-life NT Bob Nelson a destroyer of worlds in "Tecmo Super Bowl."
Given the Tecmo hacks, is a remake even necessary?
Given all the modifications and even the online play, the one thing that this community is not is mainstream. Having a remake, assuming that it's not awful, will not only bring Tecmo back to those who used to play, but also introduce the game to a new generation of gamers.
Patrick Hruby is a freelance writer and ESPN.com contributor. Contact him at PatrickHruby.net.