Commentary
Phil Jackson knows how to work refs
Originally Published:
May 18, 2010
By
Patrick Hruby
| Page 2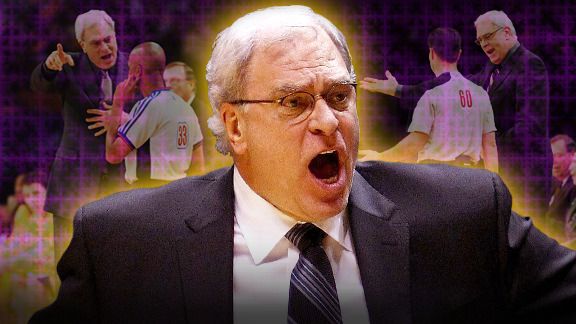 ESPN.com Illustration
Serious question: is Los Angeles Lakers coach Phil Jackson actually a Jedi?
(Alternate question for Sacramento fans: is Jackson actually an evil Sith Lord?)
Prior to the Los Angeles Lakers' 128-107 victory over the Phoenix Suns in Game 1 of the Western Conference finals on Monday, Jackson was asked about preparing for Suns guard Steve Nash's frenetic playing style. The Lakers coach responded by making a basketball palming gesture and stating, "yeah, because you can't carry the ball like he does in practice. You can't pick up the ball and run with it."
[+] Enlarge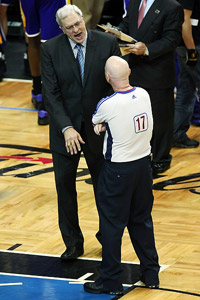 Elsa/Getty ImagesPhil Jackson, seen chirping at Joey Crawford, griped about "bogus" calls during the 2009 NBA Finals.
While Nash dismissed the jab, others saw it as classic Jackson, yet another effort to influence officiating through subtle (and not-so-subtle) public lobbying. Indeed, Jackson has an oft-praised, oft-lamented habit of needling referees who don't see things his way, the better to -- ahem -- adjust their point of view. (And as someone who averaged 2.9 fouls and 17.6 minutes a game in his NBA playing career, Jackson knows hacks.)
Question is, does it work? Is Jackson, in fact, a mental master of puppets?
Or is he just whiny?
Page 2 reviewed Jackson's greatest verbal hits, as well as the on-court action surrounding them. Our conclusion? Nash wasn't whistled for carrying last night -- but if your Landspeeder is ever pulled over by Imperial Stormtroopers, it wouldn't hurt to have Jackson riding shotgun.
The evidence is as follows:
Target: Denver Nuggets
Series: 2009 Western Conference finals
Context: Series tied 2-2 after Nuggets' 120-101 Game 4 victory that saw Denver enjoy a 49-35 advantage in free throw attempts.
Comment: During an extended postgame rant, Jackson carped about unequal refereeing, four fouls called against Lakers forward Luke Walton and a possible trip of Kobe Bryant by Nuggets guard Dahntay Jones, which Jackson dubbed "unsportsmanlike basketball."
Translation: "Who's Dahntay Jones?"
Result: Tweet! Lakers won next game 103-94 as the Nuggets were called for 11 fourth-quarter fouls, seven more than Los Angeles. Asked if he was planting seeds in officials' minds about calls, Jackson replied, "I'm a gardener, constantly."
---
Target: Kevin Durant
Series: 2010 Western Conference first round
Context: Pre-series.
Comment: "As far as the calls that he gets on the floor, I think a lot of the referees are treating [Durant] like a superstar; he gets to the line easy and often. He's got the ability to create fouls. That's a big part of scoring, to get to the foul line."
Translation: "Kevin Durant may be the Next Big Thing, but he hasn't done anything yet, which means you should look the other way when Ron Artest mugs him, the same way you let the Bad Boy Pistons mug Michael Jordan with near-impunity, even celebrating the fact on the cover of Sports Illustrated."
Result: Fail! Durant went to the foul line 10.3 times per game against the Lakers, roughly the same as his regular season average of 10.2 per game.
---
Target: Orlando Magic
Series: 2009 NBA Finals
Context: In the Lakers' 99-91 overtime Game 4 victory, Los Angeles' Pau Gasol, Lamar Odom and Andrew Bynum were each whistled for two first-quarter fouls.
Comment: During in-game sideline interview, Jackson complained about "bogus" calls.
Translation: "At least one of the refs is TiVoing the game, right?"
Result: Tweet! The league fined Jackson $25,000, but Gasol and Odom combined for 31 points and just six fouls over 74 cumulative minutes in Los Angeles' series-clinching 99-86 Game 5 victory.
---
[+] Enlarge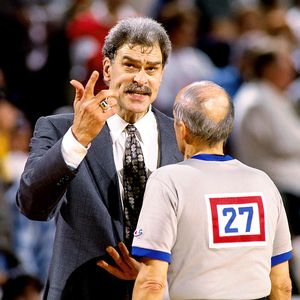 Nathaniel S. Butler/NBAE/Getty ImagesJackson pleads his case to Dick Bavetta during the 1994 Eastern Conference semis against the Knicks.
Target: Boston Celtics
Series: 2008 NBA Finals
Context: Following a Game 2 loss in which the Celtics shot 38 free throws to the Lakers' 10. (Bonus points: Jackson was responding to a question that had nothing to do with foul shots.)
Comment: "Leon Powe [got] more foul shots than our whole team does in 14 minutes of play. That's ridiculous. I've never seen a game like that in all these years I've coached in the Finals. Unbelievable."
Translation: "I'm the guy on the verge of donning my own silly-looking non-Spike Lee 'X' hat, and he's Leon Powe. WTF?"
Result: Tweet! The Lakers shot 12 more free throws than the Celtics in Game 3. Oh, and that time Los Angeles enjoyed a 28-10 free throw attempt advantage against Sacramento in the 2002 playoffs? That was only the Western Conference finals. So technically, Jackson is just calling 'em like he sees 'em.
---
Target: Indiana Pacers
Series: 1998 Eastern Conference finals
Context: A laundry list of cosmic Game 4 injustices -- a moving screen called on Dennis Rodman in the final 30 seconds; a jumper by Travis Best that was ruled a 3-pointer even though his toe was on the line, no call on Reggie Miller for pushing off Jordan to get open for the winning shot; not one but two offensive fouls on Jordan.
Comment: "This was Munich in '72 revisited ... I don't know if I'll be able to watch the last 10 minutes of this game without calling Rod Thorn ... I call it eight men on defense. The refs were killing us."
Translation: "WAHHHH!"
Result: Tweet! Only a $10,000 fine, and Indiana was called for seven offensive fouls while setting screens in Game 5 -- one of the specific things Jackson complained about.
---
Target: Utah Jazz
Series: 2008 Western Conference semifinals
Context: Lakers leading 2-0 in series but heading to Utah for Game 3.
Comment: In what may be a pro basketball first, Jackson talked smack by referencing his back catalog. Asked what makes it difficult to play in Salt Lake City, he said, "I enumerated some of the things a couple of years ago; I was fined $50,000. So that's some of it." What was Jackson talking about? 1) a 2004 comment that referee Bob Delaney was "prejudiced against Shaq" after O'Neal was ejected in a loss; 2) a 2006 comment about the Jazz's "roughhouse" play, with Jackson noting that Utah "intimidates referees that go on there" and that if the Lakers could get the Utah mascot "to stop blowing exhaust from the motorcycle in front of our bench for the first two minutes of the warm-ups -- you know, after they gas us -- it's not so bad."
Translation: "I'm not above working the mascot, too."
Result: Inconclusive. The Lakers had a 37-28 free throw attempt advantage in Game 3 but lost 104-99. No word on Bear's motorcycle fumes of death.
---
Target: Sacramento Kings
Series: 2002 Western Conference finals
[+] Enlarge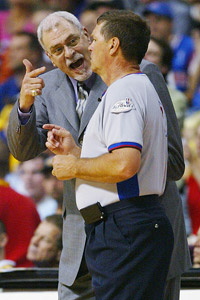 Elsa/Getty Images"Listen up: Kobe and Shaq are not the droids you're looking for!"
Context: Lakers tied 1-1 in series following a 96-90 Game 2 loss that saw Shaquille O'Neal get called for three offensive fouls and the Kings enjoy a 28-9 free throw advantage through the first three quarters.
Comment: Speaking during a next-day news conference, Jackson opened with "coming out and discussing last night's game with you, after watching videotape of the game, is a difficult task." Heroically, Jackson was up to the challenge, tossing out the words "objectivity" and "trying to be fair" before: a) attributing O'Neal's fouls to Kings players "falling down or flopping"; b) pouting about non-calls, including "Sacramento came out aggressive. Now, I don't know if that type of aggressiveness should be rewarded. [Chris] Webber flailing around and hitting guys in the face and head should just not be allowed ... " c) passive-aggressively tossing the referee crew under the bus with "You've got to give some latitude to referees being in an environment like that. It's always a question, as to what type of a group you send to a situation like Sacramento, where it's a bandbox, where there are intense pressures. I'm sure we're going to see a stronger crew in L.A. ... But those are things you question as a coach about referees. ... You can't throw aspersions to the way the game was refereed ... " Oh, no?
Translation: "We're the team that brings the television ratings. Don't let 20,000 semi-civilized rednecks ringing cowbells make you forget that."
Result: Fail! Kings enjoyed 35-15 attempted free throw advantage in 103-90 Game 3 victory. Of course, that only made Sacramento's unforgettable Game 6 loss -- marked by a series of contentious, Lakers-favoring calls and Tim Donaghy's later accusations of fishiness -- all the more painful. Perhaps Jackson was playing a long game.
---
Target: Sacramento Kings (again)
Series: 2000 Western Conference first round
Context: The Kings win 101-88, setting up decisive Game 5.
Comment: Claimed the Kings were using sagging, illegal defenses to limit O'Neal, who scored 46 points in Game 1 but averaged half that in the next three games; after specifically reviewing Game 4 film, said Sacramento had played illegal defense "10 times" in first half of that game.
Translation: "If this coaching thing doesn't work out, I'd be happy to accept a post as the league's officiating chief."
Result: Tweet! Kings slapped with three illegal-defense calls early in the game -- two of them in a six-second span -- opening up the middle for a 32-point, 18-rebound effort from O'Neal in a 113-86 Lakers victory.
---
[+] Enlarge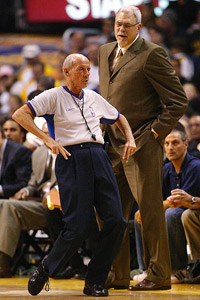 Stephen Dunn/Getty Images"Hey, Bavetta ... try to be a little less obvious with the gang signs."
Target: San Antonio Spurs
Series: 2003 Western Conference semifinals
Context: Lakers down 1-0 to Spurs following an 87-82 loss that saw San Antonio enjoy a 35-12 free throw advantage on the same night Tim Duncan was presented with the MVP award and took 14 of the Spurs' foul shots.
Comment: "The difference in the game was obviously the foul shots. That's ridiculous in a game as hotly contested as that ... Tim Duncan had more free throws than my team? I know it was his MVP night, but that's ridiculous."
Translation: "A little help? Pretty please? Tim Duncan is really good."
Result: Tweet! In Game 2, Spurs shot 27 free throws to the Lakers' 24 -- too bad San Antonio hammered Los Angeles 114-95.
---
Target: New York Knicks
Series: 1992 Eastern Conference semifinals
Context: "Force Basketball"-era Knicks outmuscled heavily favored Bulls for a 93-86 Game 4 victory that saw a chirpy Jackson get tossed at the end of the third quarter following his second technical foul.
Comment: "The rest of this series has to be hand-to-hand combat. They were shoving our dribblers with two hands. That's against the rules. That's football, not basketball. I just had to stand up for my guys. That's all this was about ... I think the league has to take a look at this kind of game. It's impossible to officiate. You can call a foul on every play."
Translation: "Dear NBA front office: outside of New York, do you think ugly, sweep-the-leg basketball is going to attract casual fans and television."
Result: Tweet! Knicks coach Pat Riley said he didn't think Jackson's comments had an effect, but the Game 5 numbers tell a different tale: six fouls for star New York center Patrick Ewing and a 38-22 Chicago free throw attempt edge in a 96-88 Bulls victory.
---
Target: New York Knicks (again)
Series: 1992 Eastern Conference semifinals
Context: Defending-champion Bulls facing a Game 7 they didn't expect to be playing in.
Comment: After noting that the league would probably be happy to have a seven-game series between teams from two of its biggest media markets, Jackson said, "I don't like orchestration, it sounds a little too fishy. But they control who they send as referees."
Translation: "I've already signed on as a consultant for Oliver Stone's 'NBA.'"
Result: Inconclusive. Bulls won Game 7 in an anticlimactic 110-81 laugher, and which longstanding NBA conspiracy theory do you want to believe? The one that favors New York? Or the one that favors Jordan?
---
Target: Houston Rockets
Series: 2004 Western Conference first round
Context: Lakers struggled with Houston's slow-it-down, grind-it-out style in a 72-71 Game 1 victory.
Comment: Jackson questioned the league's mindset for allowing "mud wrestling."
Translation: "Remember what I used to say about the Knicks?"
Result: Inconclusive. Houston's Cuttino Mobley whistled for a phantom touch foul on Bryant on a third-quarter-ending 3-point attempt, giving the Lakers a 10-point lead en route a 98-84 victory. But one call does not a successful Jedi Mind Trick make.
---
Target: Toronto Tornados
Series: 1984 CBA regular season
Context: Jackson's first-place Albany Patroons suffered a 123-114 loss to last-place Toronto.
Comment: Jackson complained about frigid arena temperatures -- "it's tough coming off the bench because of the cold. It hurts our game dramatically" -- before taking aim at a favorite whipping boy: "the officiating stinks. Usually, you expect it to stink. But not this bad."
Translation: "It's 1984, and this is the CBA. Seriously, who's going to fine me?"
Result: Inconclusive, mostly because CBA stats are hard to find. Still, given Jackson's later whistle-baiting success, you can't blame basketball's constant gardener for trying.
Patrick Hruby is a freelance writer and ESPN.com contributor. Contact him at PatrickHruby.net.