Commentary
Paul the Octopus latest to go out on top
Originally Published:
July 12, 2010
By
Patrick Hruby
| Page 2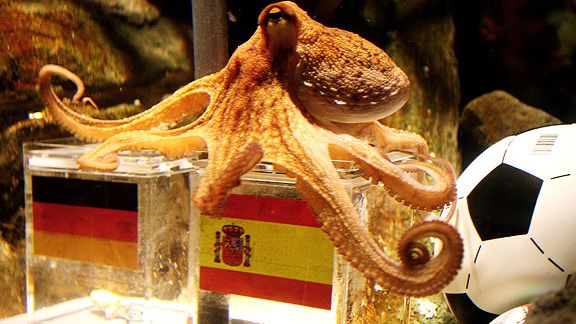 Patrik Stollarz/AFP/Getty ImagesPaul the Octopus is retiring after correctly predicting the winner in all eight of his World Cup picks.
He's walking away. On top. (And regrettably, without passing along any stock tips.) After going a perfect 8-0 in predicting World Cup games, cephalopod mollusk-cum-soccer oracle Paul the Octopus is retiring, the better to continue his exciting life of, um, captivity inside an aquarium tank.
In Paul's honor, Page 2 presents a short list of sports and pop culture figures who walked away in their primes:
Jim Brown
The greatest running back of all time -- probably the greatest football player of all time -- left the NFL at age 29 holding every significant rushing record, the better to pursue a post-pigskin life of playing Fireball in "The Running Man," mediating gang peace in South Central Los Angeles, considering a comeback 17 years after retiring, doing color commentary for the first six UFC fights and wearing multicolored brimless hats.
Barry Sanders
The elusive halfback was poised to break the NFL's career rushing record -- once held by Brown -- when he abruptly retired in 1999, coming off a Pro Bowl season and a year removed from MVP status. Eventually admitted that the Detroit Lions' culture of losing drove him out of football; how do you tell a man to be the last man to get tackled for the likes of Scott Mitchell and Andre Ware?
Bjorn Borg
The headband-wearing tennis virtuoso suffered a nervous breakdown on Wimbledon's Centre Court after seeing his sister -- whom he secretly loved -- sitting with her husband, actor Bill Murray, then left the sport he dominated. Oh, wait: That was Richie from "The Royal Tenenbaums," a character loosely based on Borg, a multiple Grand Slam-winner who retired in 1983 at age 26, made an ill-fated, wooden-racket-swinging comeback in 1991 and started a successful, eponymous fashion line in his native Sweden. Neither of those is made up.
Sandy Koufax
The youngest former player to enter baseball's Hall of Fame, the left-handed pitcher tallied three Cy Young Awards, four no-hitters, a perfect game and 2,396 strikeouts before retiring at age 30 due to traumatic arthritis.
J.D. Salinger
Reclusive author published "The Catcher in the Rye" -- the ubertext of you just don't understand me, man! teenage angst -- in 1951, published three works between 1953 and 1963, and never published another work. Rumors of a longstanding bet with Axl Rose are patently false.
Lorena Ochoa
World No.1 won four player of the year awards and two majors before suddenly retiring in April at age 28, in part to start a family.
Rocky Marciano
The only heavyweight champion to retire undefeated, Marciano trained for a 1959 comeback but decided against it -- which is probably (but not officially) another heavyweight first. In 1969, was filmed sparring for "The SuperFight: Marciano vs. Ali," which used edited footage of him and Muhammad Ali to illustrate the results of a computer-simulated bout between the two. (Fun facts: Marciano won in American theaters, Ali in Europe, and the concept later formed the basis of "Rocky Balboa").
Robert Smith
What is it with running backs? The Vikings halfback made the Pro Bowl and led the NFC in rushing yards in 2000, then retired to preserve his health and pursue a career in medicine, two facts that are possibly related.
The Dude Who Played Jake Ryan in "Sixteen Candles"
Technically worked in Hollywood after appearing in the John Hughes film, but never in a equally significant role. (Typical credit: as Hypolite Leger in "Belizaire the Cajun," 1986.) Eventually became a carpenter, while his on-screen alter ego remains an object of female fantasy to rival the shirtless guy from "Twilight" and an alternate-universive Brad Pitt who never dumped Jennifer Aniston.
Michael Jordan
Walked away from minor league baseball after a single season in which he hit three home runs. Must have had something better to do.
Patrick Hruby is a freelance writer and ESPN.com contributor. Contact him at PatrickHruby.net.