Commentary
Air guitarists mock you like a hurricane
Originally Published:
July 27, 2010
By
Patrick Hruby
| Page 2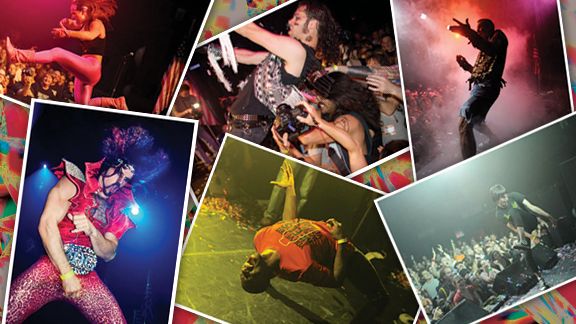 ESPN.com Illustration
Think you're a pretty good air guitarist? A Slash of invisible ax-wielding? A maestro of the shred-like-no-one's-watching dark arts?
Trust me: You're a rank amateur. A dilettante. No matter how much of Van Halen's "Eruption" you've committed to fingertip muscle memory, you have nothing on the nation's top pretend guitarists.
STILL MORE AIR GUITAR!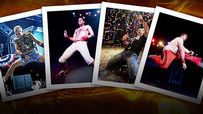 Page 2's Patrick Hruby immersed himself in the culture of air guitar mock stars at an April competition in Washington, D.C.
And yes, our nation actually has a cadre of elite pretend guitarists.
Last week, the best and brightest gathered in New York City for the 2010 U.S. Air Guitar National Championship, with Romeo Dance Cheetah -- real name: Matt Cornelison -- defeating a group of regional titleholders to emerge as our national champion. Next up? The Air Guitar World Championships, held in Oulu, Finland, on Aug. 27.
And yes, there actually is an Air Guitar World Championship.
To inspire the next generation of red, white and blue mock-shredding standard bearers -- and to finagle some page hits for our extensive, exclusive previous exposé on competitive air guitar -- Page 2 presents a video gallery of last week's most notable performances, with exclusive commentary from contest judge and 2008 Air Guitar World Champion Craig "Hot Lixx Hulahan" Billmeier.
Watch this year's top performances by clicking on the competitors' names below. Study them. See how you stack up. Be at one with what air guitarists call "the airness" ...
[+] Enlarge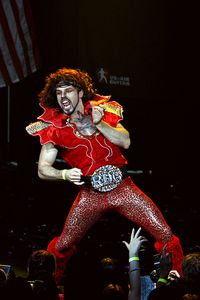 AP Photo/David GoldmanRomeo Dance Cheetah boasts the strut and costume of a champion.
Real name: Matt Cornelison, 28, Milwaukee, Wis.
Song: "Robot Rock," Daft Punk
Total score: 17.7 (out of a maximum 18)
Go-to move: White afro, KISS-esque tongue, out-of-nowhere backflip. The total package.
Hulahan's take: "Ushering in a new breed, Romeo Dance Cheetah is the new face of U.S. Air Guitar. Come see him if you wanna see what we're all about."
Real name: Ryan Layman, 29, Denver
Song: "Witchy Woman," The Eagles
Total score: 17.1 (second place)
Go-to move: An air bong ... which somehow produces real smoke. In other words, magic.
Hulahan's take: "Legalize him. His [performance] literally gave me the chills and will be one of those routines that I forward to friends when trying to explain -- read: justify -- what competitive air guitar is."
Real name: Eric Melin, Las Vegas, Nev.
Song: "Angel of Death," Slayer
Total score: 16.4 (seventh place)
Go-to move: Sweaty, old school head-banging. And lots of it.
Hulahan's take: "New York City loved him for his intensity and purity. I loved him because he just goes ape-[expletive] no matter what."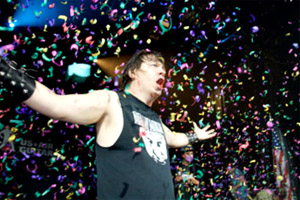 Zach McNees Mean Melin placed seventh at nationals, thanks
in part to his adrenalized speed metal opener.
Real name: Matt Burns, Staten Island, N.Y.
Song: "Death!" My Chemical Romance
Total score: 17.5 (third place)
Go-to move: Channeling the serpentine ghost of Mick Jagger. Even though the Mick is still alive.
Hulahan's take: "The People's Choice, hands down. Newly legal, this ex-kid is gonna be unstoppable."
Real name: Matthew Feldstein, San Francisco
Song: "Safe in New York City," AC/DC
Total score: 16.8 (10th place)
Go-to move: "Conan the Destroyer"-style long hair and shirtlessness.
Hulahan's take: "Man, that [expletive] is weird. And exactly why San Francisco embraces him and his mini-golf course outfit."
Real name: Matt Barats, Boulder, Colo.
Song: "Gay Bar," Electric Six
Total score: 16.6, fifth place
Go-to move: Electric light codpiece, seizure-like dancing, blank, haunting facial expression. The total package of weirdness.
Hulahan's take: "Wait, no, this [expletive] is weird. Liking this guy could be a precedent for disturbing behavior. Parents, be warned."
Patrick Hruby is a freelance writer and ESPN.com contributor. Contact him at PatrickHruby.net.