Commentary
ATP Tour broken rackets photo gallery
Originally Published:
August 27, 2010
By
Patrick Hruby
| Page 2
WASHINGTON, D.C. -- When it comes to performance art, some people enjoy ballet. The theatre. Live music, when not performed by Carl Lewis.
Me? I like watching tennis racket abuse. The more wantonly destructive, the better.
A few years ago, I lamented the slow, slouching decline of racket smashing in professional tennis, a once-flourishing practice gone the way of neon compression shorts. Turns out I was wrong. Stick-destroying is still in vogue; it's just that much of it has moved underground.
Specifically, to tennis locker rooms.
"The players definitely smash more rackets in here," says Alex Cordier, the longtime head laundry guy/locker attendant at the William H.G. Fitzgerald Tennis Center, home to the Legg Mason Tennis Classic. "Sometimes they don't want to be seen doing that on the court."
Cordier gestures toward a cinder block wall, opposite an industrial clothes drier and a stack of freshly washed towels. Mounted on the wall is a racket -- well, what used to be a racket -- that formerly belonged to Gael Monfils, and now looks as though it got into an ill-advised fight with a great white shark.
"Monfils spent 45 minutes working on it," Cordier recalls. "You gotta be really pissed off to do that much damage."
Cordier pauses, flashing an appreciative grin.
"That's gotta be my best one."
Indeed, Cordier -- day job: works in advertising in Dubai -- is something of a busted racket collector. A connoisseur, really. And the Fitzgerald Tennis Center laundry room is his Louvre.
Arrayed around Monfils' battered racket are more than a dozen other busted sticks, labeled with players' names and tournament years, all obtained and maintained by Cordier. Dubbed "the Wall of Shame," it's a unique exhibition on the ATP Tour.
"The players, coaches, trainers, they all love it," Cordier says. "They crack up. They remember matches and guess how the [breaks] happened.
"[ESPN analyst and former pro] Brad Gilbert even gave it a shout out on TV. David Nalbandian threw his racket, and while they replayed it in slo-mo, Gilbert wondered if it was cracked -- if it was, it would go on the wall."
Herein, a photographic tour:
---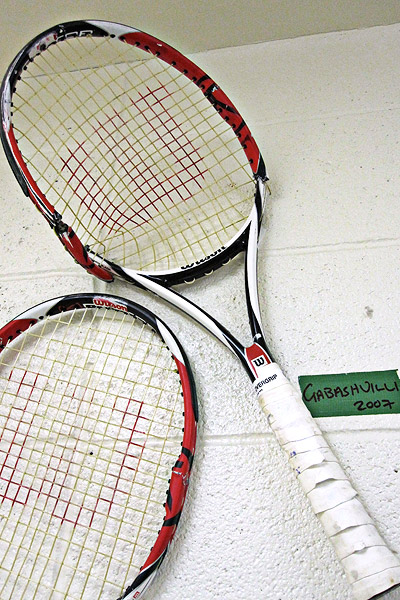 Patrick Hruby
Player: Teymuraz Gabashvili
Year: 2007
Story: An avid tennis fan who takes three weeks of vacation every summer to fly halfway around the globe in order to wash sweaty towels, Cordier began collecting smashed rackets in 2007. "Someone smashed one in here and threw it away," he recalls. "I took it out of the trash and brought it [to the laundry room]. In a few days, I got 2-3 more rackets. Before putting them on the wall, I checked with the tournament staff to see if the players would get angry. But they were cool with it. They're like any 19-, 20-, 21-year-olds, they joke with each other about them.
---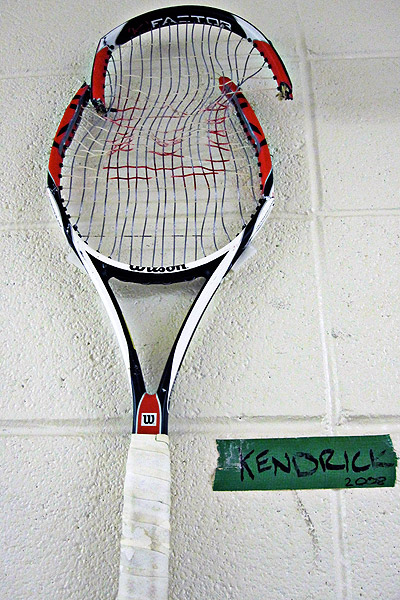 Patrick Hruby
Player: Robert Kendrick
Year: 2008
Story: "As soon as five or six rackets went up on the wall, [Marat] Safin brought his own racket back here," Cordier says. "Then [Robert] Kendrick and [Andy] Roddick. Initially, I didn't label them. But the players wanted me to label them! They like checking out the rackets, the weights and the strings. They were already guessing at who it belonged to."
---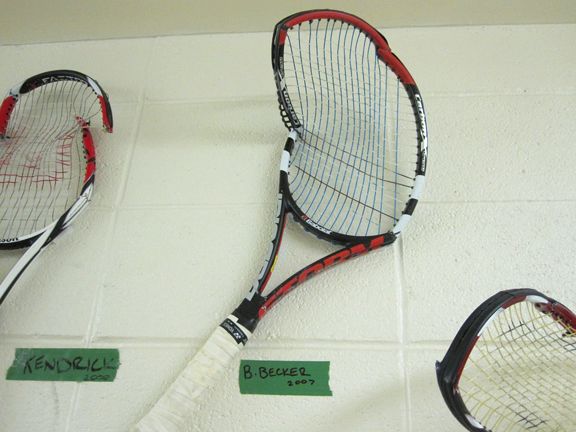 Patrick Hruby
Player: Benjamin Becker
Year: 2007
Story: "Most tournaments take the winning racket or ball and frame that [for display]," Cordier says. What about smashed rackets? "I'm pretty sure this is the only place," he says. "None of the players say there's anything like it elsewhere. And when I checked with the ATP guys, they always say no."
---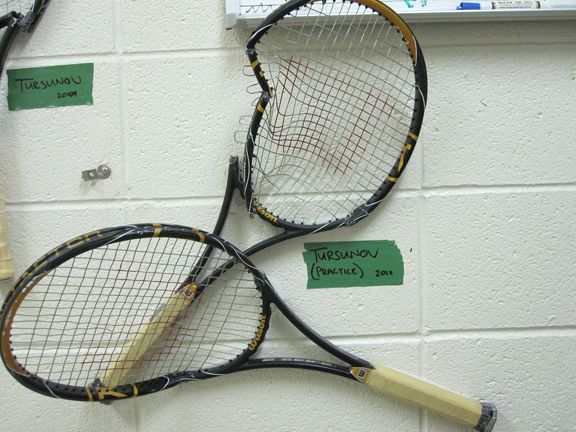 Patrick Hruby
Player: Dmitry Tursunov
Year: 2010
Story: "Tursunov smashed two rackets," Cordier says with a smile. "In practice. I left a lot of space on the wall for him."
---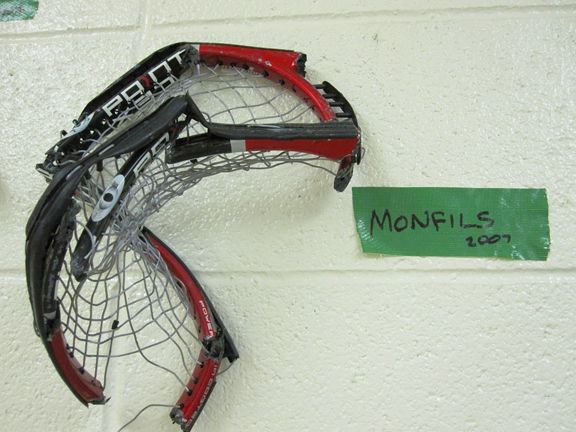 Patrick Hruby
Player: Gael Monfils
Year: 2007
Story: "I saw this match," Cordier says. "It was a crazy match against [American pro] John Isner, right when Isner was coming out of college. Three sets, all tiebreakers. Monfils was great on the court. Happy. Playing with the crowd. When he came off, I almost approached him. Then I heard the banging. So I didn't. He left this."
---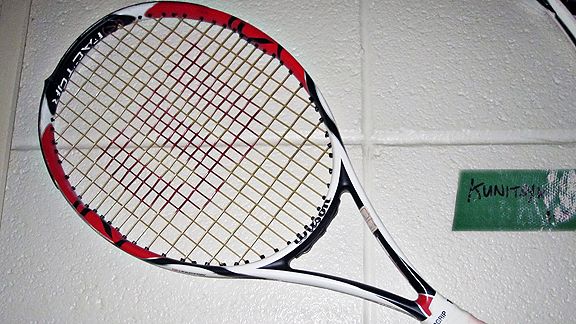 Patrick Hruby
Player: Igor Kunitsyn
Year: 2009
Story: "A lot of players say, 'Hey, that one doesn't deserve to be up there!'" Cordier says. "You can hardly tell it's broken. But Kunitsyn does not break rackets ever. That makes it special. People joke that he probably just smashed it by hitting it on the court while serving or something."
---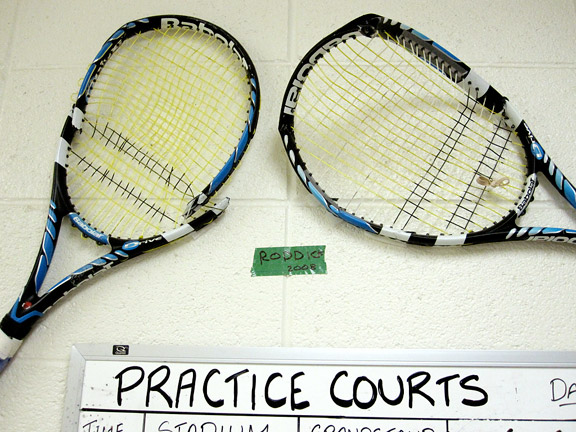 Patrick Hruby
Player: Andy Roddick
Year: 2008
Story: "Roddick actually went through six [rackets]," Cordier says, admiringly. "I got two of them. He gave the others away."
---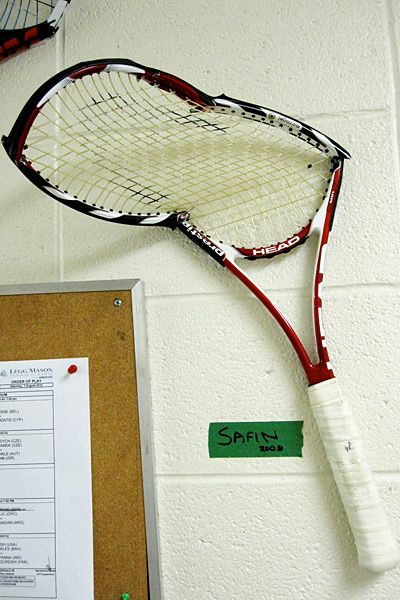 Patrick Hruby
Player: Marat Safin
Year: 2008
Story: "Some players say if the racket only hits the ground once, 99 percent of the time it will break in four or less places," Cordier says. "A real powerful hit cracks it in five. Like Safin. Players will come in here and point, 'Oh wow, that is a five-pointer!' People always ask if the Safin is a one-hitter. It is. He's a big, powerful guy."
---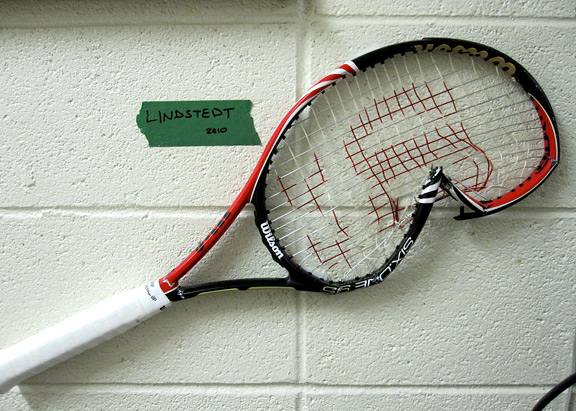 Patrick Hruby
Player: Robert Lindstedt
Year: 2010
Story: "The Lindstedt, that is from hitting the racket against a corner of a wall," Cordier says. "Maybe a net post. An edge hit caves the racket in on one side. A flat hit against the ground gives you a different break."
---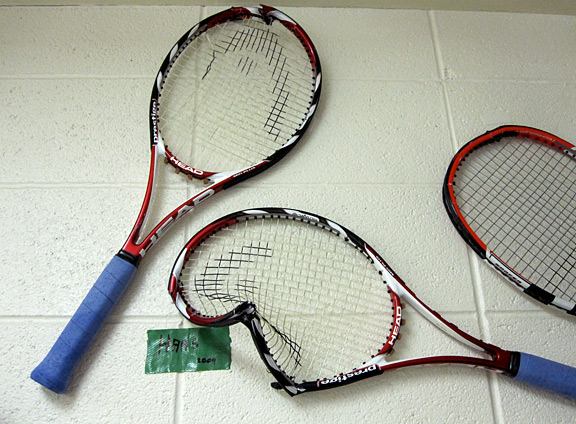 Patrick Hruby
Player: Tommy Haas
Year: 2009
Story: "I've had a few splinters putting them up," Cordier says. "All that graphite. It can prick you. I stick them to [the] wall with Velcro. Got to be something you can take down. I take them down, pack them up and the tournament stores them. They say they want to frame them, put them outside the suites."
---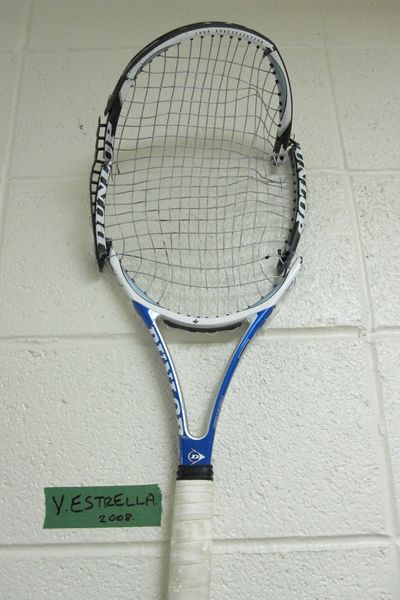 Patrick Hruby
Player: Victor Estrella
Year: 2008
Story: "This year, I thought the players would have a competition with themselves," Cordier says. "Go crazy. Fill the space. But it didn't happen. The boys have been much more well-behaved. Mardy Fish smashed one, but I couldn't get my hands on it. He gave it to a kid in the crowd."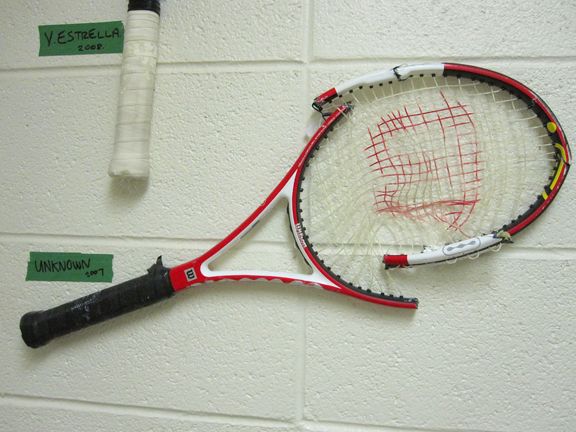 Patrick Hruby
Player: Unknown
Year: 2007
Story: "This is one of the ones I forgot who smashed it," Cordier says. "We've had multiple players and coaches come in and check the weights, racket and strings. We're down to two [suspects]: Kevin Ullyett and Nicolas Kiefer. Both were here in 2007. They need to come back so I can ask them!"
Patrick Hruby is a freelance writer and ESPN.com contributor. Contact him at PatrickHruby.net.