Commentary
Jerome Lane dunks his way into history
Originally Published:
March 10, 2011
By
Patrick Hruby
| Page 2
Editor's note: Welcome to another installment of Page 2's "Behind the Highlights," an occasional series that examines the details of compelling, obscure, breathtaking and stupefying video clips, as told by the figures in and around the action.
Decades later, four words still say it all.
Send it in, Jerome!
During a 1988 Big East game between Pittsburgh and Providence, Panthers forward Jerome Lane didn't just shatter a backboard with a ferocious tomahawk dunk -- he smashed his way into college basketball lore, creating an indelible moment and an unforgettable call from television announcer Bill Raftery.
With March Madness nearly upon us, Page 2 revisits Lane's explosive jam … and the story behind it.
---
On Jan. 25, 1988, Lane became what was believed to be the first college player to shatter a backboard since the introduction of the breakaway rim.
JEFF VAN GUNDY, Providence graduate assistant coach: It was right in front of our bench. I had never seen a backboard shatter in person.
ROB LOVETT, Pittsburgh ball boy: I've never seen it since. I doubt I ever will.
ERIC REUSCHER, a 1987 Pittsburgh graduate and sports information office employee: I was working for ESPN that night, sitting next to Raftery, feeding him stats. Jerome flashed past us, coming down like a Mack truck. You could just tell something special was about to happen.
ERIC MURDOCK, Providence guard: It's the greatest dunk I've ever seen in my life as far as the strength, the power, the craziness after the backboard came down.
BOBBY MARTIN, Pittsburgh forward: No one in the gym could process what happened.
JASON MATTHEWS, Pittsburgh guard: I got a little bit of glass in my hair. I couldn't believe it.
JEROME LANE, Pittsburgh forward: At first, I just thought it was a regular dunk.
---
Led by All-Americans Lane and Charles Smith and featuring a five-man recruiting class considered the country's best, Pittsburgh entered the game as a program on the rise, opening the season ranked No. 4 nationally and rising as high as No. 2. By contrast, Providence was coming off a surprise Final Four appearance and regrouping after the departures of coach Rick Pitino and star guard Billy Donovan.
LOVETT: I remember a lot of really high expectations.
LARRY ELDRIGE, Pittsburgh assistant athletic director for public relations: It was [coach] Paul Evans' second year. The team had won the previous Big East regular-season title. John Calipari was the lead assistant [coach]. [United Press International] rated them No. 1 in the country in the preseason. It was the heyday of the Big East. They started 9-0 before losing to Georgetown.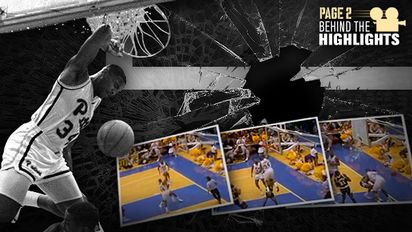 DARELLE PORTER, Pittsburgh guard: We had a good chance to go to the Final Four. We had played [eventual national champion] Kansas in Hawaii the previous season and beaten them.
VAN GUNDY: They were very good. Big, strong, long. Extremely well-coached. Multiple first-round [NBA draft] picks.
LOVETT: If you look back at that time in Pittsburgh sports, the Steelers were between the end of the Steel Curtain and the [Bill] Cowher era. The Penguins had just gotten Mario Lemieux. The Pirates were coming out of drug scandals and hadn't really picked up with [Barry] Bonds and [Bobby] Bonilla. Pitt basketball was nationally ranked. It kind of became the big sport in the city for that period.
MURDOCK: We were in a transition year. [New coach] Gordy [Chiesa] wasn't a good fit at that time. We weren't playing our best basketball.
VAN GUNDY: We had lost Billy Donovan -- he was as good as anybody in college basketball the [previous] year, probably the most valuable player to his team.
MURDOCK: [Laughs]. When somebody breaks a backboard on you, you know things aren't going right.
---
As a freshman in 1985-86, Lane weighed 170 pounds; by the 1987-88 season, the 6-foot-6 junior power forward was 60 pounds heavier. Strong and agile, Lane in 1986-87 became the first player his height or shorter to lead the nation in rebounding [13.5 rebounds per game] since Niagara's Alex Ellis in 1957-58, prompting teammate Demetreus Gore to rap in his self-produced "Pitt on the Rise" video that "gettin' all the boards / like he is insane / is that board-crashin' brother / Je-Rome Lane."
MATTHEWS: Jerome had a knack for where the ball was going. He was one of the smartest players I ever played with. He knew the game, knew what was happening before the play happened.
MARTIN: He was probably our best player when he put his mind to it. Including Charlie [Smith]. He had wonderful court vision.
PORTER: Coming out of high school, Jerome played point guard. He started in the McDonald's All-American Game at point.
BEHIND THE HIGHLIGHTS
Do you have a suggested video clip for Page 2's "Behind the Highlights" series? Click here to make your nomination.
LANE: I played point guard my first year at Pitt. When [Pittsburgh coach] Paul Evans took over [in 1986-87] he wanted me to transfer. He told me the only position he had open was power forward. I guess he was trying to force me out.
PAUL EVANS, Pittsburgh coach: Jerome didn't really have a good outside shot. He was a great passer inside. In our offense, we started our power forward in the high post. I saw Jerome there.
PORTER: Coach Evans came from Navy. He was real disciplined.
MARTIN: A lot of people didn't really appreciate how coach Evans communicated. [Lane and Evans] didn't get along at all. At times, it got a little chippy between them.
EVANS: We butted heads an awful lot my first year. I think once Jerome realized that we were trying to help him, he bought in. We got along better than most people think.
MARTIN: Jerome was so intelligent, but at the same time, he would have practices where he didn't play [intensely]. Coach always wanted us to go 100 percent. He would tell us "You can't turn it on and off." But Jerome was one of those guys that could.
MATTHEWS: Jerome was just naturally strong. He lifted weights, but not as much as some of us had to.
LANE: I mostly did regular sit-ups, pull-ups and push-ups. But I had never done those before. They bulked me up.
PORTER: His lower body was just as strong as his upper body. He set a hell of a screen. You learned quick to avoid them in practice. You didn't want to get your shoulder knocked out of the socket.
MATTHEWS: Every time he set a pick for me, I was wide open. It was easy shooting 3-pointers my freshman year. Nobody could get around Jerome.
MARTIN: Jerome was mean. He would hit you. I think he scared people away from more rebounds than anything.
---
The Panthers-Friars game was played at Pittsburgh's Fitzgerald Field House, a 6,798-seat arena built in 1951. ESPN was broadcasting the game as part of its "Big Monday" lineup; with the Panthers leading 8-5 early in the game, Pitt guard Sean Miller had the ball on a fast break.
REUSCHER: Evans was always trying to motivate the guys. I'm pretty sure this happened during practice. Evans turns off the lights. He's like, we need to get out and run tonight. Think of yourself in the blocks at the beginning of a race. You have to explode. Evans has a starter's pistol in his hand and fires it to emphasize his point. They turn the lights back on. Demetreus Gore is hiding under the bleachers, going, "Damn, I'm going to get shot by Coach!"
MARTIN: [Laughs]. I'm not sure if it happened exactly like that. But Coach did shoot off a starter pistol. Most of us came from inner cities and had some second thoughts about what was going on there.
REUSCHER: The Field House was packed the night [of the Providence] game. Everybody going nuts with signs, dressing up. It was bedlam. The fans were right on top of everybody. Students had great seats. A definite buzz. But Pitt came out flat. Everybody was just waiting for something.
MATTHEWS: I remember Sean [Miller] had the ball. He was dribbling down the court. I was on the left, Jerome was on the right.
SEAN MILLER, Pittsburgh point guard: At first, people probably don't see me making the pass. But that's what it's called at my house. The pass. Not the dunk.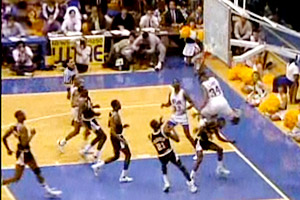 ESPN video archive Jerome Lane elevated himself into college hoops history with this thunderous dunk on Jan. 25, 1988.
MATTHEWS: I was ahead of Jerome, standing underneath the basket. Wide open for a layup. I couldn't figure out why Sean didn't pass me the ball.
LANE: Hold up, man. It was me and Demetreus on a three-on-two break. I didn't see Jason Matthews in the play. I'll have to relook at that. Sean was so unselfish. If Jay was open, he would have gotten him the ball.
MARTIN: I know Jay was open. And I'm sure Charlie [Smith] wanted the ball, too. He may have been trailing on the play. [Laughs]. He always wanted the ball.
PORTER: Charles Smith had broken a rim earlier that year. The base of the rim was still there, but the oval part of it was cracked. I was like "Golly." But Jerome dunked more powerfully than him. Jerome dunked like Dominique Wilkins.
REUSCHER: Jerome was the most laid-back kid you'd ever meet. They had to wake him up before games. But he attacked the rim with ferocity.
MATTHEWS: In practice a few days before, Coach had been telling Jerome to go to the basket stronger.
EVANS: The way Jerome was, that was probably one of this thoughts going in. I'll show Coach I can take it hard.
REUSCHER: I saw Jerome just freaking take two steps. He has the ball in one hand, man. He is going to tomahawk this thing. Then he just launches …
MATTHEWS: I'm not a physicist, but I think Jerome just caught it at the right angle with the right force. Most rims are used to people pulling on them straight up and down. Not at a diagonal.
REUSCHER: It was like a light bulb pop. Not like regular glass. He pulled the rim out of the backboard.
MURDOCK: The impact, man, it was like the rims didn't even move. You just saw the explosion.
ADAM LIPPARD, Pittsburgh ball boy: My seat was literally on the blue cushion on the base of the backboard. It was a loud pop. Then whole thing came down and it was raining glass -- on me, on Jerome.
"

In practice a few days before, Coach had been telling Jerome to go to the basket stronger.

"

-- Pittsburgh guard Jason Matthews
LANE: It felt like the rim collapsed. Nothing different than any other rim that collapsed. You just needed to jump up and push the rim back up, then keep playing the game.
MATTHEWS: For two or three seconds, it was silent in the Field House.
LANE: I didn't realize anything until I looked at Demetreus. His mouth was open. Then I saw glass on the floor. It came down like snow.
REUSCHER: The place just freaking explodes. Jerome is running the other way like he did something wrong, like he's going to get in trouble. Demetreus is at half court with a huge smile on his face, going, "Rome, Rome, you broke the backboard!" Everybody just starts jumping on him.
ELDRIDGE: The announcers are speechless. Then finally Bill Raftery collects himself and says, "Send it in, Jerome!" People have been using it ever since.
PORTER: The crowd was unbelievable. It had to be a three-, four-minute standing ovation.
REUSCHER: Nobody sat down. I called my mom and dad from the press phone -- "Are you watching the game? Did you see that?"
PORTER: I didn't see the dunk! I was getting ready to go into the game. Calipari was right in front of me, giving me some last-second instructions -- and then, bang, it happens. I had to wait until I got home that night to see it, until 2:30 a.m. for the play of the day. But I remember who Jerome dunked on. Poor guy. He's going to be on every highlight for the next fifty years. His name is Carlton Screen [a Providence guard].
MURDOCK: I feel for my man Paco Screen. I was hanging out with him [very recently]. Obviously, that didn't come up. He was trying to take a charge. And Jerome broke the backboard on his head.
---
After Lane's dunk, the game was delayed 32 minutes while event personnel installed a replacement backboard. Pittsburgh eventually won 90-56.
ELDRIDGE: Initially, everyone was concerned. The glass just shattered everywhere. Some ended up on players' heads. Someone could be hurt, maybe even badly.
VAN GUNDY: I remember them picking glass out of Carlton Screen's hair.
LANE: [I had glass] on my head. All over my back. I had to go to the locker room and get wiped down and change jerseys.
MORE "BEHIND THE HIGHLIGHTS"
Orange Crushed by Earl Campbell:
In the first installment of "Behind the Highlights," Page 2 spoke to the men involved in an eye-popping play from Earl Campbell's 1977 Heisman Trophy season at Texas. Thomas Neumann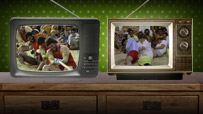 The Greatest Competition Ever:
The Pittsburgh Steelers and Minnesota Vikings played in Super Bowl IX, but a few weeks later they competed in an even more memorable event -- the "Superteams" tug-of-war. Jim Caple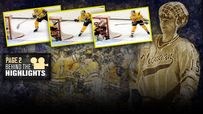 The Michigan Goal by Mike Legg:
Mike Legg scooped up the puck and scored an unforgettable lacrosse-style goal for Michigan en route to the 1996 NCAA championship. Patrick Hruby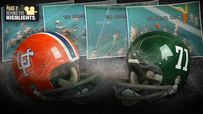 The 1971 Florida Flop in Miami:
The Gators called a controversial play
to get John Reaves the NCAA passing record ... and they intensified a rivalry
greatly in the process. Paul Lukas
ELDRIDGE: When it happened, knowing there was a lot of time to go in the game and that it was nationally televised, we were all gripped with the fear that we might not have a backup [backboard].
PORTER: You know what? That was my first thought. Where the hell did they get the extra hoop from? We found out they had them in a back storage area. They used them for summer camps.
ELDRIGE: It was a long fill for the TV announcers. I know that. Raftery had an open microphone and a live camera. I was trying to help the ESPN guys get guests to talk to.
VAN GUNDY: Speaking as an announcer, it's challenging with that kind of delay. It's hard even in NBA games when they go to the monitor. If that had been me, I would have had about two minutes of stuff and then dead air!
REUSCHER: Raftery recovered quickly. He had a ball with it. He was in awe, talking about the power and ferocity that goes into breaking a breakaway rim.
MARTIN: In the locker room, coach Evans tried to calm everybody down. It wasn't working.
MATTHEWS: We were all looking at each other. Did that just really happen?
PORTER: I was joking to Jerome that somebody must have shot a BB gun at the same time he shattered the glass.
LANE: We were just celebrating and talking mess. [Laughs]. Charles [Smith] was saying he loosened the rim before I dunked.
MARTIN: Yeah, Charlie [Smith] had to get some credit in there somewhere. It was more one-upmanship than anything. Earlier in the year, Charlie had broken the rim dunking on [Florida center] Dwayne Schintzius. Jerome and Charlie were great friends and always competed like that.
LANE: They tried to get me to go run out on the court by myself and get the crowd pumped up. I didn't want to do that unless the team came with me.
LOVETT: I think they brought the Little Panthers out to entertain while the hoop was changed. They're local area kids that do basketball dribbling exhibitions. Nobody was paying attention.
LIPPARD: I remember being out there with the mascot. The mascot pulled the rim off and put it around his head.
PORTER: When we first started playing again, guys were so pumped up. We had a few turnovers, balls going into the stands. Everyone had to get settled into the game.
MURDOCK: That dunk just energized the crowd. The game was over right there. We were pretty demoralized.
MARTIN: The funniest thing I remember is that Jerome tried to do it again. If you look at the next dunk he had in the game, he went from the same angle, trying to break the rim again.
LANE: I had a chance. I dunked it with the same power.
MARTIN: Jerome spent the rest of the year trying to repeat that dunk.
LANE: [Laughs]. I was always trying to bust it.
MARTIN: But that's basically a once-in-a-lifetime thing.
LOVETT: I walked down to the locker room after the game. A maintenance guy was down there getting ready to take the [broken] rim away. Jerome was there saying, "No, no, I want to keep it. I want to keep it."
---
As word of Lane's dunk spread -- and the highlight entered heavy television rotation -- Panthers fans became obsessed with collecting a particular souvenir.
LOVETT: I was 13 years old. Being young, they didn't even want us around the glass. But there were piles everywhere. I picked up a handful of it and gave it to my friend Jay [Sukernek].
JAY SUKERNEK, Pittsburgh fan: We were behind the Pittsburgh bench. Robbie came over with some glass. "You want some?" Nobody knew what a big deal it would be then.
PORTER: In the locker room, people wanted to get pieces of the glass.
LIPPARD: Everybody was trying to get down to the court to see the carnage. I was giving people glass.
JAY SUKERNEK: The game didn't even matter at that point. It was about, who had glass? For a while, having a piece of that glass was the coolest part of being a fan.
ELDRIDGE: One of our operations guys scooped up a whole bunch of it and gave some to the athletic department. I remember sending some to some [college basketball] writers.
LIPPARD: I remember taking it to school, giving it to friends.
JAY SUKERNEK: I gave a piece of glass to my dad.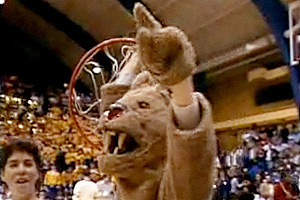 ESPN video archive The Panthers' mascot holds the detached rim aloft after Lane's unforgettable dunk against Providence.
CONNIE SUKERNEK, Pittsburgh season ticket holder: My crazy husband had a piece of the backboard that looked like an emerald-cut diamond -- if you had a good bit of imagination and were looking at it sideways. [Laughs].
PETER SUKERNEK, Pittsburgh season ticket-holder: I had a friend who bought jewelry from estates. It was such a large piece of glass it was hard to find a modern setting you could put it in. But he found an older setting you could put glass in it.
CONNIE SUKERNEK: He had it set in an antique 14-karat gold ring. He gave it to me right before the Big East tournament.
PETER SUKERNEK: It was one of the few major romantic things I ever gave her as a surprise.
CONNIE SUKERNEK: We were really into [Pitt basketball]. Like groupies. We went to Christmas tournaments, away games. Our whole schedule of vacations in the spring would revolve around wherever Pitt was playing. Charles Smith was a friend. My son would go into the locker room.
PETER SUKERNEK: I remember Jay coming out of the locker room one night with Jerome Lane's wristband that was soaking wet. He insisted on sleeping with it.
JAY SUKERNEK: I felt like I knew the guys on the team. I saw Disneyland from [former Pittsburgh player] Rod Brookin's shoulders. It was a different time.
LANE: After that game, I saw people with necklaces, chains, everything made with the glass.
ELDRIGE: One of the Pittsburgh papers did a Sunday cover spread on what people had done with the glass. I think there was a woman who had made a ring out of it.
CONNIE SUKERNEK: I was mortified when that appeared in the paper!
PETER SUKERNEK: The ring was a big topic of conversation.
CONNIE SUKERNEK: I vividly remember wearing it at the Big East tournament and people coming up to me wanting to look at it, thinking I was some sort of lunatic.
JAY SUKERNEK: We ran into Jerome at the Marriott Marquis in New York.
CONNIE SUKERNEK: Jerome looked at the ring. He was with his grandmother. She turned to him and said, "Why didn't you get me something like that?"
---
The Panthers finished the season 24-7 and won the Big East regular-season title. However, Pittsburgh suffered a devastating 80-74 upset loss to Vanderbilt in the second round of the NCAA tournament, as Commodores guard Barry Goheen hit two 3-pointers in the game's final 12 seconds -- including a 25-foot buzzer-beater -- to erase a four-point Pitt lead and send the game into overtime. After the game, Evans insisted he told his players to foul Goheen -- sending him to the line for two free throws -- but Panthers players disputed that claim.
MARTIN: Barry freaking Goheen. … I remember the timeout. I remember chaos in the timeout. There was nothing said to not let Goheen shoot the ball. That's for sure. In retrospect, we probably should have fouled him. But we were caught up in the moment and made the wrong defensive decision.
[+] Enlarge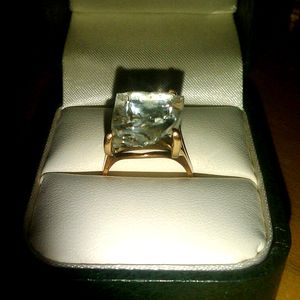 Photo courtesy Connie SukernekPeter Sukernek gave this ring containing a piece of glass left over from Lane's dunk to his wife, Connie.
LANE: Oh man, Paul Evans was so big-headed. Calipari told him to just foul them and send them to the line. We have the two best rebounders on the floor. He tells Calipari to shut the hell up and sit down.
MARTIN: I'm still pissed. That was our year. It absolutely should have been.
LANE: We never should have went to overtime.
JAY SUKERNEK: My family was at home. Literally packing our bags. We were going to drive to Detroit for the regionals and then to Kansas City for the Final Four. It still kills me. The only play as crushing in my life was [Atlanta's] Sid Bream sliding into home to keep the Pirates out of the World Series.
MARTIN: After that game, things did start to fall apart a little bit for the program.
Following the loss, senior Charles Smith became the No. 3 overall pick in the NBA draft. Lane, a junior, left school early and was selected by the Denver Nuggets with the No. 23 pick. Calipari left Pittsburgh to take the head coaching job at UMass. Evans coached Pittsburgh for six more seasons and finished with a 147-98 career record, but did not lead the Panthers past the second round of the NCAA tournament.
LANE: I didn't want to leave. But I had a bad relationship with Paul.
JAY SUKERNEK: I've thought about this a lot. If you look back to Jerome's dunk, and what happened from that point on, it was almost like the dunk itself slowly started the disintegration of the Pitt basketball program. It was definitely the high point of that era.
---
Lane played professionally in the NBA, the CBA and Europe and now is a high school basketball coach in his hometown of Akron, Ohio.
Evans is a real estate agent in Annapolis, Md.
Martin played professionally in Spain for 15 years and now mentors and trains basketball players in Boston. Porter coached at Duquesne and now coaches youth basketball.
Matthews works in real estate consulting and investing. Miller is the men's basketball coach at Arizona. Murdock is the director of player development for men's basketball at Rutgers.
Van Gundy works as an NBA broadcaster. Raftery still works as a college basketball broadcaster.
Lippard, Eldridge, Lovett, Reuscher and the Sukerneks remain Pittsburgh basketball fans.
LANE: We turned Pitt into a basketball school. Before us, the football program was everything. We made them a distant second.
MARTIN: I think the dunk was an affirmation that these guys are for real. It's like Kobe Bryant [scoring] 81 points. He walks into the gym and says he's going to score 100, you have to believe it. It opens up what's possible.
EVANS: I think [the dunk] helped Jerome as far as getting some national recognition, which helped him as far as getting drafted early. A lot more people knew who he was.
BILL RAFTERY, television commentator: Many, many years later they had a get-together at Pitt. Jerome Lane walked over and said, "Thanks for making me famous."
MILLER: I take full credit for [Raftery's] career, because "Send it in, Jerome!" really took him to a new level as a broadcaster.
BILLY RAFTERY JR.: I wasn't at the game, but I was watching with my mom. I remember repeating [my dad's] line while dunking on my Nerf hoop for probably the next month or so.
LIPPARD: I can't even remember who won the game, to be honest. But in my house or my parents' house in Pittsburgh, there's an old trusty Gatorade cup from the sidelines that has some of that glass in it.
[+] Enlarge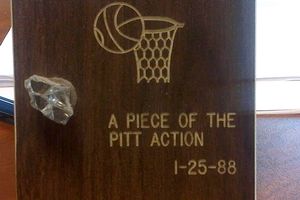 Photo courtesy Larry EldridgeLarry Eldridge keeps this memento containing a glass shard from the backboard broken by Lane.
ELDRIDGE: I still have my glass displayed proudly.
LOVETT: It's at my mom's house. In a plastic bag in a coffee mug that says "Slam Dunk Club" on it.
CONNIE SUKERNEK: A bunch of people have wanted to see my ring over the years. My grandson asked me about it the other weekend.
MATTHEWS: I have two sets of glass. One I kept for myself. One I sent to my mom. I keep them in a very safe place.
REUSCHER: I have my glass in my basement. One night, I get home from work and find my nephew staring at it. He says, "You don't know what a huge Pitt fan I am. Is that really the glass from Jerome's backboard?" I said yeah. I gave him a couple of shards. He looked at me like I was a god.
LANE: No, I never kept any of the glass.
MATTHEWS: Even now, people still ask me about that dunk.
PORTER: I was just talking with [St. John's coach] Steve Lavin the other night. I was up there to see a kid who played for me. It was senior night. He asked me, "Were you on the team when Bill Raftery made that call?" I said yep.
MILLER: It's certainly one of the most memorable moments of my life.
MATTHEWS: It's funny, I was showing my 8-year-old daughter the YouTube clip two weeks ago.
LANE: It's on so much, I don't even have to watch it on YouTube.
MILLER: One of the great things is the players that I coached can never question if I played -- because they're going to see me from now until infinity making that pass.
Sean Miller's quotes are from a 2009 interview conducted with KOLD-TV in Tucson, Ariz.
Bill Raftery's quote is from a 2011 segment on ESPNU.
Patrick Hruby is a freelance writer and ESPN.com contributor. Contact him at PatrickHruby.net.