Commentary
Page 2's glossary of NFL draft jargon
Originally Published:
April 28, 2011
By
Patrick Hruby
| Page 2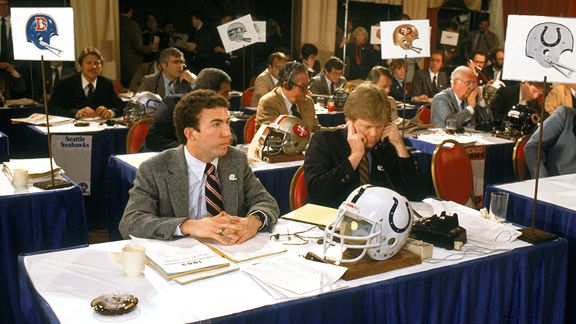 Chuck Solomon/Getty ImagesThe NFL draft and its vocabulary have grown exponentially over the years. Page 2 helps you keep up.
Bright lights. Big stage. Utter befuddlement. The NFL draft is easy to understand -- it's just like fantasy football, except not -- right up the point when the analysts begin to open their mouths.
How to make sense of the rapid-fire scouting jargon? The feverish football insider talk? How to distinguish a prospect who is "tight in the hips" from one who simply "carries his pads"?
(Equally important question: How to read the last sentence aloud without giggling like an innuendo-loving eighth-grader?)
Not to worry. Page 2 is here to help. Two years ago, our colleagues at ESPN The Magazine published a guide to Mel Kiper's mother tongue. Thing is, their list seemed incomplete. A bit lacking in perspective, at least to anyone who doesn't notice and/or immediately post a Twitpic screencap when Todd McShay gets a new haircut.
To fill in the gaps, we humbly present our own revised and expanded NFL draft glossary. Enlightenment lies below.
Accountability: Concept not applicable to individuals issuing draft predictions.
Active hands: Desirable trait for defensive players when they're not in strip clubs.
Ball-location skills: Not to be confused with personal quality Cincinnati Bengals scouts look for in prospective players. See Bail-location skills.
Bench press: Vital measure of physical strength while flat on one's back.
Best player left on the board: Used by teams to describe selected players they didn't actually want.
Big board: State of mind associated with Rounds 5-7.
Breakaway speed: Rate at which airborne plates shatter upon contact with a thrown football.
Break down: Standard reaction of Philadelphia Eagles/New York Jets fans to teams' first selections.
Broad jump: Physical activity yet to be attempted in a professional football game.
Bubble butt: Physical side effect of eating, watching comprehensive NFL draft coverage on television.
Bull rush: Verbal activity taking place among television commentators during the nine minutes between first-round picks.
Burst: Type of firearm discharge directed at television following favorite team's selection of wide receiver with first-round pick. (Detroit Lions fans only.)
Bust: See Russell, JaMarcus.
Can't miss: A prospect who likely will cover punts.
Carries his pads: An activity most prospects may as well engage in while standing on sideline during initial professional season.
Character: The quality of not currently being incarcerated and/or on probation.
Coaches: Impotent, incompetent, ineffectual excuses for humanity who ought to be held more accountable when any one of the nascent football godlings touted by mock draft experts fails to directly enter the Hall of Fame.
Cover corner: A defensive back who is unable to tackle.
Circus elephant: Large, festively adorned land mammal conspicuously absent at Radio City Music Hall during NFL draft.
Downhill runner: A ball carrier's career trajectory following selection by the Chicago Bears.
Draft grade: Numerical or letter-based evaluation of performance that has yet to occur.
Draft stock: Measure of value that is crucial at all times excluding moment of sale.
Edge rusher: A defensive line prospect too small to tackle anyone.
Elite: A prospect who definitely will be covering punts.
40-yard dash: (1) an activity that never takes place in professional football games; (2) the supreme measure of human worth.
Football IQ: The ability to consistently distinguish white jerseys from colored ones.
Franchise quarterback: A prospect who will be managing a Burger King restaurant in five years.
Functional strength: Physical power unrelated to the mission-critical task of repeatedly lifting an Olympic barbell.
Hand punch: Describes a football move in which an offensive line prospect uses his hands to physically strike an opponent. Not to be confused with foot kick.
Happy feet: Emotional state of kicking or punting prospect actually selected in draft.
High cut: Describes wide receivers selected in early rounds by Washington Redskins.
Honesty: Character trait valued in prospects, but not in their college coaches.
Intangibles: Attributes that cannot be discerned by having prospects run semicircles around traffic cones.
Intriguing: A prospect who may or may not be good enough to cover punts.
Leaf, Ryan: Vulgarity.
Leverage: Ability to generate and maintain pressure; found in offensive linemen and Drew Rosenhaus.
Love: Intense, public, pre-draft emotional state experienced by team executives and decision-makers toward players they have no intention of selecting.
Low pad level: Used to describe: (a) passing statistics of a college quarterback that did not play in a spread offense; (b) tackle statistics of a linebacker that did not play behind an All-America defensive line; (c) bench press repetition number and 40-yard dash time of a prospect that did not spend 4-8 weeks training at a specialized pre-draft preparation camp.
Mandarich, Tony: Obscenity.
Marginal prospect: A future Hall of Fame quarterback.
Maxed out: A prospect who already can play football, and is therefore undesirable.
Measurables: Numbers that determine: (1) A prospect's helmet and uniform size; (2) A prospect's probable performance during junior high field day.
Mirror and slide: Describes draft approach of Cincinnati Bengals and Cleveland Browns and subsequent position in division standings.
Mr. Irrelevant: A prospect so utterly inconsequential he is feted with media coverage and his own parade.
Mock draft: Non-literary fiction.
Motor: Quality possessed by a prospect projected to give maximum effort while covering punts.
Move tight end: Standard physician's advice for patients who have remained seated and stationary through the entire NFL draft.
Off-the-field concerns: Not applicable to anyone who has read through an entire seven-round mock draft.
One-cut runner: Term used to describe former NFL draftee Maurice Clarett.
On an island: Status of one's significant other during NFL draft.
On the clock: Term not applicable to the Minnesota Vikings.
Patience: Term not applicable to Washington Redskins.
Playmaker: A prospect with the ability to force a fumble in punt coverage.
Position of need: Any position for which a team has already selected elite, can't-miss and intriguing prospects in previous drafts.
Possession receiver: A receiving prospect who is too slow to get open.
Potential: The quality of not sucking yet.
Pure corner: A cornerback prospect who has been treated with a reverse osmosis system.
Raw talent: A football player who cannot actually play football.
Red flag: Term of caution; does not apply to scoring less than Nate Robinson's shoe size on the Wonderlic exam.
Run-stuffer: A defensive line prospect too fat to sack quarterbacks.
Russell, JaMarcus: See Leaf, Ryan.
Scouting combine: The only reason in the world to visit Indianapolis in February.
Scouts: Individuals possessing the exclusive, hard-earned football acumen and expertise required to rate R. Jay Soward and Trung Canidate over Tom Brady.
Sleeper: A prospect touted as little-known or under-the-radar by dozens of media outlets.
Speed burner: A receiving prospect who can't catch.
Sure thing: Describes the likelihood of a full-time NFL Draft Network at some point in the near future.
System quarterback: A quarterback prospect whose success is the result of mastering the intricacies of a patterned, structured offense -- something that has no equivalent in professional football.
Thin through the hips: Describes a prospect lacking access to anabolic steroids.
Tight in the hips: Describes a prospect with little chance of future success on "Dancing With the Stars."
Trade value chart: Diagram explaining that the opportunity to select Joey Harrington this year is worth 20 percent more than the opportunity to select Charles Rogers next year.
Trading down: Process by which teams coalesce fan anger and disappointment around many players as opposed to just one.
Trading up: Same process as trading down, but in reverse.
Trash: Proper location of draft preview magazines approximately 30 seconds following completion of draft.
Tremendous upside: Quality cited when justifying selection of prospect who has yet to demonstrate football-playing ability.
Triangle numbers: A prospect's height, weight and 40-yard dash time; not to be confused with actual football statistics.
Tweener: Describes a prospect: (1) not big enough to play line; (2) not fast enough to drop back in coverage; (3) just good enough to get defensive coordinators fired.
Undersized: Describes a prospect unfamiliar with prescription testosterone creams.
Undrafted: Describes a prospect with no hope of playing professional football, as well as James Harrison, Antonio Gates and Kurt Warner.
Upside: Quality of being able to cover punts at an indeterminate point in the future.
Upright runner: A prospect whose locomotion takes place on two limbs instead of four.
Value: Does not apply to personal time spent watching the second day of the NFL draft.
Value pick: Describes a prospect whose draft position and lack of ability correspond.
Versatility: Describes a prospect who can block and make tackles on punt coverage.
Vertical threat: Describes a prospect who can quickly reach a distant point on the horizon.
Waist-bender: Body movement that accompanies gastro-intestinal reflex following perusal of Buffalo Bills draft class.
War room: Secure location where decision-makers determine the fate of: (1) Western Civilization; (2) next season's probable punt coverage unit.
Washout: Mythical, one-horned creature never seen in mock drafts or war rooms.
Wingspan: Measure of how many women an intoxicated prospect can fit under his arms in a Facebook or tweeted photo.
Work in space: What drafted prospects may as well do barring resolution of the current NFL labor-management dispute.
Workout warrior: Describes a prospect more proficient at performing tasks assigned by scouts than tasks assigned by coaches.
Wonderlic score: Measure of ability to sharpen a No. 2 pencil.
Patrick Hruby is a frequent contributor to ESPN.com. Read his blog, follow him on Twitter and contact him at PatrickHruby.net.