ESPN.com illustration
Deep into the summer of 2004, I watched Marion Jones trudge through the tunnel below Olympic Stadium in Athens, dejected and defeated, eyes misting like morning dew. Far removed from her five-medal performance at the Sydney Games and dogged by accusations of drug use, track and field's erstwhile golden girl bombed in her sport's ancient birthplace -- never contending in the long jump and botching a handoff in a relay race, looking old and slow all the while.
2004 HIGHLIGHTS
Patriots defeat Panthers 32-29 in Super Bowl on Adam Vinatieri's last-second field goal. … Janet Jackson's wardrobe malfunction. … UConn men and women both capture national titles. … Phil Mickelson finally wins major, beats Ernie Els by 1 stroke in Masters. … Derek Fisher's shot beats Spurs. … Arsenal finishes English Premier League season without a loss. … 40-year-old Randy Johnson throws perfect game. … Smarty Jones wins Derby and Preakness but loses the Belmont on a late charge by 36-1 long shot Birdstone. … LeBron James named NBA Rookie of the Year. … World, meet Wimbledon champ Maria Sharapova. … Pete Rose publishes book, admits publicly for first time he bet on Reds. … Shaquille O'Neal traded to Heat. … Lance Armstrong wins sixth consecutive Tour de France, becoming the first to win six. … Greg Maddux wins 300th game. … Michael Phelps wins eight medals, including six golds. … Roger Federer wins Australian, Wimbledon and U.S. Open. … Ichiro Suzuki sets MLB record with 262 hits. … Barry Bonds wins fourth straight NL MVP award, sets records with .609 on-base percentage and 232 walks. … Curt Schilling's bloody sock. … Red Sox rally from three games down to beat Yankees in best ALCS ever. … Cardinals beat Astros in seven games in NLCS, winning Game 6 in 12 innings and beating Roger Clemens in Game 7. … Red Sox sweep Cardinals for first World Series win since 1918. … Patriots set NFL record with 19th consecutive win. … The Malice at the Palace as Pistons and Pacers brawl. … Matt Leinart wins Heisman as USC rolls to 12-0 season. … Peyton Manning tosses record 49 TD passes (broken by Tom Brady in 2007) and compiles record 121.1 passer rating.
Still sweating in her tracksuit, Jones stood on one side of a flimsy metal barricade, across from a group of reporters. Everyone wondered the same thing.
What happened?
"I don't even know," Jones said. "I thought I ran a good leg. It didn't happen today."
She paused.
"It was a rough one."
Jones turned away, tearing. Teammate LaTasha Colander placed a sympathetic hand on her back. I thought back to the relay race, when Jones was straining to hand over the baton -- once, twice, four times -- screaming Wait! and Hold up! as Lauryn Williams bolted from the exchange zone, too young and too fast, never giving Jones a chance. For a moment, I almost felt sorry for Jones, almost felt sympathy for an athlete whose autobiography contains big red letters that read, "I AM AGAINST PERFORMANCE ENHANCING DRUGS. I HAVE NEVER TAKEN THEM AND I NEVER WILL."
Then I remembered BALCO. The cream and the clear. Whatever, dude. Grand juries and leaked testimony and coded doping calendars and everything else. The sordid underworld of sports doping still coming to light, day after day, report after report.
And I wasn't the only one.
"Williams must have expected the drugged Marion," cracked a nearby reporter. "Not the clean one."
At least a half-dozen people laughed. Myself included.
At the turn of the century -- two years removed from the Great Home Run Chase, in the middle of Jones' Olympic dominance, on the cusp of Barry Bonds' midlife metamorphosis into baseball's Paul Bunyan -- we floated neck-high in a frothy bubble bath of irrational sports exuberance. The sprint times kept falling. The home runs kept flying. No one stopped to ask why. Sure, we knew about steroids, but syringes and exotic bovine growth hormones were for grotesque bodybuilders and bearded East German female swimmers and occasional jaundice-eyed, test-flunking bad apples like Ben Johnson. They weren't pervasive. They weren't the cost of elite athletic admission. They weren't the domain of clean-peeing, All-American, shoe-endorsing heroes such as Jones, whose mighty deeds could be ascribed to talent, prayers and hard work. Plus wholesome vitamins from a genius nutritionist named Victor Conte.
BALCO changed that; 2004 changed that. It was the year we got cynical, lost our naivete, dropped our collective delusions, opened our eyes to truth -- or, to put it more accurately, learned not to trust what we were seeing. The NFL -- home to the self-proclaimed Toughest Drug Testing Program in Sports (TM) -- was touched by BALCO. So were dozens of track and baseball stars. According to a mountain of evidence, the juice didn't help Bonds and Jason Giambi hit baseballs. But it sure as heck helped them hit baseballs farther.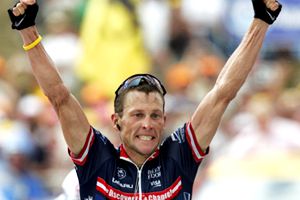 Nico Vereecken/Icon SMI
Lance Armstrong won his sixth straight Tour de France ... and wasn't linked to the BALCO scandal.
As the year dragged on and the revelations dripped out, allegedly became a word you skipped right over, like the fire safety instructions on a pillowcase.
In Athens, things got absurd, fiction outmuscled at every turn by 'roided-up reality. Greek sprinters Kostas Kenteris and Katerina Thanou -- also linked to BALCO -- pulled out of the Games after faking a motorcycle accident to dodge a drug test. Russian shot-putter Irina Korzhanenko became the first woman to win a gold medal at Ancient Olympia; days later, she became the first to have her title stripped for PED use. American cyclist Tyler Hamilton won a time-trial gold medal, flunked a blood test, got off on a technicality, flunked a second blood screening at a subsequent race in Spain, then set the grasping excuse bar somewhere in low Earth orbit by claiming his positive tests were the result of an unborn twin.
Meanwhile, Justin Gatlin won the 100-meter dash -- the same race Johnson memorably won in Seoul -- and promptly proclaimed himself a "genuine, clean champion." Four years later, he was banned for doping. Was anyone remotely surprised? 2004 taught us that drug cops can't find substances they aren't looking for; that denials are as good as the well-paid legal teams that produce them; that in the absence of a smoking gun, there's probably fire anyway; that you can develop tests for everything, save the win-at-all-costs mentality that makes sports so compelling in the first place. Indeed, in 2004 we learned that the rest of us are in on the doping racket, too -- according to a study published that year, more than $1 billion is spent annually on legal HGH.
And to think: Not all of that can be attributed to the 2004 Carolina Panthers, who lost the Super Bowl to a New England Patriots squad featuring … Rodney Harrison.
The Panthers and Harrison. Roger Clemens and the Mitchell report. Floyd Landis and pretty much the entire Tour de France. Rick Ankiel and Big Brown. Jose Canseco. Just about everything since Jones' Olympic flameout -- including her weepy nonconfession and current incarceration -- has only confirmed the central lesson of '04: If it looks too good to be true, it probably involves pharmacology. Only fools think otherwise. In his 2004 State of the Union address, President Bush took time out from politics and statecraft to mention performance-enhancing drug use. He was surprisingly prescient. To borrow his metaphor for another sort of bubble: For too long, all of us in sports world were drunk on steroid denial. In 2004, we finally sobered up.
Page 2's Most Memorable Sports Years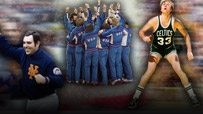 With 2008 already full of amazing moments, Page 2 is looking back at the greatest years in sports history.
THE YEARS
•
Jonah Keri on 1961: The year of the dynasty
•
Jim Caple on 1968: A year of unrest
•
Jim Baker on 1969: New York, New York
•
David Schoenfield on 1972: AL in trouble
•
Eric Neel on 1978: Greatest duel ever
•
Mary Buckheit on 1980: A miracle
•
Mike Philbrick on 1984: Bridging the gap
•
Paul Lukas on 1986: Three great weeks
•
DJ Gallo on 1994: The good old days
•
Scoop Jackson on 1998: Still resonates
•
Kieran Darcy on 2001: Darkness, and light
•
Patrick Hruby on 2004: End of exuberance
VOTE
•
PollCenter: Best year ever -- '80, '86, '98, '01 or '08?
ESPN Top Headlines